REMOTE CONTROL ICE & LAND BOATS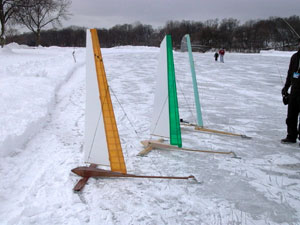 Looking for some sailing during the in between times? Like after March when the ice becomes unsafe but before the soft water season starts. Or late in the fall when ponds and rinks have frozen but before the lakes are sailable. Or any other time when a hard, smooth surface can be found. And a little wind.
Bill Korsgard
September 17, 1949- October 6, 2008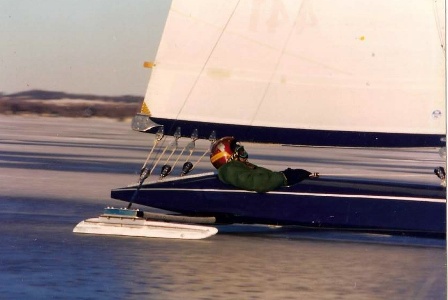 Long time Four Lakes Ice Yacht Club Renegade skipper, Bill Korsgard, passed away Monday evening, October 6, 2008. Bill is survived by his wife, Dena, and daughter, Ingrid.
Bill had a tremendous influence on iceboat.org because of his many unique interests that blended with his love of ice boating. We will truly miss his contributions to our club and the sport of ice boating.
Click here to read more.
The last email I received from Bill was a week before his passing. He sent a link to the following video and wrote, "Hi Deb, Just wanted to say the website upgrade looks great, thanks!! I checked a few links & didn't have a problem. Also, thanks for putting up the Dutch card. I thought it was really unique. I'm not coming across many new ones these days, but it's ones like that that keep me checking. For a really slow news day, or perhaps to add to the rc models page, here's my latest video. It's a new design (called K2...duh...) featuring an easy to build, super flexible hull & a 2 liter soda bottle fo the cockpit skin"
Bill Korsgard's Last RC Landyacht, the K-2


January 28, 2007
You Tube: Bill Korsgard's K-1



December 18, 2006
K-1 Sails Lake Wingra in Madison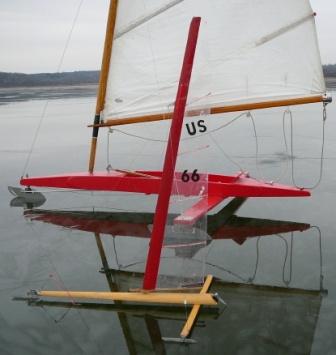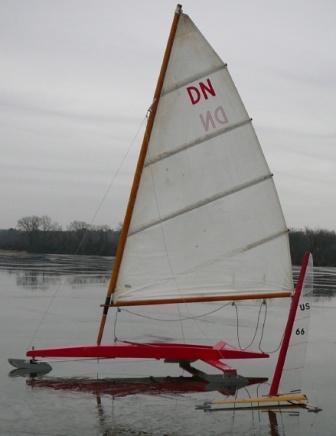 Video from Spain, site of the trials for the America's Cup. These guys are crew on one of the boats & have come up with some nice looking designs.
March 19, 2006
The first organized radio controlled model iceboat regatta occurred February 25 & 26 in Edina, Minnesota under the auspices of the Edina Model Yacht Club www.emyc.org
The venue on Saturday was at the beautiful Centennial Lakes complex where the club also sails (and motors) other model boats during the summer. The location originally several old gravel quarries which have been sculpted into a series of beautiful ponds, surrounded by walkways, condominiums & office buildings. In the winter the ponds are used by large numbers of ice skaters.

We arrived about 9:30 in the morning & started to set up the boats. The weather was brisk with decent wind coming out of the north & northwest. We were soon joined by about a dozen EMYC members who were interested to see more of what Tony Johnson & Alex Raupp have been talking about all this time. Several boats were brought by Tony Johnson, Harry Allen & myself

The morning evolved into letting people get a feel for sailing the boats & finding a course that could be readily sailed. Several of us were able to successfully sail a windward-leeward course. Club sailors included Craig Young, Alex Raupp, Larry Wheeler, Joe Steele, Bill Poland, Vern Edgerton & Dale Johnson. Dale also took a bunch of photos, some of which can be seen at : http://geoff-s.net/wia/image/tid/18
Since the wind was out of N-NW, it was shifty because of the theater building just to the north. Nonetheless, the boats were moving around with decent speeds. More than one spectacular crash occurred, including at least one by the author.

As the day progressed, the wind seemed to be letting up a bit, so we decided to change to course to a reach-reach course in the interest of keeping the boats moving for the races. By this time in the afternoon, the ice skaters were starting to encroach, but fortunately the club had arranged for the North Pond to be roped off. Many of the skaters stopped to watch the races or ask questions. When we finally got around to racing, the contestants were Tony Johnson sailing his modified DN, Harry Allen sailing his Nite & Bill Korsgard sailing his K-1. Six races were held before the sun started to cast a cold shadow & we called it a day. Craig Young hung around to help pickup & we retired to the nearby Fudruckers restaurant where we warmed ourselves with some warm burgers & cold beverages. The competitors then retired to their respective shops to "lick their wounds" by repairing damage & sharpening runners.

Sunday morning started off with very brisk single digit temps, bright sun & a depressing lack of good wind. After breakfast & some checking the net for weather forecasts, the wind appeared to have picked up a bit. We decided to head over to a skating rink in the southeast suburb of Chanhassen where the site offered less obstructions. Tony & I were met by Alex & his 5 year old daughter Sydney. The wind showed promise with some gusts around 10 mph, but it was still erratic at times. The pond was sort of small & rough at one end but at least it was wide open. Harry showed up & we had 5 more races, again on a reach-reach course. They were interesting races in that all out speed wasn't the most important thing compared to keeping control on the hard ice with sharp turns .

As far as we know, this was the first time such an event has ever been held worldwide. Everyone seemed to have a good time. I want to thank Tony Johnson, Alex Raupp & the Edina Model Yacht Club for organizing the event. We hope that it will continue & grow in the future.


Final results for the regatta were:

1)US 66 Bill Korsgard

2)US 81 Tony Johnson

3)US 105 Harry Allen


October 5, 2005
Model Land Yacht Regatta at Rockford, Illinois pm October 8-9 2005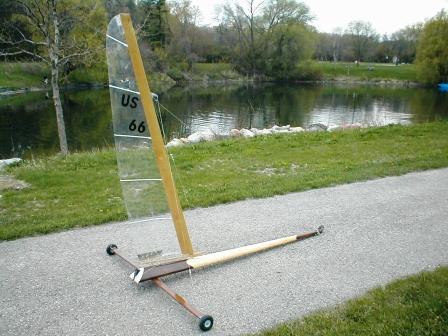 October 5, 2005
Model Land Yacht Regatta at Rockford, Illinois October 8-9 2005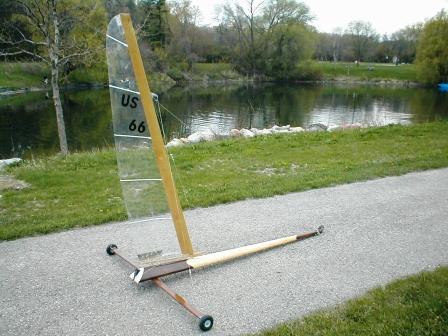 September 12, 2005
Via Bill Korsgard: "...here's my new wing mast rig set up on my "K1-SS" model land yacht.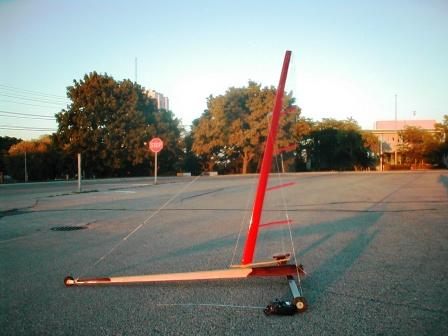 November 2003
K-1 Plans Now For Sale
K-1Model Ice & Land Sailor Plans
Proven design with a documented speed record of over 33 mph.
Plans consist of 2 detailed sheets and written instructions.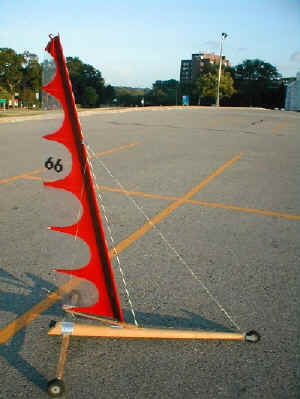 January 21, 2003: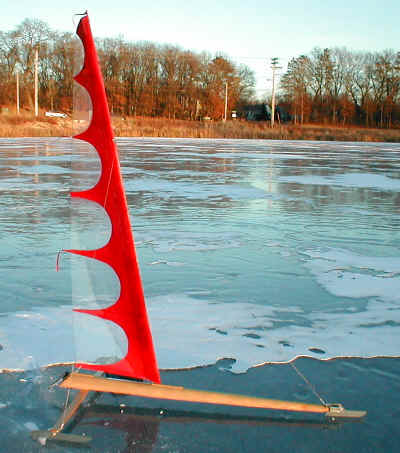 The K-1 sports a new sail.

December 21, 2002:
RC SPEED CHALLENGE
Bill Korsgard has issued a friendly challenge to see what sort of documented speeds with RC hard surface sailing craft. Bill has documented a GPS speed of 27.1 mph, barely beating Tony Johnson's 26.8 mph. It was filmed and witnessed by Geoff Sobering. The winds were in the teens with gusts, necessitating the use of a small C rig, which broke in half before the day was over. Bill was a little disappointed that the boat didn't reach into the 30 mph mark, as it certainly appeared to be going that fast. Perhaps with less wind and his larger Weber A mast, the K-1 will reach the goal of 40 mph.

Bill proposes that the standards of such unofficial speed records be kept informal for simplicities sake. This is being done with the hopes of spurring interest in the hobby. Speed can be documented with radar, GPS, or timed runs over a measured course. Only one witness is needed; we're on the honor system. Photographic documentation is nice but not necessary. If anyone wants to add other criteria, they are more than welcome. Bill "looks
forward to others taking up the challenge & beating K-1's "record"."

UPDATE: December 22, 2002
The K-1 set another record of 33.3 mph. "Bigger sail with ballast & a lot of slop in the stays. Blowing like snot."


See video of thethe K-1 in action on Geoff Sobering's ice boat web page.
The K-1
By Bill Korsgard
4LIYC Renegade 441

As a kid, I recall making wind driven sleds out of popsicle sticks and paper sails to slide downwind across crusty snow cover. I'd forgotten about this until a couple of years ago when I began to consider the possibilities of a more sophisticated radio controlled unit. The real inspiration came through the internet from the sites of Tony Johnson, Bob Costa, Robert Weber, and Kris Seluga, as well as some guys in Britain. With some experience in building RC sailboats, I figured I could embark on a design of my own.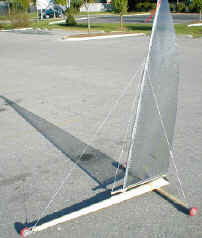 The K-1
The basic concept was to create a potentially fast craft at nominal expense using basic hand and shop tools, as well as readily available off the shelf components. Speed would come from having a large enough platform to allow sufficient sail height to reach into less disturbed air. The dimensions of the K-1 design (52 "L X 39" W X 69" H) put it into the IRCSSA Class III category.

Minimal rolling resistance led to the choice of 3" (76 mm) rollerblade wheels, although softer foam model airplane wheels are used by others and may work better on some surfaces. Ice runners can also be used successfully, but when the ice is that good, I'll probably be in my Renegade!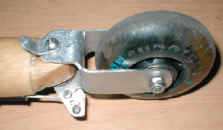 Close-up of wheel assembly
The hull is constructed of 1/8 " (3mm) Baltic Birch plywood on the bottom, with spine running through the center. The hull skin is simply paper backed birch veneer. The plank is 3 laminations of the 1/8" ply (and/or 1/8" wood) formed with a 1" camber. Everything is held entirely together with West System ® epoxy. No springboard was included at this time, which does not seem to result in any loss of control, but could be added later if needed.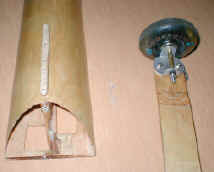 Hull & plank
The steering gear and wheel/runner chocks are cut out and bent from .064" #6061 aluminum. The mast sections are hobby store streamline aluminum tubing (3/4" and 5/8") which will telescope together into each other for a total mast height of about 67". The mast rotates freely in the unique boom with integral gooseneck and vang. Stress points on the mast are filled with epoxy. The mast's slenderness results in obvious bend, allowing considerable gust loading without capsize similar to today's DNs.
Sail fabric is simply wrapped around the mast and boom and fastened with 2 sided sail-maker's tape. No stitching is involved. Draft in the sail is induced with 2 to 4 % luff curve forcing more material into the shape. Several sail sizes and ballast are need for differing conditions. Stays consist of 50# fishing line with swivels and adjusters (bowsies).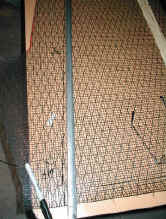 Cutting the sail

The electronics are the basic RC transmitter and servo kit, although a stronger sail winch serve (I use a Futaba 3802) is needed for better performance and longevity. Steering is connected with a bicycle cable, although a 2 wire pull-pull system is being considered.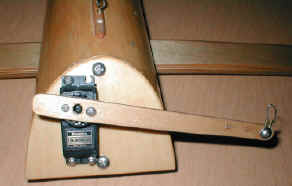 Servo

Sailing performance thus far has been a lot of fun. In a decent wind it appears to get up and go, maybe 30 mph. Time trials have not been rigorously carried out, but maybe one of these days I'll tape a small GPS to the plank and see what happens. High winds can result in some crabbing and an occasional spin out, but softer wheels appear to give better grip. Some slippage is preferable to capsize, so it may not be all bad. Details of the design & sail shape are being fine tuned, but the true test will come in competition against others. It's time to go racing!!!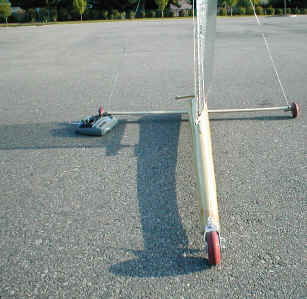 For plans, contact Dena Korsgard.
See video of the K-1 in action on Geoff Sobering's ice boat web page.
Ivanpah 2004
Photo Credits: Bill Korsgard


Skeeter sailor Bill Dale's new land yacht made by Alan Wirtanen


Alan Wirtanan


The ice of land yachting.


Here's John Eisenlor's wing land yacht after it was going real fast and a nico-press let go & dropped the new wing.
(Famous Ice Boat Saying:
They always go the fastest
before they break.)


Here's the New Zealand Blokart group led by the designer/builder with his friends from the islands, along with a bunch ofAmerican blokes, totaling about 25.


Robert Weber's Scirocco
tied down for the night in anticipation of predicted 45 mph winds.



The "Fed 5" made by S&R Marine, Pewaukee, Wi USA


Bill Korsgard's "K-1" RC land yacht, who placed 2nd in the regatta, with a high wind rig.
RC LINKS
IRCSSA
Alan's Hobby Web Links
Tony Johnson-Minnesota
Kris Seluga-Massachusets