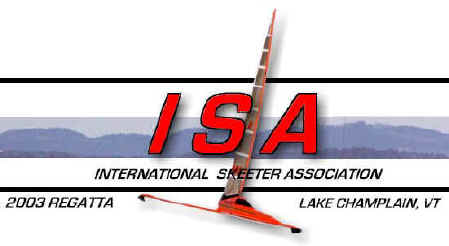 ISA 2003 Photo Gallery & Results
March 15, 2003
Photo Credits: Henry Bossett- North Sails 

| | | |
| --- | --- | --- |
| Tom Nichols-Andover, NJ | Peter Block-Lake Hopatcong Ice Yacht Club | |
| Pete Rochelle-Great Meadows, NJ | | Dan Clapp-New Jersey |
| Bob Kau-Monona, WI | Jordon Glaser, Brooklyn, NY | Tom Hyslop-Pewaukee, WI |
| | | Bob Kau |
| | | |
| | | |
Photo Gallery 2
March 14-15, 2003
Photo Credits: Jeff Soderholm

View of the Pits





Dan Clapp


Peter Block


Bob Kau


Close-up of Clapp's Insanity


Skeeter sans graphics


Jordan Glaser


That's John Hix
sailing his new J12. Read about the J12 on the Harken website.


Your correspondents daughter in her dad's DN
Photo Credits: Stephen Lamb

| | | |
| --- | --- | --- |
| | | |
| | | The John Hix J12. Read about the J12 on the Harken website. |
Notes from Jeff Soderholm:
We hit the road at early Friday morning and were greeted with very slick conditions as we had received five inches of new wet snow late on Thursday. Fortunately the main roads were well salted. Anyway, it was a nice day for the ride with clear blue skies especially compared to the day before.

The trip up Route 89 thru the Green Mountains was beautiful and before we knew it (4.5 hours later) we were in Burlington. We still had another half hour ride to the regatta site. Local directions were good and we arrived at the site around 11 am. Magnificent scenery as you descended the private gravel road to the site. Beautiful clear hard smoooth ice as far as the eye could see with mountains reaching up behind creating a wonderful backdrop
for the tall Skeeter rigs to be seen.

Weather forecast was not too encouraging for wind. We had left a forecasted wind in our own [DN] sailing area up north 15-20 to drive five hours to sail in a forecasted 5-10. Needless to say we were delighted to find a light but steady breeze upon arrival with many boats out sailing on Friday. The Skeeters had already done their racing and some were in the set up area but a couple were still out and were zipping back and forth majestically across the large plate.

Oh yeah, this was going to be worth the trip alright. The only parking at this site was to be on the ice so we cruised over and joined fellow club members already well settled in and ready to sail. I wasted no time putting on warm clothes and grabbing the camera. Off to see and document the big Skeeters in person as soon as possible. Then we went to work on setting up the boats.

Sailing on Friday was great upon arrival and winds let up around two when the wind died. This left plenty of time to walk around and BS with everyone and gawk at hardware. More and more boats/people arrived throughout the afternoon. Lots of familiar faces. Around four the wind picked up to 5mph or so enough for the late arrivals to get a little sail in on this great plate.

Jon Hix showed up around this time with his newly designed J12 boat and went right to work on rigging it up and going for a sail. This boat drew a good amount of attention as it was recently the topic of a new article on the Harken website.

A tour of the launch area found the 'Attitude' campaign busy at work in the trailer with propane heater and West System repairing a hairline crack at the top of the mast. Seems to have worked out ok as it was on the ice and sailing again on Saturday morning.

Most of the DN racers were set to stay in the Best Western in South Burlington a twenty to thirty minute ride north. This was a good choice as it had lots of rooms, a good restaurant and most important a good bar. A large group of us descended on the restaurant and then to the bar for a couple of drinks. Most of us too tired to stay long.

The next morning found a fresh half inch layer of fluffy white snow on the ground and light winds. Forecast was for 5-12 out of the south opposite the previous days north wind. Since we were not racing and there was not any wind we made some stops to pickup film, lunch, and had a good breakfast. We arrived to find it had snowed at the site also but someone was nice enough to clean our boats off. Setup was done first off in case the wind came up
and then it was time to check out the latest arrivals.

By the way a total of nine of the big skeeters were in attendance. I cannot list all the boat names but the ones I know are: Insanity, Attitude, Mona Lisa, Lost Kaus, Amphetamine 2.

Weather was forecasted to be mid thirties with overcast skies but there was blue sky showing and sunny. This did not affect the ice at all as it stayed firm enough to sail throughout the day.

The wind did come up as predicted on the weather channel hourly forecast. It started every so lightly building enough to sail between nine and ten. Then it was time to set the courses. Two courses were set. One straight out from the launch for the skeeters and another to the left or south for the DN's just the other side of a pressure crack. Both courses wound up being moved after a slight wind shift. This delayed starts for both races. Discussions in both groups centered around whether the wind was steady enough to start the racing. The DNs attempted one race but cancelled it due to a lack of a steady enough breeze. The Skeeters were on the line for a while but eventually the wind meter hit 7 mph and the race was called on. I am told some skippers felt it wasn't enough though.

Dan Clapp certainly won and was fast. He approached the upwind mark on the second rounding with a good lead and was in a nice hike giving us all a show. I heard there was one incident at the leeward mark but don't know enough to expand on that.

The wind pretty much died after that race sometime around one. I used what little breeze was left to cruise back towards the launch so as not to have to push the long distance back. A good choice as by one thirty there just was no breeze. It was a good time to break for lunch and hope the wind came back at some point.

The DN's were trickling in as they had postponed racing till two to see if any wind came up. A lot of BS and renewing of acquaintances ensued along with thorough documentation of all boats on hand by all. A string of four Skeeters were towed back from the starting line by Jeff Morton using the six wheel ATV. I think being in the middle of that string would be nerve wracking upon arrival especially with a boat like Insanity or Attitude in front of you. Substitute the brake into the old saying feet don't fail me now ;-).

By three thirty it did not look too promising and both races had been officially called for the day. A slight flutter of wind drew a few 'suckers' out onto the ice only to be left in the middle of the plate to push home.

We had decided not to stay over as very warm temperatures were forecast for Sunday and figured it was going to be a short day of sailing. So we said our good byes and hit the road. Very happy to have made the trip. It was a great plate of ice with a beautiful backdrop and a tremendous group of people on hand to enjoy the 'almost' perfect conditions
Update, March 17:
I just spoke to the Eastern Lakes DN Manager Steve Madden and was told that Sunday was a bust for them. Reports from the National Weather Service indicated as much as 13 mph wind from the south in Burlington but they did not have enough wind at the regatta site in West Addison.

They noticed when leaving there was wind just to the south of the site so are now thinking the site location may have some wind restrictions due to geography of the mountains. Especially southerly winds.

The DN event, the Easterns, must be cursed this year as this is the second time they had great ice and great (nice but calm) weather but could not get the regatta off. The first time the race was called for Sebago Lake in Maine where they had a huge plate of mirror smooth ice like in my black ice oasis photos. Sebago does not freeze in its entirety that often but it did this year and did so on a calm clear night creating miles of mirror smooth ice. Unfortunately they stood around waiting for the wind and never got the race in. The patient attendees at that event who stayed on the ice until late in the day were lucky enough to sail for an hour or so at the very end of the day on some of the best ice this season.

One comment I heard on the site selection was that the Skeeter guys found this particular site which had not really been used for a regatta previously. Actually one local mentioned he believed they were gunk holing in the area looking for access when they drove down this dirt lane with full size Skeeter box trailer in tow and had no choice but to pull out onto the ice so they could turn around and once on the ice said hey this looks good I guess where here (easier than pulling back out at the time ;-)).

DAY 1
DAY 2
FINAL
RACE 1
RACE 2
RACE 3
COMBINED
SKIPPER
SAIL #
SAIL #
FINISH
SAIL #
FINISH
SAIL #
FINISH
POINTS
RANKING
Dan Clapp
53
53
1
53
1
53
1
3
1
Tom Nichols
94
94
2
94
3
94
3
8
2
Tom Hyslop
738
738
5
738
4
738
2
11
3
Bob Kau
162
162
4
162
5
162
4
13
4
Bill Stavola
59
59
3
59
2
59
DSQ
15
5
Pete Rochelle
536
537
7
536
8
536
5
20
6
Rick Stavola
106
106
6
106
6
106
DNF
22
7
Jordan Glaiser
928
928
8
928
7
928
DNF
25
8
Peter Block
894
894
9
894
9
894
DNF
28
9
CLASS
B
SKEETER
George Neyssen
152
152
2
152
1
Mark Hancik
219
219
1
219
2
Greg Hansa
37
37
3
37
3