WEST COAST A BOAT CHAMPIONSHIP
Canyon Ferry, Townsend, Montana Map
February 2007




February 6, 2007
NOTE FROM ALAN KALLIO:
"Hi all, as of Tuesday, February 6, we have 2 feet of snow-free ice on Canyon Ferry. This weekend we had 54 boats on the ice with boats from all over including the Deuce. Alas, little or no wind. It will be cooling off Wednesday. from a high of 67 degrees on Monday to highs in the low thirties. Thanks to all for the huge turnout......Alan Kallio"

LEAVING MONTANA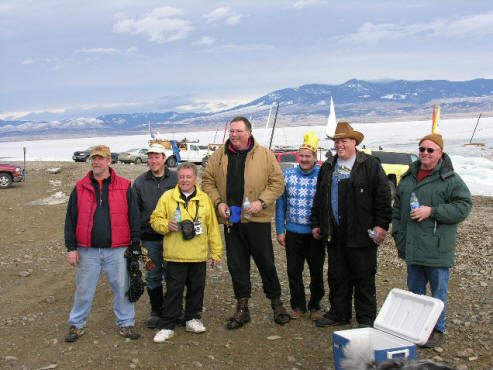 Via Dale Livezey: "As soon as the Deuce was loaded and headed down the road we got some wind! Maybe you should all think about this before you invite that crew. We had
light air, about 5mph. Both Taku and Magic were flying. 55 degrees with
he sunshine and it was hot. Dennis and Mike packed up Taku, and Jack and
Kelly packed up Magic and Black Ice. The Deuce crew stopped for a photo
before they departed (those are water bottles in their hands)



February 5, 2007
UNDER SAIL
Via Kelly Jacobson's cell phone

| | |
| --- | --- |
| | |

Ice, wind and boats
By ALANA LISTOE - IR Staff Writer - 02/05/07
The masts of more than 40 iceboats from around the country made for a spectacular view Sunday at Canyon Ferry Reservoir.
The absence of wind kept them from unfurling their sails, so families skated and visited with fellow enthusiasts, or simply browsed the latest iceboat creations.
Click here to continue reading the story.
SAILING BEGINS
Just received a text message from Kelly Jacobs that "we are sailing and it's great!"

Deuce Tearing Down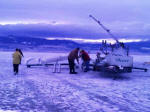 Looks like the wind never came up today in Montana and the Deuce is packing up. Via Kelly Jacob's cell phone.
STILL WAITING FOR THE WIND...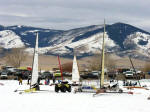 More photos from windless Montana. Kelly Jacobs writes, "cross your fingers this wind forecast is right for Monday."

ICE BOATERS RELAX AS THEY WAIT FOR WIND
February 4, 2007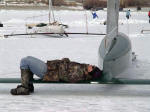 Dale Livezey writes, "We had a bad case of the droopy tell-tail today. But they are calling for 48 degrees tomorrow and winds at 15!"
As they waited for the wind on Saturday, February 3, Kelly Jacob's was able to take quite a few pictures. Take a look at them on the special Montana Photo Page.

MADE IT TO MONTANA
February 3, 2007
Dale Livezey writes, "Several boats have arrived [on Friday, February 2] and a few are now set up. A skiff of snow and very low clouds today. Forecast for tomorrow is 20-30 degrees and 10-20 mph winds from the west."
Photo Credits: Dale Livezey


The one and only Deuce


Jay "Guaran-damn-tee-it"
Yaeso and his Skeeter


Taku
IN THE NEWS
Regatta on ice
By JOE MENDEN - IR Outdoors Editor - 02/01/07
Helena-area ice-boat sailors hosting weeklong event at Canyon Ferry
Unseasonably warm weather in many parts of the country is proving to be good news for Helena-area ice-boat sailors — and anyone else in the area interested in seeing the sport in action.
Canyon Ferry Reservoir is hosting an ice-boat sailing regatta starting this Sunday and running until the following Sunday, Feb. 11.
Click here to continue reading rest of the story.
BROKEN DOWN IN GREEN BAY
February 1, 2007
Jack and Kelly Jacobs made it as far as Green Bay on Wednesday where they encountered trailer problems. Kelly writes, "The trailer hitch is pulling down off the truck. Thanks for the repair shop Jay Yaeso! We should be on our way tomorrow afternoon." As of 9 AM the hitch is fixed and they are on their way to Big Sky Country.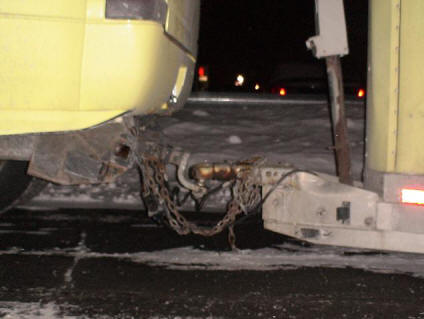 MONTANA WINDSOCK
Via Fred Stritt (with a little fast Photoshop treatment from me): "Hope the west bound guys don't run into any of these conditions. 75° might read 'BEWARE OF LOW FLYING DEUCES'"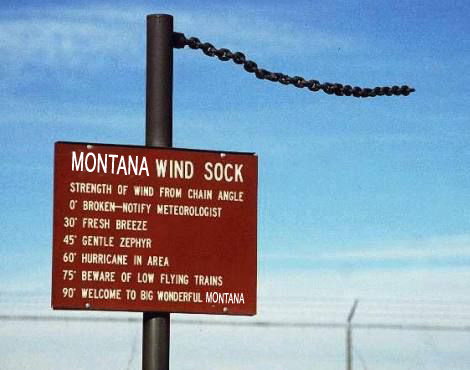 NEWS FROM THE CABBAGE PATCH:
1-30-07: WORLD TOUR BEGINS
Via Todd Knopp:
"The Deuce is shrink-wrapped and ready to depart. This is the start of the 2007 World tour."