Geoff Sobering's DN Regatta Reports
2008-2009 Season
March, 2009
DN Western Regionals
Geoff's reports posted here.
February, 2009
DN Gold Cup & North American Championship
The DN Gold Cup World Championship Regatta alternates between Europe and North America. 4LIYC skippers Geoff Sobering, Daniel Hearn, and Wes Wilcox will compete in the regatta.
Dates: February 8-14, 2009
DN Gold Cup sailed at Torch Lake, in Michigan February 8-10, 2009
DN North American Championship Regatta
Date: Begins Thursday, February 12, 2009
Location: Green Bay, Marinette, WI
Map.
IDNIYRA Website
DN America Forum

February 16, 200
Geoff Sobering is blogging the repair process of his DN on iceboating.net
February 14, 2009
Text Report From Geoff: "Racing Done"
If the preliminary scores are correct, looks like Ron Sherry won the DN North American Championship regatta!
DN North Americans Photo Gallery
On Minnesota's iceboating.net.
Geoff's DN NAs: Day 3 AM Report
Saturday morning. Looking out the window this morning revealed about 1/2" of snow on the ground. It looks very light and fluffy. Not helping things is the wind forecast. The National Weather service shows the wind increasing from 2 mph to 5 by noon, and then to 8 by late afternoon. Right now the airport shows "calm", and the flag in the parking lot is hanging down and not moving at all. Hopefully we'll get some sailing in today.
DN NA Preliminary Results
On the IDNIRYA website.
February 13, 2009
Geoff's DN NAs: Day 2 PM Report Part 2
Change in plans... The Gold Fleet racing is very tight between Ron and Matt after fives races today (same number of races in the Silver Fleet). The regatta is continuing tomorrow, so Daniel and I are back in our rooms at the Marinettee Inn (a great place, BTW - highly recommended). Hopefully I will be well enough to sail the last two races.
Geoff's DN NAs: Day 2 PM Report (From the Hotel)
I just talked with Daniel. They finished four races in the Silver fleet and the Gold is racing now. He thinks they'll do at least one more race. Wind is light'ish but sailable. The ice is rough but not horrible. The course it around 3/4 mile, so the first race with 63 boats was exciting (but no problems that he mentioned). Now they're racing two 51 boat fleets.
Geoff's DN NAs: Day 2 AM Report
The wind is up (6-7 mph) and the ice is hard this morning. Commodore John Harper posted a note last night on the DN Forum saying, "Smoother patch of ice found after racing canceled for the day." Temperatures aren't supposed to increase much, and with the overcast it would seem the surface this morning should hold all day. Unfortunately for me, I'm back in my hotel room after dropping Daniel off at the boats because I seem to have picked up a flu. Just standing is a bit tiring, so driving a boat around seemed like a bad idea. Hopefully they'll have a great day out on the ice!
Geoff's DN NAs: Day 1 PM Part 2 Report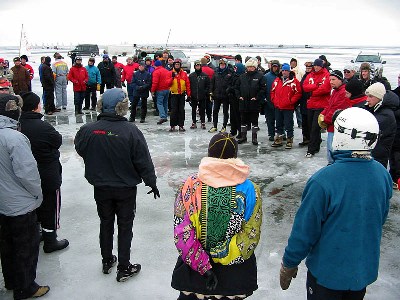 The skippers meeting on the ice.

At the skippers meeting, Mike Derusha invited people over for a tour of his shop. After lunch, Daniel and I headed over there.
The Debutante's backbone looks even more amazing than it did when we glued it together at the "Cabbage Patch".
There was a DN having some mast-step repair done, and we learned quite a bit about the different ways that the Europeans build the internal structure of their boats.
Great fun! Thanks Mike, for inviting us over!
After the shop tour, we hung-out at the regatta HQ hotel and talked with various folks about iceboats and iceboating. Ken Smith arranged dinner at the River's Edge restaurant, and we had a great meal with more good conversation.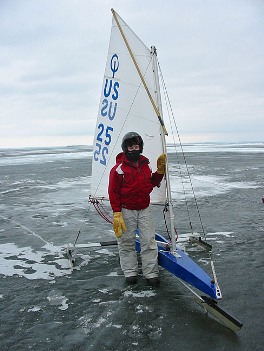 A family friend of Mike Derusha, Sam (I'm sorry Sam, but I totally forgot your last name!) sailed the Ice-Opti all over today.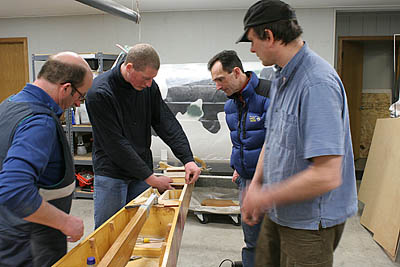 Left-Right: Martin Van Wettum (H 404), Dennis de Ruiter (H 852),
Daniel Hearn, Mike Derusha
February 12, 2009
Geoff's DN NAs: Day 1 PM Report
"Do you want the long story or the short story?"
"THE SHORT STORY!"
"We're not sailing today."
That was the core exchange between Commodore John Harper and the fleet at the noon skippers meeting on the ice here in Marinette.
I have to admit I was one of the majority who didn't sail, but from talking with folks who did, the main problem was visibility. The soft ice surface was throwing a continuous stream of chips and water into the skipper's face. With wind speeds peaking out around 20 mph, and two fleets of 51 boats (63 in the the Silver Qualifier including the 12 people who would advance to Gold) the organizers decided it just wasn't a good idea to race today.
It's hoped that the below freezing temperatures overnight and tomorrow will firm up the surface.
Geoff's DN NAs: Day 1 AM Report
Well, after a day of driving around, we ended up in the Marinette Inn (guess where!) last night. A quick stop by the regatta HQ hotel to check-in and find out the schedule for today, and we were off to a great dinner and then bed.
The skippers meeting is noon on the ice to allow the folks who stayed overnight in Oshkosh time to get up here. Looking out the window I see trailers and iceboats on cars all over the parking lot, it looks like there may have been some drizzle overnight, but the airport didn't record any rain. The weather forecast looks good for today: constant direction winds from the west (hopefully no course changes!) in the teens and temperatures in the mid-30s (F) along with cloudy skies. Hopefully the ice will stay reasonably fast and we can get in a good series of races today. On the downside, there is some snow forecast overnight, probably under an inch. The winds tomorrow as supposed to be lighter (5-7mph) but the temperatures are forecast to be below freezing overnight and all day, so hopefully we'll be able to sail - that's too far in the future to think about right now!
The plan is to head over to the ice around 10:00am, setup the boats, and align runners. Mike Derusha introduced us to a great kid last night who will probably borrow one of Daniel's Ice-Optis for the day.
Gold Cup Aerial Photo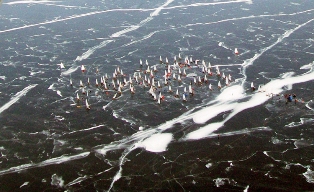 John Russell sent this photo from the local US Coast Guard Air Station. "The flight crew flew over the starting area as the first races on Sunday were preparing to start. USCG Aux Pilot Jim Johnson sent me this image, shot from the helicopter on their second pass."
Torch Lake, MI video from "oneguyfromdetroit".
February 11, 2009
Geoff's PM Update
Daniel and I just checked into the Marinette Inn! (nice place - and a great rate...) It was a long day of driving (and waiting), but we're hopeful for conditions tomorrow. The hotel owners gave us a map and showed us how to get to the landing, so we are all set to head out first thing in the morning. We'll probably head over to the Best Western and check-in after a quick dinner.
You gotta love iceboating!
DN North Americans Update: MENOMINEE/MARINETTE BOUND
Via Ken Smith: The DN North American Championship Regatta will not be sailed on Oshkosh due to deteriorating conditions. The majority of the fleet is staying in Oshkosh tonight and then traveling to Menominee, Michigan where the regatta will be sailed on Thursday. Hotel is the Best Western Marinette, 715-732-1000. Registration will be held tonight at the Hawthorne Inn and Suites at Oshkosh from 8PM to 9PM tonight. There will be some flexibility for late registrations. The start of the regatta will be delayed on Thursday in order to give competitors time to travel from Oshkosh to Menominee, MI.
[Menominee, Michigan and Marinette, Wisconsin are towns that border each other.]
Registration: There are two regatta headquarters
Hawthorn Inn & Suites in Oshkosh, WI (800) 527-1133
Best Western Marinette, WI 715-732-1000
or register by phone on the official North American hotline 244-988-0851. Registration tonight needs to be between 8-9PM CST.
Skippers meeting on the ice at noon CST at Red Arrow Park in Marinette, WI. Nearest intersection is Leonard Ave. and Ogden St., Marinette, WI and racing will begin shortly thereafter.
LOCATION: Red Arrow Park, Marinette, WI near the interesection of Leonard and Ogden St. Map.
February 10, 2009
2009 DN World Champion Matt Struble
Photo Credit: John Russell
DN Road Show On The Move
Geoff Sobering writes that the DNs are leaving Torch Lake because the warm weather is creating drain holes. They are looking at potential sites in Michigan and Wisconsin which will be sailed tomorrow morning, with the final decision around noon.
Minnesota DNer and Silver fleet winner Jim McDonagh is putting Lay-Day to good use. Check out this awesomely awesome video.
Geoff's Lay-day Report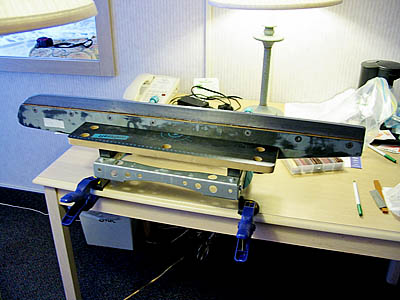 With the untimely demise of my port 3/16" Sherry insert-runner Sunday, my primary runners are the 1/4" Sarns-steel inserts Andy McComick build during his DN days. Both were still pretty sharp after racing Monday, but there was a small rough-spot on the port runner (I'm sure that's why I did so poorly!). A few passes with 120-grit sandpaper on a stone and everything felt good. A quick polish with the 120-grit wet-stone and it was done. My steering runner got the same treatment just to bring it back up to a fine edge.
Geoff's Day 2 Report Part 2
Monday was interesting. The wind speed varied from nearly dead calm to the mid-teens and shifted around quite a bit. I spent the morning getting all the myriad of pieces and parts together on the ull Julie Richards and Richard Wollam loaned me (thanks guys!), so I missed seeing the first Bronze fleet race. Sailing upwind to the course was quite a challenge. When I got to the pits, the Bronze race was done. From all accounts it was a quite the marathon event. The wind was OK at the start, but died at the first windward mark, and the rest of the race became an endurance test. The RC decided to wait on the next race until the wind picked up, so I had time to unload and look around. I made a combination of bad tuning adjustments and tactical decisions that kept me at the back of the pack all day. Daniel did much better, putting together solid set of finishes, including a bullet in the first race and a second in the last, to win 5th place in the Bronze fleet. The Gold fleet racing was (predictably) very exciting, with Matt Struble winning constantly, but various Europeans and Ron Sherry were also up in the top places. The last race was amazing; Matt won by about 1/4 lap, with Ron coming second after working his way from way down in the pack on the last lap!
Tuesday is a lay-day with the GC awards at 1:00 and the NAs registration right afterwards. Weather permitting the NAs will start tomorrow. The forecast is iffy right now, with light winds in the morning, rain in the afternoon, and warm temperatures all day. Thursday looks good, with temps. just above freezing, and wind speed in the mid-teens.
Time to sharpen my runners!
DN Gold Cup Results
On the IDNIYRA website.
By Silver fleet champion, Minnesota ice boater Jim McDonagh.
February 9, 2009
Matt Struble Wins Gold Cup!
Via Jane Pegel: "DN Commodore John Harper phoned me about one hour ago. The DN Gold Cup has been concluded and Matt Struble has again successfully defended his championship."
Photos, including shots of Gold,Silver, and Bronze finishe sheets here on iceboating.net
Geoff's Day 1 PM Report: Part 2
Well, in many respects it was a great day on the ice. The winds started light'ish (ca. 7-10mph) and the ice was pretty fast. There were some pretty rough patches, and a few small slushy areas (well marked by the RC). The Bronze fleet qualifier was first up to the line in the morning. I'd (amazingly) been seeded into the Silver Fleet (an event not to be repeated anytime soon), so I watched the race. 4-Lakes skipper Daniel Hearn had a bad first leg, and was working his way up through the fleet, but missed advancing into the Silver by one place!
The Silver Fleet went next and my usual form in light'sh winds kept me near the back of the pack, but it was a fun sail - until I decided to cross over the middle of the course and got hit by a port tacker. John Dennis sailed out to make sure we were OK (amazingly we both were), and sent the 4-wheeler to help pick up the pieces. Daniel came out and helped get the two boats (or what was left of them) back to the pits and headed out for the second Bronze race. I did triage on my boat, then hitched a ride out to the starting line to watch some races.
I got out to the windward mark just in time to see a great battle between Matt Stuble (US-183), Ron Sherry (US-44), and Tomasz Zakrziwiski (P-55). Ron got the bullet, with Tomaz and Matt following. In the last Gold race, Matt, Ron, and Jokon Schneider (P-697) were battling around the course. Matt and Ron rounded the final leeward mark runner-to-runner, with Jakob hot on their heels. In the last lap, Matt pulled ahead and Jakob caught Ron in a photo-finish that was too close to call from the starting line. Unfortunately, there was a three-boat collision at the windward mark in the that race, too. Wendel Sherry, Leon LeBeau, and Jeff Kent collided right at the windward mark, destroying all three boats. Wendel damaged his ribs and spent some time in the local hospital in a precautionary check of additional problems, and thankfully he was back at the hotel before dinner. The top three positions in the Gold fleet are currently: Matt, Bernd Zeiger (G-107), and Ron.
Randy Rogoski and Mike Derusha also had damage, and we all ended up at Richard Wollam's shop for repairs (along with a number of other visitors). Randy and Mike's boats were fixed, but after examination mine was deemed a "multi-evening" repair. Richard and Julie Richards offered to loan me Julie's old hull for the regatta (Thanks!), so I should be back out on the course tomorrow.
February 8, 2009
Day 1 Photo Gallery
Photos by John Russell
| | |
| --- | --- |
| | |
| | |
| Wendell Sherry & Kent Baker | |
| | |
| | Windward mark |
| | |
| | |
TIYC skipper Kent Baker is blogging the DN Gold Cup and North Americans.
Gretchen Dorian Photos
Photos from Gretchen Dorian from the opening ceremonies of the DN Gold Cup.
Via the J14 Elk Lake Message Board
Day 1 AM Report
I could hear the wind was howling last night as I fell asleep. Gusts were reported to 24 mph. Hopefully that helped evaporate some of the water standing on the ice. From my window I can see the moon reflected in the west arm of Grand Traverse Bay, and the ice seems less shiny than last night. The wind has moderated (just like the forecast predicted) to around 10 mph, we should have a great day of racing.
Day 0
Dan and I had an uneventful trip through Chicago and up to Traverse City, including a brief side-trip to Ken Smith's house (the DN Western Region Rear-Commodore) to pick up his summer sailing foul-weather gear.
We arrived after dark, so we just went straight to the hotel. There are lots of iceboaters wandering around. Estimated attendance is 120 boats.
Registration also went uneventfully, but we did get to talk with many people who sailed today (and many who decided not to...).
The water depth is reported as an inch to a few inches. Jorg Bohn (G-737) said he'd sailed all day today and the water wasn't bad - just an occasional splash from a slushier area.
The overnight temperature is forecast to drop into the mid 20s, with a daytime high around 32F. Winds are supposed to be in the low teens, or perhaps as low a 10 mph, so there should be no problem sailing and it's hoped the wind will help evaporate the water.
The skippers meeting is at 9:00am with the Bronze Fleet Qualifier to start at 10:00am (sharp!). Time for bed!
Photo Credits: John Russell
www.greatlakesimages.net
tcphoto@aol.com
The season's first regatta is non-sanctioned but draws top DNers from North America and the world who come to first ice in Minnesota to test their new equipment and themselves.
Date: December 6-7, 2008
Location: Lake Osakis, Oksakis, MN
Map
December 10, 2008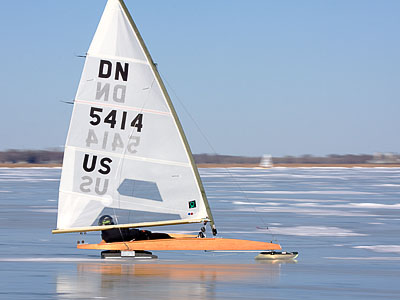 Wes Wilcox
December 7, 2008
Day Two Report
Snow, freezing rain, wind... Iceboaters aren't deterred by minor discomforts like that.
The Ice-Opti and DN fleets headed out to a course set inside the large crack about 3/4 miles out on Lake Osakis.
Visibility was variable depending on the precipitation, and the wind was a15-20 mph. The Optis ran one race then headed in because of the visibility. The DNs stayed out a little longer. The DNs sailed three races.
Ice-Opti NA Results:
1 Augie Dale (US-51)
2 Jake Glaser (US-4)
3 TJ Sherry (US-9)
4 Sheridan Hearn (US-18)
5 Griffen Sherry (US-2)
6 Louis Austin (US-29)
7 Frankie Hearn (US-25)
Day One: Another PM Report
Busy evening with [Opti] "chalk talk", dinner, etc. Most of last night's snow ended up adding to the existing drifts, with occasional spectacular results.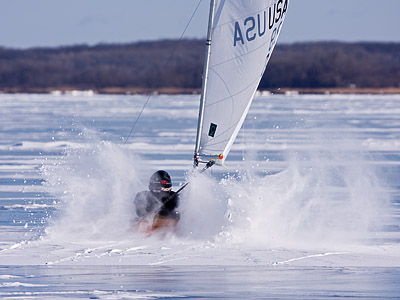 December 6, 2008
Day One: PM Report
Quick synopsis: cold, windy, great! Racing started with the Optis in the late morning, and by early afternoon the DNs had come out, too. Optis sailed five races, I'm not certain how many races the DNs got in, but they sailed quite a few races in Gold and Silver fleets.
ABC film crew coming to Lake Osakis today
By Greta Petrich, Editor, The Osakis Review
Published Friday, December 05, 2008
Rumblings that Lake Osakis could appear on national television are true. A film crew for ABC's Good Morning America will be here today, December 5 (between noon and 4 p.m.) and tomorrow, December 6 to film ice sailing on Lake Osakis and interview the sailors. Continue reading.
Great Western Challenge: Day 1 AM Report
Saturday dawned clear, windy, and cold (20mph gusting to 25, 9F); the good news is it looks like we only got about 1/2 inch of snow overnight. The forecast is for the temperatures to slowly rise all day, and the wind to slowly decline (to perhaps the mid-teens). Tomorrow is supposed to cold (5F) with less wind. Off to breakfast and then to the ice!
UPDATE: (Text message from the ice)
Windy overnight. My boat flipped too. No damage that I saw anywhere.
December 5, 2008
Great Western Challenge: Day 0
Yee haw!!!! Now that's sailing!
The day before the Great Western Challenge officially begins (to the extent that anything about the GWC is "official") was a great success.
Winds moderated from the early forecasts of 20+ mph down to the mid-teens, although there were numerous blasts well into the 20's. It sure felt windy out there on the lake.
In the morning a course was setup inside the ridge about 3/4 mile away from the landing. Later in the day someone found a good crossing and we moved out onto the main part of the lake for more racing and hot-laps.
The ice is very hard and fast, and coupled with the wind it made for high speeds (hence my opening "yee haw"). There were quite a few stiff snow-drifts on the course. Hittin one of those with a leeward runner at speed "got your attention".
The leeward mark rounding was pretty exciting, and there were a number of downwind spin-outs (including me).
I also had a "first" when I spun out in a puff and drift while sitting up for a leeward mark rounding: I got tossed out of the my boat!
The Optis sailed closer to the landing. They got a late start, but made up for it by sailing until the sun went down. The kids seemed to have a good time!
As we were packing up, some snow starting to come down. Looking at the radar it appears that the fluuries are over, and it looks like we may have gotten well under an inch of accumulation.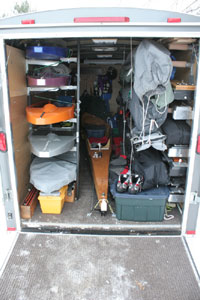 Wes and Dan's trailer loaded to the gills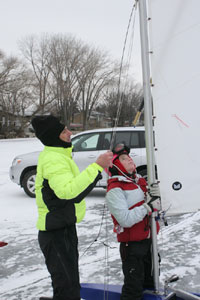 Dan and Sheridan setup her Opti.
In The News
Ice sailing coming to Lake Osakis this weekend, December 5-7
Alexandria Echo Press
Published Friday, December 05, 2008
The 2008 Great Western Challenge Regatta should bring at least 75 ice sailors to Lake Osakis for a weekend of adventure.
Sails will begin gliding across Lake Osakis around noon Friday, December 5 and continue from 10 a.m. to 4 p.m. Saturday, December 6 and from 10 a.m. to 2 p.m. Sunday, December 7. Continue reading.
December 4, 2008
On the Road!