Geoff Sobering's DN Regatta Reports
2009-2010 Season
The 2010 DN North American Championship has been called on for Thunder Bay in Ontario, Canada. Stay tuned for regatta updates and photos from 4LIYC DNer Geoff Sobering.
March 8, 2010
Regatta Wrap Up
Ice Boat Regatta from Catchlight Video Solutions on Vimeo.
March 6, 2010
DN NAs- COMPLETED!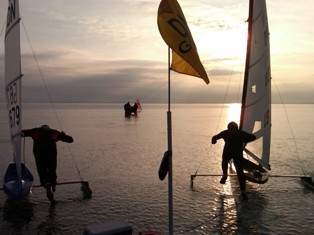 Matt Struble (r) and Martin Schneider (l) power
off the start for the final Gold Fleet race.
[Email Time Stamp From Geoff-5:11 AM March 6] Just got in from driving straight from the ice... Sleep!
The final Gold Fleet race necessary to complete the regatta was sailed when the wind picked up just before the sunset deadline. Steve Orlebeke caught a favorable shift right after the start to take a commanding lead and kept his boat flying around the course just making the time-limit on every lap. Ron Sherry moved up through the fleet to take second, with Matt Struble in third. The final race put Ron ahead of Matt by one point for the regatta win. Steve Orlebeke finished third, with Martin Schneider of Germany fourth.
"Team Madison" sailors placed: Daniel Hearn: 24th Gold, Wes Wilcox: 7th Silver, and Geoff Sobering: 22nd Silver. I don't remember who coined the phrase, but everybody agrees the 2010 NAs will go down in history known as the "Ground-Hog Day Regatta". Every morning this week we woke up to an identical clear sky with no wind...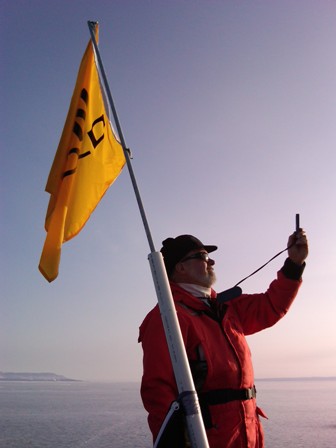 Eric Lind checks the wind just before it filled in for the Gold Fleet race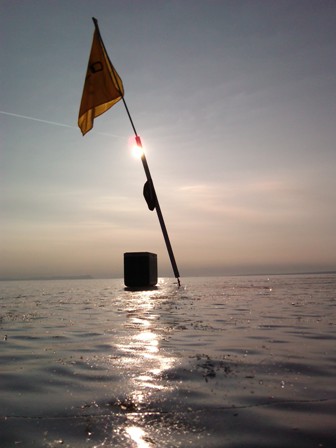 For most of the day it looked like the sun would
set without enough wind for even one race.
March 5, 2010
DN NAs- RACING!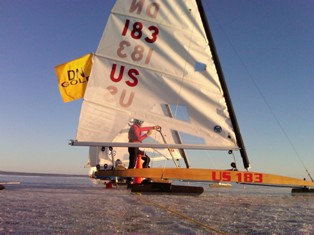 Matt Stuble's boat sitting in the #1 spot waiting for the start of the final Gold Cup race.
Three Gold Fleet, three Silver Fleet. Light wind, but no shifts. We really tried today. The finial Gold race was canceled just before the sunset time-limit.
Link to my Silver Fleet track in race #3 (where I finished 7th). Link to profile.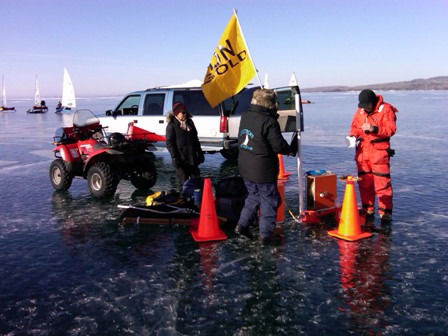 Loretta Rehe, Eric Lindt, and Hal Bowman's (US-1277) wife Mercedes setup the start with Mike Derusha's vehicle in the background.
March 4, 2010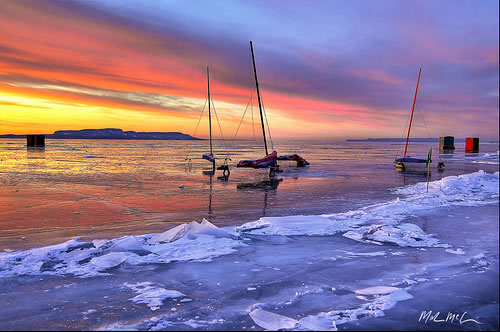 Take a look at Thunder Bay resident Mark McCulloch's Flickr stream to see more of his photos from the North Americans. Mark has many more photos to post and writes, "Hopefully Tbay will get some wind so racing can begin. The strange thing is is that it is almost always windy here. Unfortunately a high pressure system stalled over the area..... Great temperatures.... Poor wind condition."
DN NAs - Mar. 4 AM Report
Looking out the hotel window, there's not much wind (again...). The forecast is for about 4-5 mph; hopefully that's an underestimation and we can get some races in today.
Racers off and running
KRIS KETONEN
03/04/2010
" Ice boat racers sure move fast. Not just in their boats, the sleek, sail-propelled, lightweight and often-homemade craft which can reach speeds of up to 100 km/h, either. These guys can cover half a country in what seems like no time at all when there's racing to be done." Continue reading.
March 3, 2010
DN NAs - Mar. 3 PM Report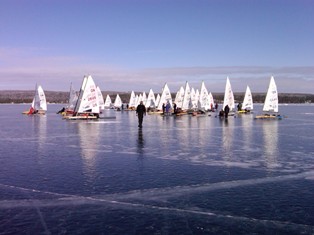 Wind cooperated enough in the morning to get the Silver Fleet mini-qualifier (race 1) sailed. As the race progressed, the wind dropped so that by the time the Gold Fleet was ready it was dead calm.
The wind stayed that way until late afternoon when a passing gray cumulus cloud brought a brief stint of wind. Unfortunately it was too late as the races had been abandoned about 45 minutes earlier and most of the fleet was already in the pits with sails down.
A number of people got good rides before the cloud passed and the wind died again. 4-Lakes member Daniel Hearn finished second in the mini-qualifier and moves up into the Gold fleet, as did both Mike Derusha and the only Jr. sailor in the fleet, Sam Myers. Results are on the DN Forum. Here's the GPS track of my (19th place) first race, a GPS profile of speed vs. time. The color shows the heading.
DN NAs - Mar. 3 AM Report
Flags are moving a bit this morning! Forecast is for 7 mph, so hopefully we'll get some racing in today.


Photo Credit: Geoff Sobering. Larger version here.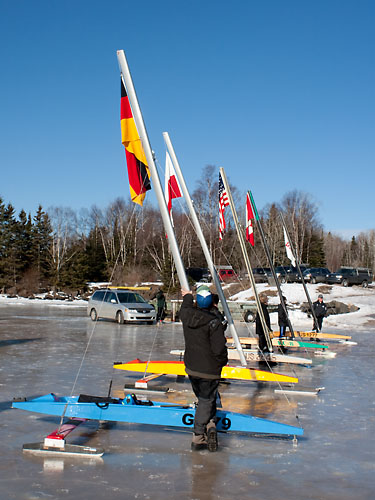 Photo Credit: Geoff Sobering
March 2, 2010
In The News
"The North American iceboat championship is stuck in neutral due to lack of wind on Lake Superior." Read more here.
DN NAs - Day -2 - PM Report
No wind. No sailing.
DN NAs - Day -2 - AM Report
Registration went well last night. There are around 60 boats entered. Plans are for two fleets. The wind forecast isn't promising. Looking out the hotel window all the flags are hanging totally limp and smoke is rising nearly straight up. The opening ceremony is at 10:00am with the skippers meeting and racing to start right after.
DN NAs Updates
There are some good updates with photos on the following blogs: Kent Baker's Ice Blogger, Ken Smith's Ice Sailing Trek, and Jim McDonagh on the Minnesota ice sailing site.
March 1, 2010
DN NAs - Day 1 - PM Report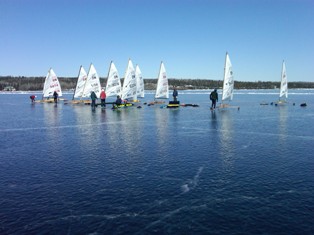 About 40 boats setup and sailed a huge sheet of ice on Lake Superior. The course was 1.4 miles, and the warning was that about 4 miles to windward there was some really rough ice to avoid; needless to say that wasn't much of an issue. The ice is a bit rough, but hard and black. Even in the late afternoon sun and above-freezing temperatures it didn't soften very much. The wind didn't cooperate and stayed light all day averaging around 4 with some slightly higher gusts. Most of the fleet got around the course in good time - I was struggling (as usual), but by the end of the day I was doing better.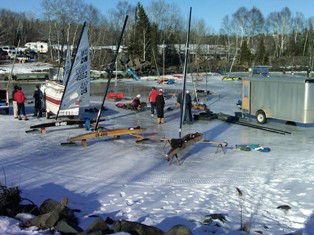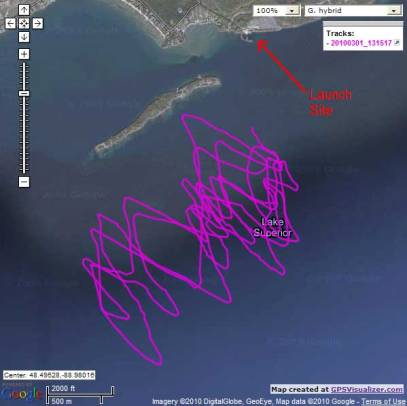 My track for the day wit the launch site. Interactive URL of my track.
DN NAs - Day 1 - AM Report
We passed Bob Cummins just before the Canadian border last night and we convoyed the rest of the way to Thunder Bay. The Prince Arthur is a nice hotel. Not much for wind. Most folks are taking time heading to the ice. Wes is doing some last-minute tweaks to his steering runner and we'll be heading out soon.
February 28, 2010
DN NAs - Day ?
AM Report: I'm just about to head over to Wes Wilcox's' house to load my program into the trailer and head up north.
February 27, 2010
DN NAs - Day ?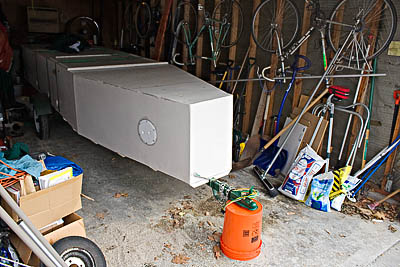 All packed up, but nowhere to go...
Just a few days ago I wasn't expecting to be sitting at my home computer this morning. I planned to be on the second day of a drive from Madison out to New Hampshire or Vermont. Mother-nature intervened in the form of a major winter storm over the entire north-east portion of the country and the all the beautiful black ice on on Lakes Winnipesaukee and Champlain disappeared under inches of rain and snow. A similar thing happened in 2006, but that year there were other venues, and the regatta simply moved west. This year, the weather has been even more dramatic and there appears to be almost no sailable ice east of the Dakotas. Rich Potcova, Danny Connell, and the rest of the IDNIYRA North American executive-committee are undaunted. The regatta has a week-long window and there is plenty of time to figure things out. We are currently under a two-day postponement waiting for the extreme weather in the east to clear out and for the few possible sheets of ice to be scouted. The southern-most section of Torch Lake near Traverse City recently froze, so it is snow free. The local sailors have found a large-enough area for the regatta, but 30 mph wind gusts kept them from sailing Friday. Lake Pymatuning, straddling the Pennsylvania/Ohio border and south of the recent storms, is also being sailed. Iceboaters in Thunder Bay on the north shore of Lake Superior also report great ice, and there are rumors of ice in Nova Scotia - so who knows where we may end up... For once, all my gear was packed and ready to go days ago. I spoke with Daniel Hearn and Wes Wilcox last night, and the current plan for "Team Madison" is to transfer my stuff into the big-trailer tomorrow morning and head out for Traverse City - but who knows what new developments will come today...
DN Gold Cup Photos
UK DN skipper Gareth Rowland (K11) was kind enough to share his photos from the DN Gold Cup & European Championships February 7-11, 2010 sailed in Austria at Neusiedlersee. Regatta results here.
Photo Credits: Gareth Rowland (K11)
February 26, 2010
TIYC DNer Kent Baker has begun his IDNIYRA North American championship regatta reports. "I have found it to be fun to report on sailing, nature, travel, and the interaction between people bonded by the love of a sport. Alas, after a few years of doing this, i am now expected to keep it up so here goes…"
February 3, 2010
Via the DN Forum: DNer Ken Smith is traveling to Europe for the Gold Cup and will be posting a travelog and regatta updates here.