Geoff Sobering's DN Regatta Reports
2010-2011 Season
IDNIYRA European Secretaries Meeting
Goeff is attending the annual European Secretaries meeting in Estonia and will be sending some updates.

April 17, 2011
Secretaries Meeting- Day 2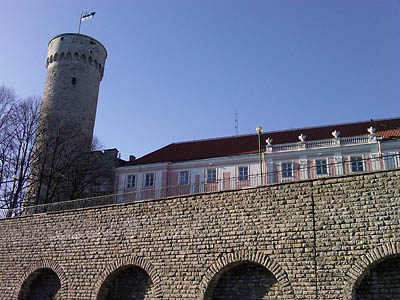 With the European Secretaries meeting formally completed Saturday evening, Sunday morning was open for some sightseeing. Hennie vande Brink and I hitched a ride with Christian Seegers and his wife to Tallinn. We met Jörg and Ulrike a the hotel, checked in, and then headed out to walk around Tallinn's "old city" area. Later we all went to a fantastic dinner along with Jerzy Henke and his wife (whose name I have completely forgotten...).The photo is of the Estonian flag flying over Pikk Herman Tower. This is a very symbolic site since during the long period Estonia was occupied during and after the Second World War until the late 1980's it was prohibited to fly the flag.
April 16, 2011
Secretaries Meeting - Day 1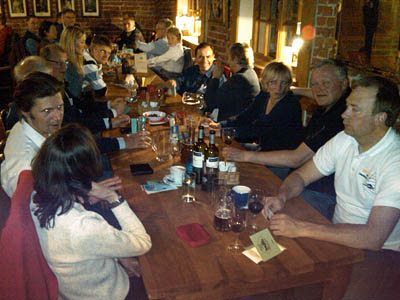 Today was almost all business. Between lunch and dinner the European Secretaries and the Board worked though an agenda of 27 items, with one of those being the discussion of the many proposals and topics submitted ahead of the meeting itself. Jorg Bohn ran the meeting very well. I presented a summary of the North-American Season, but otherwise I was mostly an observer.
Dinner after the meeting was arranged my Mihkel Kosk at an excellent restaurant near the Parnu Yacht Club (although it was a bit dark for a good photo). After dinner we returned to the Yacht Club for more informal discussions.
Tomorrow we will hitch a ride back to Tallinn and spend the night there before leaving Monday morning.
April 15, 2011
European Secretaries Meeting - Travel Day 2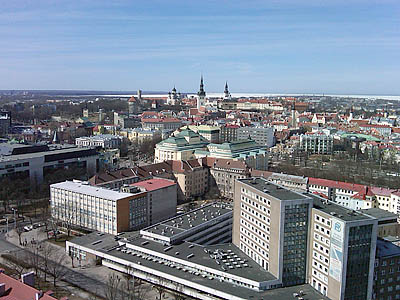 A very enjoyable evening with local iceboaters kept us up to about midnight. Not normally a problem, except we had to be on the road at 3:00am to get to Weeze Airport near Dusseldorf for our RyanAir flight to Tallinn. Sleep? Not important!
The flight was uneventful (but cramped!) and we got to Tallinn in Estonia just before noon. After collecting some other iceboaters (I'll try to get names tomoorow...) Mihkel Kosk picked us up in the Pärnu Sailing Club's van and took us for some sightseeing around Tallinn. Merili Randmaa stopped by to say "Hi" while we were in Tallinn, and then Mihkel drove us down to Pärnu and we settled into our rooms at the stunning clubhouse. In the evening I overslept and missed the welcome from the Pärnu Sailing Club Commodore, but someone got me up in time to get together and talk sailing with some of the luminaries from the sailing club. What a day!
Now it's off to sleep (the first full night in a couple of days) so I can get up in time for the meeting to start with breakfast at 8:00am.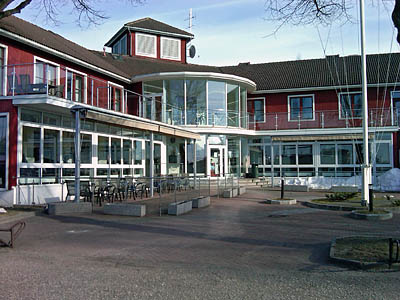 April 14, 2011
European Secretaries Meeting - Travel Day 1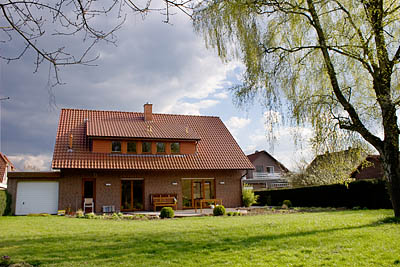 Jörg's house from the backyard.
Via Geoff Sobering: This year I was elected as the representative from North America to the IDNIYRA European Secretaries meeting (the analog of the "Annual Meeting" in NA). Immediately, Jörg Bohn offered assistance with lodging and travel once I got to Germany. I left Madison on Wednesday April 13 with the destination of Bremen (Germany) near where Jorg lives. The trip wasn't quite "Trains, Planes, and Automobiles", but it was a long day starting with a morning bus ride from Madison to O'Hare. My flights went very uneventfully and Jörg met me at the airport in Bremen around 11:00am (4:00am CST). On the way back from the airport Jörg gave me a whirlwind tour of Oldenburg and the town he lives in, Bad Zwischenahn, including taking me for an outstanding lunch at the restaurant that hosts the "welcome party" for NA sailors when they come over to sail in Europe.
I spent the afternoon snoozing and working on the computer. I also took a walk in the beautiful neighborhood around Jörg's house. Tomorrow we meet up with a Dutch DNer and fly to Tallinn in Estonia, followed by a short drive to the yacht-club in Pärnu that is hosting the meeting.
I can't say how thankful I am to Jörg for all the help. I might have been able to make it to Tallinn myself, but it is much less stress (and much more fun) with all Jörg's assistance."
2011 IDNIYRA
Gold Cup & North American Championships
Dates: January 29 through February 5, 2011
WORLD'S Location: Lake Senachwine in Illinois
Gold Champion: Ron Sherry
Silver Champion: Michael Rehe
Bronze Champion: Tim Dixon
NORTH AMERICAN CHAMPIONSHIPS LOCATION: CANCELED!
Regatta Bloggers
April 2, 2011
Jori Heads North for Spring Sailing!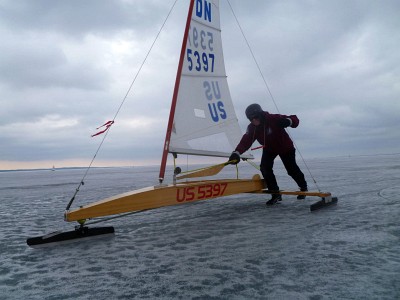 Via Jori Lenon: After missing a month of spring sailing due to injury and hearing rumors of sailing on Green Lake, Little Bay de Noc and Burt Lake, I opted for the mid-range drive to a place I've never visited for my first-ever April iceboating. On Saturday morning, I met up with Delta and Menominee County, MI, sailors on Little Bay de Noc near Gladstone for practice and sharing rides with friends and family. Some brief but incredibly fun scrub races on Saturday afternoon followed when the winds picked up. On Sunday, the snow ice gave way to firmer honeycomb ice, but a persistent snow/sleet mix and diminished winds led to a vote to pack it in. Thanks to Sam Myers for organizing the sailing; Dean, Ann and Christopher Shipman of Escanaba for their wonderful hospitality; Jim Walsh and his sister Ann for the homemade bagels and amazing steak and fish picnic on the beach; and Fred, Fred's brother, Suds, Neil, Ken, Mike, other Mike, Mary, Whammo, the Daily Press news reporter, Todd, Tina, and Misty for your support and friendship. The fat lady didn't sing this weekend, but I did!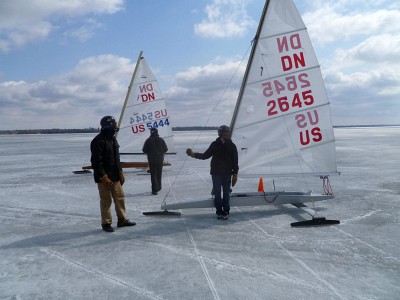 February 13, 2011
Sailing World Ron Sherry Interview
February 9, 2011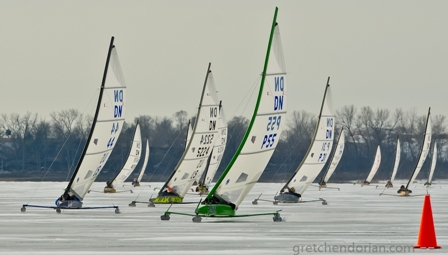 From John Casey: "Sometimes an amazing picture gets me excited to write. Creativity has a snowball effect. Gretchen Dorian struck gold with this one. On the left (US44) is the 2011 DN World Champion, Ron 'Rocket' Sherry, with the Polish contingent putting the pressure on at the top mark. Ron won the championship with an ultra-consistent scoreline of all seconds on the snow bank topped, rough ice of Lake Senashwine in Illinois. No, the picture isn't warped. The bend of the carbon/fiberglass masts is induced on purpose for the rig to 'self trim' when puffs power the mostly wooden DN iceboats around the track."
Continue reading.
February 8, 2011
"Report of the 2011 World Cup in North America"
Through the magic of Google Translate, here is German DNer Jost Kolb's (second place Silver) account of the 2011 Worlds. Tip of the Helmet: Mike Bloom

February 7, 2011
Gold Cup Report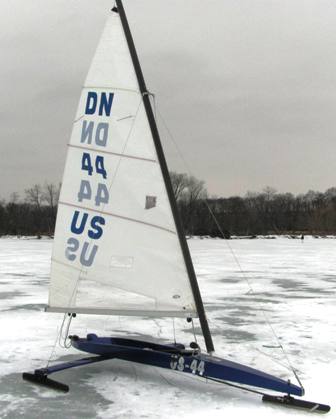 2011 Gold Cup DN Iceboat World Championship.


By Ron Sherry, US44
The 2011 Regatta started Saturday, January 29 in Menominee, MI on the southwest corner of the Upper Peninsula. A storm dumped six inches of snow overnight on Friday, January 28 and forced the regatta to be moved down to Putnam, Illinois on Lake Senachwine.
Click here to read more.
The races were held on Sunday, the 30th and Monday, the 31st in Putnam. Two qualification races were held on Sunday to seat the 117 sailors into three fleets; gold, silver and bronze. An attempt was made to sail the first Gold Fleet Race but the sailors did not make the time limit due to light, shifty wind and sticky snow drifts.
On Monday, five races were run for the gold fleet and four each for the silver and bronze fleets. The scorers led by Loretta Rehe and Erik Lind did a phenomenal job scoring thirteen three-lap races.
During the third Silver Fleet race, there was a collision at the leeward mark. The race committee raised the black flag and stopped the race so that boat pieces could be removed from the racecourse. No competitors were injured and the race was rerun later.
Of the top ten sailors in the gold fleet, five were from Poland and five were from the United States. The Polish team dominated the 2010 World Championships in Austria last year and came "loaded for bear" to try to defend the cup.
Michal Burczynski, two time and defending World Champion, came with his coach and father Peter Burczynski. Peter won the Worlds in 1979 on Lake Champlain, Vermont. Ron Sherry won the Junior Worlds that year at the age of sixteen.
After four races, Burczynski was one point ahead of Sherry. Having a fifth race meant the sailors would throw out their worst race. Sherry had to beat Burczynski to win the regatta. After the first windward mark, Burczynski was ahead but Sherry passed him downwind and increased his lead to the finish to win the regatta over Burczynski by only one point. Sherry won the regatta with five second-place finishes.
In the second and fourth race, Burczynski and Sherry finished the races overlapped and Burczynski won those races by a few feet.
Sherry has won five DN World Championships. 1998 Finland; 1999 Montreal; 2002 Estonia; 2005 Madison, Wisconsin; 2011 Putnam, Illinois.
The 2011 event was physically demanding. The lake was only one mile across. The race committee tried to make the course as long as possible, but this meant having the marks close to shore. The wind was as high as 25 knots and as low as 9 knots and was very shifty. The ice was bumpy, snow ice, with fifty percent snow coverage, and sticky snowdrifts that were up to three inches thick. Snow ice is gray ice, rather than black ice that forms when snow melts on an already frozen lake and then refreezes. Sailors had to constantly adjust the sail and their position in the boat to accelerate and try for top end speed.
Ice boating is absolutely crazy fun. It was amazing taking five second-place finishes, and winning the Worlds without winning any individual races. In the third race, on the second windward leg, I saw a bald eagle flying above me. It made me think of my friend, Ed Kraft, with whom I spent four hours, two days before he died of congestive heart failure.
Kraft was the North American Ice Boat Champion in 1978. He told me, "Ice boating was the most fun he had in his life, no doubt about it". I feel the same way. I always seem to have good luck in big races when I see a bald eagle flying above me, making me feel the presence of my friends and family who have gone on before me.
The Executive Committee canceled the North American Championships because of the last snowstorm. The European Championships are scheduled for February 26 to March 4, 2011, in Lithuania. The Central Lakes DN and Opti Championships will be held on the next weekend we have good ice in Michigan or Ohio. The hotline for the Central Lakes is 248-988-0851.
February 6, 2011
Gretchen Dorian Worlds Photo CD Available for Order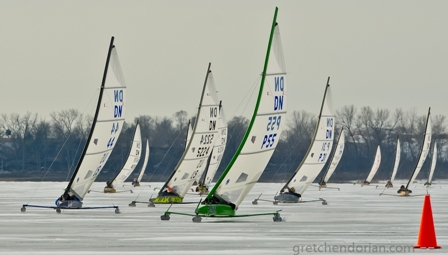 Photo Credit: Gretchen Dorian. Gold fleet day two, race one; P55 Tomasz Zakrzewski,
44 Ron Sherry, 5224 James Theiler, P31 Robert Graczyk
After spending two days camped at weather and few days editing, saving, filing her high quality photos, Gretchen Dorian has another great photo CD ready for you to order. Click here for order form.
February 5, 2011
Day 7: Regatta Wrap-Ups
450 Photo CD Available From Lynn Kotwicki
Photo Credits Above: Lynn Kotwicki
Lynn Kotwicki shot a bunch of photos while at the leeward mark on day two of the regatta and her photo CD is available for purchase.
Cost: $15 includes shipping and handling
Includes: Approximately 450 high resolution (~3.5MB ea) taken at leeward and there will be NOT be a watermark or signature.
Mail Check Payable to: Lynn Kotwicki
424 S. Edgeworth Ave
Royal Oak, MI 48067-3936
February 4, 2011
Day 6: Regatta Wrap-Ups
Awards Ceremony
DN Gold Report from Skip Dieball
"To put the trip, or should I say adventure, into perspective, I have to talk a little about the culture involved in DN Iceboat Racing. First, you have to plan the week of the Gold Cup with as much flexibility as possible. In the winter months, as we know and experiencing, the weather can change at a moments notice. Therefore, you have to be mobile and have a sense of adventure. This was definitely the case for the 2011 edition!" Continue reading.
February 2, 2011
Day 4: Blizzard Aftermath
PM Update 3: In The News
Detroit Free Press
Clinton Twp man takes first in ice boat regatta
The winter blast drove the World DN Ice Boating Championship from Menomonie, WI, down to Lake Senachwine in Peru, IL, but it didn't stop Ron Sherry
Click here to continue reading
Sailing Anarchy
Endless Winter
" In his endless search for the best parts of sailboat racing, John Casey steps into just about any high-performance fleet he can – and usually, he kicks some ass. The DN Iceboat Worlds was maybe a bit too ambitious though, JC managed just a 12th in the 40-boat Bronze Fleet on some random lake in Illinois. Ron Sherry won yet another one, and he'll go for the back-to-back when the DN Iceboat NAs starts this coming weekend, place unknown."
PM Update 2: DN North Americans Canceled Due to Weather
Via the Ken Smith on the DN Forum: "I regret to inform you that the weather has ruined all the venues we can reach in time to complete the regatta by Saturday. Our by laws require the North Americans to be complete within a week. Its a bit more complex, but that is the gist." Continue reading.
AM Update 1: Still Standing By for NA News
While we wait to hear if ice has been found for the DN North American Championship regatta, here's a few photos from the DN Worlds.
Photo Credits: Jori Lenon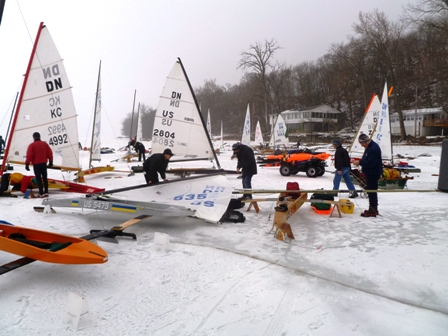 Team Madison setting up on Lake Senashwine.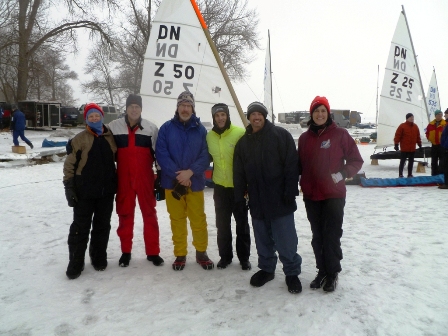 Meet Team Madison: Deb Whitehorse, Kyle Metzloff, Geoff Sobering, Daniel Hearn, John Casey, and Jori Lenon.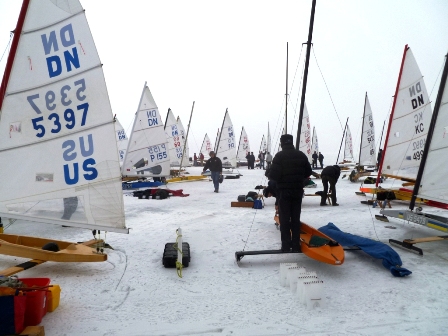 Misty pits, the scene Sunday morning.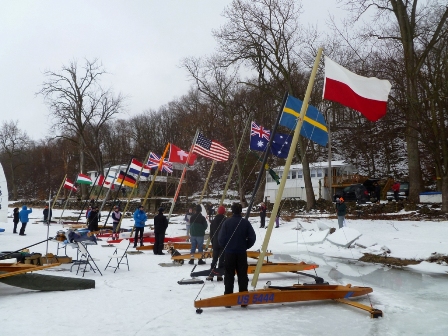 Flag raising ceremony.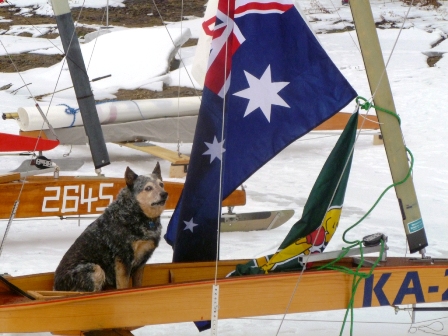 "We're not in Austraila, are we?"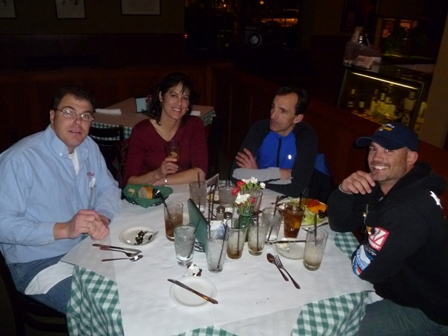 Dinner at the excellent Uptown Grill in Peru, Illinois.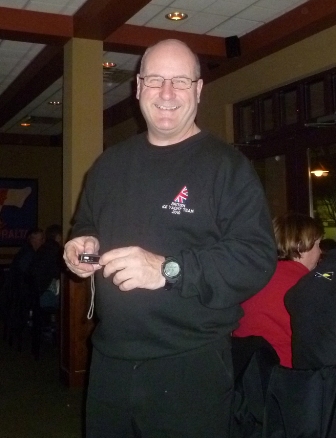 Our favorite UK ice blogger, Gareth Rowland.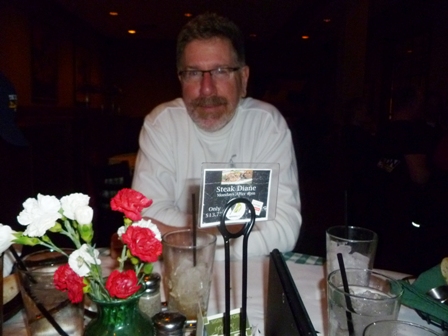 Geoff Sobering at dinner
February 1, 2011
Day 3: Worlds Conclude;
Back in Mad City Waiting for NAs
UPDATE 3: Gold Cup/NA Hotline Information 608-204-9876 #5
Be sure to check the IDNIYRA Hotline for the latest information. Ken Smith's message says that the North Americans are on hold but they are looking at two areas of ice, one on Green Bay near Menominee and the other on Torch Lake in Michigan. According to the message on there now, the hotline will be updated again tonight at 9 PM CST.
UPDATE 2: In the News
" The tiny village of Putnam doesn't often have visitors from 12 different countries — especially all on the same day." Click here to continue reading story.
UPDATE 1:
The Gold Cup was called concluded this morning. Trophy ceremonies were held around the hotel pool. Ron Sherry won the Gold, Mike Rehe won the Silver, and Tim Dixon won the Bronze. Geoff and I outraced the storm, leaving Peru, Illinois with the storm nipping at our heels. We are on standby for the North Americans. The storm is forecasted to miss Michigan and the search for ice is on again.
Sorry for not posting on Day 2 but after scoring 13.5 races in colder conditions, I was too tired to post anything except a few photos on Facebook. With the blizzard coming to Madison, I'll have plenty of time to post photos and reports during this hiatus.
January 30, 2011
Day 1: Go Time
PM Report: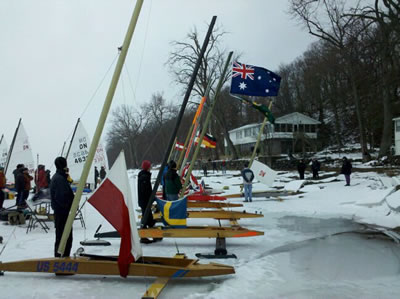 The day began in a misty fog but the wind announced its presence right before the opening ceremony sending skippers scrambling to set their boats right.
There was the usual shifting of the line due to wind changes and the bronze qualifier got underway. John Davenport won that first race and the top twelve advanced to the silver qualifier. I can't recall who won the silver race but the top twelve again advanced to gold and John Davenport also made that cut. The wind dropped and the gold fleet race was black flagged. We'll try again tomorrow!
In Team Madison news, Jori was thrilled to see her mast rotate while she was sailing in the bronze qualifier.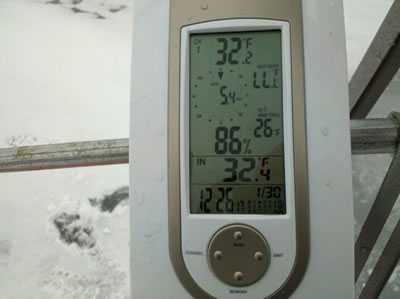 AM Report: The threat of a foul storm bearing down upon the Midwest certainly entertains the possibility that this could be a one day regatta. Hope for the best but plan for the worst and all that. Over 100 sailors have registered for the regatta. A handful couldn't make the transition to Peru from Menominee and a few more have just registered. Daniel, Jori, and John have already headed to the lake so that John can get some seat time before competes in his first ice boat race.
January 29, 2011
Day 0: Team Madison Leaves for Regatta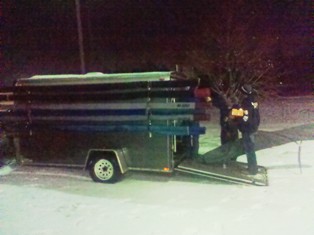 Team Madison in the trailer tonight
9:41 PM Progress
DW: We've arrived in Peru, Illinois at regatta headquarters. Skippers are rolling in to regatta headquarters. Had a fun dinner with the Pewaukee Ice Sailors Syndicate at a Mexican restaurant near the hotel.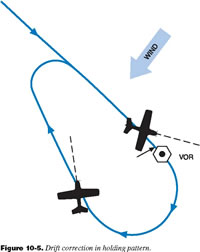 11:03 AM Holding Until 4 PM
DW: In regatta mode with no place to go...yet. I'm certain that ice locations are being scouted as I type this.

8:49 AM: Holding Pattern
DW: From the DN Forum posted by Geoff Sobering, "Overnight the primary site received about 6" of snow. The organizing committee is meeting to assess options and an update will be posted here and on the hotline at 10:00am Central-Time."

DW: If the regatta were being sailed right at Menominee alternate locations would have to be considered because of the 4" of snow that fell there last night. However, the sailing area is about 30 miles north of Menominee and may not have received as much snow. We are all meeting at Jori's this morning and heading into the unknown.
Stay tuned for updates.
January 28, 2011
Day -3: Meet Team Madison of the 4LIYC
Meeting the ice sailors of Minnesota who are attending the worlds over at icesailing.net inspired me to copy do the same for Team Madison.
DNUS5253: Daniel Hearn
Daniel, an avid Cat sailor and the main force behind the Ice Optimist youth sailing program, has moved up to the Gold fleet and is sure to be focused on having a great regatta.
DNUS5397: Jori Lenon
Jori is excited to be attending her first DN Gold Cup and learning more about her boat set-up.
DNUS5156: Geoff Sobering
Geoff puts the hours in the shop striving to get his DN program tweaked just right.
Geoff also serves as the treasurer of the IDNIYRA and is always willing to share his detailed knowledge of how these boats are put together.
DNUS5414: Wes Wilcox
Wes, another soft water speed demon cat sailor, is someone to keep an eye on as he continues advancing in the Silver fleet.
John Casey, adopted Team Madison Member
John Casey, another catamaran sailor, has been invited by Wes and Daniel to compete at the Gold Cup and it will be his first time ice boating. John will be blogging the worlds on his website.
I've also heard rumors that 4LIYC DN skippers Kyle Metzloff and Tim Shriver may be attending.

British Ice Sailing Website
UK skipper Gareth Rowland's web site devoted to British Ice sailing has "gone live". Be sure to bookmark this site because Gareth will be attending the upcoming IDNIYRA Gold Cup and North American Championships and will be blogging the regatta. Gareth writes, "Please register, the forum will be interesting when I go to the Gold Cup, some where within 600 miles of me flying to Chicago next week."

Here's a photo by Robert Resnick from the recent DN Western Regional championship sailed on Lake Mendota.
2011 IDNIYRA Western Regional Championship
Location: Lake Mendota, Madison, WI
January 8-9, 2011
FINAL RESULTS
DN
Ice Optimist
Jori's Flickr Page: Awards Ceremony
DN Western Regionals Video

Here's some video of a Silver Fleet race from the leeward mark and a view of a Gold Fleet race from the weather mark shot by Allen Penticoff. The DN Western Regional Championship was sailed on Lake Mendota on January 8, 2011.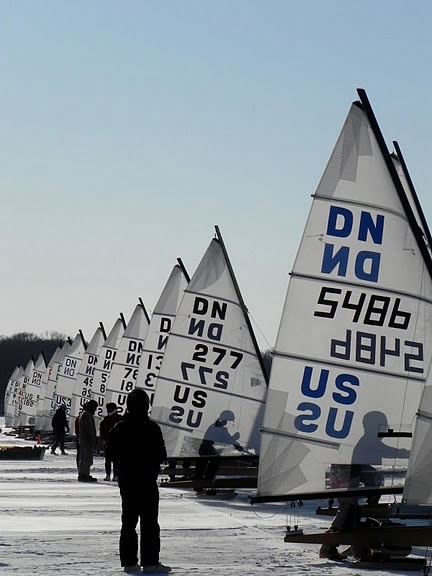 Photo Credit: Allen Penticoff
See all of Allen's DN and Opti photos on his Picasa page.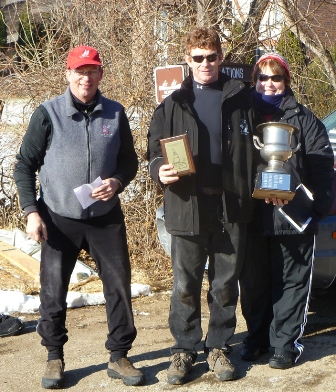 Ken Smith, Gold Fleet Champion Ron Sherry, and Loretta Rehe.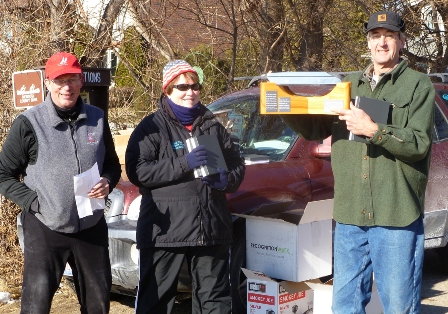 Photo Credit: Jori Lenon
DN Western Region Commodore Ken Smith, Race Committe & Scorer, Lorette Rehe, and Silver Fleet champion, Terry Irwin.
January 10, 2011
DN Westerns Wrap-Up
The 2011 DN Western Region Championship regatta was sailed on the first weekend it was scheduled, in stark contrast to the 2010 regatta sailed just three weeks ago after a record 49 weeks of postponement. Finding a site for the regatta turned unexpectedly dramatic with the mid-week snow on Lake Winnebago eliminating the primary location. Ice checkers from Minnesota to Indiana were out scouting lakes late in the week looking for sites. The drama wasn't finished even after the regatta was called on for Madison late Thursday. Kyle Metzloff packed his boat up after sailing Lake Monona Thursday afternoon and went out on West End of Lake Mendota early Friday morning. Based on his report of the superior ice there, the launch site was moved over to Mendota Friday at noon.
Despite the location uncertainty, the regatta went off nearly perfectly. The weather Saturday was almost perfect for the slightly drifted snow on the ice and both fleets got in four races (along with five for the Ice-Optis sailing their North-American Championship). As forecast, Sunday was almost perfectly calm and after one hour postponement the regatta was declared complete. The dinner Saturday night was great fun, with sailors from the Ice-Opti, DN, and Renegade regattas all milling about at the restaurant.
Ron Sherry came over from Detroit with two of his children TJ and Griffin, for the Ice-Opti North American Championship. When he wasn't helping them, he sailed a near perfect regatta to win the DN Gold-Fleet trophy. Hot on his heels was the Western-Region's perennial champion, John "JD" Dennis, followed by Pewaukee's Steve Orlebeke. Less than one point per race separated first from second, and second from third place.
In the Silver Fleet, Terry Erwin won a two-point victory over Scott Brown to win the "Dick Hatfield - Silver Skate" trophy. Peter Orlebeke (Steve's brother) won the "Rookie" trophy with an impressive fourth-place finish, right behind Green Lake's Joe Norton.
The extended-family of 4-Lakes Club members also did quite well. From "4-Lakes East", Steve Orlebeke, Mark Isabell, and John Davenport all finished "in the hardware" in the Gold Fleet, while "4-Lakes South" member Lou Lonneke finished just outside the trophies in Gold, with Bob Rast taking 8th in the Silver and Pete Johns winning the "Grand Master" trophy. Bob Cummins from "4-Lakes North" took 5th in Silver.
Madison-area sailors were represented well, with Daniel Hearn finishing four-points ahead of Pete Johns in the Gold. In the Silver fleet, Kyle Metzloff and Geoff Sobering were tied in points after the first three races; Kyle perfectly handled a wind-shift in the last half of the final down-wind leg in the fourth race to solidify his lead and take the 10th place overall trophy, along with 1st place in the "Plate Runner" division. Jori Lenon improved steadily over the course of her first-ever IDNIYRA regatta and beat boats in every race. Geoff Sobering found that his birthday last year allowed him to win the Silver-Fleet "Masters" trophy, along with the 2nd place in the Plate Runner division.
January 9, 2011
12:50 PM Update: No wind. 1 hour postponement then awards.
DN Western Region Photo Gallery
In the News: Ice Opti Skipper Frankie Hearn is interviewed by Channel3000.com
"It's a sport few outside its circle know much about. "I have to explain it usually," said Frankie Hearn. Hearn, 13, of Madison learned everything he knows ice boating from his dad." Click here to continue reading.
Geoff's GPS track for Silver Race #3 here.
January 8, 2011
The regatta got off to a slow start, but races were running before noon. The Ice-Optis got off two races while the DN course was being setup. Then the sequence was Gold, Silver, Ice-Optis. The DNS ran four races in Gold and Silver each, and the Ice-Optis ran a total of five races (I think). Racing continued until the last possible moment, with the final Silver fleet race running as the sun neared the horizon. Everyone left the ice exhausted and ready for dinner!
The ice was mostly smooth, hard, and fast. There were some healed cracks and other bumps. Also, the light snow formed drifts that could really slow you down if you hit them wrong. The 10-15 mph wind was more than enough to power through when avoidance wasn't possible.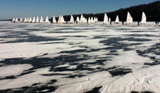 Gold fleet lines up. Photo Credit: Byron Tetzlaff.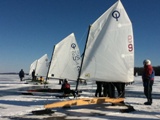 Optis line up. Photo Credit: Byron Tetzlaff
---
2010 IDNIYRA Western Regional Championship
Lake Winnebago, Neenah, WI
December 18-19, 2010
Awards Ceremony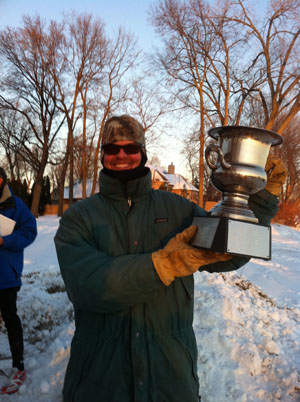 John "JD" Dennis, winner of the Gold fleet.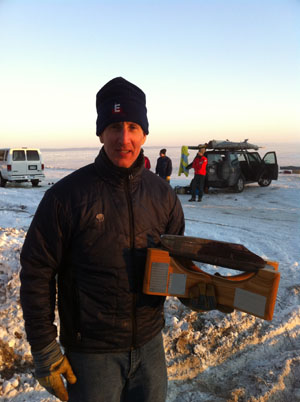 Mike Bloom, winner of the Silver Fleet.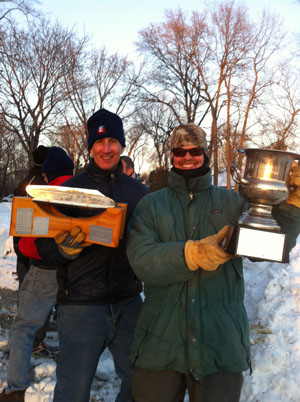 Geoff's Regatta Wrap-Up
The 2010 DN Western Region Championship set a record that will be hard to break: the regatta was first called-on for January 9th, 2010 - 344 days of ago.
John "JD" Dennis won the Gold Fleet convincingly with an almost perfect 7 points in six races (his throw-out was a 3rd...)
Mike Bloom won the Silver Fleet by one point over Terry Erwin, but the two of them out-paced the rest of the fleet by a substantial margin. Mike takes home the coveted "Silver Skate - Dick Hatfield Memorial Trophy".
Frankie Hearn, Taylor Metzlof, and Cole Orlebeke raced their Ice-Optimists on Saturday. Frankie won with three bullets, and Tyler and Cole traded finishes for 2nd and 3rd respectively.
Four Lakes sailors represented very well. Steve Orlebeke came in 2nd in gold, with Mark Isabell in 4th. John Davenport, Daniel Hearn, and Wes Wilcox all sailed only part of the regatta, but finished well in the races they sailed. In the Silver Fleet, Geoff Sobering finished 6th (with an 18th place throw-out because I can't count to three...) with Bob Cummins finishing 10th. Kyle Metzlof sailed Saturday, finishing in the top third of the Silver Fleet, and took 2nd place in his last race.
Unfortunately, Wes Wilcox's plank detached in the second Gold Fleet race, and he had a prior commitment that prevented him from sailing on Sunday. With no Ice-Optis to race with on Sunday, Frankie Hearn switched over to a DN.
From the west, the Minnesota group was well represented, taking both first-place trophies and a fair number of top-fleet positions. Michigan sent a number of sailors, with Julie Richards, Dick Wollam, and Bob Gray (and the PRO Eric Lind) driving over from Traverse City. John Harper represented the Detroit club.
The plate of ice at the north-western corner of Lake Winnebago was huge, very hard, and very fast. Unfortunately, the northern end of Winnebago isn't terribly stable, so between the selection of the site Tuesday, test sailing Thursday, and the regatta Saturday, the winds were able to shift things around enough to take a pristine sheet of ice and produce some working cracks and seams. The light snow Saturday collected on the various protrusions, hiding their details. The snow also accumulated on some working seams and became saturated with water, creating some slushy areas on top of the ice. It all made for interesting sailing. In Saturday's high winds there was no problem getting through the drifts, but sometimes there was a "surprise" hiding. As far as I know, Wes was the only person to have a breakdown, but I know I will be inspecting my boat carefully this week.
Jim McDonagh's report (with a Minnesota slant) is here.
Sunday, December 19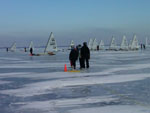 First Gold fleet race running. Wind lighter, but very sailable, about 6-8 mph. JD, Orlebeke, Harper,and Julie Richards at first downwind rounding.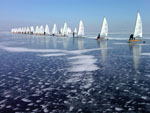 Gold fleet, second start.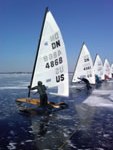 Julie Richards starts second in the Gold.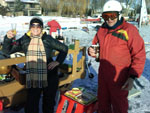 Beth Kimberly (the provider of the post-race tail-gate party) and Bob Cummins (ice finder).
Saturday, December 18
"Great day on the ice. Three races each for the Gold, Silver, and Ice-Optis. 43 DNs and three Ice-Optis. Wind was strong, but not anywhere near unmanageable. Ice had lots of bumps and rough spots. There was a light snow in the morning and the drifts formed on all the defects. People who sailed yesterday say before the snow it was easy to differentiate the "must avoid" sections form the minor bumps; today it was much harder. The fleet is heading over to Fratello's in Oshkosh for dinner."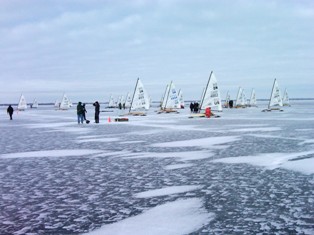 " One gold one, silver race done.. optis racing now. Cold. Not too windy.
Ice not a 10."
Great Western Challenge
December 5, 2010
Sunday Gold Fleet Racing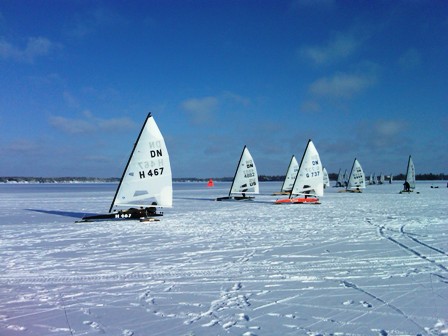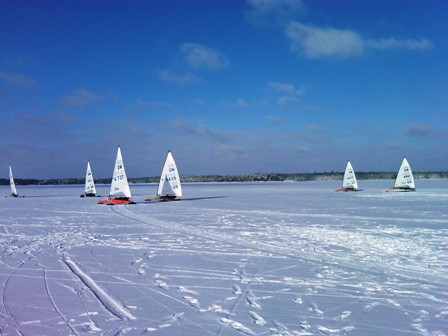 Sunday First Light
"Byron and I arrived at the landing before anybody else (a first for me, but normal for Byron). The wind seems a bit up from yesterday. Byron just back from a quick check of the snow, and he reports it seems to be unchanged from yesterday. If that pans out we should have great day of racing!"
See results from Saturday's racing here on the Minnesota site.
December 4, 2010
Saturday PM: Days End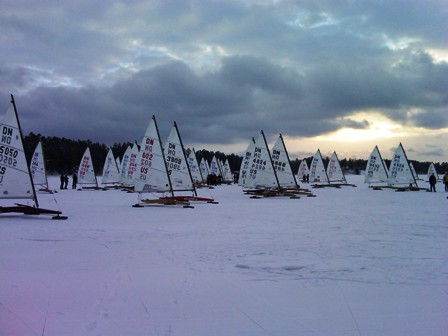 "Sun setting on a great day of racing. Optis running their last race now."
Saturday PM: Take Two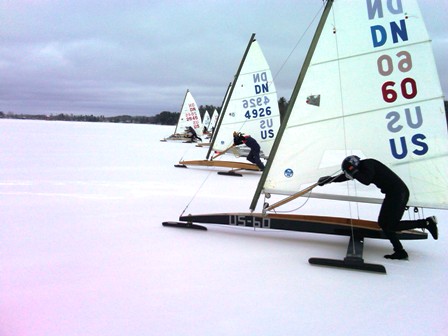 First Gold start.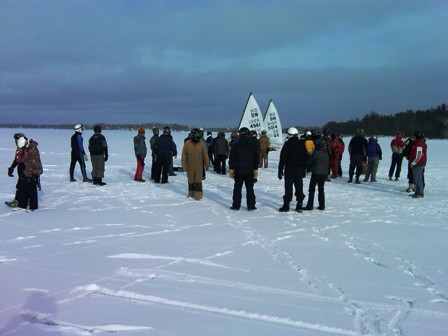 Skippers meeting. "Light/medium shifty wind, but easily sailable."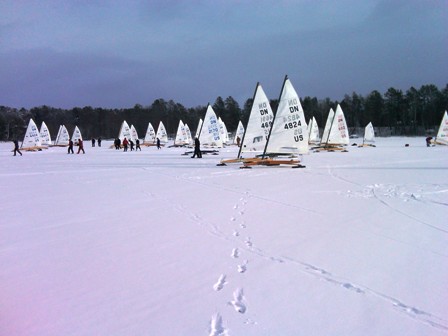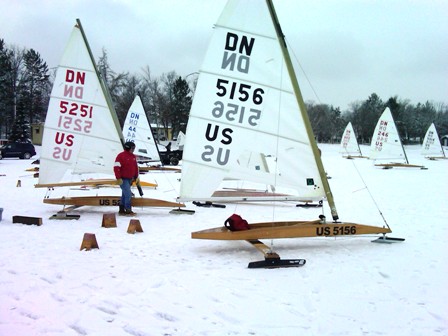 " Skippers meeting 1:30. Light snow. More wind. Outstanding!"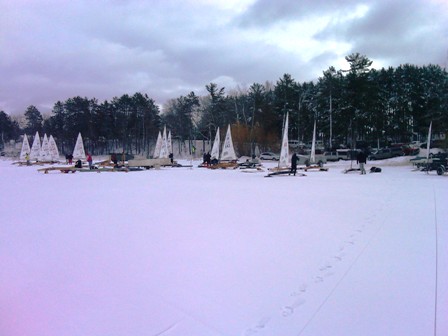 "Sturgeon Lake! Light wind, but people are moving. About 1" of light snow. Insert runners seem to be the current choice."
Saturday AM: The Caravan Moves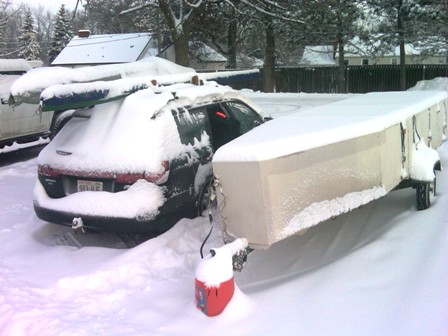 " We're 'on the road again' [to Sturgeon Lake, MN]...Yeah, I think the move is a good idea..."
December 3, 2010
Friday PM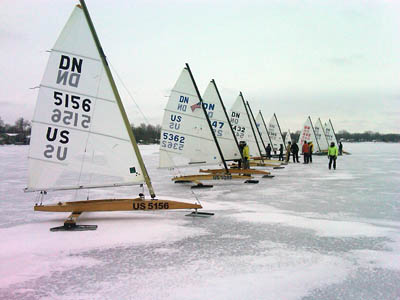 About 30 boats tuned and scrub-raced of Forest Lake today. The ice was fairly nice, but there were bumps and about 1/2"deep sticky snow patches. With shifty and variable light and medium winds there was a premium on keeping the boat moving. At the end of the day it was starting to snow, and everybody packed up in anticipation of a move for the weekend. Currently, Sturgeon Lake (about 85 miles north on I35) is "plan B". It was scouted today and looked better than Forest Lake. The plan is to look at the snow and decide by 8:00am whether to stay here or move.
Friday Mid-Day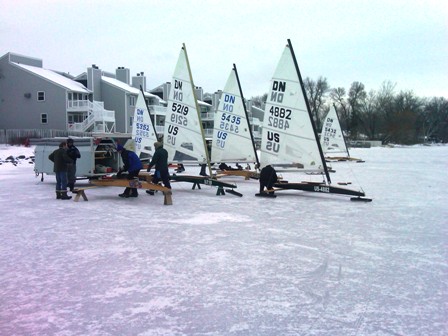 "About 20 boats so far. The wind is light/medium (and it seems to be building).
The course is almost setup."
Thursday PM: On the Road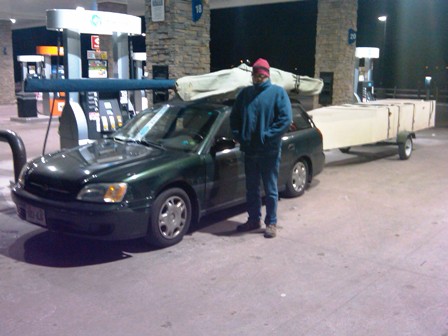 From Thursday night, December 2, 2010
The Great Western Challenge is an unsanctioned DN regatta usually sailed the first weekend of December somewhere in Minnesota. The GWC is being held at Forest Lake, MN, just north of White Bear Lake.
Geoff writes, " 11F Brrrrrr... We're just across the river heading towards the Twin Cities. I talked with Daniel (Hearn) a little while ago, and they are probably on the road by now."