DN Cup Baikal
Asia Cup Results
Ice Optimist
DN
Baikal Cup Results
Ice Optimist
DN
December 19, 2013
Russian Leverage

This You Tube video from Lake Baikal in Russia has gone viral, as they say. It is a great example of how people who spend time on the ice manage to figure things out. As it so happens, I was there that day. Here's some photos and video from that day on Lake Baikal.

Fans of Russian heavy metal music will want to turn up the volume- all others will want to do the opposite.
October 24, 2013
Ice Boat Racing on Lake Baikal
DN Ice Yacht Racing on Lake Baikal, Siberia, Russia
April 23, 2013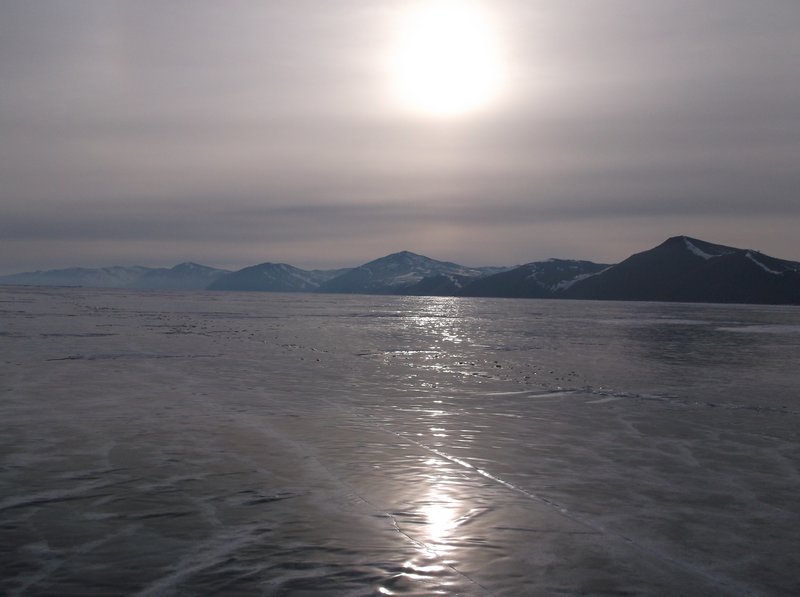 Everybody knows this is nowhere...

On Wednesday late afternoon of April 10, I was fortunate enough to take a hovercraft tour with Gareth Rowland, Christian Seegers, his son Andreas, Violetta and Kuba Schneider, and their son Martin. We traveled southerly from the resort for about an hour, first stopping at some caves that were filled with stalactites of ice.

We broke off a few icicles and enjoyed a taste of the most naturally pure and soft water I've ever experienced in my life. (Madison's drinking water is pumped from the ground and is notoriously hard with minerals and overtreated with chlorine and other chemicals.) It had no flavor at all, just like water is supposed to taste. I was told that the water at the resort is pumped out of the lake.

The hovercraft was manned with a driver and a navigator whose job it was to point out where the best spots to jump heaves.

The hovercraft was able to negotiate about the same height of heave that an ATV can. We eventually came to stop at a large heave where the lake was one mile deep. The Schneider family spoke Russian and I asked the driver if the heave was always in the same spot. He said yes and that it sometimes reached a height of 5 meters.

We got out and had a look around. The remoteness of the place made me feel like I was on Mars. Here's a photo gallery from that excursion. Also have a look at Gareth Rowland K11's photo from that day here.
April 21, 2013
Russian Baikal Video
April 20, 2013
Evgeny Ryazhev Photos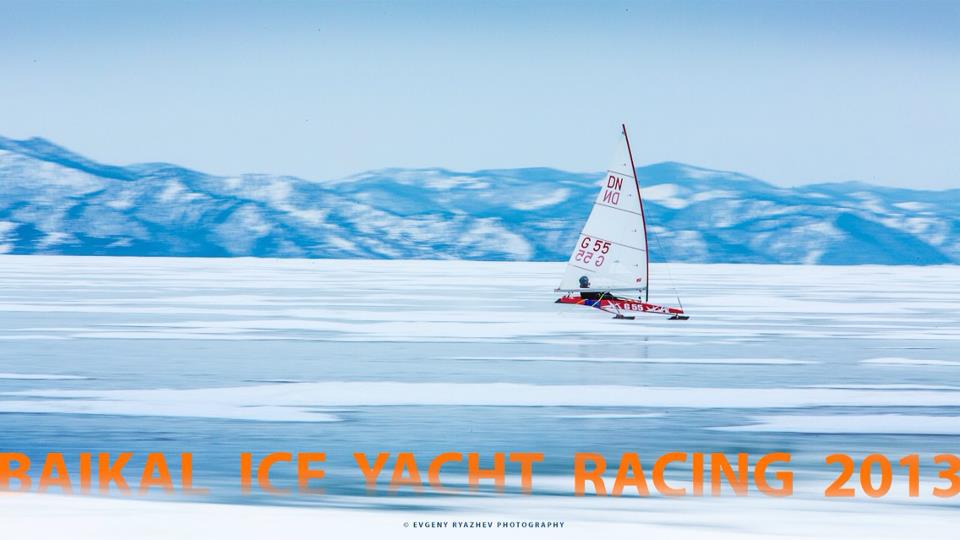 Some of best photos of the regatta, see them here.
April 19, 2013
Cool Vids

Baikal Ice Yacht Racing 2013 from Evgeny Ryazhev on Vimeo
April 18, 2013
Lessons Learned:
Internet Access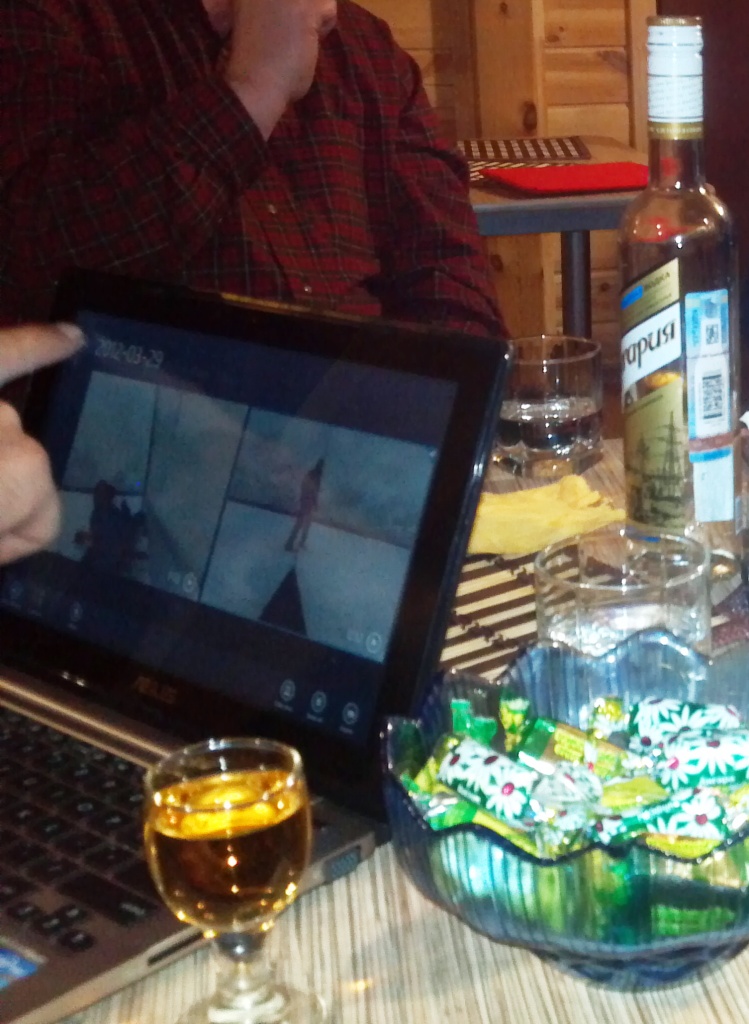 Internet access was a real problem for me from Irkutsk to Lake Baikal. I was counting on using wireless-big mistake because the resort's wireless signal was weak to non existent.
I learned from DN Dideric Nederlands who had no issues posting to Facebook by slipping a Russian Sim card in his Iphone. I'm seriously thinking about going to the "dark side" and replacing my Android with an Iphone which seems to work the best for international travel. If I would have had an Iphone with a Russian Sim card, I could have turned it into a wireless hotspot and might have been able to post to the websites from my Ipad.
Gareth K11 Rowland turned his phone into a wireless hotspot for us but the amount of data being transmitted was too much for me to be able to do anything but post to Facebook. Russia, including Siberia, is exactly like the United States and Europe-EVERYONE has a smart phone and they are a constant presence. I think the cell tower traffic was overwhelmed at times with all of us communicating with the world. Head scorer Natalia was using her phone to post to Facebook and text during lulls, just like I do when I have the time during scoring.
Ice Boaters in Irkutsk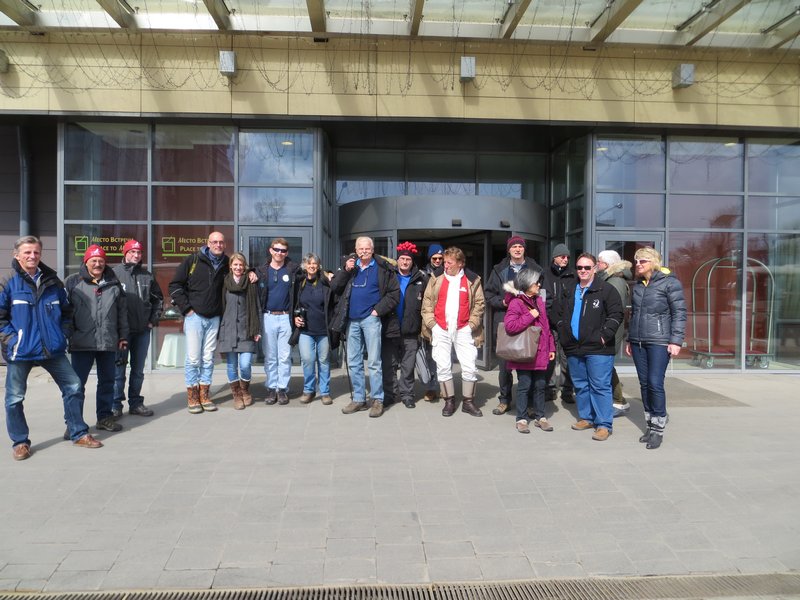 Here's the first photo gallery of our day walking around the city of Irkutsk.
April 16, 2013
77 Hours: The Way There & Back
It's Tuesday morning at home yet getting later in the evening on Lake Baikal. My mind is not yet used to the mobius strip of time changes but that will come. Traveling forward in time to Baikal took about 37 hours (including a 10 hour layover in Moscow). But the travel fatigue was worth every minute of being on Lake Baikal.
Siberia isn't anything like I imagined. Of course it is spring there now, January through February would no doubt live up to Siberia's cold reputation. Like Lake Geneva, Lake Baikal freezes in mid January and generally opens up in April or May.
The terrain is challenging. When I first stepped off the bus and looked up the rock strewn hill knowing I had to drag a 40# suitcase up to the building, I had to really motivate myself to succeed. On the slow walk up while dodging the larger rocks, I thought about how easy it would be to twist an ankle. But by the second day, my pace was much quicker and I appreciated getting to know the muscle groups that I never experienced in any gym workout.
I'm still going through photos and video. I'll be adding more and more to this blog every day. Thanks for your patience.

April 7, 2013
sunday....internet access has been a problem...will type fas..container arrived saturday..boats on the ice...sailing and racing...
the winds are crazy..will go from 0 to 25 in a heartbeat...shift around every five minutes...ice is very hard...but there are concrete drifts that are launchers
check out gareth rowlands british ice sailing website and facebook oage for photos
landscape is incredible..like being in a 3d imax movie..long day in the ice then dinner at resort dining room at night..so fun
will try to upload photos to facebook right
April 6 2013
We have arrived on Lake Baikal. It has been an amazing journey..6 hours by bus...but every minute interesting...in my room now...just had dinner..container of boats arriving tomorrow morning..russsian dns on the ice...and ice optimists..everyone relaxing on the porch..sailors from Germany,Switzerland, Holland, England, Sweden,Poland, and America.
the weather here is cold..14f in irkutsk this am..apologies for not capitalizing but easier to type this way on ipad. ice looks hard and fast. it will be a bit of a walk down to the shore..have already been recruited to help mercedes and hal carry gear tomorrow..very rocky soil...must be very careful not to turn an ankle..clear day..
theres an interesting hot punch being shared out on the porch..definitely want to avoid walking the rough terrain after a few of those...had omul fish,beet salad,and mashed potatoes for dinner...stays light here until 9:30 pm am told..
April 1, 2013
If It's Thursday,
It Must Be IRKUTSK!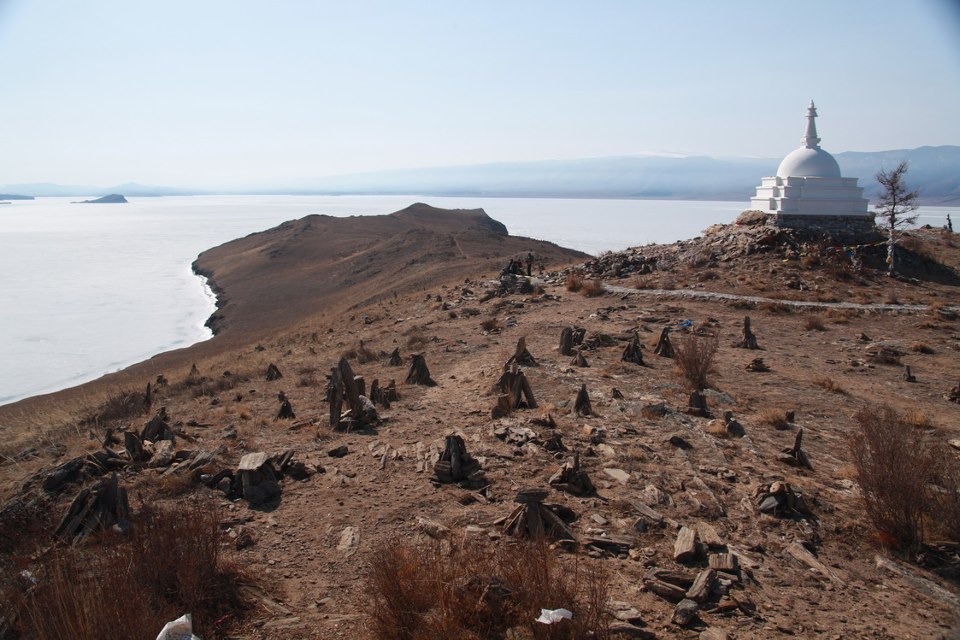 Buddhist stupa built on the island of Ogoy, on Lake Baikal.
I begin my journey for Lake Baikal from Madison, WI on Tuesday, April 2. Will meet up at JFK with two members (well, they're the only members at this point) of the North Carolina Ice Yachting Association, Hal Bowman US1233 and his better half, Mercedes Auger. I spent quite a bit of time with them in Europe last year and again during the 2013 season. Mercedes is part of the DN regatta scoring team and both are experienced world travelers. This is their second trip to Russia, the first being to the DN Gold Cup in St. Petersburg a few years ago.

We will travel straight through to Irkutsk arriving there on Thursday, April 4th. Wednesday, April 3rd will occur at some point, but I'm having trouble wrapping my head around that fact. Time will become irrelevant very quickly.
Dan Connell and Ron Sherry will also be on the JFK to Moscow flight but will board an earlier flight with the European contingent to Irkutsk . Hal, Mercedes, and I will have a 10 hour layover in Moscow and arrive at Irkutsk at 8:45 AM.

There's been a slight change of plans due to the timing of the arrival of shipping containers that are filled with the boats. We'll be staying in Irkutsk Thursday night rather than driving directly to the lake but that will give us the opportunity to adjust to the time change and see the city. Have a look at British ice sailor Gareth Rowland's photos from last year.
More here to see.(I've been borrowing them for many of the photos on this blog.)
We are going to be living here at the Recreation Center Uyuga on Lake Baikal. Gareth and Gretchen Dorian have been sharing their knowledge about the area with us. In addition to the regatta, there will be much to see because the land around Lake Baikal is filled with many shrines that are sacred to the indigenous Buryat people and Buddhists.

This will be the last time I update this blog until I'm in Russia. Stay tuned!
March 31, 2013
...Take You Anywhere You Wanna Go..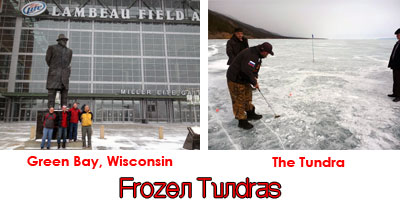 An ice boat is a vehicle that can take someone around the world to experience local cultures from a peculiar point of view not normally afforded the average tourist.
As we drove through Hungary last year from the European Secretaries meeting, EU IDNIYRA Treasurer Dr. Christian Seegers remarked that he believes participating in international sports like ice sailing "can stop wars". Celebrating the end of a long day on the ice over a beer builds some pretty strong bonds.
Soviet ice sailors were competing in North America since the days of the Cold War when they were first hosted by New Jersey's North Shrewsbury Ice Yacht Club (NSIB&YC) in the 1970s.
The late Bill Connell of the NSIB&YC helped to establish relationships between North American, European, and Soviet Union ice sailors. Now over 40 years later, Bill's son, Dan Connell US1630 will travel with his buddy, Ron Sherry US44, to Siberia for the Pearl Baikal Cup.

Here are two newspaper articles worth reading dug up from the IDNIYRA archives:
1971: Soviet Ice Boat Men Feted at Red Bank
1988: Foreign Ice Boaters Feel Right At Home in Vermont
March 26, 2013
Indigenous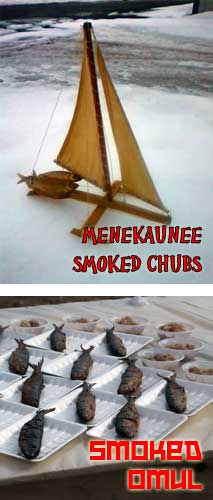 Ice boating traditions, like enjoying good food, span the globe. Menekaunee ice boater Mike Derusha is famous for breaking out a stash of pickled eggs to share at regattas. At the recent Northwest, he provided us with a delicious Great Lakes regional treat, smoked chubs.
Lake Baikal has its own unique species of plants and animals like the Omul,a whitefish species that is brought to the table nearly every day from the looks of British ice sailor Gareth Rowland's Baikal photos from last year. I look forward to eating Omul and savoring every bite knowing that it's only available in Siberia.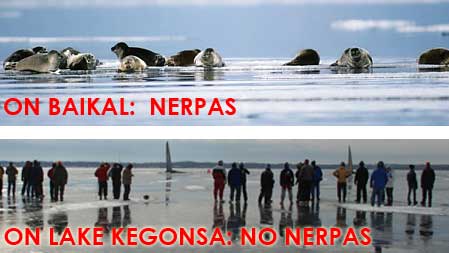 Nerpa seals are the only true fresh water seals on the planet. Wikipedia says they are solitary animals so unless I see one in an aquarium, they probably won't be popping their heads up around the weather mark.
March 25, 2013
FACT: RUSSIA REMAINS BIG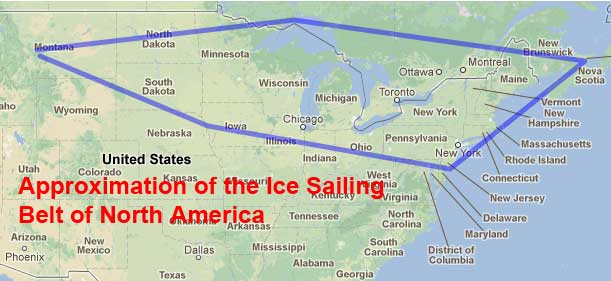 I put together this rough approximation of North America's ice sailing region that stretches from Montana to Nova Scotia. Google says it would be a 3100 mile two-day drive from Helena to Halifax.
[Illustrations created using MAPfrappe, a cool website that "allows you to see an outline of one part of the world overlayed on another part of the world."]


Doesn't look so big overlayed onto Russia, does it?
FACT: HEY GREAT LAKES-BAIKAL IS BIGGER, OLDER, AND DEEPER THAN YOU GUYS ARE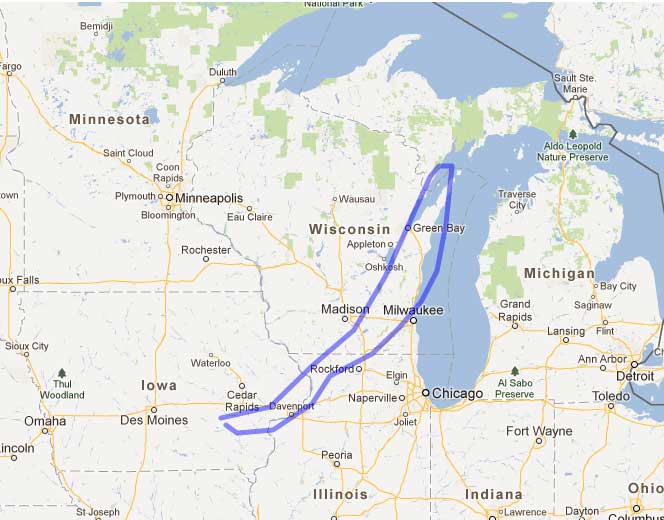 Here's Lake Baikal outlined in blue overlayed on Wisconsin. It would take all of the water in North America's five Great Lakes and then some to fill up the world's deepest lake, Baikal, which contains 1/5 of the world's fresh water. Baikal breaks all the freshwater lake records.
March 24, 2013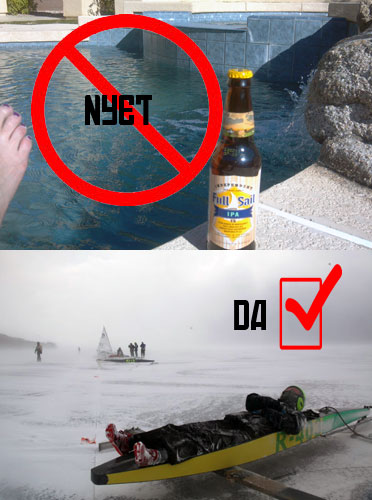 I had a choice, Arizona or Siberia? A three hour flight to the Arizona desert to enjoy tennis at my good friend Kristin's beautiful home or 24 hours traveling to one of the world's most remote destinations, Siberia's Lake Baikal to be part of the Baikal Pearl Cup DN ice sailing regatta.
Where it's colder than Arizona, where intermittent white-out snow squalls punctuate the day! Playing tennis is one of my passions but ranks slightly second to anything to do with ice boating, a sport that I grew up with. I wasted no time saying yes to Siberia.
The Siberia of the imagination is cold and desolate but the reality is the temperatures shouldn't be extreme. Siberia in April won't be as cold as the 2013 DN North American Championship in Minnesota where temperatures were in the low single digits Fahrenheit. Baikal's average April temperatures are a balmy 34 F.
The Midwest is enjoying (or suffering through) one of the coldest springs in decades and Madison's lakes will still be ice covered when I leave for Baikal at the beginning of April. Will it also be a cold spring in Siberia? Stay tuned.