International Skeeter Association Regatta
International Renegade Ice Yacht Association Regatta
Dates: January 18,19,20,2013
Location:Lake Kegonsa, south of Madison, WI
February 10, 2013
Craig Wilson's Kite Cam Photos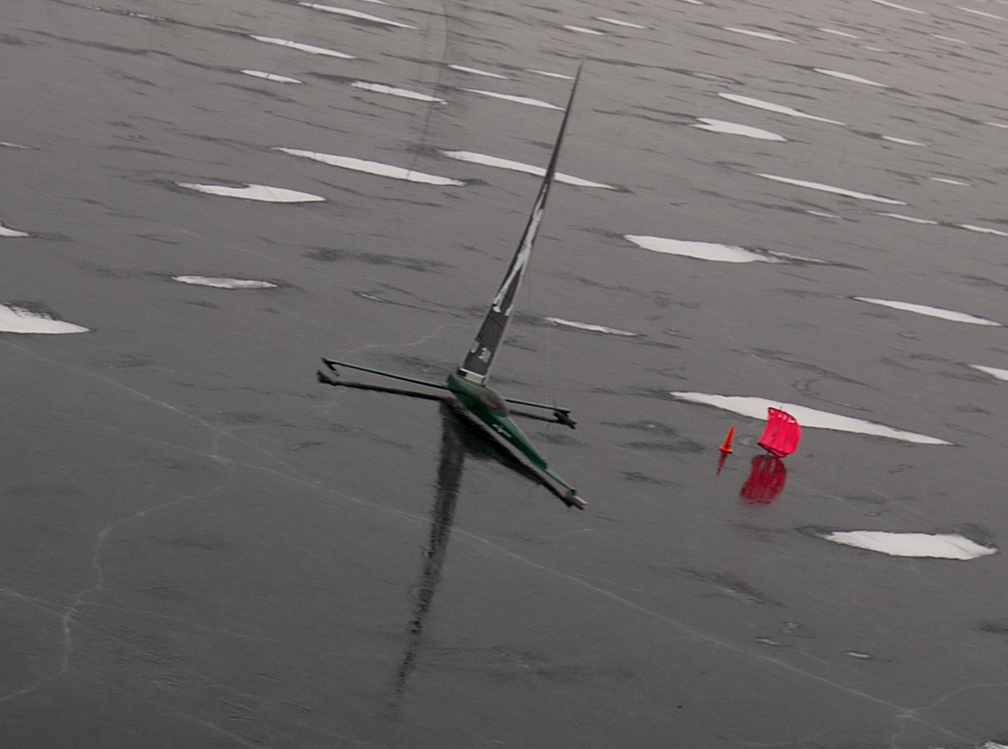 Photo gallery here. Craig Wilson has been a good friend to us for many years and generously shares his photos for use on this website. He's published two books which include shots of ice boats. Follow Craig on Facebook and see his website here. See more ice boating photos on his Flickr page.
January 21, 2013
Photo Galleries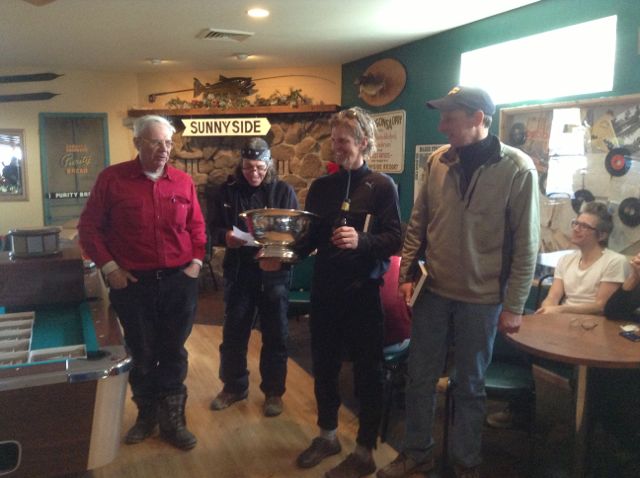 Awards ceremony gallery here.


Racing photos from MJ Carpenter here. See the full size versions here on Flickr.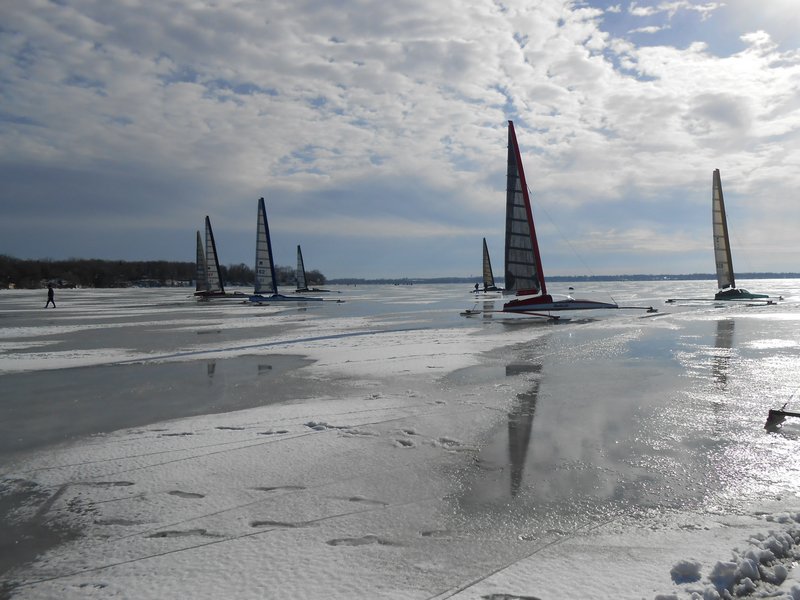 See Allen Penticoff's photos here.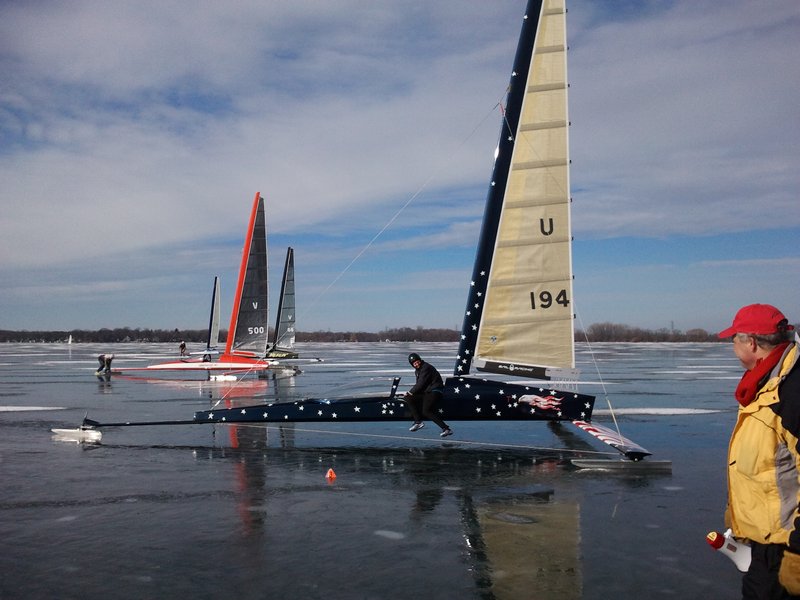 See Peter Fauerbach's here.
January 20, 2013
Day 3 Report: That's a Wrap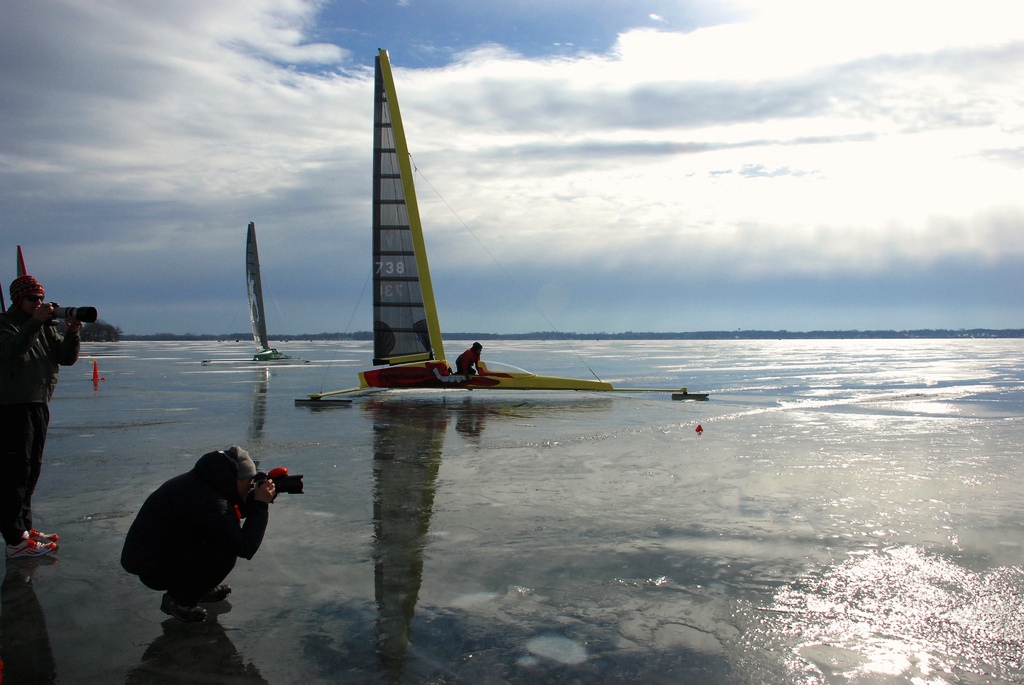 Not today
Photo Credit: MJ Carpenter
The ISA and Renegade championships have been called complete. The race committee found some rather large holes on the lake which were caused by fishing shanties that melted the ice in Saturday's warm temperatures. When the big arctic front came through last night with 50 mph winds, the shacks blew away and the wind worked the weak ice into open spots. Awards ceremoney in a few minutes.
Check out these nice pictures from Saturday here.
January 19, 2013
Day 2 Report: So Glad "They" (Weather Forecasters) Were Wrong..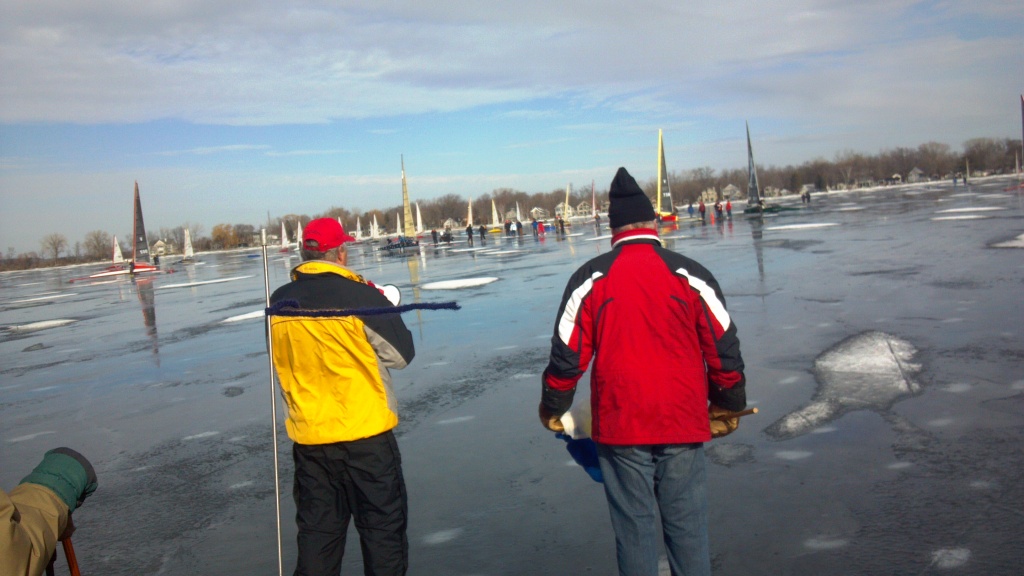 Skeeters to the line.
"Best day of sailing in 20 years" was what many said to our 4LIYC Commodore Don Anderson late this afternoon after we were able to run 14 races today. The forecasted big winds never materialized and the ice became even faster because it was wet with water. Off to the banquet... Preliminary results here.
January 18, 2013
Day 1 Report: WIND We Got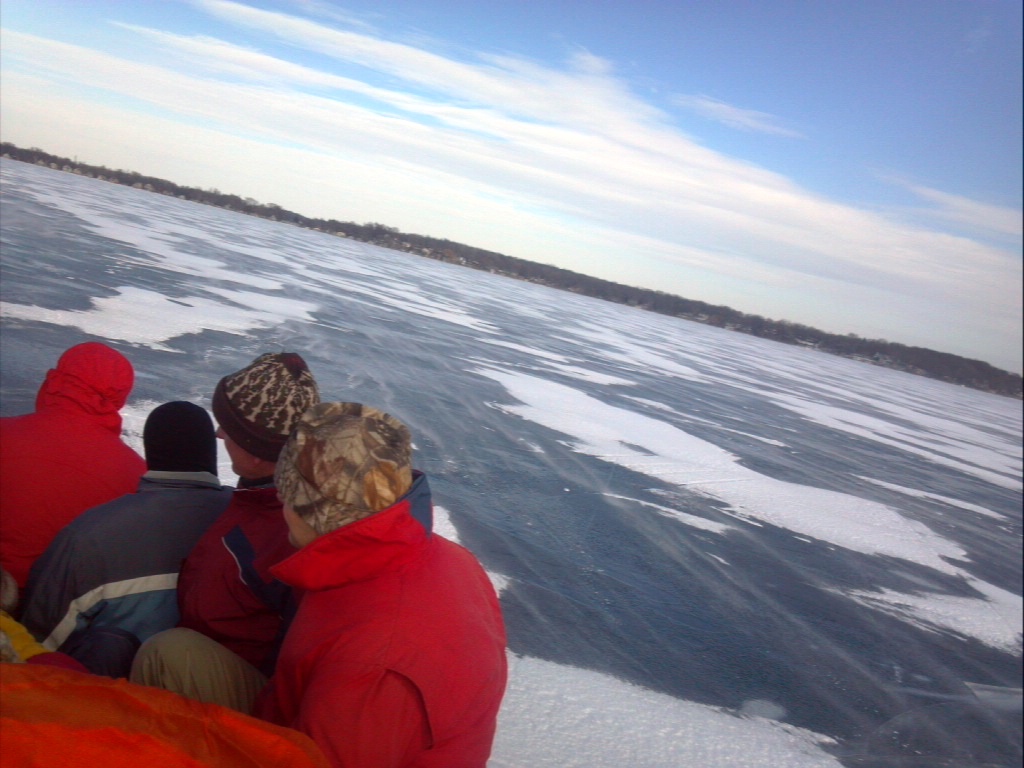 The bus to Springers
There was only one race completed today because the wind came up fast with gusts to 34 mph.It was a morning of survival sailing. Mark Hancik and his Yankee B Class Skeeter captured first place in one of the heaviest air races I've ever seen. The ISA and Renegade Championships are postponed until Saturday morning with an 8:30 AM start for the Renegade fleet. Boats made their way back to the pits and then to Springers to await the decision of the race committee after lunch. Nice to see 4LIYC Skeeter legend Bill Mattison and Mauretta and Jack Ripp enjoying the crowd at Springers. The Renegade meeting is at 5:30 tonight at the AmericInn and the ISA meeting follows at 6:30.
January 17, 2013
Day 0 Report: Setting Up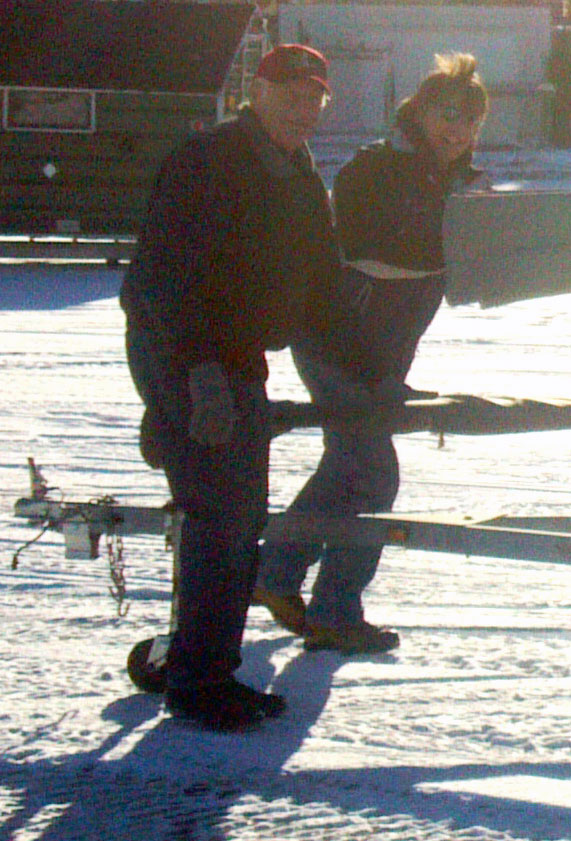 One of the best sights of the day-Jack and Mike Ripp pushing Renegade #11 on the ice. Mike will be sailing Jack's Frost in the Renegade regatta.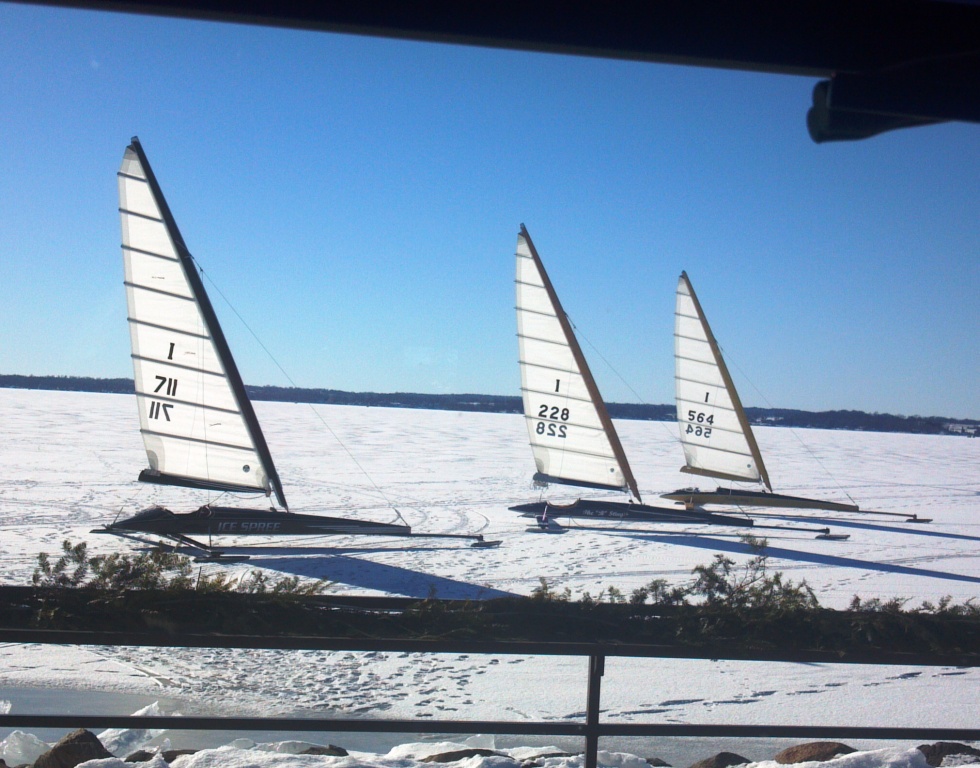 The B Skeeters took advantage of the beautiful day and enjoyed hours of sailing interspersed with lunch at Springer's.



JD sets up his Skeeter.
Schedule of Events
Thursday, January 17
Informal scrub racing. We'll have marks set up for a day of training.
4:00 - ? Deb will be at Springer's on Lake Kegonsa to take early registration.

Friday, January 18
8:30-9:30 AM Register and pay at Quam Landing with Deb. (If you see me around Thursday or Thursday night, I'd be happy to register you then as well.)
10:00 AM First Race
ROTATIONS: Rotations for each day are as follows:
1. B & C Skeeters
2. Renegade
3. Nite
4. A Skeeter
5:30 PM Renegade Meeting at the AmericInn
6:30 PM ISA Meeting at the Americinn
Saturday, January 19
9:30 AM First Race
6:30 PM Banquet at Fat Jack's BBQ
6207 Monona Drive
Monona, WI
Fat Jack's is on the next block north of the Americinn and on the same side of Monona Drive. Map
For $13, which you pay at the restaurant, you get a great dinner of chicken, ribs, and all the fixings.
Sunday, January 20
9:30 AM First Race

Regatta Hotel:
AmericInn 101 West Broadway, Madison, WI 53716
[800] 634.3444 Ask for ISA Ice Boat rate for $79

Alternate: Country Inn & Suites 400 River Place, Monona, WI
(608) 221-0055
Landings:
Quam Map
Alternate: Pleasant Springs Map
The club has been using the Quam landing. The parking lot is very small. You can't park cars with trailers attached on the side streets. Please be considerate and don't block the landing for long periods of time. There are a lot of ice fishermen who also use the landing and we'd like to keep on good terms with them. UPDATE: Peter Fauerbach looked at the Pleasant Springs landing this morning (Wednesday, Jan. 16) and says that the ice has heaved up some gravel and rocks but that a trailer can easily be rolled on there.
Map from AmericInn Hotel to Quam Landing
View Larger Map
NOTICE OF RACE
INTERNATIONAL SKEETER ASSOCIATION 2013 I.S.A. CHAMPIONSHIP REGATTA NOTICE

All races will be sailed under the rules of the National Iceboat Authority and those of the International Skeeter Association.

The Regatta will be held on January 18, 19, & 20, 2013 The first race will be at 10:00 AM Local time on Friday, January 18, 2013. The Regatta will be postponed if the Northwest Ice Yachting Association Regatta is held on these dates.

Possible locations, in order of preference, are: Menominee, Green Lake, Madison, Detroit, Gull Lake, Lake Geneva, East Division, Pewaukee, and Burlington Bay.

The races will be held for A, B, C Division Skeeters, Renegades and Nites. The Entry Fee is $15.00 per yacht. Awards will be given according to Part II Section 3 of The International Skeeter Association Constitution, By­ Laws and Racing Rules

Registration will be at Regatta Headquarters from 8:30A.M. to 9:30A.M. local time on Friday, January 18, 2013.

Skippers may obtain sailing instructions at the time of Registration. Five races are scheduled for each division. Three are necessary for a complete Regatta.