International Skeeter Association Regatta
International Renegade Ice Yacht Association Regatta
March 5, 2008, 9:39 AM: FINAL CONFIRMATION: The regatta has been called ON!
Fleets that sail in this regatta include A,B, and C Skeeters, Renegades, and Nites.
March 7,8,9, 2008
Geneva Lake, Fontana on the Lake, Wisconsin Map
March 18, 2008
Nite Class Write Up from Nite Commodore Don Sanford
We had a great time this past weekend on Geneva. Skeeter Iceboat Club were fantastic hosts. Special thanks to Steve and Mary Jane Schalk, Debbie Whitehorse, Paul Krueger Burley Burlenthein and all the other members of the Race Committee who did a fantastic job for all the fleets. 
 
And thank you to the 23 Nite skippers (and their families who let them come and play for two or three days) for coming out. We had a few sailors who could only make it for Saturday and Sunday. Even so, they got in some good racing in our fleet. It was great to see the familiar faces and meet our newer members too. 
 
Friday's conditions were clearly the best. The breeze was running about 10 - 12 from the Northwest. Saturday's breeze was more like 6 - 10 and quite shifty. Sunday we were greeted with winds from the east - Southeast around 10. Though it was cold, we had great sun for the first two days. Yesterday brought us some light snow about the middle of our one and only race of the day. Ice conditions were great. A few traces of snow but nothing that we couldn't sail right through, even in these light breezes. 
 
As for the racing, Dave Navin was the only one who managed to finish consistently in the top 3 spots during each race. Eight of us had the chance to cross the finish line in the top five spots over the course of the three day regatta. Plenty of lead changes and lots of close racing both at the front and middle of the fleet. This year's long distance award (if we had one) would go to Bob Crum who came out here from Rochester New York to sail with us. He's owned his Nite for five years, though he told me that until Thursday, he'd never seen another one in person. I hope that you can become a cheerleader for our class with the folks in the eastern part of the country. Next year, you can bring a caravan. 
 
Our top five finishers are shown in the last photo. 
1st: Dave Navin 
2nd: Grant Frautschi 
3rd: Jim Gluek 
4th: Mark Prange 
5th: Mark Wilfert 
  
March 13, 2008
More Regatta Sail Graphics
From Jane Pegel and Dan Clapp

Here's a great video from Bob Crum, Nite 495, Sodus Bay Ice Yacht Club.
March 12, 2008

On Saturday, Buddy was sailing by the Geneva Yacht Club looking for his lovely wife, Gloria, when all of the sudden the shell ice took him by suprise. Thankfully, there was no water under the shell ice and there was plenty of help to rescue the boat. Buddy was one of a few sailors who found shell ice over the weekend.
By Greg Simon #213
Who said old guys can't push! Near the finish of race #4 on Saturday the wind shut off. The over 60 crowd of Archie Call, Jerry Simon, and Glen Betzoldt just happened to appear two hundred yards short of the finish line. Knowing that THE trophy was at stake, the old geezers all jumped out of their boats and started to push. The short legged Simon jumped off to the sprinters start for the early lead. Archie took longer to get up to speed, but with his longer legs he still had a shot. Glen was close behind and counting on his younger age 60) to wear them down. Archie used his long stride and superior form to win the battle by less than a boat length. Continue reading story here.
March 10, 2008
Regatta Wrap Up
Here's on online Flickr photo gallery by way of WBSkeet37.
March 9, 2008
ISA & Renegade Championship: Day Three
Gallery of Regatta Winners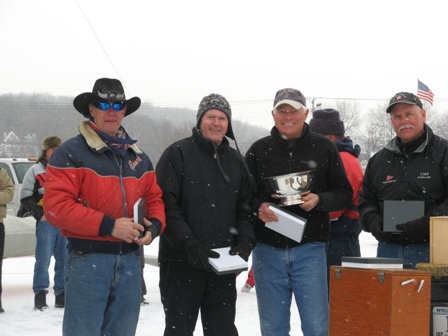 B Skeeter Class: Spark Lundberg tied for third, Barney Crook tied for third,
Bob Mereness first, Steve Schalk second.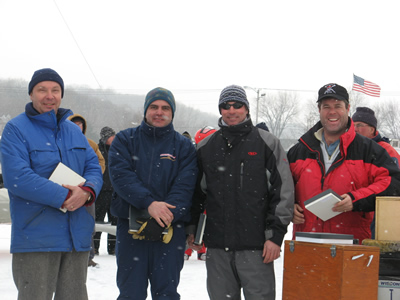 Nite Class: Mark Wilfert 5th, Dave Navin 1st, Jim Gleuk 3rd,
Grant Frautschi 2nd.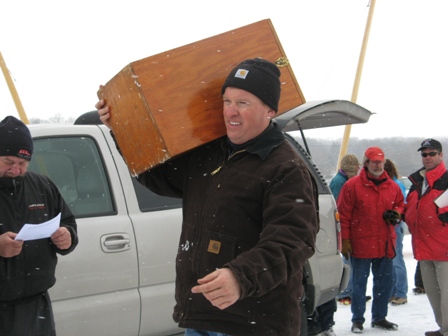 Skeeter Class: Dan Clapp 1st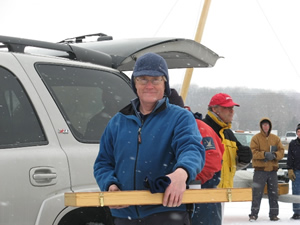 Tom Nichols, Skeeter Class 3rd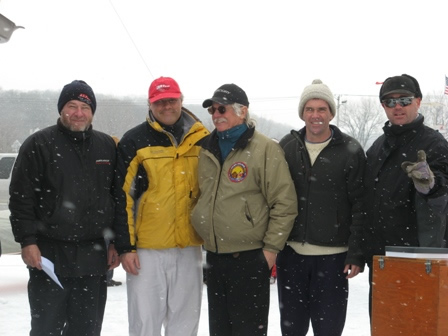 Renegade Class: Don Anderson 6th, Doug Kolner 4th, Glen Betzoldt 5th,
Greg McCormick 3rd, Greg Simon 1st.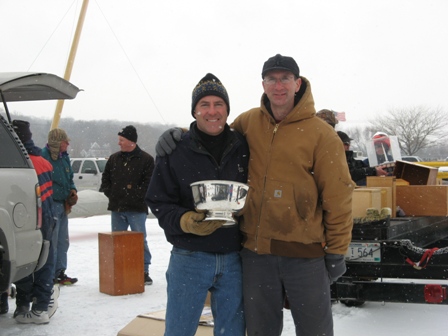 C Skeeter: John Lamont 1st, Trygve Rhude tie for 2nd
Final results now posted.The regatta is complete. The Renegades and Nites were able to complete one more race today before the regatta ended. Congratulations to the following regatta champions: A Skeeter-Dan Clapp, NSIYC; B Skeeter-Bob Mereness, SIBC; C Skeeter-John Lamont, M & M IYC; Nites-Dave Navin (I've been waiting for years to write the following: Navin Nabs Nite Nationals ISA Regatta); and Renegade-Greg Simon, Four Lakes Ice Yacht Club. I'll have more photos and reports posted throughout the week, so stop by here often! Mary Jane & Steve Schalk, and I were thanked many times by competitors on the ice for our help with scoring. Speaking for myself, it's fun for me and I'm happy to be able to participate but it's always nice to be thanked.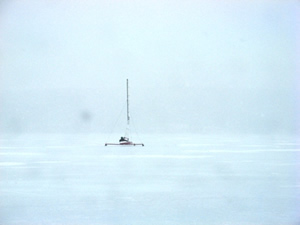 The regatta is officially called complete and the boats
head back to shore.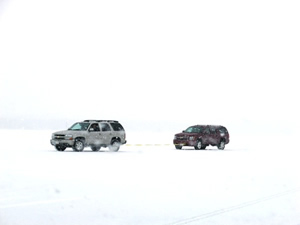 A few boats were towed back because of no wind
while a dead battery was this vehicle's problem.
March 8, 2008
ISA & Renegade Championship: Day Two
Live from the Banquet at the LGYC:

Regatta are all about racing in different conditions and today proved that as light and variable winds were the order of the day. Each fleet was able to get one round of racing. The E and B Skeeters were able to get a second race in today but light air sent the C Skeeters, Renegades, and NItes back to the pits without a second race. Flag drops for the Renegades on Sunday at 9:30 AM. Competitors- set your clocks ahead one hour before you go to bed!!! I'll have results posted soon.
8:00 AM: Friday's third Renegade race was counted for that class because their by-laws do allow three races per day. See the updated results that include Friday's third race. Regarding that third Friday race for the Skeeter and Nite classes, they will only count if there are no more races on Saturday or Sunday.
March 7, 2008
ISA & Renegade Championship: Day One
UPDATE: Preliminary Race Results now posted.
Today was about as good as it gets for regatta racing, lots of lead changes (except in the E Skeeter Class, no surprise), medium winds from 15-18 mph that dropped to light (7-9 mph) once in a while, and a bright sunny day. Unofficial results: Race One, Skeeters-Dan Clapp, Rick Disbrow, and Tom Nichols; B Skeeters-Sparky Lundberg, Steve Schalk, and Bob Mereness; C Skeeter-Keith Ligler; Renegade-Mike Derusha, Greg Simon, and Don Anderson; Nites-Dave Navin, Grant Frautschi, Mark Prange.
Race Two, Skeeter- Dan Clapp, Tom Hyslop, Tom Nichols; B Skeeters-Bob Mereness, Steve Schalk, and Burly Brellenthin; C Skeeter-Keith Ligler; Renegade-Greg Simon, Mike Derusha, and Greg McCormick; Nites-Grant Frautschi, Dave Navin, Mark Prange.
Conditions were so good that there was a third race sailed in each class but they are considered "make-up" races and those will only count in the event that we don't get two more races in Saturday and one on Sunday.

The fastest race of the day was a five lap Skeeter race that lasted only 11 minutes 11 seconds. Dan Clapp had a lap time of 3 minutes six seconds in the first lap of the first Skeeter race.
Today was relatively quiet but tomorrow the lake will filled with two DN fleets sailing the Western Regionals and the Stern Steerers sailing their championship regatta. As they say in Minnesota, it's going to "epic".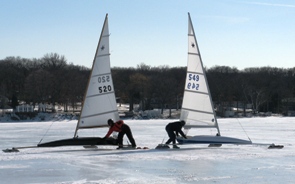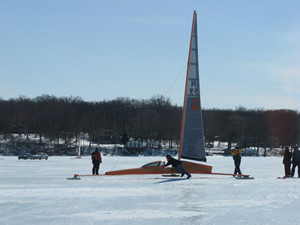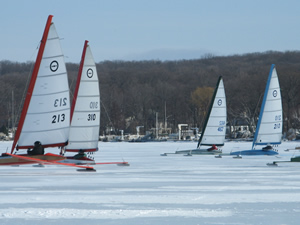 Winds Look Good Today
As I wait to leave for Fontana, the weather forecast looks perfect for today. I'll try to post throughout the day but have a feeling that I'll be busy helping to score. If so, look for a report tonight live from the Geneva Yacht Club.
March 6, 2008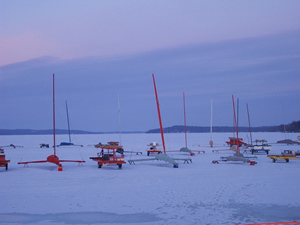 The night before...Photo Credit: Barb Bishop
Have You Paid Your Association Dues?
If you are sailing a Skeeter or a Nite in the ISA regatta, you must be a current dues paying member of the ISA. If you are sailing a Renegade in the IRIYA championship regatta, you must be a current dues paying member of the IRIYA. You will be able to pay your assocation dues at the registration table on Friday, March 7.
ISA & IRIYA Annual Meeting Update
There's been a change in meeting times. The ISA annual meeting is Friday at 5:30 PM upstairs at the Geneva Yacht Club. The IRIYA annual meeting starts at 6:00 downstairs at the Geneva Yacht Club.
Springing Forward
Don't forget that Daylight Savings Time begins Sunday morning at 2 AM which has to be a first at an ice boat regatta. Don't come to the line an hour late on Sunday morning-set your clocks ahead one hour when you go to bed Saturday night.
March 5, 2008
Get Ready for the Three Ring Circus!
Geneva Lake will be filled with ice boats starting on Friday, March 7. Not only is the ISA & IRIYA Championship Regatta called on, the DNs are sailing the DN Western Regional Regatta, and the Wisconsin Stern Steerers Association are also holding their championship regatta. There will be three race courses on Geneva this weekend.
History of ISA Regatta Winners
Note: These are works in progress and will be updated as I get more information.
Class A ISA champions
Class B ISA champions
Class C ISA champions
SCHEDULE OF EVENTS

Friday,March 7, 2008:
Friday registration at Chuck's (no creepers inside) from 8:30 to 9:30 AM. The first race is scheduled to begin at 10:00 AM. Chuck's will also be open at 8:30 on Saturday and Sunday for bathroom use only! Bar and restaurant open later. Friday night meeting for the ISA will start at 5:30 PM and the IRIYA meeting will start at 6:00 PM at the Lake Geneva Yacht Club. Click here for map.

Saturday, March 8, 2008:
The first race is scheduled to begin at 9:30 AM. Saturday a great meal of lasagna is planned at the Lake Geneva Yacht club. Please try to let Deb and MJ know at registration how many will be attending the dinner. Dinner will be $20.00.

Directions to the Lake Geneva Yacht club (LGYC)
Starting on Hwy. 67 in Fontana. Turn left (east at the intersection located at the gas) station and Abbey Resort sign. This is Fontana Boulevard. Follow this road (which becomes South Shore Drive near the lake) as it follows the west and south curve around the lake. After 2.5 miles you will arrive at the LGYC at 1250 South Shore Dr. Turn left and go down the hill to the club house at the lake. Upstairs cocktail lounge and dining. Dining is also available downstairs. Click here for map.

HOTELS:
The Abbey:
Walking distance to Chuck's and the launch site
262-275-6811
Get directions
The Abbey Resort is offering a regatta deal.Just mention ISA to get a special room rate. The Abbey, Chuck's Tavern, the launch site, and LGYC are all within a 2 mile area.

Fontana Village Inn
1/8 mile to launch site
262-275-6700
Comfort Suites in Delavan
262-740-1000
Please note that the Abbey and LGYC are smokeless facilities. Stay tuned for more information and updates
International Skeeter Association Regatta
ISA – 2008 REGATTA NOTICE
ISA called ON for Lake Geneva

All races will be sailed under the rules of the National Iceboat Authority and those of the International Skeeter Association.
The Regatta will be held on March 7,8,9, 2008. The first race will be at 10:00 AM local time on Friday, February 29, 2008. The Regatta will be postponed if the Northwest Ice Yachting Association Regatta is held on these dates.
Possible locations, in order of preference, are: Menominee, Green Lake, Madison, Lake Geneva, Detroit, Gull Lake, Pewaukee, Burlington Bay, East Division
The races will be held for A, B, C Division Skeeters, Renegades and Nites.
The Entry Fee is $15.00 per yacht.
Awards will be given according to Part II Section 3 of the International Skeeter Association Constitution, By-Laws and Racing Rules
Registration will be at Regatta Headquarters from 8:30 A.M. to 9:30 A.M. local time on Friday, March 7, 2008.
Skippers may obtain sailing instructions at the time of registration.
Five races are scheduled for each division. Three are necessary for a complete Regatta.
For confirmation of the Regatta dates, call the phone answering service at 608-838-3861 beginning at 1:00 P.M. CST on Sunday, March 2, 2008. For final confirmation call after 1:00 P.M. CST on Wednesday, March 5, 2008.