Links
Race Results

Photo Gallery

iceboat.org
---
Defending 2003 NIYA Champions
DN-John Dennis
Renegade-Mike Derusha
E Skeeter-Jay Yaeso
Boe Skeeter-Steve Schalk
OA Stern Steerer-R Hennig
A Stern St.- Rick Hennig
B Stern St.- Mike Peters
C Stern St.-Jeff Seeboth
D Stern St.-N. Salzsieder




NIYA
THE HISTORY

Dateline
January 13, 1913.
Wisconsin State Journal.
"Representatives of Oshkosh, Madison, Menominee, and Marinette met at the Hotel Menominee this morning and discussed future of the new NIYA, Emil Fauerbach of Madison commended the Mendota Ice Yacht Club highly in their action in establishing a renewal of the sport and declared that he would do everything in his power to aid the new organization in every manner possible. LF Porter, of Madison, a man who has been connected with several water and ice craft organizations, gave some timely and instructive suggestions in regard to the proper manner of conducting the association. He proposed having two delegates from each club present at a future gathering and from a constitution and by laws at that time."

Welcome to the Home Page of the 2004 Northwest Ice Yacht Association Regatta. This historic regatta was first sailed in 1913 in Menominee, Michigan. Skeeters, DNs, and Renegades weren't even invented back then when the big stern steerers ruled the ice. In 1913, Menominee skipper E. Peterson won the first Class A championship in "Square People". Madison, Wisconsin's own Emil Fauerbach won the 1914 championship in the famed Princess II, a boat that went on the win the Hearst International Trophy. Other notable Class A winners throughout the year include John Buckstaff of Oshkosh, Jungbluth and Carl Bernard of Madison in the Fritz (still being sailed today by Fred Stritt), Harry Melges of Lake Geneva (Buddy's father), Carl Bernard again in the Mary B (currently owned by the Haines family), the Debutante currently owned by Mike Derusha, and Buddy Melges in his Ferdinand the Bull.

The DNs were first recognized as a separate class in 1954 when Skip Boston won the inaugural NIYA DN championship. Other notable DN champions include William Sarns in 1956, Jane Pegel who first won in 1960 and went on to capture another nine championships.

Class E Skeeters first raced the NIYA in 1936 when Lake Geneva sailor Harry Melges won in Mickey Finn. Elmer Millenbach took the 1949 trophy sailing his Renegade II back when the Renegades and Skeeters sailed together. Other famous ice boating names who've won the NIYA Class E championship include Bill Perrigo, Howard Bosten, Frank Trost, Jack Ripp, Dave Rosten, Bill Mattison, Lou Loenneke, Buddy Melges, Bob Pegel, and Paul Krueger.

The Renegades first raced in the NIYA as a recognized class in 1958 and of course, Mr. Ice Boat, Elmer Millenbach won his first of many NIYA Renegade Championships in Renegade III. Elmer won every regatta until 1984 when the 4LIYC Jerry Simon took the championship. Other winners include Arlyn Lafortune, Loren Sherry, Jack Ripp, Tim McCormick, Roger Derusha, Don Anderson, and Mike Derusha.


THE NORTHWEST ICE YACHT ASSOCIATION
January 23, 24, 25,2004
Four Lakes Ice Yacht Club-Host Club
Lake Monona, Madison, Wisconsin, USA
Madison, Wisconsin will become the iceboat capital of the United States as the Four Lakes Ice Yacht Club announced that it will host two major regattas on the weekend of January 24 & 25, 2004.
More than 200 Ice boaters from across the Midwest and as far away as New Jersey will compete in the Northwest Ice Yacht Association Championship Regatta to be held at Olin Park on Lake Monona. Races will be held in the following classes: DN, Renegade, Skeeter and Stern Steerer on Friday, Saturday and Sunday. Meanwhile, the Nite National Association will hold its annual championship regatta on Lake Mendota, using Mendota County Park as its headquarters. The Nite National regatta will be held on Saturday and Sunday. Thirty boats are expected for this regatta.
"We have the best sheet of sailable ice in the Midwest, perhaps the entire country," said Four Lakes Ice Yacht Club Commodore Jerry Simon. "Ice boaters really love to come to Madison to take advantage of our great ice conditions and all that Madison has to offer," he continued. Most iceboats are hand-built in home workshops. While iceboats are difficult and dangerous to watch up while they are racing, they are impressive to see up close before and after the races. "We'll have boats ranging in size from the 12 foot DN class to the 45 foot Stern Steerer," Simon said.
Madison ice boaters are expected to make a strong showing at the regatta. Madison has a rich history of iceboating dating back to the 1890's. Many revolutionary designs have been created in local workshops. Madison skippers have a record of regatta victories dating back to the 1914 when Emil Fauerbach won the Hearst Cup in his boat, Princess II. For more info, please see: http://www.fauerbachbrewery.com/iceboating.html
Monona Terrace will provide an excellent vantage point for spectators wishing to see the races on Lake Monona. The best opportunities to see the boats up close will be before and after the races on at Olin Park. Races begin at 10:00 each day and continue until 3:30. The club reminds everyone that it is dangerous to stand near course marks during races.
---
DO YOU HAVE NORTHWEST PHOTOS?
Please email them to the webmaster and I will post them.


January 29, 2004:
Kite Cam Photos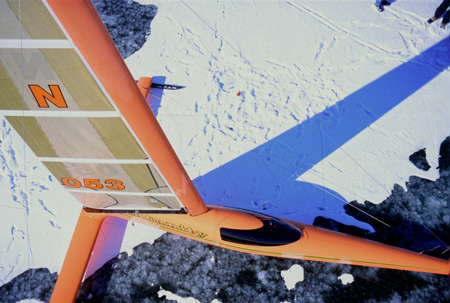 Dan Clapp's Skeeter Class "Insanity" Photo Credit: Craig Wilson
Kite Cam Photographer
Craig Wilson's NIYA photos
, with some unique views of the Deuce, are now online. Included are two shots of the seemingly endless race line of Renegades.

Wednesday, January 28, 2004: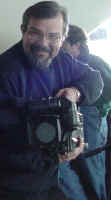 Our friend from Canada, Jon Soyka, again showed his mettle during the course of the regatta by filming Saturday and Sunday's racing action non-stop. Jon has several ice boating videos for sale on the Merchandise Page of iceboat.org and I'm sure he'll be releasing a video tape of the 2004 NIYA in the future.

Monday, January 26, 2004:
Dave Travis photos taken on Saturday now posted.

Photos taken on Sunday by Kevin Hughes now posted.

Photo Gallery of Champions posted on the Final Standings Page. (Scroll down past results.)

Sunday, January 25, 2004:

3:43 PM

NIYA Regatta Official
At 9:33 AM this morning, the gun went off to signal the start of the first race of the day. The Skeeters and Stern Steerers were the only fleets able to sail this morning before a rather big wind blew in. The Race Committee ruled the regatta complete and sailors hurried into the launch area to take down their boats.
The trophy ceremony was held across the street at the Coliseum Bar. I'll have scores and photos posted soon but here's the first place finishes:
DN-John Dennis
Renegade-Tim McCormick
E Skeeter-Bob Kau
Stern Steerer Overall-Rick Hennig
The Four Lakes Ice Yacht Club would like to thank everyone who traveled to Madison to participate in the regatta and helped to make it one of the best attended NIYAs in a while.


Saturday, January 24, 2004:

8:22 PM
As I arrived at the lake early this morning, NIYA Race Committee Chairman Tom Hyslop was easily sailing the snow covered lake. The decision was made to go racing. After waiting for the temperature to rise to ten degrees F, the DNs lined up for their first race. The snow was powdery and there were very few drifts. Shifting winds throughout the day necessitated a few course changes. Races were held back to back without a break to make up for Friday's snow day. The winds were mostly light to medium. One of the most beautiful sights of the regatta was seeing the majestic stern steerers sailing with the beautiful Madison skyline in the background. The second Skeeter race was particularly exciting as Bob Kau, Dan Clapp, and Tom Hyslop battled runner to runner for a good portion of the race. Geoff Sobering's already emailed some stern-steerer photos to me and they are now posted.


8:09 PM

Preliminary Saturday race results posted. These are for race results only and do not accurately reflect the points standings.


7:18 AM

I'm off to Lake Monona soon and will soon know the fate of the regatta.
Because conditions remain uncertain, the banquet that was to be held at CJs was cancelled for Saturday night and banquet ticket money will be refunded. If you wrote a check, please let me know if it should be mailed back to you or put through the shredder. If you paid cash, please email your address to us and we'll send it by mail.


Friday, January 23, 2004:


8:03 PM

List of competitors now posted.


5:25 PM

FRIDAY SNOWED OUT
Racing Postponed Until Saturday Morning


A sad sight for the first day of a regatta Photo Credit: Geoff Sobering

Today's snow event kept most the ice boats off of the lake but did make for one of the best attended NIYA meetings in many years. 97 boats registered to race this morning but the lack of visibility kept all but a few off of the lake. At 10:00 a decision was made to postpone until 12:30. At noon, it was learned that the snow wouldn't end until 3:00 and racing was postponed until Saturday morning. A good majority of the sailors elected to attend the NIYA meeting rescheduled to 2 PM at the Coliseum Bar. The 4LIYC sponsored a half barrel of beer and skippers from around the United States spent the afternoon talking about ice boating. NIYA Race Committee Chair Tom Hyslop assured the crowd that the committee would do everything possible to get this regatta in. The course will be evaluated early Saturday morning with the hope of completing the regatta.
While most of the skippers were inside talking about ice boating, a few intrepid DN sailors, Ken Smith, John Harper, Peter Hoeper, and Mike Jankowski, braved the snow and were able to hold seven scrub races. They reported the snow powdery with no drifting problems but at times their marks were difficult to detect.


Photo Credit: Geoff Sobering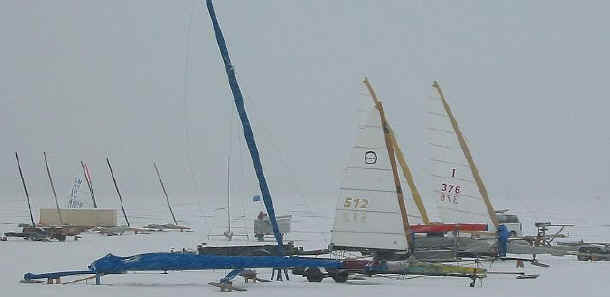 Photo Credit: Geoff Sobering



Here are some shots from the NIYA meeting.



NIYA Treasurer/Secretary Paul Krueger and NIYA Commodore Jerry Simon holding court.


There's Jordan Glaser, foreground, Brooklyn, NY Skeeter sailor.


From left, Burly Brellenthin, Bob Kau,
and Tom Hyslop.





Dan Clapp


Bob Kau makes a point


6:40 AM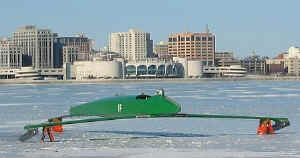 Photo Credit: Geoff Sobering


A fast moving Alberta Clipper is forecasted to move through the Four Lakes area late this morning and 1-3" of snow is predicted. Let's hope that Lake Monona sees less than an inch. Off to registration.


Thursday, January 22, 2004:
2:59 PM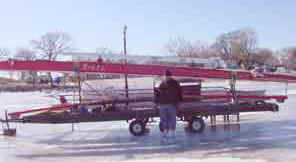 Fred Stritt getting ready to set up the Fritz A Stern Steerer.

A few boats were setting up in the near zero temperatures at the Olin Park launch site today. The Toledo, Ohio skippers, The Fritz, the Madison Skeeters, Marv Luck, and New Jersey's Dan Clapp were on the ice braving the -15 wind-chill.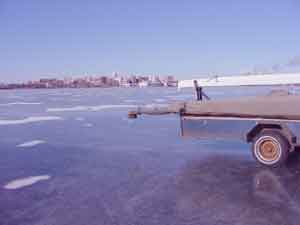 Madison's skyline


8:39 AM
NIYA Meeting
The Bar Next Door

NIYA annual meeting - 6:00 Friday evening. The Bar Next Door (upstairs). Social hour with half barrel of beer starts at 5 PM. The Bar Next Door is located next to the Coliseum Bar on Olin Ave., across the street from Olin Park.


7:11 AM
New Boom for the Deuce
Read about it on the WSSA page. Scroll down past the regatta announcements.

Wednesday, Jan 21, 2004

2:06 PM
Ice Conditions:
12" hard, black, with a pebbly surface, 1/10 of 1% snow drifts 1/2" high. 16" of ice at the shore.


11:19 AM

Driving Trailers on the Ice:
After dropping your trailer off on the ice, please drive your vehicle to the parking lot. Parking on the ice is illegal in the City of Madison.


10:04 AM:
Kite Camera guy Craig Wilson will be taking birds eye view photographs so if you see someone with a big kite walking around, say hi to Craig.



9:22 AM:
Parking Situation
Parking permits will not be needed for the Olin Park lot. The City of Madison will not be enforcing the new parking permit requirement.

NIYA CALLED ON
The Northwest Ice Yacht Association Regatta has been called on for Madison, Wi for the weekend of January 23, 24, 25, 2004 on Lake Monona. Launch site is Olin Park located on John Nolan Drive on the west end of Lake Monona.