2005-2006 Season
DN Western Challenge
DN Western Regionals
DN North American Championships
DN Central Regionals
International Renegade Championship
ISA: Conclusion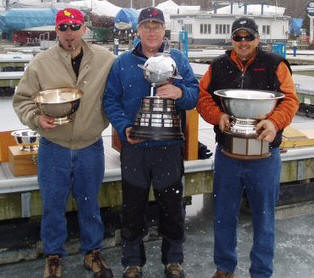 A Skeeter winners – from left to right - Rob Marsh 3rd, Tom Nichols 1st and Rick Stavola 2nd.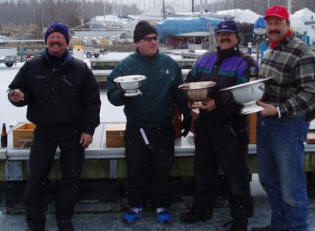 B Skeeter winners – from left to right – Rich Litfon 4th, Dave Clapp 3rd, George Neyssen 2nd and Mark Hancik 1st.

Sunday's racing started out with the same great conditions of the 2 previous days. Great ice and plenty of wind! Wind speeds were variable between 7 and 12 Kts out of the NW. The race course was set a little closer with about a mile between marks to avoid killing 2 stray ice fishermen. Although the ice conditions were still an 8 or better a ridge was starting to develop on the right side of the course.

The A Skeeters started first with Tom Nichols taking the lead immediately. Rick Stavola challenged Tom for first place and almost beat him finishing a close 2nd. The A Skeeters finished out the regatta with Tom Nichols cinching his second ISA victory.

The Yankees started their race as the breeze slowly stared to diminish. The name of the game was keeping your boat moving. Dan Connell, alternating the helm with team mate Jim Hadley, took a downwind flyer heading to the far left of the course. At the same time Mark Hancik and Dave Clapp were closing rapidly on the mark with tighter angles but slower speeds. As this tight mark rounding was developing the "coaches" were yelling "jibe Dan, jibe". When Dan did finally jibe he flew by both Mark and Dave continuing on to win his first Yankee race in quite a few years. Mark Hancik raced consistently throughout the weekend with nothing lower than a 3rd place finish to win the regatta.

By the way, if you're looking for a good used DN you might contact Dan, Jim or Dave. Rumor has it their boats are on the market.

With diminishing winds and the threat of snow everyone decided to close this great weekend on a good note. All the boats sailed in and called it a day. Congratulations to Tom Nichols and Mark Hancik for sailing a great regatta. A special thanks to our race committee Peter Block and Danny Goritski for a job well done.

Stay tuned for the announcement of the 2006 EIYA scheduled for Montana this December. That's right, Montana!

2006 ISA A Skeeter Final Results

| Pos | Sail No | Helm | R1 | R2 | R3 | R4 | R5 | Pts |
| --- | --- | --- | --- | --- | --- | --- | --- | --- |
| 1st | 94 | Tom Nichols | 2 | 1 | 1 | 1 | 1 | 6.0 |
| 2nd | 106 | Rick Stavola | 3 | 3 | 2 | 2 | 2 | 12.0 |
| 3rd | 654 | Rob Marsh | 5 | 2 | 3 | 3 | 3 | 16.0 |
| 4th | 928 | Jordan Glaser | 4 | 4 | 4 | 4 | DNS | 22.0 |
| 5th | 53 | Dan Clapp | 1 | DNF | DNS | DNS | DNS | 25.0 |
2006 ISA B Skeeter Final Results

| Pos | Sail No | Helm | R1 | R2 | R3 | R4 | R5 | Pts |
| --- | --- | --- | --- | --- | --- | --- | --- | --- |
| 1st | 219 | Mark Hancik | 1 | 1 | 3 | 2 | 3 | 10.0 |
| 2nd | 152 | George Neyssen | 3 | 3 | 5 | 3 | 2 | 16.0 |
| 3rd | 53 | Dave Clapp | 2 | 2 | 4 | 1 | DNF | 18.0 |
| 4th | 42 | Rich Litfin | 4 | 4 | 1 | 5 | 4 | 18.0 |
| 5th | 98 | J. Hadley/D. Connell | DNS | DNS | 2 | 4 | 1 | 25.0 |
| 6th | 401 | Jeff Smith | 5 | 5 | 6 | 7 | 5 | 28.0 |
| 7th | 414 | Keith Kennedy | 6 | DNS | 7 | 6 | 7 | 35.0 |
| 8th | 552 | David Hoyder | DNS | 6 | 8 | 8 | 6 | 37.0 |
March 19, 2006
2006 ISA – Saturday – March 18th -
Day 2 - Mallet's Bay, Vermont
We are really starting to get concerned that we may be wearing our boats out. Another perfect day with perfect conditions. Weather was a little overcast, but we still had hard ice and plenty of wind. The breeze started out a little light but freshened to a steady 10 – 15 Kts. Weather leg was over 1.75 miles with no sturgeon holes or fish shacks! 2 races for the A Skeeters, 2 races for the B's. Tom Nichols dominated the A's but the B race was a shootout!

Jim Hadley showed up today fresh from winning the DN Eastern Championships to play the role of spoiler and gave the leaders another boat to worry about. Dave Clapp won the last race to pull within 2 points of the leader Mark Hancik. Mark is worried about tomorrow's final race and the predicted wind conditions which favor Clapp's boat. Clapp was second at the DN Easterns and Big Dan Connell (a DN legend) was racing a "B" Skeeter too. These "ex" DN'ers have no complaints tonight about sore necks just sore arms.

Tomorrows weather is predicted to be even better…25 degrees…11-16 knots wind. Hopefully no snow.

Rob, Danny, Peter, Dan, Tom, Mark,……………..



March 17, 2006
ISA Regatta
Burlington, Vermont
March 17-19, 2006
The Real 2006 ISAs
By Rob Marsh
What can we say? Perfect ice, perfect weather and perfect wind. This is what it's all about. Today was the type of day that helps makes sense out of spending a fortune on something as dumb as an iceboat. By far, the best regatta conditions in a decade. Our race committee Peter Block and Danny Goritski, both retired "A" Skeeter skippers, set an ideal course of one mile…plus. All three races today were sailed in 10-15 kts.
In the "B" Skeeter fleet, Mark Hancik and Dave Clapp are dueling it out for first place. Mark is presently leading with 1-1-2. In the "A" Skeeter fleet Dan Clapp and Tom Nichols were trading leads with Nichols ahead at the end of the day 2-1-1.

Oh yeah, Clapp's mast exploded! Is he done for the weekend? Stay tuned.

Results to follow this evening.


February 12, 2006
At Last
Lake Kegonsa was the site of the first official club racing of the season. The club had a nice turn out of Skeeters, Renegades, along with a few DNS and Nites. Stand by for race results.

Photo Credits: Dave Travis

| | | |
| --- | --- | --- |
| Ken Whitehorse and Tom Hyslop look over Tom's new front-seater Skeeter | Bob Kau and Bill Dale discuss Skeeters with Buddy Melges. | |
| | | |
| | | |
| --- | --- | --- |
| Paul Krueger's Rambln' after it flipped. | Paul emerged unscathed but stiff. | Heading back to the pits. |
Photo Credits: Peter Harken from his cell phone

| | | |
| --- | --- | --- |
| | | |
| | | |
| | | |
| | | |


January 16, 2006
Nite National Reports & Lake Winnebago Pictures
Nite Nationals Report #1
2006 Nite Nationals: Lake Winnebago , Wisconsin, January 14-15, 2006 .
By Mike Bloom, #535
If iceboating is about speed, the 2006 Nite Nationals will be remembered as a regatta where speed ruled.
Never mind that Day #1 was as frustrating as it gets. We sailed only one race in winds so light only 12 boats managed to finish. This regatta was about Day #2.
Wow! What a difference a day makes. Day #2 saw five back-to-back adrenaline induced races.
Picture this: A racing surface so big you could barely see the far shoreline. Perfectly smooth ice. 34 boats on the starting line. Wind like we rarely see at a big regatta.
How windy was day #2? The wind was clocked in the low to mid 20's with gust approaching 30 mph. Each of one of the five races sailed was windier than the previous race. The weather mark blew away. Starting blocks slide down the ice. Sailors couldn't hold their boats at the start. If you took a glove off to work on your boat it would blow away faster than you could chase it. It took three people to help Sweitzer change a sail and boom between races. Boats tipped over. Masts blew up. Ask anyone who was there, it was blowing big.
Now with big wind comes speed…and, boy, the leaders were fast. Never mind that most of us were sailing faster than we had ever sailed before. The guys up front, and there was a group of about 8 of them, somehow managed to go faster. They were fast off the starting line. They were fast up wind. They were fast down wind. They were fast at the corners. The leaders found speed the likes of which most of us have never seen before. They definitely have taken Nite iceboat racing to a new level. If you couldn't keep up, you were quickly relegated towards the back.
Congratulations to Grant Frautschi who was the fastest of them all. With an amazing display of speed and consistency Grant clearly deserves the title of 2006 Nite National Champion. Grant simply out paced all of the big names of Nite sailing including Rick Wilfert, Terry Irwin, Rick Kotovic and Lou Loenneke, who finished second through fifth, respectively. Sweitzer, Prang, T. Wilfert, M.Wilfert and Adams rounded out the top ten.
Thanks to everyone who contributed their time to make the 2006 Nite Nationals a memorable event. A special thanks is owed to PRO Andy Gratton of the Oshkosh Ice Yacht Club and Nite Commodore Mark Wilfert.
Nite Nationals Report #2
Dateline: Lake Winnebago , WI .
by 4LIYC Nite Correspondent and INCA Vice Commodore, Don Sanford
Top finishers in the 2006 International Nite Ice Yacht Association National Championship Regatta are shown here just after the trophy presentation and just before 2006 Champion Frautschi bought us all a round of beer at Wendt's Lakeside Tavern on the shore of Lake Winnebago on January 15, 2006.From L-R:Grant Frautschi-4LIYC-Madison; Tom and Rick Wilfert, Craig Adams, Mark Wilfert, Mark Prange and Tom Sweitzer; -PIYC, Pewaukee.
Frautschi took first place overall, Rick Wilfert second.This marks only the second time in the twenty-five year history of the Nite Championship regatta that a 4LIYC skipper has brought the Nite Championship Trophy to Madison .
Grant sailed a fantastic regatta in a variety of conditions beginning with a 3rd place finish on Saturday in what some skippers called a drifter and others described as "too much pushing."Most of the fleet logged a DNF for that race.On Sunday Grant showed us that he knew how to make his boat go when the wind piped up too.In Sunday's races, Grant logged two, 2nd place and two, 1st place finishes.Even in his throwout race, the one where he tipped over at the top mark, he recovered and finished 15th."I had just rounded the top mark in a huge hike going about 60, pushing the pedal for all that it was worth to get the boat back on the ice, when I looked up and saw Grant walking around his boat," said fellow 4LIYC Nite skipper Don Sanford."I would have stopped to help, but since he was walking around I knew that he must either have been OK or not stunned enough to impair his motor functions," Sanford continued."Nothing, including Grant, appeared to be broken so I made the snap decision to keep going and see if I could pass another boat or two on that leg, which managed to do," he said.
4LIYC skippers Don Sanford, Mike Burns and Carl Rozmarek also sailed the regatta. Sanford logged a 19, 9, 9, 10 and 9 to finish 13th overall.Mike and Carl finished in the mid-20's working their way up from some tough going in earlier races.
We couldn't have asked for better conditions.I can only describe the sheet of ice on Lake Winnebago as expansive.Actually the ice went just about as far as you could see.We had a report that Andy Gratton sailed his stern steerer for 13 miles, yes thirteen miles, on one tack last weekend.Saturday's racing was marginal at best with only one race completed.On Saturday afternoon, the race committee decided to bump the starting time for the first race on Sunday up to 9 am in hopes of getting all our races in for the regatta and maybe enough for a throwout.Many skippers who didn't finish that first race hoped to erase what had been a real disaster for some of us on Saturday. Sunday's first race began in a moderate, 12 mph breeze, which by 10 am had filled in to a steady 18 then built to 23 by the time the final race of the day's 5 race series was completed around 1:30 p.m.

Though we had a couple of breakdowns, no accidents were reported or observed in the 35-boat fleet during the 2-day, 6-race series skillfully managed by PRO Andy Gratton of the Oshkosh Ice Yacht Club.Nite Commodore Mark Wilfert reported that this was largest fleet for a Nite National championship regatta in many years.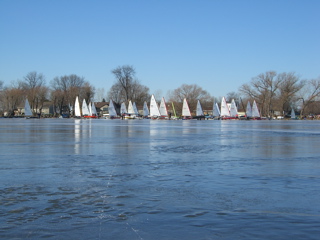 Photo Credit: Grant Frautschi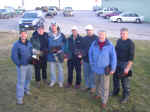 Thumbnail Image
Photo Credit: Don Sanford
Top finishers in the 2006 International Nite Ice Yacht Association National Championship Regatta are shown here shortly after the trophy presentation at Wendt's Lakeside Tavern on the Shores of Lake Winnebago on January 15, 2006.Grant Frautschi-4LIYC-Madison; Tom and Rick Wilfert, Craig Adams, Mark Wilfert-PIYC, Pewaukee, Tom Nordlie-Upper Tonka IYC and Tom Sweitzer; PIYC, Pewaukee.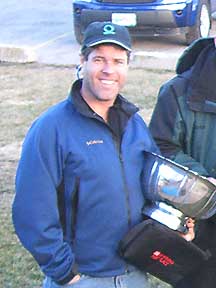 Nite Nationals Champion Grant Frautschi
Photo Credit: Don Sanford


Photo Credit: Mike Burns



January 15, 2006
4LIYC Skipper Jerry Ebert Wins C-Rig Regatta
The C-Rig Regatta was successfully held on Green Bay at Little Tail Point. Participants included:
Jim Nordhaus
Jerry Ebert
Peter Fauerbach
Iver Johnson
Ed Nelson
Mike Company
Lloyd Angwall

Jerry Ebert took first place with one 1st, and two 2nd place finishes.
Iver Johnson got second, Ed Nelson third, and Jim Nordhaus fourth.

Race 1 Race 2 Race 3 Total
Jerry E. 1 2 2 5
Iver J 2 3 1 6
Ed N 3 1 3 7
Jim N 4 4 6 14
Mike C 5 5 5 15
Lloyd A 6 6 4 16
Peter F DNS DNS DNS 21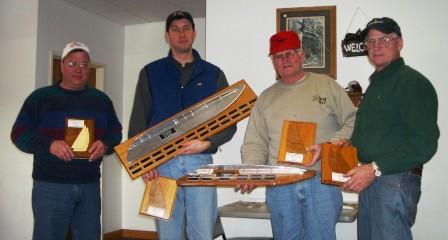 From left, Jim Nordhaus 4th, Jerry Ebert 1st, Iver Johnson 2nd, Ed Nelson 3rd