2005-2006 ARCHIVES
January 15, 2006
Don Anderson/Greg Simon Take IRIYA Championship
at Fond du Lac in Renegade #420
The 2006 IRIYA Championship concluded with two races on Sunday making for a six race regatta. A variety of conditions made for a challenging regatta.
Scroll down for results.
Awards Ceremony,
Sunday, January 15, 2006
Photo Credit: Carrie Pok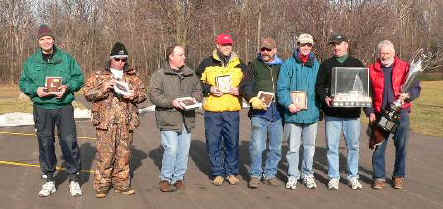 From left: Ron Rosten 7th, Rick Eckstein 6th, Andy McCormick 5th, Doug Kolner 4th, Gary Sternberg 3rd, Tim McCormick 2nd, Greg Simon (Don Anderson not present) 1st, Jerry Simon 8th with the highest placing over-20 award.
Friday, January 13:
Racing was delayed until 1:30 because of sleet, rain, and poor visibility. The ice was wet and fast and winds were steady at about 10 mph and a bit gusty. In the second race, first race-winner Mike Derusha's steering seized up at the start of the race and he collided with Archie Call. Mike's springboard was toast while Archie's boat was okay and he was able to complete the race. Mike decided to bring another boat to compete in Saturday's races. In the third race, the wind was really howling. Andy McCormick and Jack Ripp were involved in an incident heading upwind on the last lap. Jack came through just fine but his hull and port runner were destroyed. Other than a crack near the aft of the hull, Andy's boat appeared to be okay. As he headed back to Madison Saturday morning, Jack Ripp remarked that he didn't sleep much Friday night because he was too busy figuring out how to make some of the needed repairs on the plank. 
Saturday, January 14:
Conditions were much different than Friday. The ice was nice and hard without any water on top, but the wind was down. The fleet was able to get one race in before noon. Regatta points leader, Don Anderson left for Key West, Florida to compete in the Melges 24 Regatta and called on Greg Simon to sail #420.  There was a wind shift during the four lap race and the wily veteran from Ohio, Archie Call, capitalized and easily won the race. The wind shut down for the rest of the day and races were called off at 2 PM. Several competitors talked ice boating at the Southside Ice Yacht Club in Oshkosh before meeting at Dave Lallier's restaurant, Oscar's, for a well-attended banquet.


Sunday, January 15, 2006:
Sunday morning saw the strongest wind of the weekend coupled with hard, fast ice. Before the first race, Mike Derusha broke a steering bolt and headed back to the pits. He was able to fix the problem but not before the first race started. Eighteen boats lined up for the exciting race and all but Tyler Sternberg (equipment problems) were able to finish.
Mike Derusha was ready to go for the second race which he easily won. Winds were building and race committee helper, Mike Peters, clocked Mike's first complete lap on the 1.25 mile course at 3:20. Mike won the four lap race in fourteen minutes. Daniel Hearn, who had been sitting in the top three in points, suffered a broken steering bolt on the upwind leg of the last lap and was forced into a costly DNF. 
Misc. Notes:
Both Don Anderson and Greg Simon's names will be engraved on the trophy according to Bob Pegel.
Tim McCormick finished second over-all in the regatta, even though he wasn't present at Saturday's race because of a previous commitment.
Jerry Simon won the over-60 trophy.
Tammy Sawyer, a professional photographer and daughter of the late Pewaukee ice boater, Tom Sawyer, positioned herself at the top mark during Sunday's big blow and took about 300 photos which are now posted to her website where you will be able to view and buy her photos.
Two skippers were fortunate to have the shop services of Ecky Eckstein. On Friday night, Ecky made some new parts for Paul Exner (steering components) and Greg Whitehorse (front stay tang) which allowed them to complete the regatta. 
Race Committee: Chief Judge Arlyn LaFortune, Marv Luck, "Ecky" Eckstein, Mike Peters, Markus Zulkhe, Scorer Deb Whitehorse with off-site technical support from Mary Jane Schalk.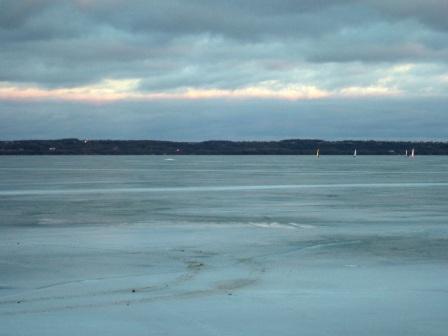 Photo Credit: Mike Burns
The view on Friday.
Saturday, January 14, 2006
Photo Credit: Ron Rosten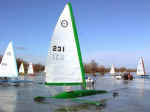 Archie Call, winner of
Saturday's light air race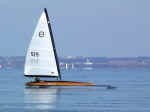 Doug Kolner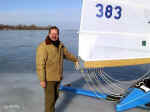 Dave Lallier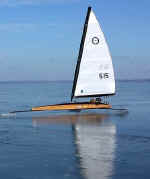 Photo Credits: Carrie Pok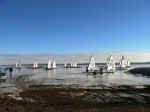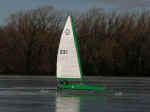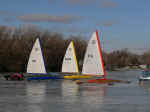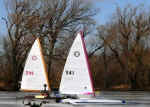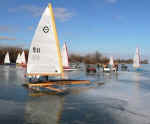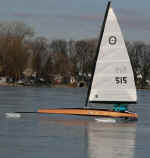 Sunday, January 15, 2006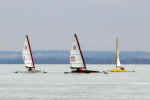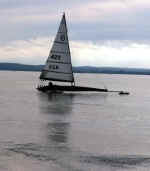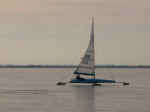 2006 IRIYA Championship Regatta
Final Results Lake Winnebago, Fond du Lac, WI
January 13,14,15, 2006
Pos
Sail No
Crew
R1
R2
R3
R4
R5
R6
1st
420
D. Anderson /
Greg Simon
6
1
1
3
1
3
15.0
2nd
385
Tim McCormick
4
4
2
DNC
2
2
45.0
3rd
541
Gary Sternberg
17
5
3
13
3
6
47.0
4th
515
Doug Kolner
11
7
9
7
6
8
48.0
5th
485
Andy McCormick
8
3
DNF
4
4
4
54.0
6th
384
Rick Eckstein
10
8
6
18
7
7
56.0
7th
19
Ron Rosten
12
6
4
24
9
5
60.0
8th
113
Jerry Simon
13
10
10
12
14
12
71.0
9th
507
Daniel Hern
7
9
5
9
11
DNF
72.0
10th
152
Andy Hopkins
18
13
13
8
13
13
78.0
11th
512
Paul Exner
2
RAF
DNS
2
8
9
83.0
12th
499
Glen Betzoldt
14
11
12
23
10
16
86.0
13th
210
Jim LaFortune
24
20
16
25
5
10
100.0
14th
417
Clay Georgeson
16
14
7
5
DNS
DNS
104.0
15th
491
Tim Monday
25
24
18
16
15
11
109.0
16th
487
Wes Wilcox
20
18
DNF
15
12
14
110.0
17th
310
Greg McCormick
15
17
11
6
DNS
DNS
111.0
18th
188
Mike Derusha
1
DNF
DNS
17
DNS
1
112.0
19th
231
Archie Call
5
22
DNF
1
DNS
DNS
121.0
20th
383
Dave Lallier
22
15
8
19
DNS
DNS
126.0
21st
36
Jim Drummond
26
23
19
26
17
15
126.0
22nd
11
Jack Ripp
3
2
DNF
DNC
DNS
DNS
129.0
23rd
299
Tyler Sternberg
21
19
15
14
DNF
DNS
131.0
24th
373
Jim Hopkins
23
21
17
10
DNS
DNS
133.0
25th
462
Ken Norton
9
16
DNF
20
DNS
DNS
138.0
26th
123
George Gerhardt
19
12
14
DNS
DNS
DNS
138.0
27th
500
Greg Whitehorse
DNF
DNS
DNS
22
16
DNF
162.0
28th
511
Kevin Pock
DNC
DNC
DNC
11
DNS
DNF
166.0
29th
509
Jeff Lallier
DNC
DNC
DNC
21
DNS
DNS
176.0
30th
213
Greg Simon
DNC
DNC
DNC
DNC
DNC
DNC
186.0