2009 Northwest Ice Yachting Association Regatta
February 27,28,March 1, 2009
Geneva Lake, Fontana, WI Map
Lodging Information
(262)275-6700
Map
Tell them you are with the Northwest Regatta.
Do you have photos? Email them to me.
March 2, 2009
Awards Photos Now Posted


Find them here on the Photo Page.
March 1, 2009
Photo Page
Here's a photo page. Check back during the week for continuing updates and photos.
NIYA Called Complete
10:18 AM: The 2009 Northwest Ice Yachting Association Regatta has been called complete. With winds gusting to 30mph, the Race Committee decided to hold the trophy ceremony at Chuck's. That's where I'm posting from now. Trophies will be awarded in a few minutes.
NIYA Day 3: AM Report
7:30 AM: Winds are up this morning. Point races are tight in most fleets which will make for a very exciting morning. The stern steerers will be making up their fourth race first thing this morning.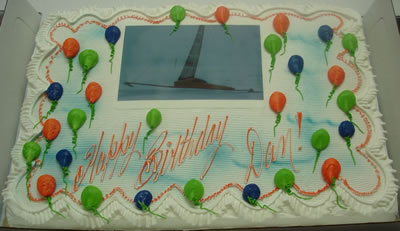 February 28, 2009
NIYA Day 2: PM Report
First Friday Skeeter Race:
Jay Gets Clapp
PHOTO LINK: 10:15 PM:Just returned from the banquet where we also celebrated Dan Clapp's birthday (with cake! Thanks, Ellen), checked email, and here's a link to Aerial Kite Camera Photographer Craig Wilson's photos from today. Just spectacular!
Take a look here.

That was of course yesterday's should-a-been headline but Jay was "cured" when Dan won the next three Skeeter races (the second one on Friday and two today). In the DNs, JD and Steve Orelebeke took two firsts. The Renegades saw Jim Nordhaus and Andy McCormick win, The B Skeeters saw Spark Lundburg and Steve Schalk win. I'm on the ice in front of Chuck's. Stand by for updated scores and photos. The atmosphere is really fun here this afternoon. Erich Schloemer won the stern steerer race today. The second one was abandoned because the wind died down.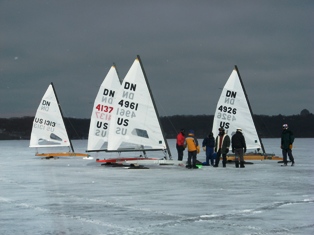 DNs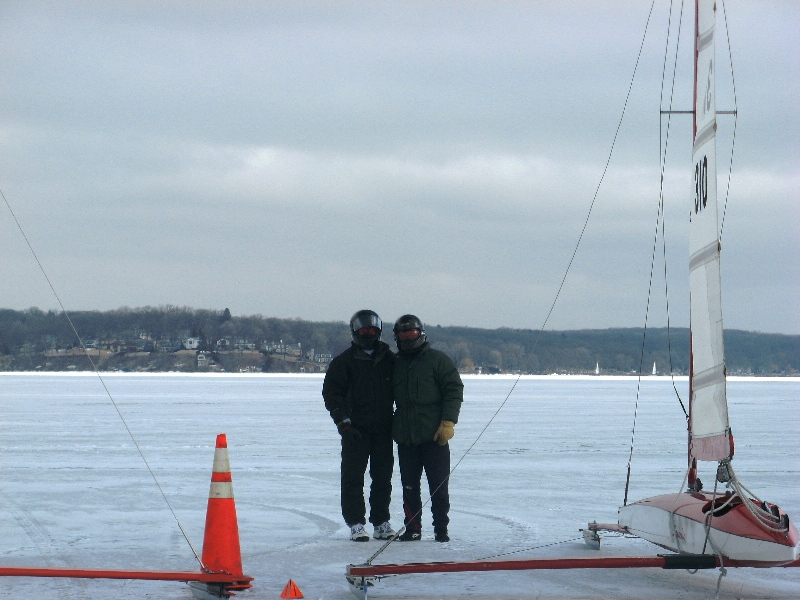 Life long friends and competitors, Greg McCormick and Greg Simon in the one and two positions awaiting the start of the third Renegade race.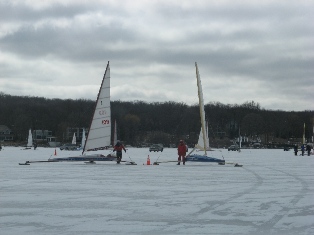 B Skeeters Spark Lundberg and Steve Schalk.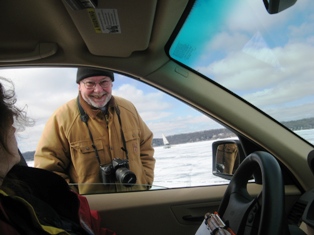 Here's Tim Murray who flew in from the Northwestern United States to watch the NIYA.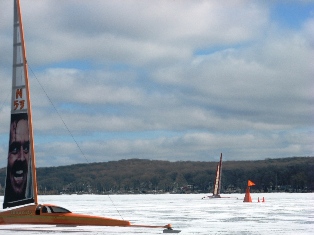 Dan Clapp finishes first.
NIYA Day 2: Early AM Report
7:30 AM: Some very light snow coming down this morning. Just enough to turn the lake white again as you can see by the web cam. Winds look good for today and it's always interesting to see which forecast will turn out to be correct. More competitors have arrived and are setting up their boats.
Mary Jane and I are kept quite busy with scoring which doesn't leave me any time to update the website during the day. I'll check back in tonight before the banquet.
February 27, 2009
NIYA Day 1: PM Report 1
Preliminary Results Now Posted.
6:00 PM: The flag finally dropped at 1 PM today on Geneva Lake for the 96th year of the Northwest Ice Yachting Regatta.Races moved along very quickly considering that the course had to be moved two or three times. Winds were brisk during the first round of racing.Unofficial results: First Race: First place finishers include Steve Orlebeke-DN class; Greg Simon-Renegade class, Jay Yaeso-A Skeeter class; Steve Schalk-B Skeeter class, and Erich Schloemer-Stern Steerer class. Second Race: Steve Orlebke-DN class; Greg McCormick-Renegade class; Dan Clapp-A Skeeter class; Spark Lundburg-B Skeeter class; and Erich Schloemer-Stern Steerer class. Off to the NIYA meeting...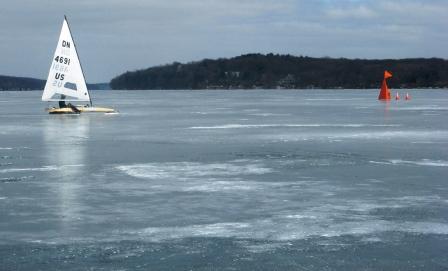 Here's JD.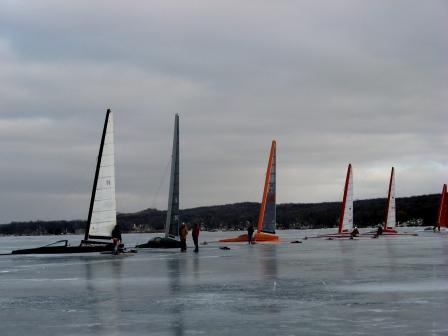 Skeeters line up for the second race.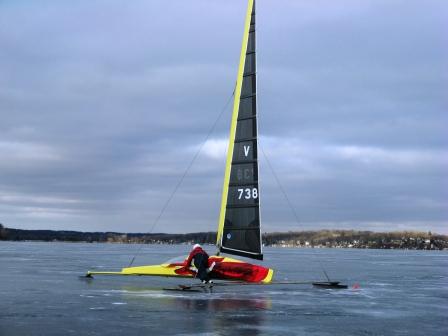 Tom Hyslop pushes off.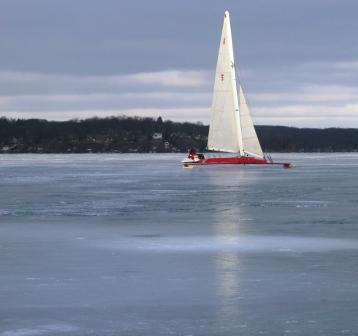 Fred Stritt and Fritz.
NIYA Day 1: AM Report 1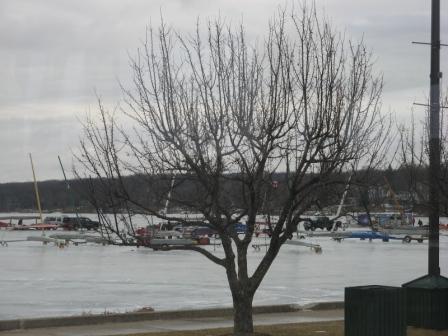 View from Chuck's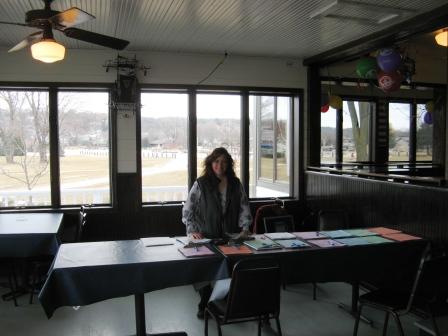 MJ is ready to register
8:39 AM: Registration is open. The NIYA is under postponment until 12:00 because the wind is a sustained 24 mph and to also allow time for people to travel through some ice and snow. The winds are expected to drop a bit.
7:00 AM What a different world we've woken up to this morning.The cold north wind came through about 2:30 AM. The Race Committee will be thoroughly checking the lake for any drain holes early this morning. Off to registration after some breakfast.
February 26, 2009
NIYA Day 0
Just returned from Donna & Burly's NIYA eve party which was well attended despite the rain and fog. The rain is soon to stop and Mary Jane says "get ready for some excellent fast ice". We'll see you at registration tomorrow!
February 25, 2009
NIYA News
SCHEDULE OF EVENTS

Thursday, February 26, 2009:

Thursday night, Burly and Donna Brellenthin are hosting a cocktail party for the early bird arrivals from 5:45 to 7:00 at their home in Lake Geneva.
Friday, February 27, 2009:
Friday registration at (no creepers inside) from 8:30 to 9:30 AM. The first race is scheduled to begin at 10:00 AM with race two to follow. Chuck's will also be open at 8:30 on Saturday and Sunday for bathroom use only! Bar and restaurant open later.
NIYA Meeting:
Time: 5PM
Location: The Waterfront, Delavan Inlet
408 State Road 50, Delavan, WI
Map
Please use parking lot to the north of the building.
Saturday, February 28, 2008:
The first race is scheduled to begin at 9:30 AM with every attempt to get in two races per fleet. Saturday a great meal is planned at the Moose Creek Bar & Grill, Elkhorn, WI. Dinner is chicken over rice pilaf, salad, bread, and dessert for $20 per person.
Click here for map and driving directions.


HOTELS:

Fontana Village Inn
1/8 mile to launch site
262-275-6700
Econo Lodge
5.45 miles to launch site
262-728-9399
Northwest Ice Yacht Association
N.I.Y.A. – 2008 REGATTA NOTICE
Northwest Called ON for Lake Geneva
Via Paul Krueger: The Northwest Ice Yacht Regatta has been called on for  February 27, 28, March 1, 2008.
Regatta is scheduled to be held Friday, Saturday and Sunday, February 27, 28, March 1, 2008.
N.I.Y.A. races will be held for Class A, B, C, D, E, Renegade and DN (NOTE: Class A races will be held separately at Wisconsin or Upper Michigan, if not held in that area).
The first race will be held at 10:00 A.M. on Friday, February 27, 2008. The entry fee is $15.00 per yacht. Registration will be held at Regatta Headquarters on February 27, 2008 from 8:30 A.M. to 9:30 A.M. Starting positions for the first race will be by committee draw.
Trophies will be awarded according to Article XI of the N.I.Y.A. Rule Book.
Five races are scheduled for each class with three being necessary in each class for the completion of the Regatta.