2014-2015 DN Regatta Page
FOR OFFICIAL INFORMATION:
IDNIYRA WEBSITE
DN FORUM
2015 DN GOLD CUP WORLD & NORTH AMERICAN CHAMPIONSHIPS
February 8, 2015
C. Firmbach's World's Photos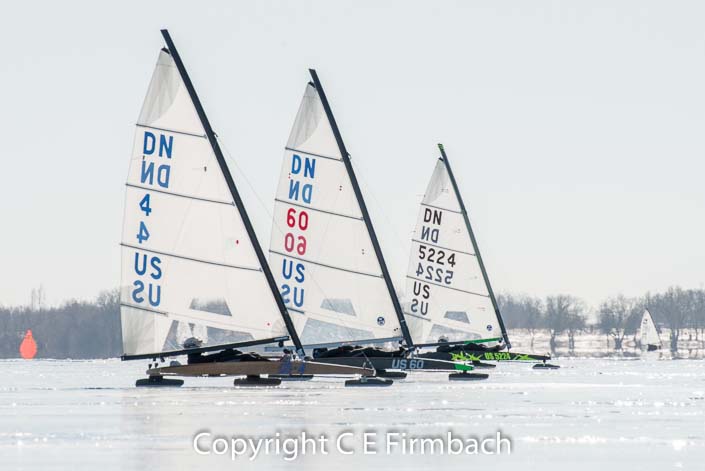 See over 100 of these amazing photos from Cathy Firmbach here.

February 5, 2015
"Ice boating community blown away by city's hospitality"
The Whig.com
Opinion Column by John Curtis
"What a week. Immediately following Skate Canada, Kingston hosted the Detroit News Ice Boat World Championships. Many Kingston residents will have seen the regatta up close as thousands of people were out on the "perfect ice" that was the reason why the world championship committee selected Kingston to host the 2015 world championships." Continue reading.
Interview with DN World champion Karol Jablonski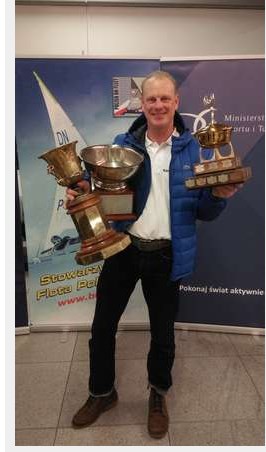 "...The average fan does not know that the day regatta start at seven o'clock, eight o'clock we are on the ice, check the equipment at the ninth we're at the starting line, so for another hour to practice, check ice conditions, choose the skids, do trim the sail. Then there are the races, often accompanied by strong winds and frost. This is an intensive investigation, where all the muscles are tense, come to stress and concentration. All in all, I'm on the ice eight hours." Continue reading the Google translation.
February 2, 2015
Gold Cup Top Ten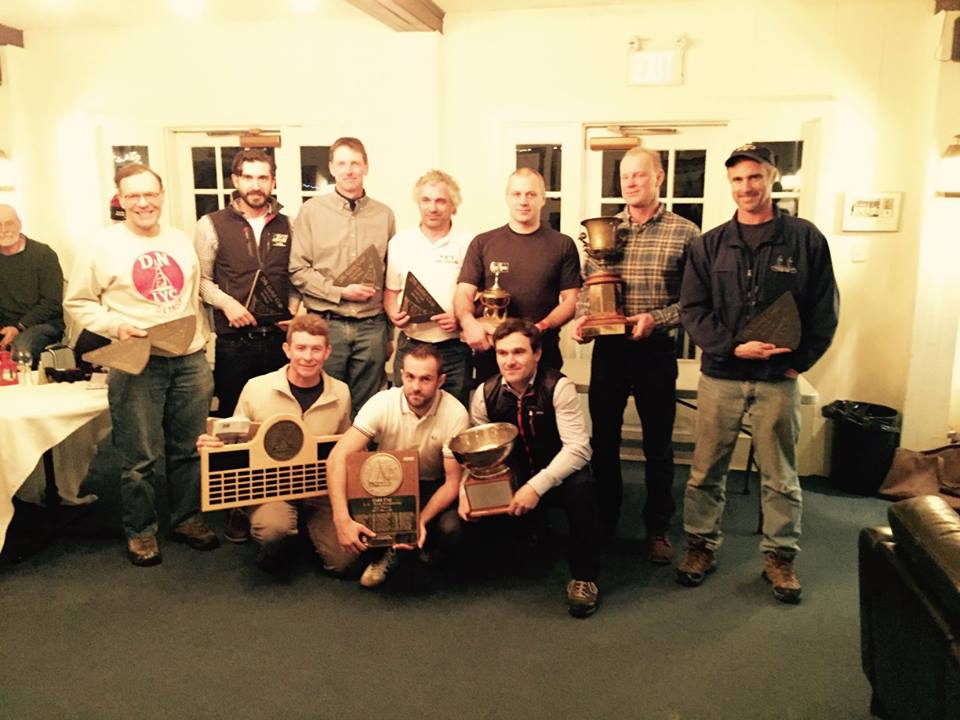 Photo from Michal Burczynski's Facebook page
Top row from left: 10th place John Harper US60, 7th place Martin Bjorn-Schneider G679, 8th place Steve Orlebeke US4926, 9th place Jakob "Kuba" Schnieder P679, 5th place Tomek Zakrzewski P55, 1st place Karol Jablonski P36, 6th place James "T" Thieler US5224. Sitting from left: 4th place Ron Sherry US44, 3rd place Michal Burczynski P114, 2nd place Robert Graczyk P31

"I took over 200 pictures early in the morning on Wednesday January 28th on the frozen Lake Ontario at Kingston and have put 50 in an open account for you to look at. Most have been cropped and or slightly edited.... If any of your members or sailors want a digital copy of my original full resolution photograph, without my copyright watermark, they may email me a request via windtogo.com Please include my photograph number and the boat number. " Click here to see photos.
Gord Binnington P/Cdr CPS
January 30, 2015
The Four Letter Word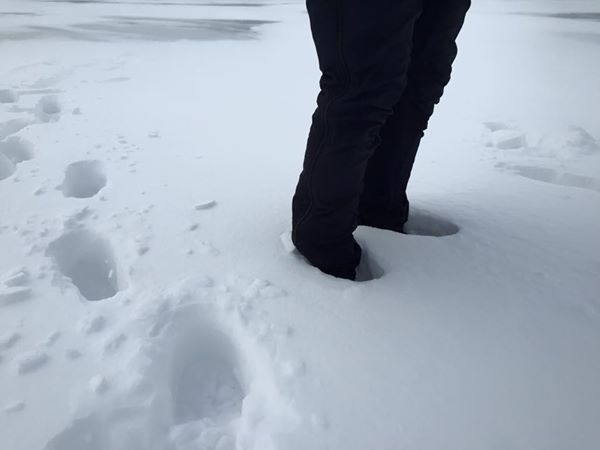 Too many drifts this morning in Kingston. An announcement will be made at 11 AM whether we move to another site or call it quits. Stand by.
January 29, 2015
Preliminary Results Day One
This is North America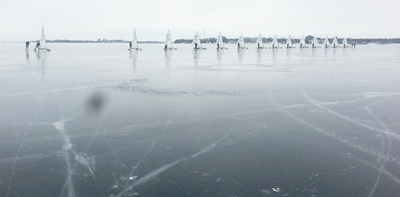 Day one of the North American championship regatta got off to a shifty and gusty start. The first race, a Silver where the top 12 transfer to the Gold fleet, was sailed in moderate winds. After a course change, the Gold fleet sped off into building winds. The ice is so hard that my spikes can't dig in which makes it hard to walk. After the first Gold fleet race, the winds really started nuking causing sails, boats, and anything that wasn't tied down to head downwind. Then the wind changed direction again for what seemed to be the fifth or sixth time today and abated, allowing for another Gold fleet race. Was an interesting sight to see the Polish sailors line up to take a test lap before the second Gold race to make sure conditions were right for sailing.. The wind came back with vengeance after the second Gold race and the PRO called it a day. Best thing that happened today was that the snow in the forecast never materialized. Stand by for scores.
January 28, 2015
ND or DN, this is COOL!
Worlds Complete:
Karol Jablonski P36 Repeats as Champion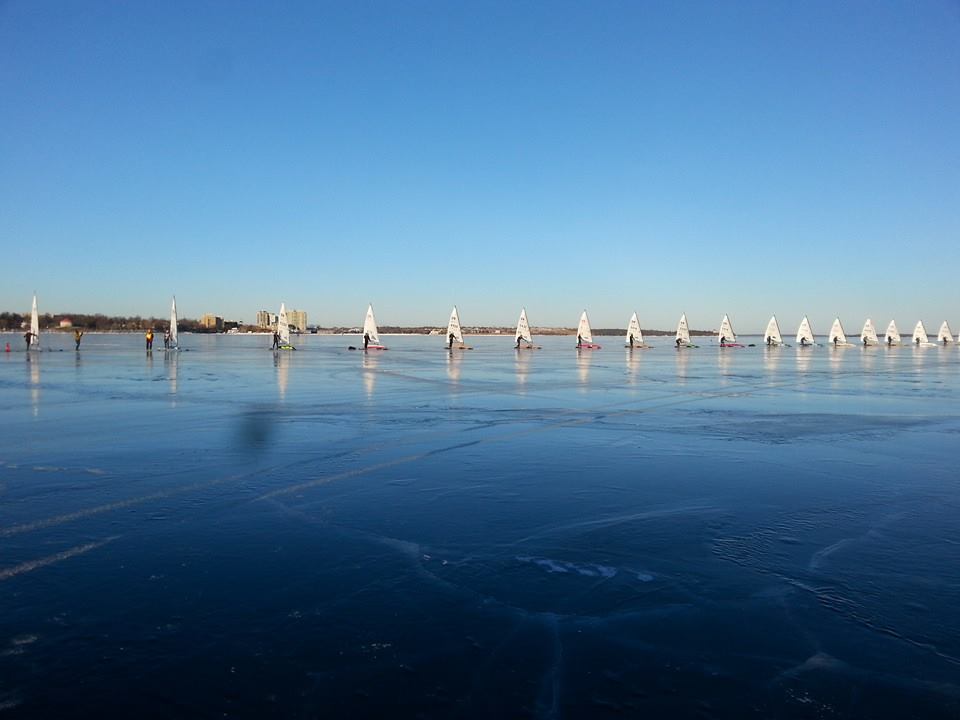 Long day on the ice today. The DN Gold Cup is complete! Congratulations to all the competitors incuding first place Gold fleet, Karol Jablonski P36 and our own Western Region and Four Lakes Ice Yacht Club member, Chris Burger US5166 for his first place Silver fleet finish. The scorers are scarfing down pizza right now getting ready for the North Americans which begin tomorrow. PDF file of results here.

January 27, 2015
Postponed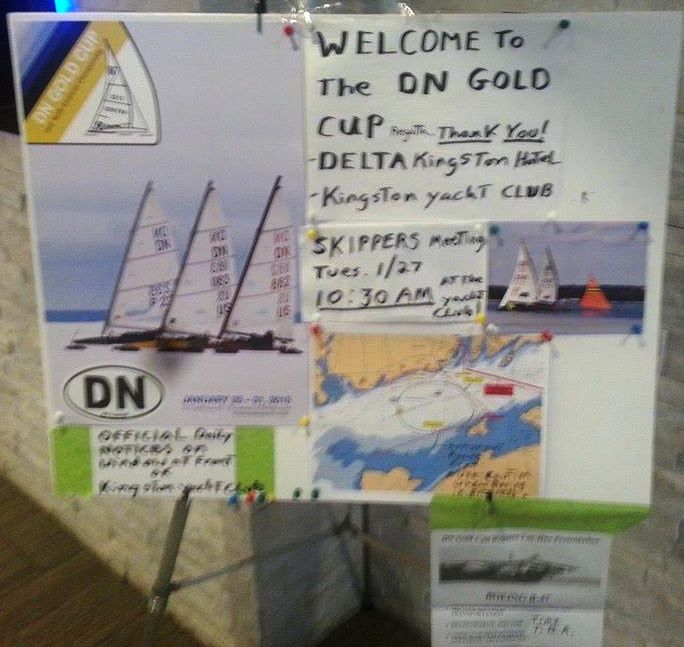 Racing is cancelled today because of high winds. The annual meeting is scheduled for 1:00 at the hotel headquarters.
Video from Day 2
DN Worlds: Day 3 AM Report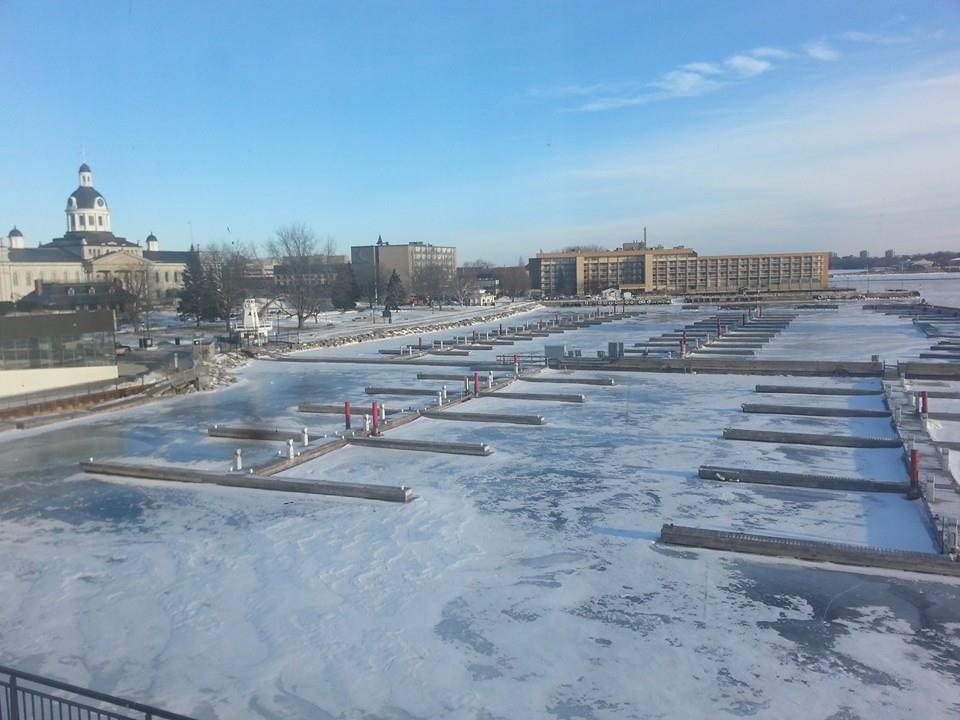 View of Kingston Harbor from the hotel room, where it is warm.
Well, it wouldn't be an iceboat regatta without some waiting around. There's a skipper's meeting at 10:30 at the yacht club. Temperatures are below 10F this morning again and the winds are forecasted to be even heavier than yesterday. The scorers are waiting at the hotel to learn whether we gear up and brave the day.

Since I have a few minutes, I'll write about how we survived yesterday's extreme conditions. The scorers have it easier than the competitors because we have a heated tent that we climb into after each race to sort out the scoring. We are all wearing our heaviest layers and maximum gear. I wouldn't be able to be on the ice without chemical hand warmers. Wearing Joffa helmets also helps with keeping our heads warm and safe. We have a bigger than usual contingent of race committee personnel which is really helpful, including experienced people like Bob Schumacher and Dan Heaney who know what needs to be done (and also importantly, provide cookies and chocolate to the scorers).

Some interesting links you will want to follow:
Polish sailor Tomasz Zakrzewski P55 is filing reports on his blog. Read it here.
The Kingston Yacht Club's current weather page. See it here.
Commodore T's reports on the New England IYA. Read it here.
January 26, 2015
Media Coverage
"EVERY YEAR, THE WORLD ICE SAILING COMPETITION GOES WHERE THE ICE CONDITIONS ARE BEST. AND THE FROZEN SHORES OF LAKE ONTARIO ALONG KINGSTON SEEM TO BE THE IDEAL SPOT…. WHERE THE ICE IS 8 INCHES THICK. 88 COMPETITORS FROM OVER 10 COUNTRIES ARE HERE TO COMPETE. THE RACING WILL CONTINUE ALL WEEK, DEPENDING ON THE WIND." Video here.
Results After Day 2 Worlds
Day Two of the Worlds: PM Report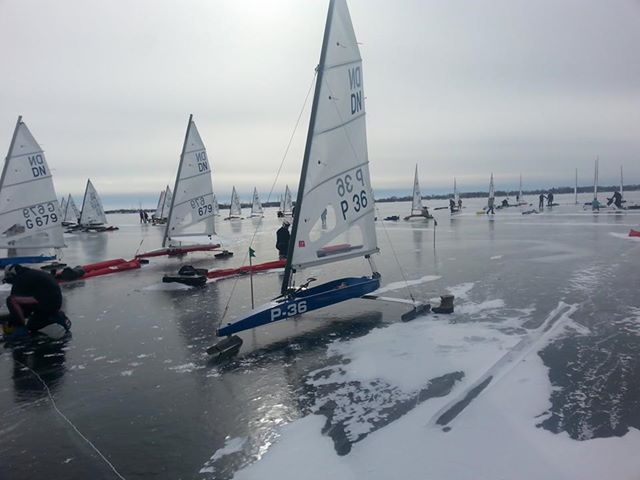 Quick post before Loretta starts entering data for scores. Cold and windy conditions today. Two Silver races and two Gold which were both won by P36, Karol Jablonski. Stand by for results.
Day Two of the Worlds: AM Report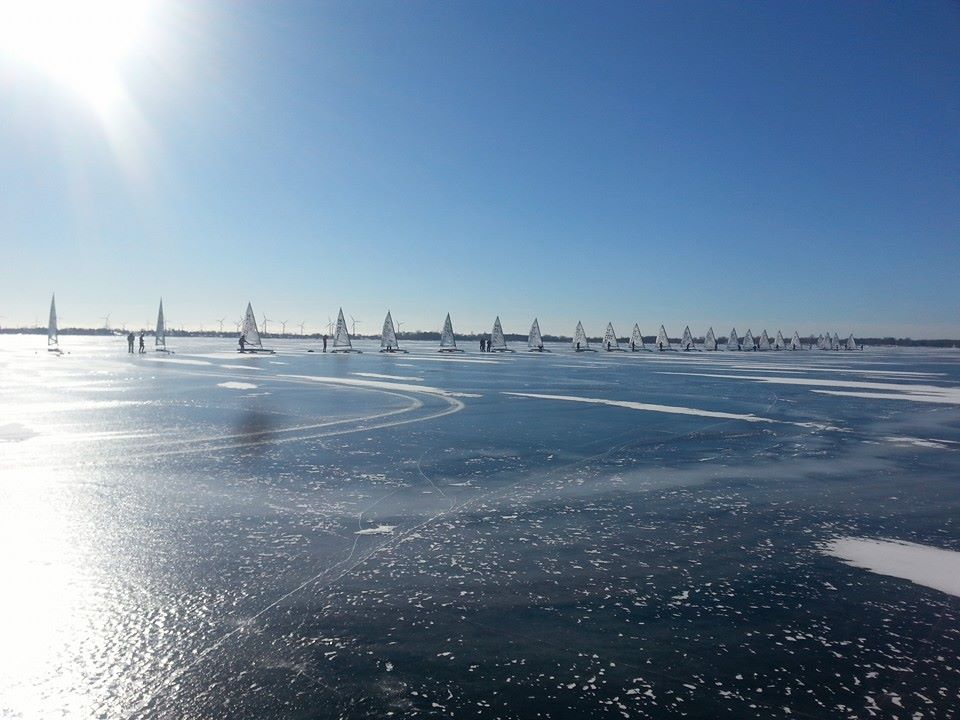 Photo from the only race sailed on Sunday, the Silver Fleet race.
It's Canada and it's cold, 0F/-18C. There's a skipper's meeting at 9 AM at the yacht club. Loretta, Mercedes, and I are headed to a quick breakfast and then to the store to pick up a gallon of propane for the heater in the scorer's tent. We'll need it today! Stay tuned for more. I'll try to post updates to Facebook again.
January 25, 2015
Day One of the Worlds
There was one race in the Silver fleet today from which the top 12 finishers advanced to the Gold fleet. See the results on the DN Forum. (Note that the Silver results do not include the top 12 finishers of the qualifier. They will be starting in the Gold fleet's first race.) The Gold fleet started a race and before the first leeward rounding, the wind shifted 90 degrees and then died which caused the black flag to be hoisted and the race to be canceled. We will try for the first Gold fleet race tomorrow.
January 24, 2015
The Flags Are Up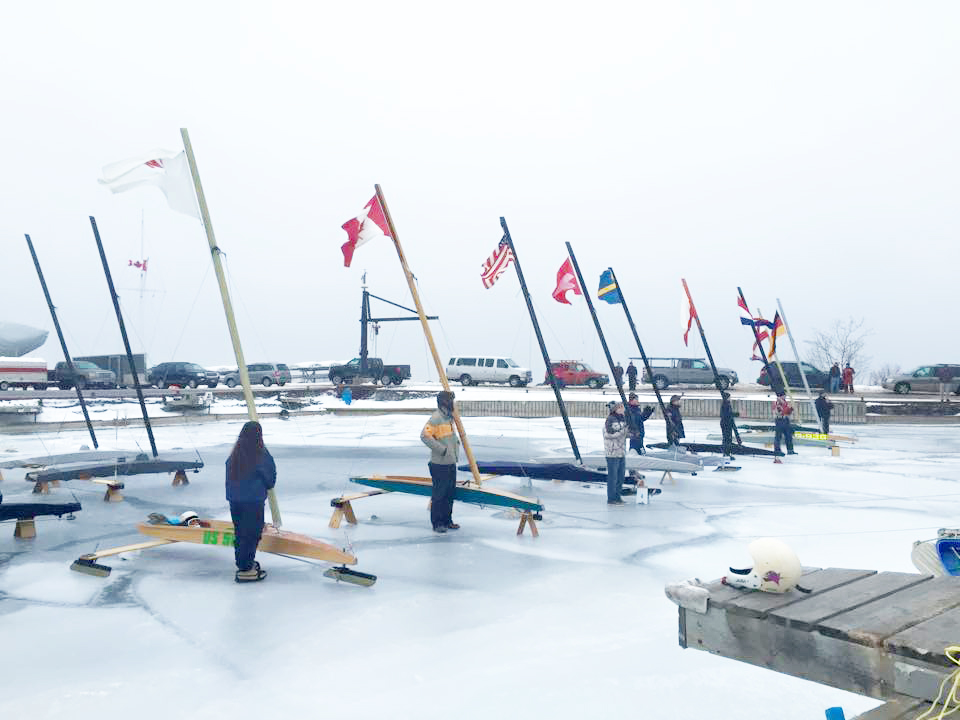 Photo by DN Nederland
I can say it no better than what DN Netherlands posted on his Facebook page:
And the flags are up!! Let go sailing" Opening ceremonies were held under a cold drizzle. Tomorrow we get down to business.
Kingston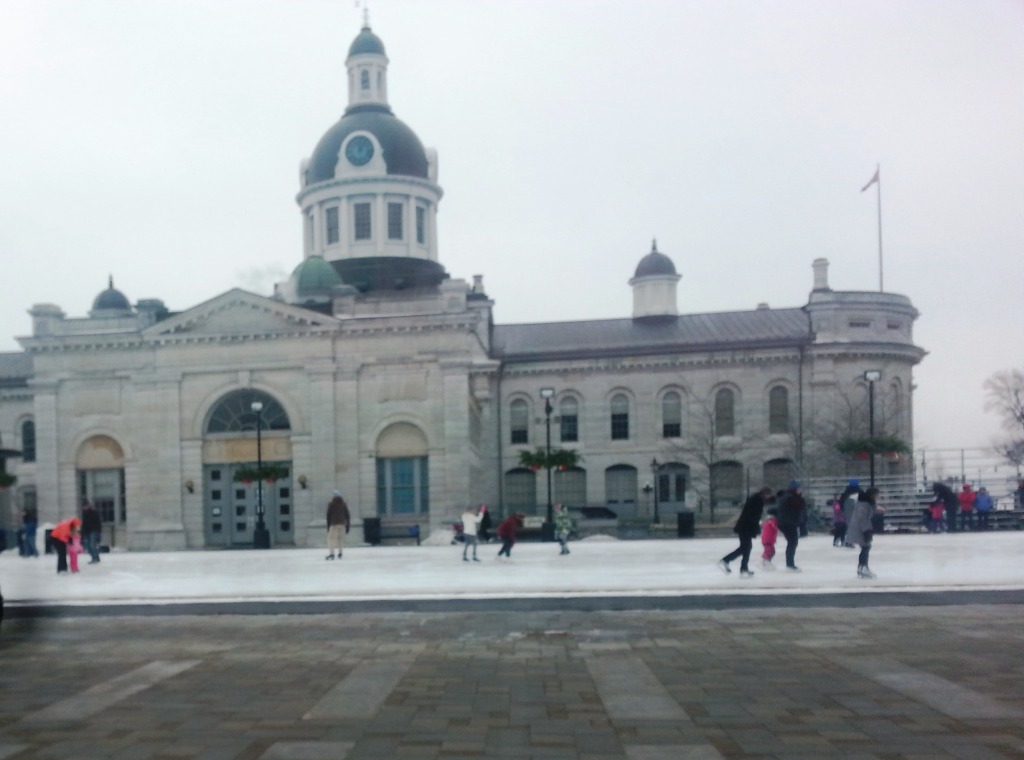 Arrived in Kingston last night. Above photo is a skating rink downtown. Very beautiful city. Heading off to opening ceremonies where the flags and anthems from all participating countries will be on display. The Kingston Yacht Club has excellent wifi so should be able to post some pics of that.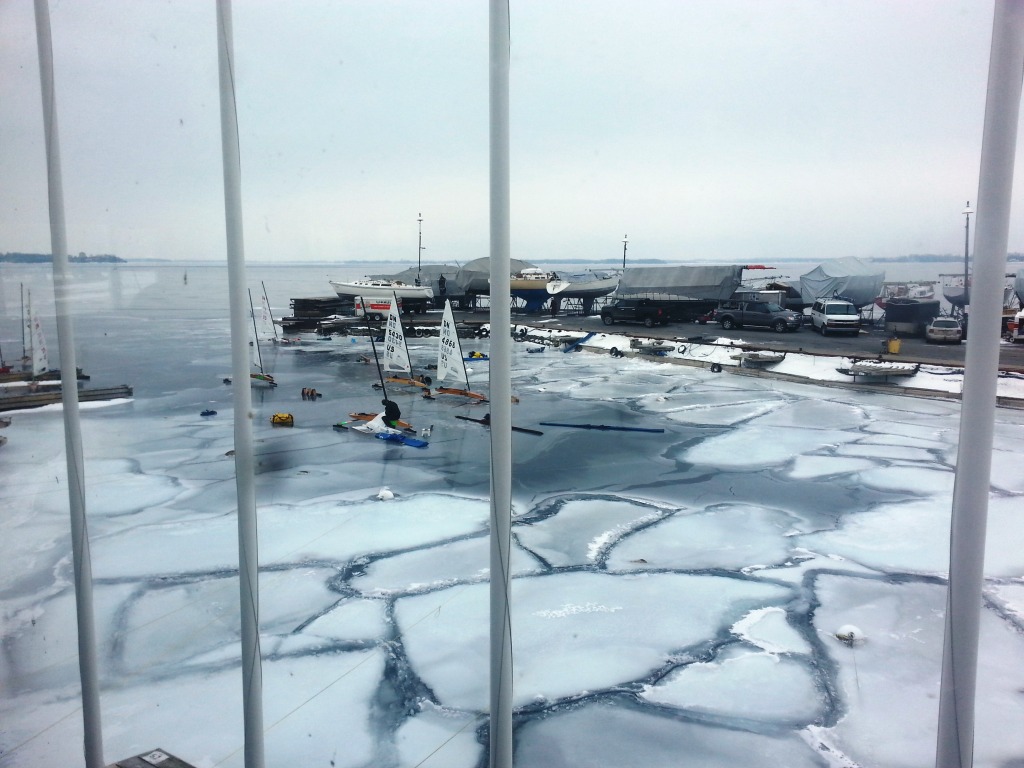 View from the second floor of the Kingston Ice Yacht Club.
January 22, 2015
Detroit News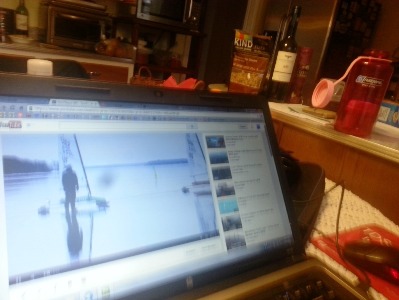 First leg of my journey is complete. I'm in the home of where the DN class all began, Detroit, Michigan at Loretta Rehe's house. We will be leaving for Kingston, Ontario tomorrow which isn't that far of a drive from Detroit, about 6 hours. The Western Region ATV will be transferred from my vehicle to Loretta's van. Off to the races!
January 21, 2015
DN Worlds & NA: Kingston!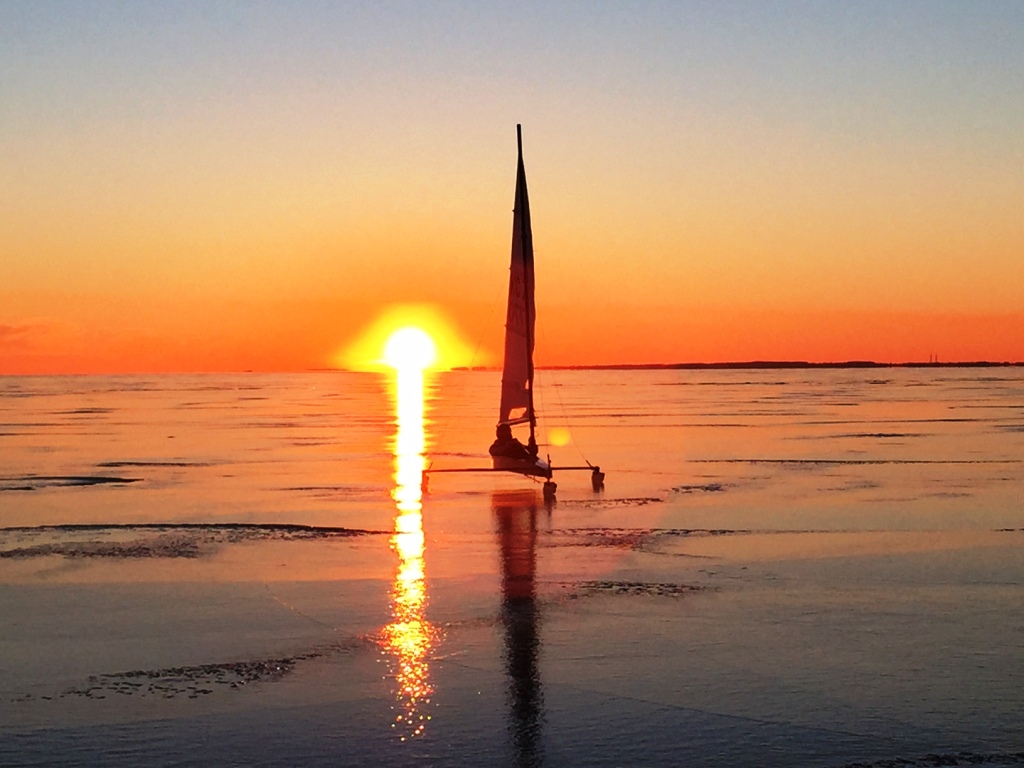 The DN Gold Cup and North Americans have been called on for Kingston, Ontario Canada. More information to follow on DN Forum and on the Hotline.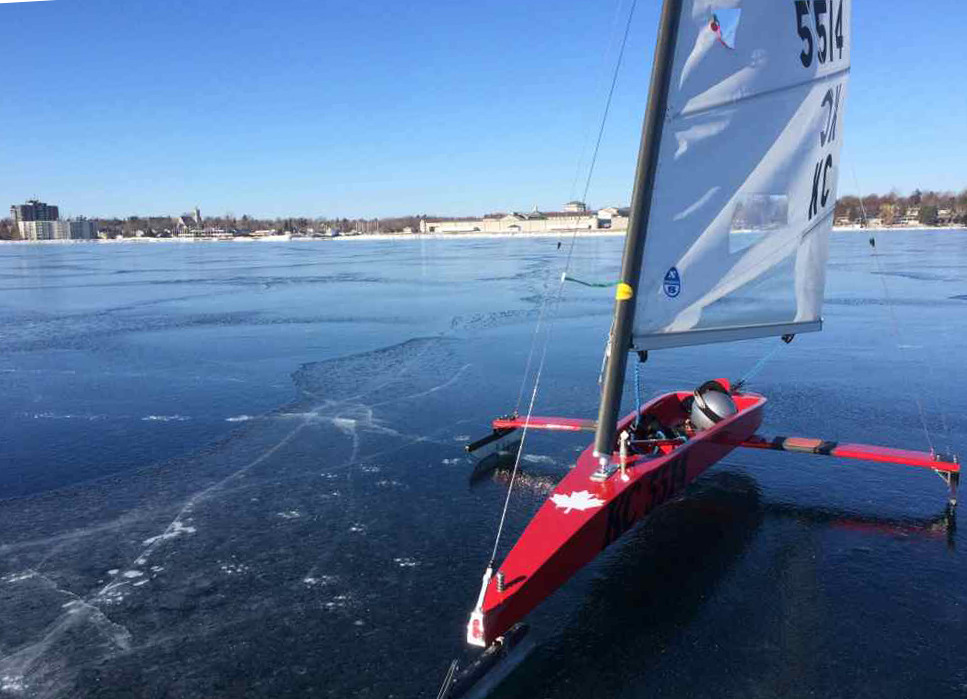 ---
2015 DN WESTERN REGIONAL CHAMPIONSHIP
Provisional scores. Click here for DNs. Click here for Nites.
January 19, 2015
George Gerhardt Green Lake Photo Gallery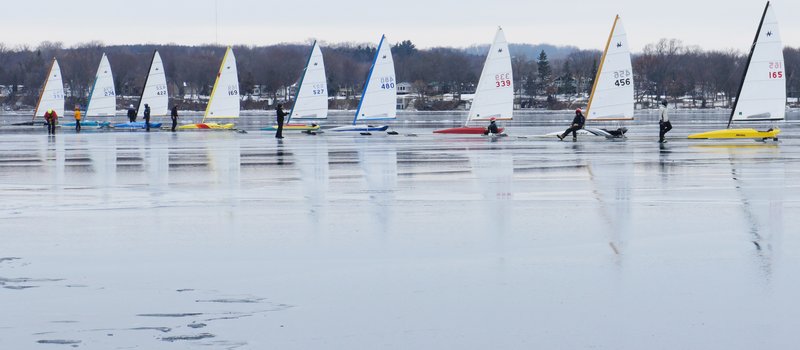 Renegader George Gerhardt found time in between race flagging and picking up the line in the safety zone to take some photos of this weekend's regatta.
See the photo gallery here.
Regatta Report
Lifted directly from Mike Miller's Facebook report: "Green Lake, Wi provided 36 Midwest DN racers a real treat. 9.5 ice conditions, temps in the mid 30"s and winds from 9-17 MPH over 2 days on a fast surface.

We tried something new as there was only one sailable course to use, the Nite Nationals was held with the DN Westerns. They had one of the largest Nite Fleets in years counting 31. The DN's had 36 racers so both Silver and Gold started together and we split out the results and trophies based on their fleet registration designation. 7 races for the DN's and 8 for the Nites on a great 1 mile course.

Scott Brown repeated for the third time as Nite National Champion. He pulled off the superman of Saturday move also racing his DN in 5 races, all in 6 or 7th place! Sunday he only raced the Nite.

Dan Haney, PRO was masterful in getting both fleets off, adjusting the course and showing off his excellent work for the Nite guests! With help of a great group of assistants, Fred Stritt, Jim McCabe and George Gerhardt. Deb Whitehorse, Anna Cummins and Loretta(from home in Michigan) did prompt scoring for both the DN's and Nite Fleets. Are we lucky to have such a dedicated group of volunteers or what! Mike and Julie Jankowski are to be commended along with a few other Green Lake folks for scouting the new ice.

Congratulations to all racers for clean racing, no protests and to all the trophy winners."
Mike Miller, IDNIYRA Western Region Commodore
January 18, 2015
DN Western Region/Nite Nationals: Day 2: Preliminary Results
Provisional scores. Click here for DNs. Click here for Nites.
Green Day

Geoff Sobering edited quick 40 second video from Saturday's DN racing at the Western Regional regatta on Green Lake in Wisconsin.
January 17, 2015
DN Western Region/Nite Nationals: Day 1: Preliminary Results
Here are the prelimary results from today's racing. Please understand these are preliminary. If your name is incorrectly spelled, wrong sail number, or what ever, we make a change. Just let us know.
DN Results
Nite Results
DN Western Region/Nite Nationals: Day 1: PM Report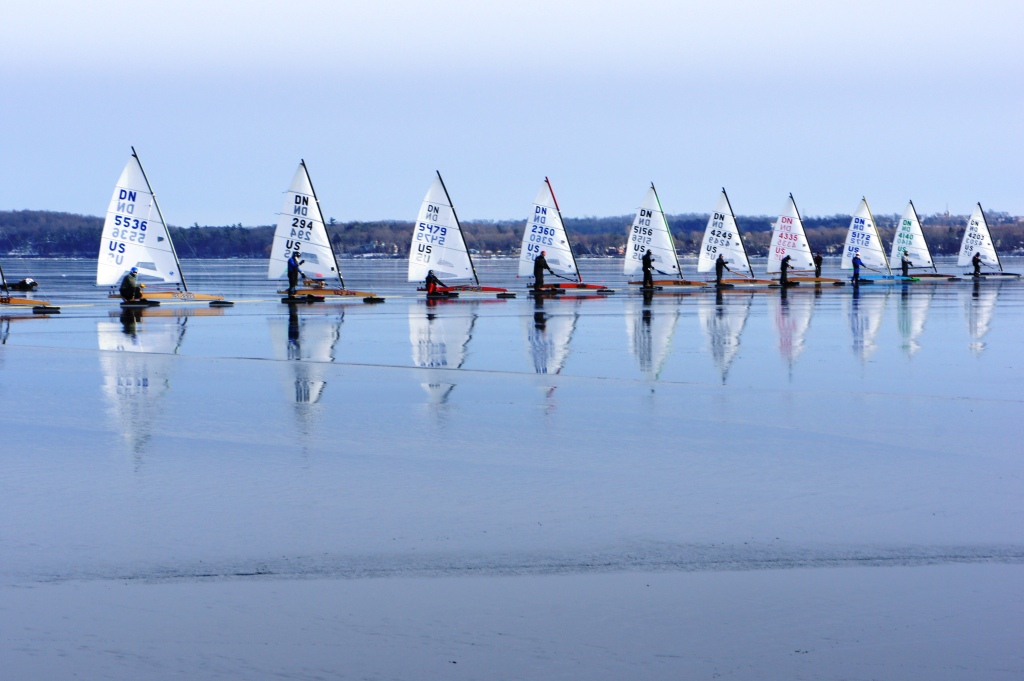 Photo: George Gerhardt
5 races in the DN fleet and 5 in the Nite fleet on glass ice with a skim of water and perfect breeze made for an exciting day on Green Lake . Stand by for results from today.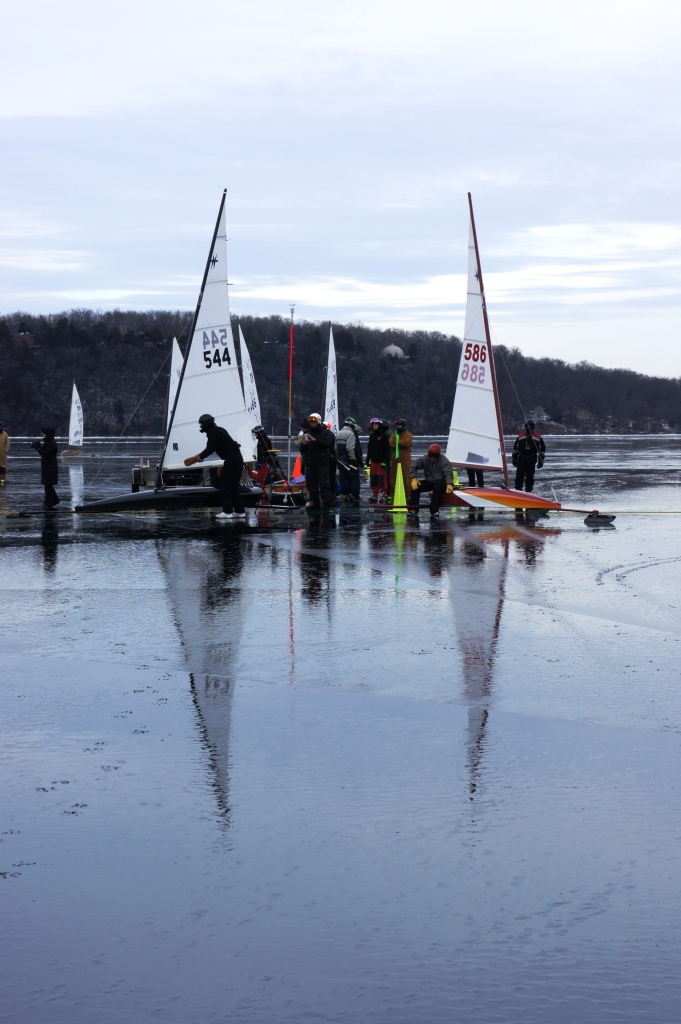 Photo: George Gerhardt

DN Western Region/Nite Nationals: Day 1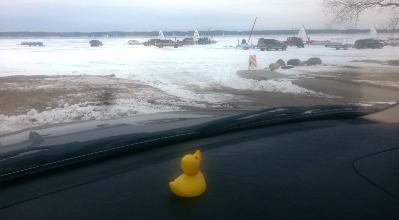 Lookin' at the world through a windshield
Arrived at Green Lake yesterday afternoon where members of the Green Lake Ice Yacht Club were scouring the lake, looking for hazards, and find the best race course. The course is a familiar one, on the far west end and the site of a few Northwest regattas of late.
Weather Underground's wind forecast is 15-25 mph today while the National Weather Service forecast is calmer at 10-15 mph. I think I know which one the skipper's will be favoring with this hard, fast ice.
As Western Region Commodore Mike Miller wrote about this photo on Facebook, "Don't let the white surface fool you. That is just some old shove ice. Just beyond is a 2 mile square area of hard black ice! Two small duck holes on the right point, well marked with 4 cones. They are well off the course area."
DN and Nite sailors were well represented at Norton's Restaurant last night including a large contingent from Bald Eagle Lake in Minnesota.
Loretta Rehe is on shore scoring and tabulating this weeend for the Nites and DNs (all the way from Detroit) so we should have some results posted tonight. It's time for breakfast and that means one place for iceboaters, the Little Corporal in downtown Green Lake.
January 14, 2015
Regatta Update: DN Western Regional is ON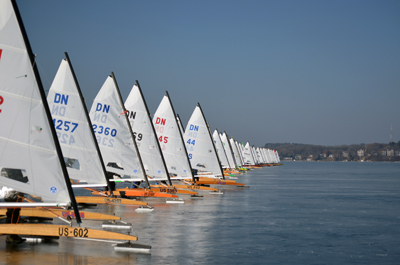 Photo: Peter Johanson
Via DN WR Commodore Mike Miller on the DN Forum: The final call for the 2015 Western Regional Regatta is ON for Green Lake, Wi west end of lake. A perfect sheet of 2 mile square area ice awaits you. All scouted areas this afternoon measure 6 inches thick. No seams or open holes. Launching from the Park on the SW corner of the lake off County Rd K. Plenty of parking in the lot. Trailers can be backed on 11 inches of rough shove ice. Trailers can be parked on the ice. There is rough ice extending out about 200 yards to the good stuff. Some of it can be sailed and some may need walking out. Good winds are predicted so bring sharp runners. We will share the course with the Nite Nationals. The DN's will have 2 fleets if over 40 boats. If less than 40, the DN's will have one start with trophies for both Silver and Gold. Decision on number of starts to be made at skippers meeting on Sat AM 9:30 sharp at the launch. First race for the DN Fleet at 10:30 AM." Continue reading.
January 12, 2015
DN Western Region Regatta Called On for Green Lake
Via WR Commodore Mike Miller, "The 2015 DN Western Regional Championship is called on for Green Lake, Wi for Jan 17-18, 2015. The center and west end of the lake froze over on Jan 10, 2015. A photo and look at the ice appears good. It is still too thin to sail. It is expected that cold temps the first part of the week are suitable for solid ice for scouting by Wednesday. An update will be provided by Wed eve and a Final Call on Thursday or sooner. The Nites have also scheduled their Nite Nationals for Green Lake this weekend. It appears that the sailing area could be large enough for 2 courses but would need to be sailed and scouted first. Lake Geneva still does not have a large ice enough area for a regatta." Continue reading.
January 2, 2015
Heaven on Earth

"The Gods do not subtract from man's alloted time the hours spent sailing." Greg McCormick R210
Video by Geoff Sobering racing his DN on Lake Kegonsa on New Year's Day. Today is the last day of snow-free ice on Kegonsa because a weather system is coming through on Saturday. Models are still fuzzy as to how much snow will fall upon that beautiful sheet. Best case scenario is less than 2". Here's hoping that the big winds arriving after the snow will scour the lake clean again. It's been an amazing, once in lifetime four weeks of ice on Lake Kegonsa.
DN Western Region Regatta Postponed
Via DN Western Region Commodore Mike Miller: "The 2015 Western's are postponed to Jan 10-11 or Jan 17-18, 2015 Weather conditions predicted for the primary and backup sites are not going to be suitable for a 2 day regatta. Don't forget to cancel hotel reservations!." Read more on the DN Forum.
December 29, 2014
2015 DN Western Regional Championship Called On
Via Western Region Commodore Mike Miller on the DN Forum: "The 2015 Westerns is called on for Jan 3-4, 2015. Primary site is Lake Kegonsa near Madison Wi. Ice has been sailed the past few days and rates a 9.95. Lodging deals and launch site will be posted by Dec 30, 9AM."
2014 DN WESTERN REGIONAL CHAMPIONSHIP
December 15, 2014
Wheels On the Bus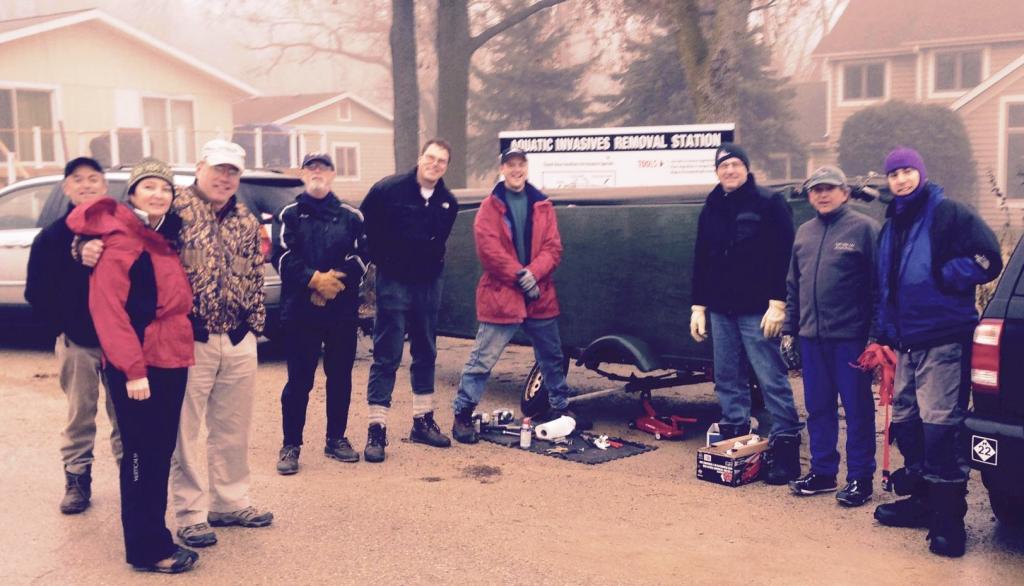 Via Mike Bloom: " It's better that somethings happen in the parking lot rather than the freeway. In this case, the wheels were literally coming off the Doctor's iceboat program. Not surprising, the Doctor was fast when it came to this unexpected repair. He left he parking lot with the rest of the Tonka sailors."
First Rule of Holes
Lake Kegonsa developed some interesting drain holes that kept iceboaters fascinated (some more than others as you can see) on Sunday. The lake will need to be thoroughly checked before we know it's safe for sailing again. We are hopeful that when the cold weather returns, the lake will heal.
December 14, 2014
Western Region Regatta Cancelled
Western Region Commodore Mike Miller called off the Western Region championship at 10 AM because of unsafe ice and fog. The temperatures are warmer than yesterday and some ice fishermen reported an unsafe working seam on the lake. Drain holes have opened up as well.
Thanks to everyone who attended this regatta and tried to make it happen. We definitely proved the axiom that iceboating is 50% social.
2014 DN Western Regionals: Day 2 AM Report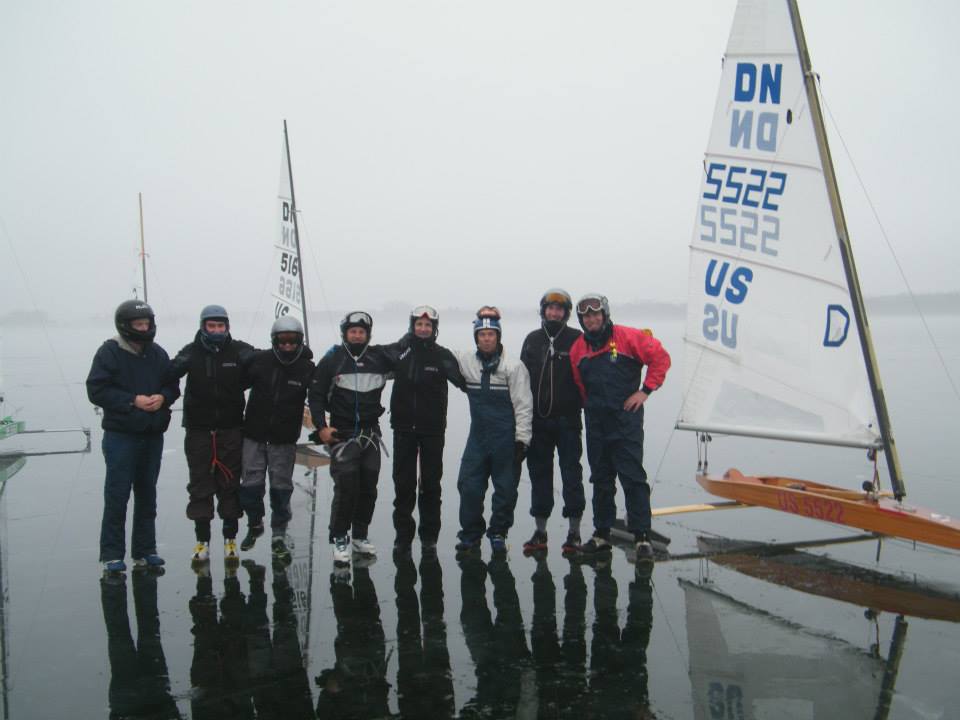 Photo: David Frost, "The few who made it out to race in the fog. A good selection of Team Madison. — with Daniel Hearn, Mike Madge and Kyle Metzloff."
Unfortunately, there's another fog advisory in effect for the area this morning.
David Frost US5358 posted some photos and a report of yesterday's activity on his Facebook page which I took the liberty to "borrow". Even though it was too foggy to race, several DNers took advantage of the beautiful ice, threw up a couple of cones very close together, and had a great time despite the weather.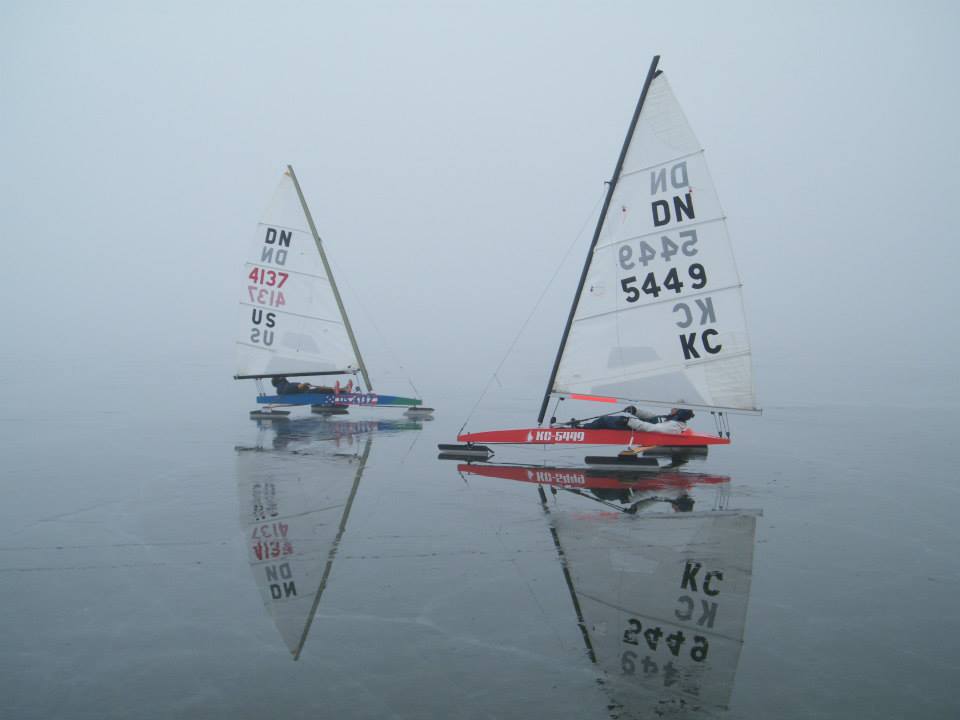 Photo: David Frost
David Frost: "Low speed crossing. ....Mike Madge and Ken Smith set up a 100 yard course that the two of them worked for well over an hour."
[When you come all the way from Thunder Bay and California to sail an iceboat, you make the best of it.]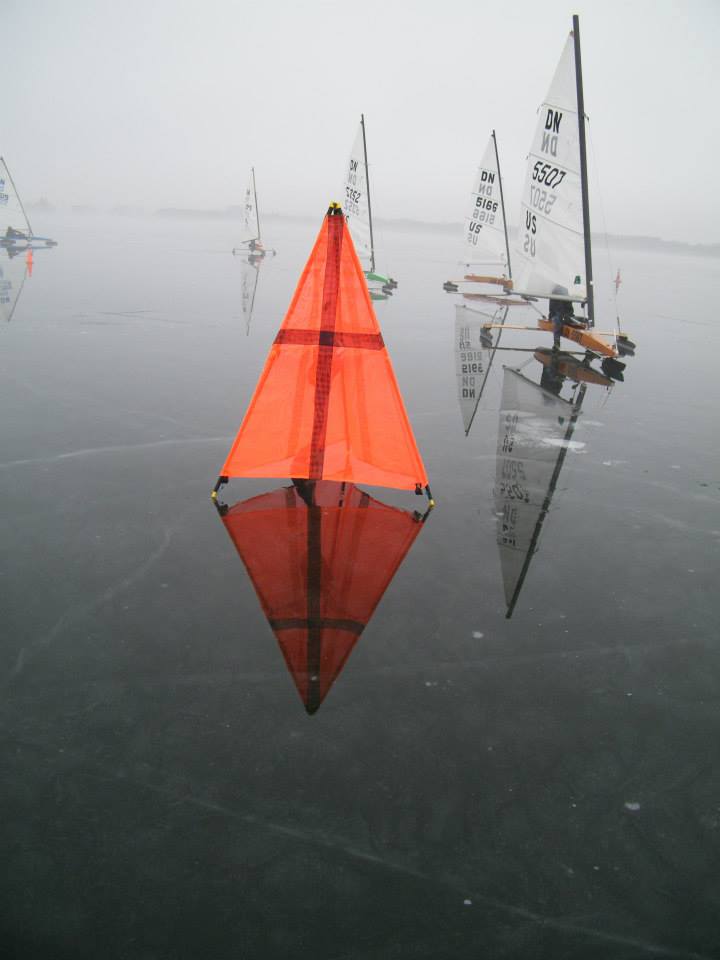 Photo: David Frost
David Frost: "The ice was very nice, the wind was a touch on the light side, but we were racing in not much more than 3 or 4 mph of wind."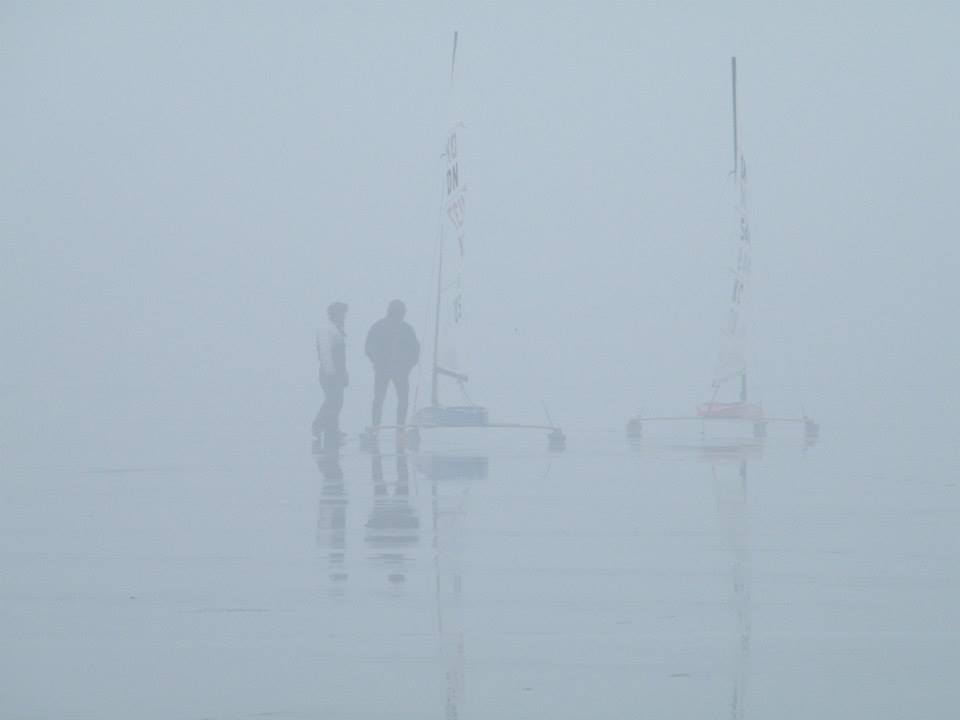 Photo: David Frost
December 13, 2014
2014 DN Western Regionals: Day 1 PM Report
"
Photo: Dave Elsmo
A low level inversion is to blame for the fog that prevented racing today on Lake Kegonsa. We will hope for the best and try again tomorrow at 10:00. Off to the banquet!

As one of our late 4LIYC club members, Charlie Johnson, wrote many years ago, "If all our ice were glass, slightly wet, and all our air reasonably steady with lifters just where needed, sailing would be perfect. Sometimes we do find this, and it is worth waiting years to have. Meanwhile we must accept the more ordinary ice conditions, ordinary weather and wind, and gracefully accept snow [or fog!], sometimes for weeks. Our ideal comes from time to time, the Great Maker gives only so much of the very best."
2014 DN Western Regionals: Day 1

Photo: David Frost, Mike Madge KC5449 from Thunder Bay, Ontario won the race to Kegonsa
The temperature is barely at freezing at 6 AM and it's foggy. Weather Underground is calling for 8-10 mph wind today out of the SSW. Off to the lake. Check Facebook today. I'll try to post a few pictures there if I have time.
By the way, the Canadians won the race here yesterday. Thunderbay, Ontario's Mike Madge was first followed in second place by Michigan's David Frost. They both had a great day of sailing.
December 11, 2014
2014 DN Western Regionals: Banquet Information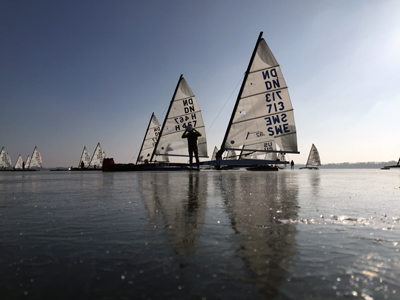 Photo: DN Nederland
Please join us for a hearty meal of smoked ribs and chicken, coleslaw, baked beans, ranch fries, and garlic bread on Saturday night at Fat Jack's BBQ in Monona. All 4LIYC members are also invited to join the fun.
Date: Saturday, December 13, 2014
Time: 6:30 PM
Location: Fat Jack's BBQ
6207 Monona Drive
Monona, WI
MAP
Fat Jack's BBQ is less than half a block north of the AmericInn and on the same side of the street.

December 9, 2014
2014 DN Western Regionals Primary Site Announced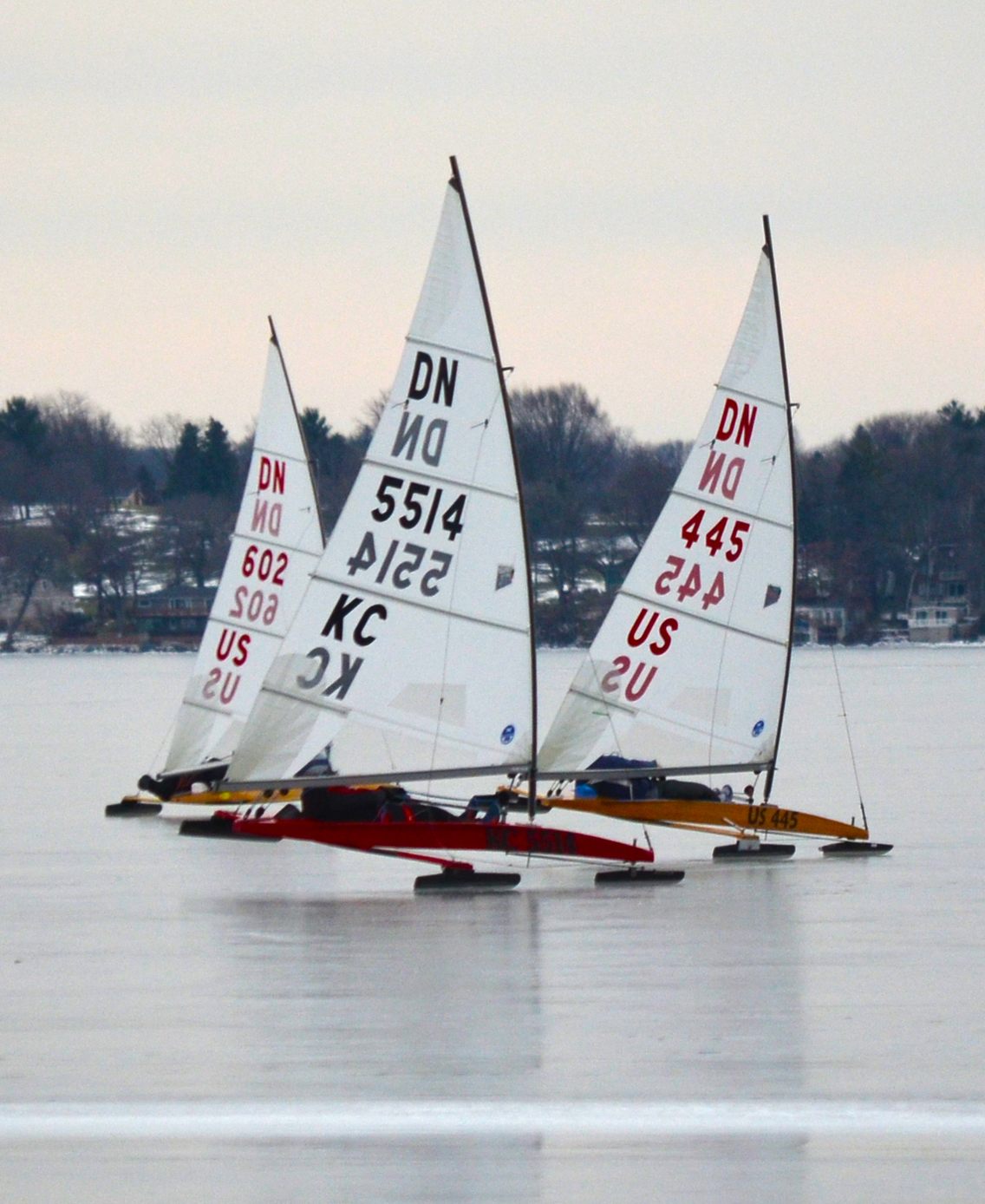 Another exciting shot from Peter Johanson. Tom Meyer US602, John Curtis KC5515, and Bob Cave US445 flying their runners. There will be one more correction coming in the Silver fleet scoring. Look for another revision later today.
Lake Kegonsa has been announced as the primary site of the 2014 IDNIYRA Western Regionals by Western Region Commodore Mike Miller. Please see the
DN Forum for official information. Please note that the ice needs to be sailed because it has changed. "This was used last weekend for the Great Western Challenge sailed on grade 10 ice. A minor sleet/rain mix fell on Monday with some spots of thin shell ice over 1/4' puddles reported Tuesday. The cold temps the next 2 nights could heal it. It will be sailed by noon on Wed." There are other sites under consideration.
DN WESTERN CHALLENGE
December 12, 2014
Craftsmanship

Normally you'd find Dean Kitchen racing his Blokart in the desert. Dean drove from Detroit to join the fun last weekend on Kegonsa and put together this video. A great take on his first ever iceboat regatta.
December 11, 2014
Very First Step to Ice Optimists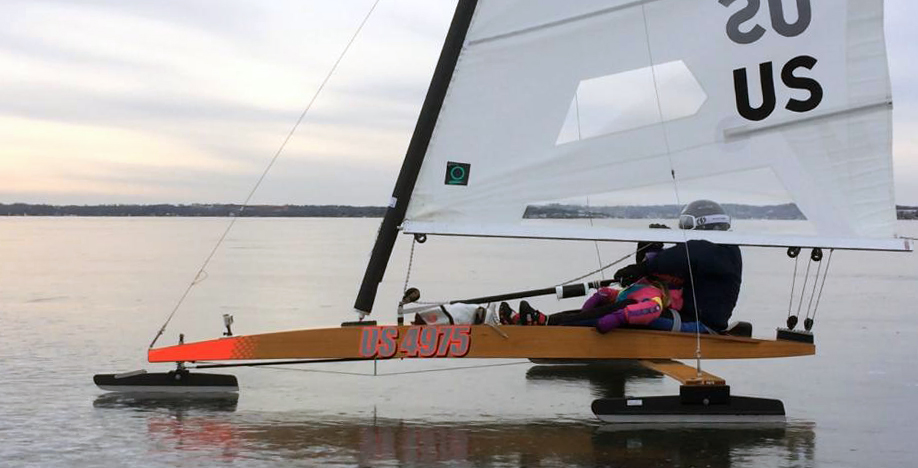 MN DNer Rob Evans and wife, Holly, brought their kids to the Western Challenge on Lake Kegonsa where they were able to get their first sail with Dad.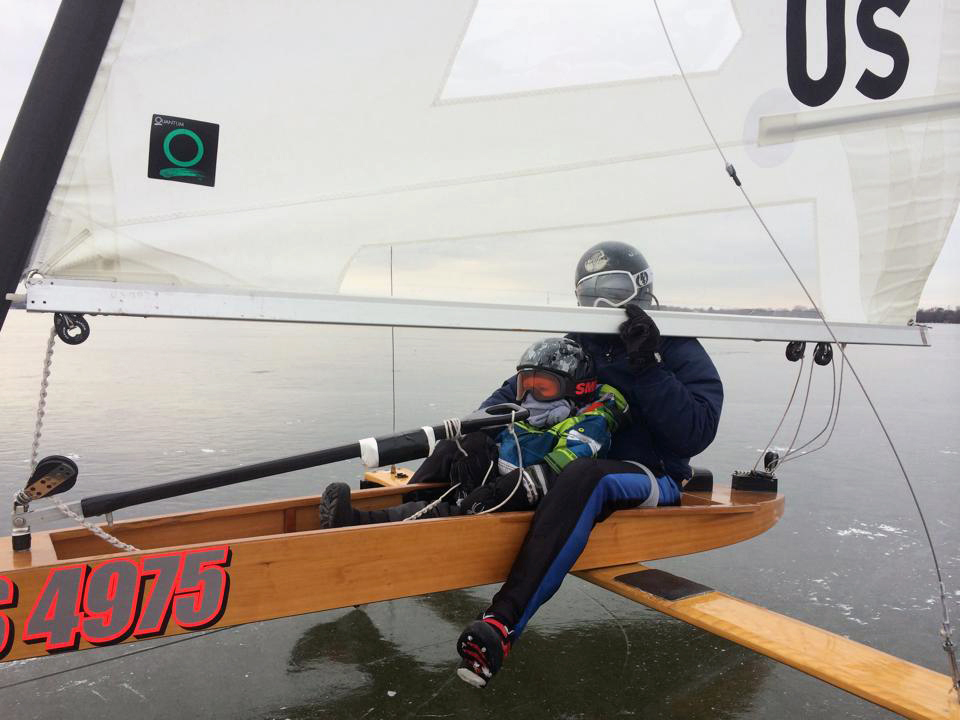 Griffin Sherry US4 with Onboard Video Camera
December 10, 2014
Final Results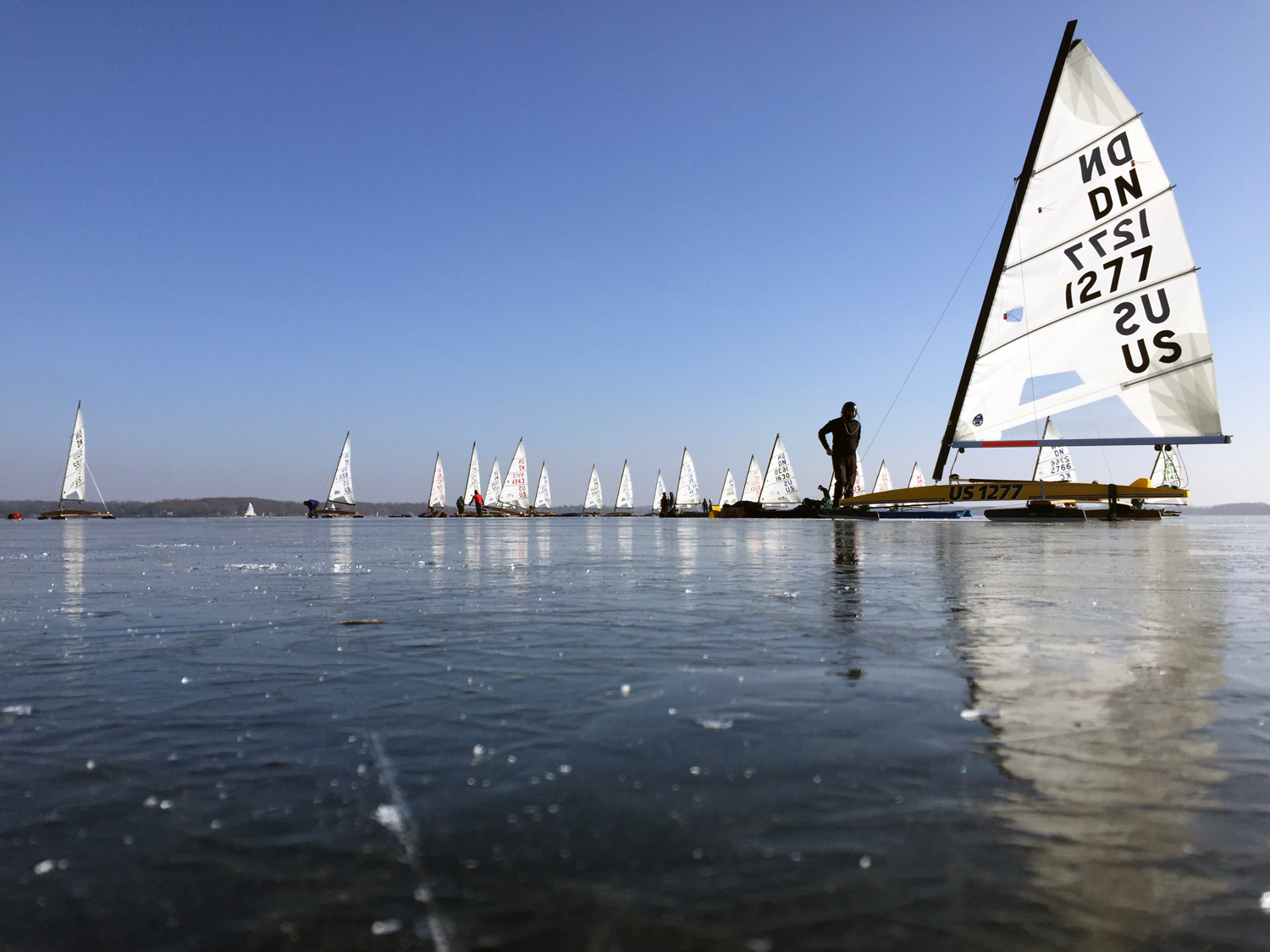 Photo: DN Nederland
Gold and Silver click here.
Ice Opti results here.
Photos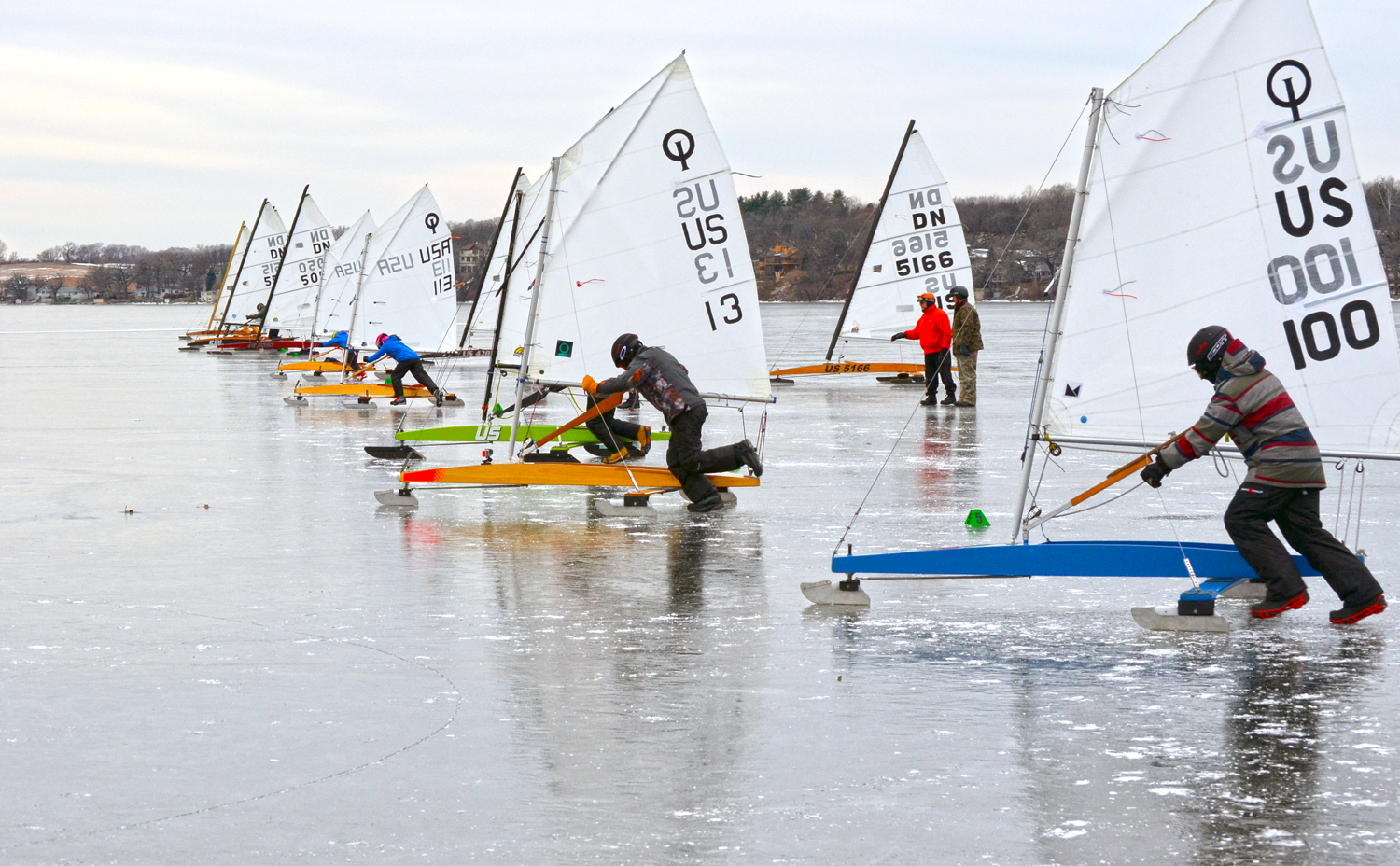 Photo credit: Peter Johanson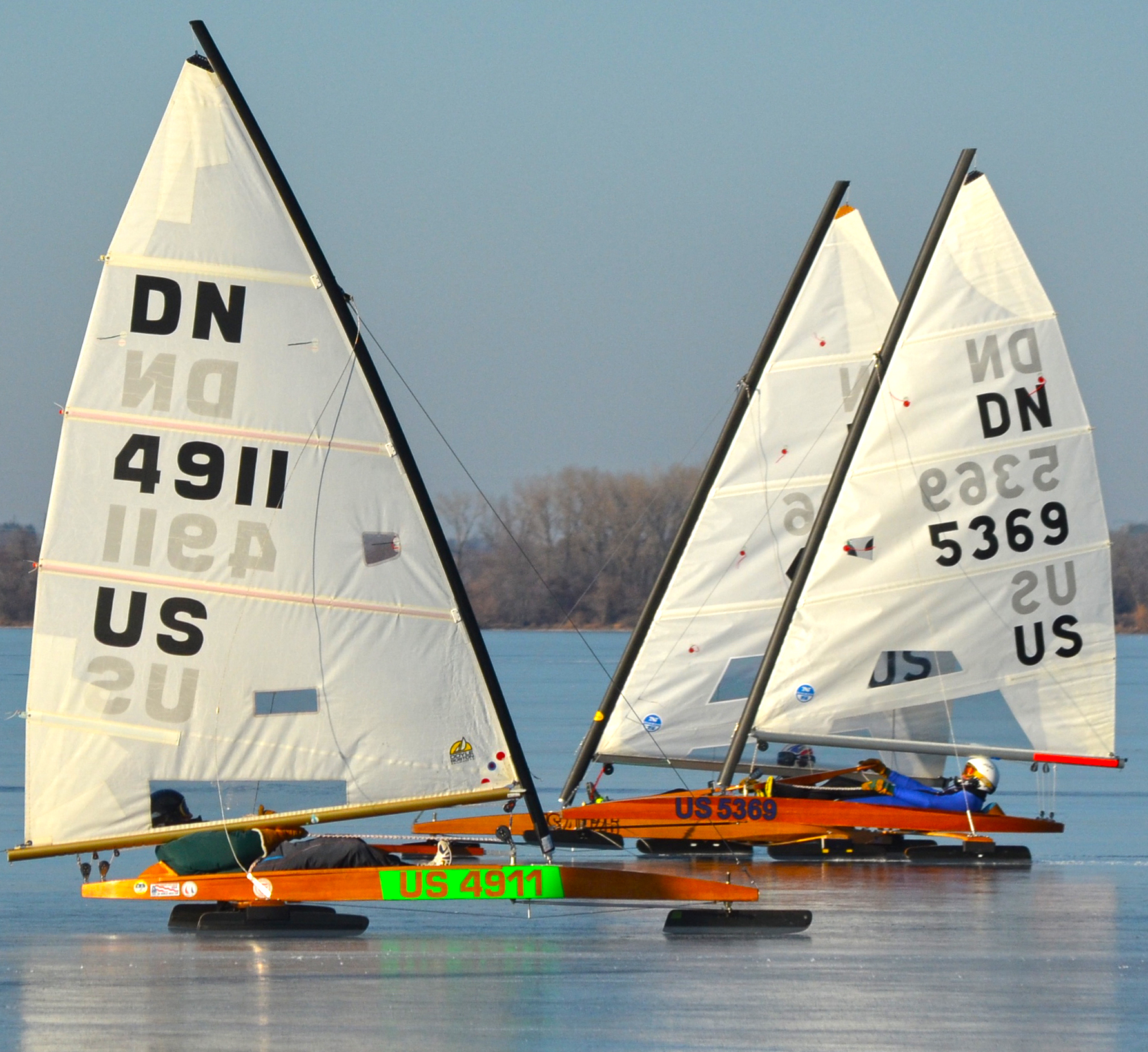 Photo Credit: Peter Johanson
"Bruised, Sore, and Psyched"
Read NEIYA Commodore T Thieler's Western Challenge reports here:
"Greetings from the proud highway- We are headed home following a stellar day on the ice- Good breeze, clear ice, three races for each fleet (DN Gold, DN Silver, Renegade and Ice Opti). Full-on, warped out high speed sailing! Awesome."
One Lap At the Great Western Challenge

Enjoy a DN ride with Geoff Sobering.
December 7, 2014
Day 2 Preliminary Results
Loretta flew back to Detroit early this morning. She is active in a singing choir and had a big concert that she didn't want to miss today. However, I sent photos of the score sheets today after every race and she tabulated from the comfort of her own living room. Please note that we know there are some mistakes in the scoring because she had trouble reading some of the numbers from the photograph. We'll correct them later today because right now, she's just gone on stage to sing with the choir. Click here for preliminary results.

More breeze today made for better racing. The day was perfect and we sailed 3 each in the Renegades, DN Gold, DN Silver, and even two in the Opti fleet!
December 6, 2014
Day 1 Results!
View From a Piper Cub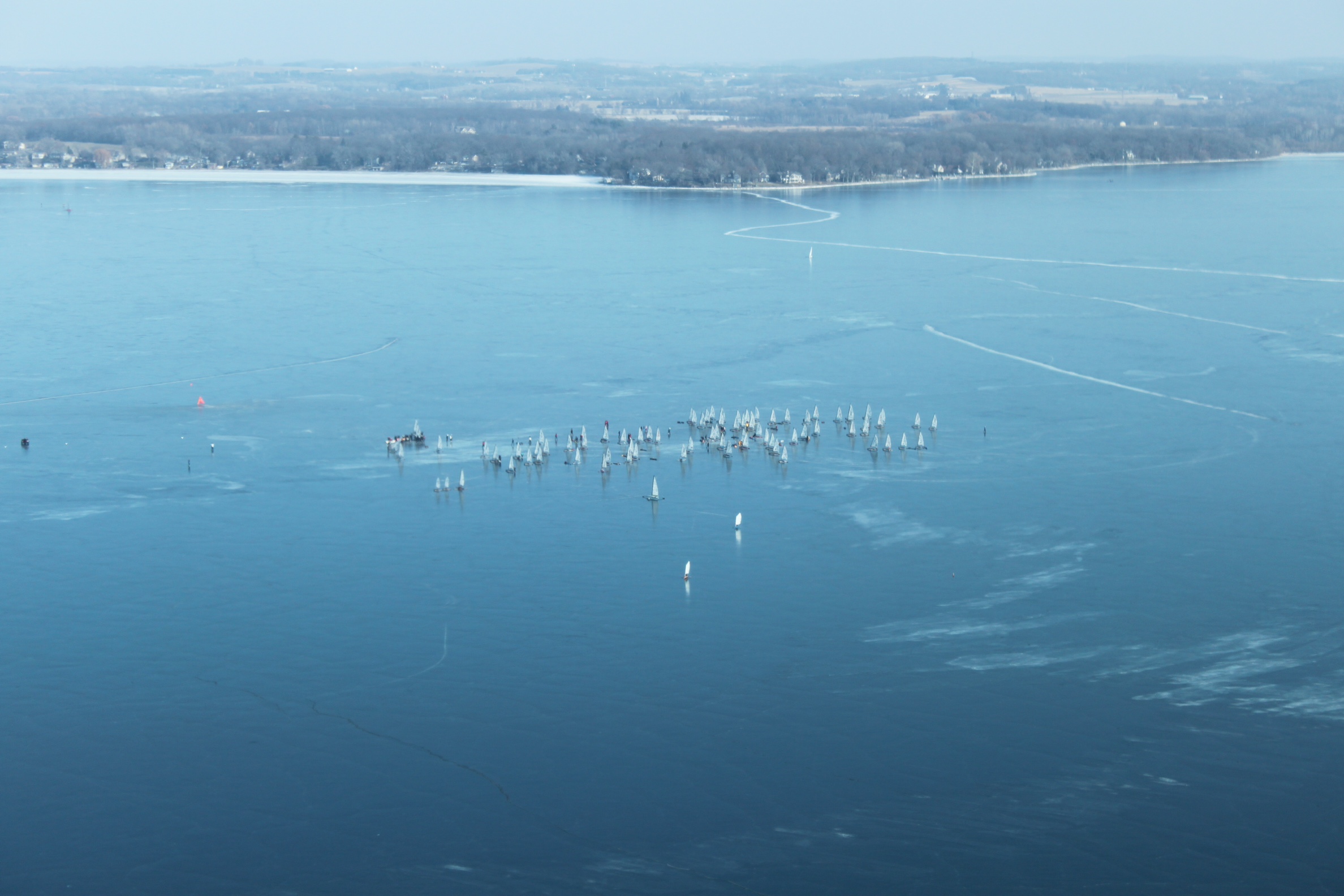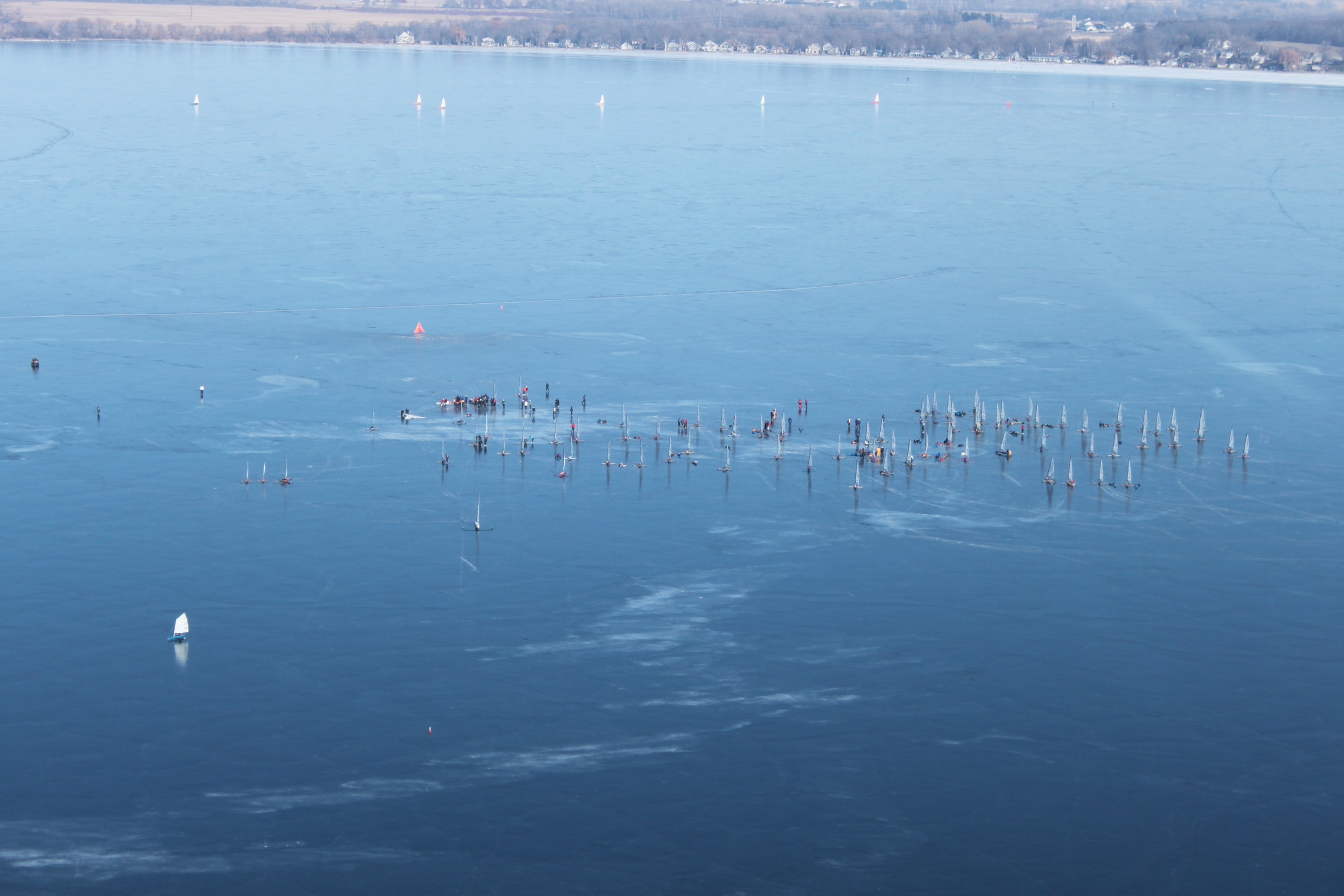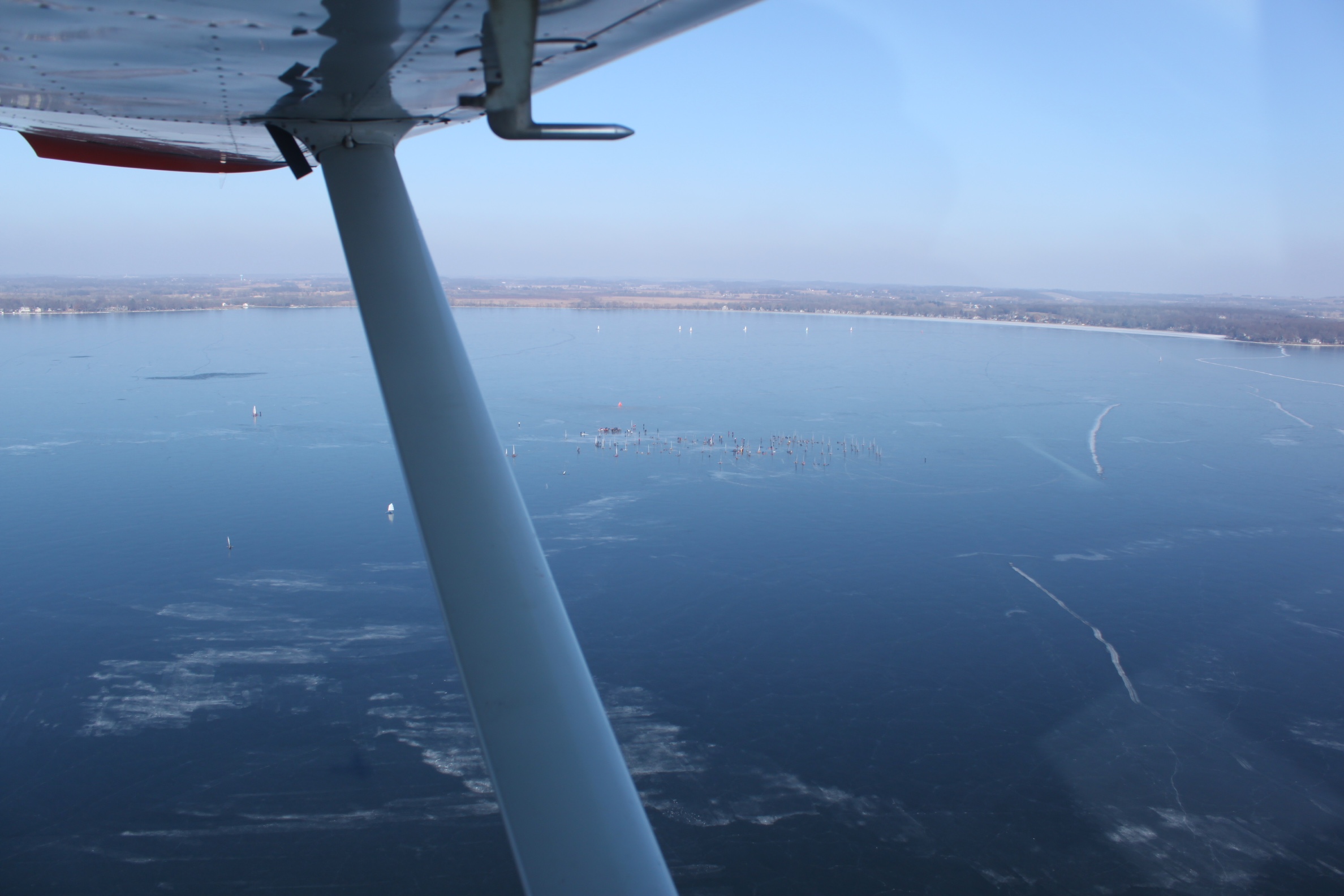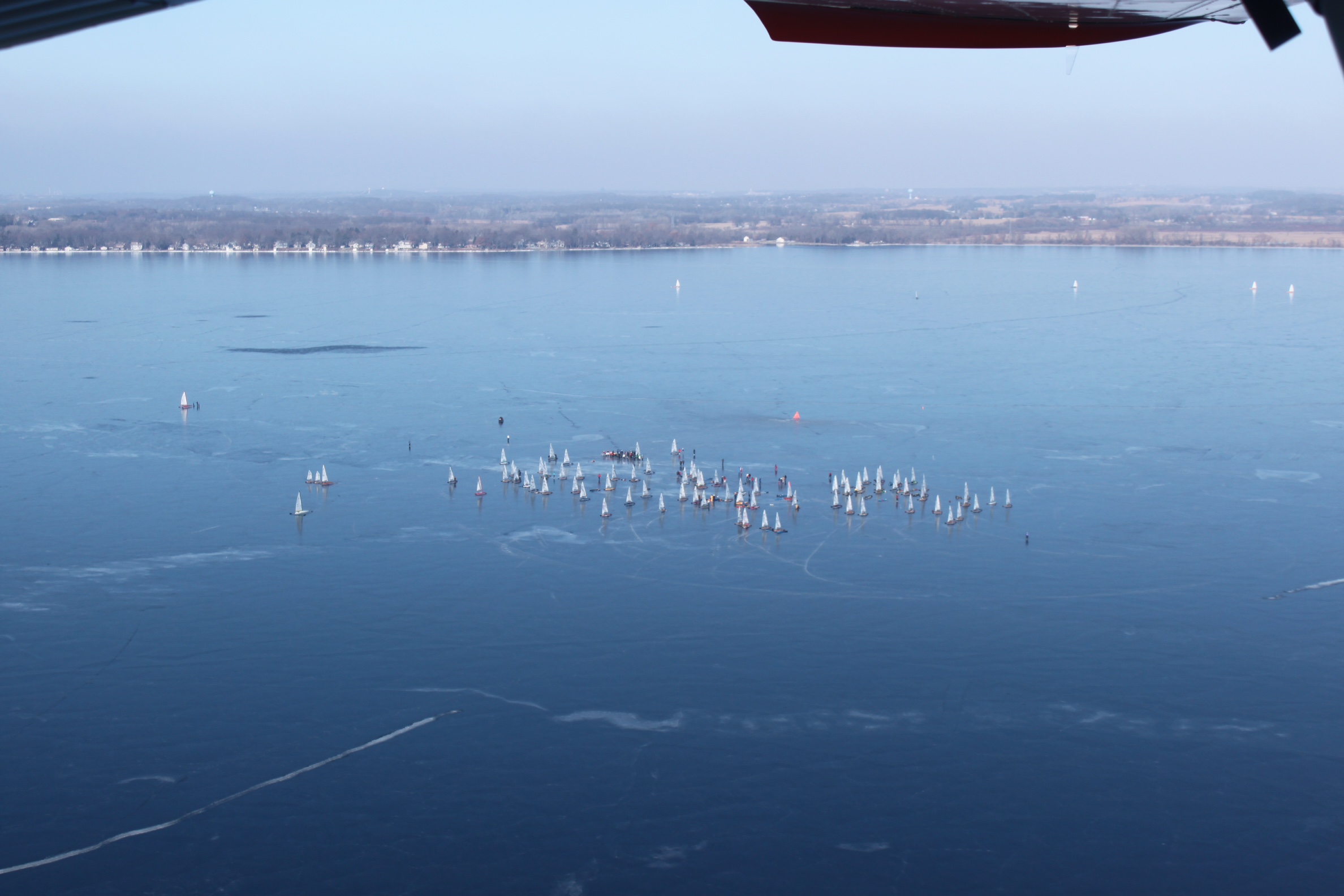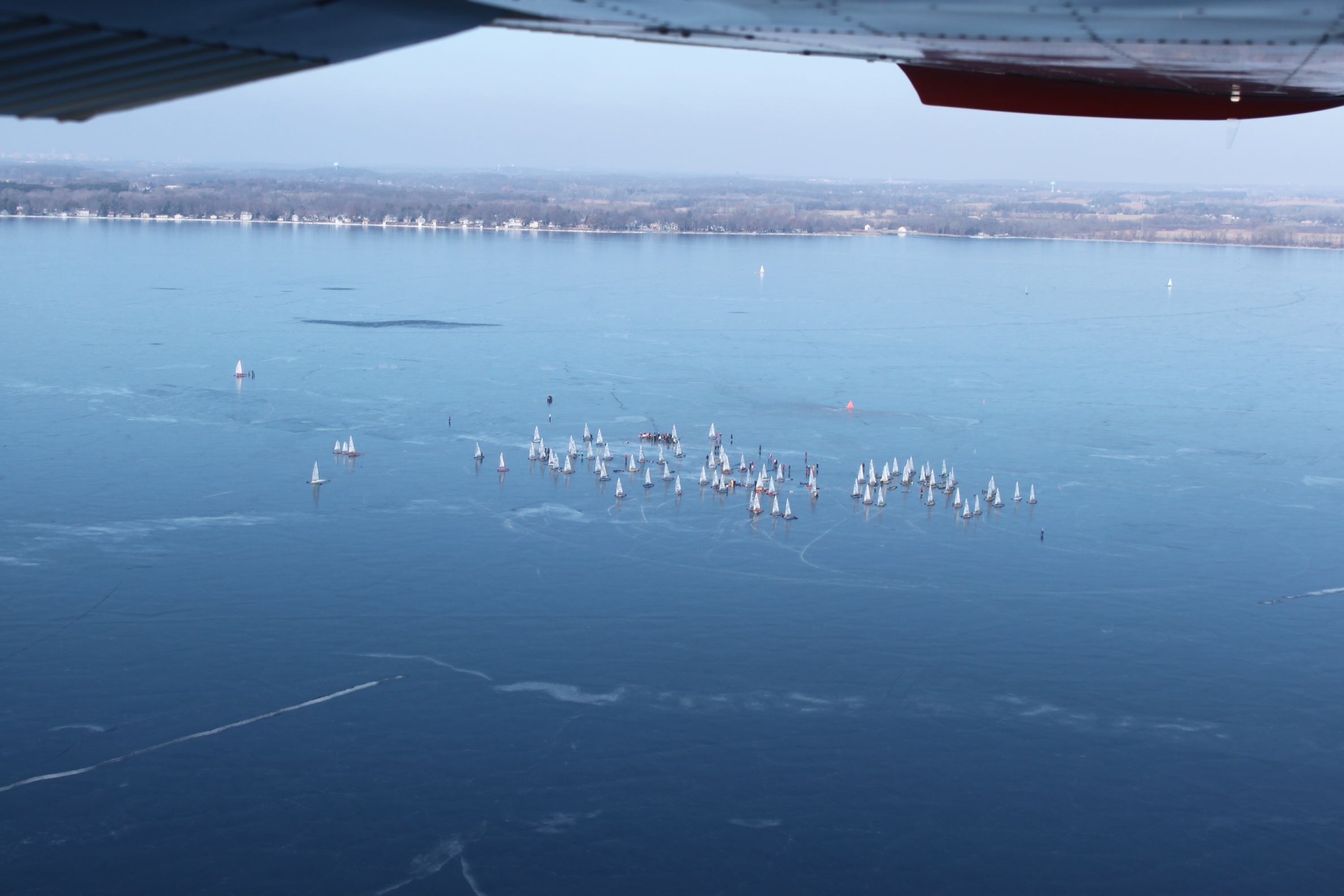 Jeff Russell brought his Renegade to the lake but had a sail mishap. He drove home and flew back in his Piper Cub. Stand by for scores. Loretta is working hard at the computer.
REAL Skippers Meeting
ATTENTION DN WESTERN CHALLENGE SAILORS: Skipper's Meeting, Saturday morning. 9 AM in front of Springers. PLEASE MAKE EVERY EFFORT TO BE THERE!

Message for 4LIYC Renegades: Renegades are at a different landing. Remember, you are sailing a darling mark course. If you have questions, please see Tim McCormick, Geoff Sobering, or myself if you have questions. Renegaders, you will finish races in the usual way and sail around the end of the starting blocks. We don't use the "safety zone" system in club racing. The only difference is the use of the darling marks. The turning mark and darling mark are one larger mark. Don't sail in between them and see the diagrams on iceboat.org. If you have any questions, please call me
December 4, 2014
Virtual Skippers Meeting
Western Challenge DNers and 4LIYC Renegaders: Listen up!
There will be a few changes on the race course.
1. DARLING MARKS WILL BE USED
2. NO FINISH GATE, FINISH ON THE END OF THE STARTING LINE
3. NO TACKING IMMEDIATELY AFTER START AND CROSSING IN FRONT OF LEEWARD TURNING MARK

1.DARLING MARKS
Course Diagram Power Point
Download Course Diagram pdf
The DNs have asked to use darling marks in order to get feedback from the skippers and learn the pros and cons of using them. 4LIYC Renegaders have agreed to sail the darling mark course.
Skippers should consider the darling mark and turning mark as one continuous mark. All marks need to be taken to port.
Skippers can't sail in between the marks or force anybody between the marks.


2. AT THE FINISH, GO AROUND EITHER END OF THE STARTING LINE: NO "SAFETY ZONE"
The 4LIYC does not use a finish gate (safety zone). When finishing, skippers must go around either end of the starting line to approach the pits.
DO NOT SAIL THROUGH THE STARTING LINE WHEN FINISHING.

3. NO TACKING IMMEDIATELY AFTER THE START AND CROSSING IN FRONT OF THE LEEWARD TURNING MARK
Renegades never do this and this is directed to DNs. After the start, boats that start in the even numbered positions must take the leeward turning mark and darling mark to starboard. Boats that start on the odd start of the starting line, must take the leeward turning mark and darling mark to port. in other words, you cannot tack immediately at the start and go across inside of the leeward mark. This is a race committee safety issue.

December 2, 2014
1530 Western Challenge Update: Kegonsa in Madison Primary Site
UPDATE #2: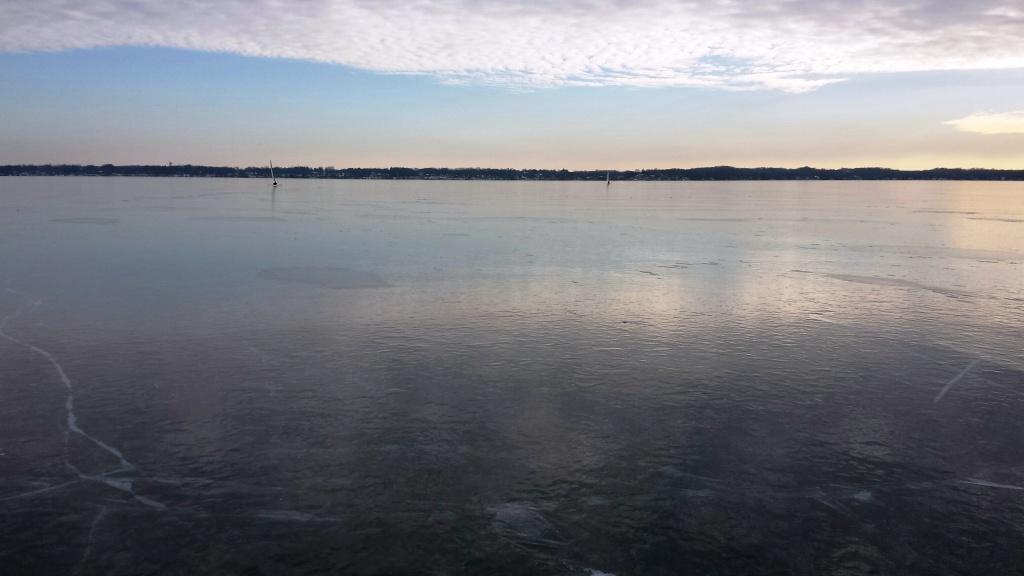 UPDATE #2: Jim Nordhaus, Wes Wilcox, and Jori Lenon sailed the lake and report excellent conditions.They have been drilling all over the lake and haven't found anything less than 4". Jim rates the ice a 9.99999. There's a manageable heave in front of Springer's parallel to the shore, and some "ice rubble" in front of Springers for about 100-200'.
UPDATE: The lake was walked and drilled. It's black ice and the report was very positive. The checkers saw nothing unusual. DNs will commence sailing at 1400 CST (2PM). Appointments and life got in the way of an early sail.
Lake Kegonsa in Madison, WI is currently the primary site of the Western Challenge. The Minnesota Ice Sailing Association and Four Lakes Ice Yacht Club are joining forces for the Western Challenge this year. Kegonsa is glass smooth and building ice. There were reports of 3.5-4" yesterday. The lake will be sailed this morning by Jim Nordhaus so that we can give you the best ice report possible today. If you'd like to join in, please get in touch with me. Stand by for lodging and other details. I should have word by 1200 CST. The plan so far is that the 4LIYC Renegade fleet will rotate in with potentially 2 DN fleets.
Location:
Lake Kegonsa, south of Madison, WI
LODGING
Americinn
101 W Broadway, Madison, WI 53716
Map
(608) 222-8601
Ask for iceboaters rate of $79 for standard room
RESERVE BY WEDS, DEC 3 6PM to get the $79 rate
King whirlpool and suites are available at regular pricing

Country Inn & Suites
400 River Pl, Madison, WI 53716
Map
(608) 221-0055
Ask for iceboaters rate of $98 for standard room.
RESERVE BY WEDS, DEC 3 MIDNIGHT TO GET THIS RATE

Sleep Inn & Suites
4802 Tradewinds Pkwy Madison, WI 53718
(608) 221-8100
LAUNCH SITES:
DO NOT DRIVE ON THE ICE
Springers Restaurant and Bar on Lake Kegonsa
There's no ramp to the ice but parking is available in their big lot. Carry boats on and set them up in front of the restaurant. This was the site of the 2013 DN Western Regional regatta.

Town of Pleasant Springs Boat Launch DO NOT DRIVE ON THE ICE
2267 Williams Point Drive, Stoughton, WI
Map
South of Springers
$5 per day parking charge
There's a ramp where you can back trailers on the ice.
Schedule for the Weekend:
Friday: DN scrub racing all day. Same as usual. It's Friday in Wisconsin so Springer's is serving a traditional fish fry all day and night.
Saturday:
Skippers meeting before racing.
10:00 Racing begins
DN racing and 4LIYC Renegade fleet racing. There will be 3 rotations, DN Gold, DN Silver, and Renegade. There will be 4 Renegade races on Saturday and as many DN races as you can take!
4:00 Cold Wisconsin beverages and hor d'oeuvres at Springers sponsored by the Four Lakes Ice Yacht Club.
Sunday:
DN racing with 4LIYC Renegade fleet racing.
Springer's will be serving a buffet style lunch. Pack up your gear, have something to eat, and get on the road.