International Skeeter Association Regatta
International Renegade Ice Yacht Association Regatta
Dates: March 20, 21, 22, 2015
Location: Little Bay de Noc, Gladstone, Michigan (the upper peninsula of Michigan.)
Iceboat Regatta Updates in Real Time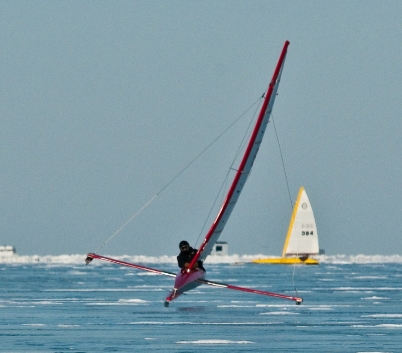 PHOTO BY GRETCHENDORIAN.COM
I've been posting iceboat regatta photos, video, score sheets, and information to Facebook for a few years during my travels in North America, Europe, and Russia. It's always bothered me that many iceboat racing fans are excluded from seeing these reports because they choose not to participate in social media.

Facebook makes it too easy to share the on-the-ice experience from my phone because it's a matter of pushing one button, an irresistible feature when struggling to keep hands warm in 10F/-12C temperatures. At the end of a long, tiring day on the ice, posting to iceboat.org often ranks low on the priority list. Eating, a hot shower, and sleeping leave little time for the effort that the regatta updates deserve on iceboat.org.

The goal of the auxiliary website to iceboat.org is to share in real time the excitement of iceboat regattas across all platforms- including an easily accessible and mobile-friendly website, Facebook, and Twitter. Everything posted to it will automatically post to Facebook and Twitter. Those of you who aren't connected to Facebook will be able to see these updates and not miss anything. Check out the website here.
-Deb
March 24, 2015
Many Thanks!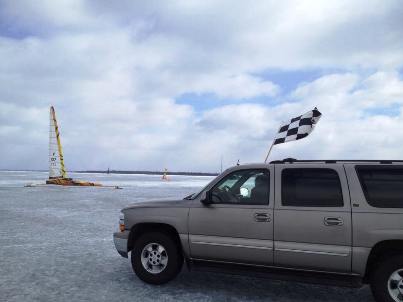 It's been two days since we've returned home from the ISA & Renegade Championship regatta. Photos, reports, and videos continue to be posted on this website, Facebook, and the new Regatta Updates website.

There are many people who need to be recognized starting with Mike Derusha who has a fantastic network of contacts in Michigan's Upper Peninsula. Mike isn't much for email or computers in general but relies upon old fashioned face to face contact and phone calls.

Ken Kreider traveled with Mike to sail the site. Ken also drove Mike's truck (which he let us hijack) as a race committee vehicle. Ken started, drove us to score, and then flagged the finishes. Ken also provided some exciting color commentary during the races from his Skeeter racing days. I posted some of it on Facebook. The Regatta Updates website isn't set up for that kind of video yet. Mike also had the truck stocked with plenty of good food. (The pickled eggs didn't appear until the awards ceremony.)

Steve Schalk arrived every day at the ice early to scout and set up the course. That's a lot of work to ask a competitor.

Jay Yaeso brought his ATV which was immensly helpful for setting up the course and having a safety vehicle available for breakdowns.

Mary Jane Schalk staffed the home ISA office and tabulated scores after each race. She was there with us in spirit and never left her desk for three days.

And finally, the most thanks goes to the competitors who made the effort to get to the UP. Thank you for coming to the ISA & Renegade championship!
-Deb
CLASS C SKEETERS AT THE ISA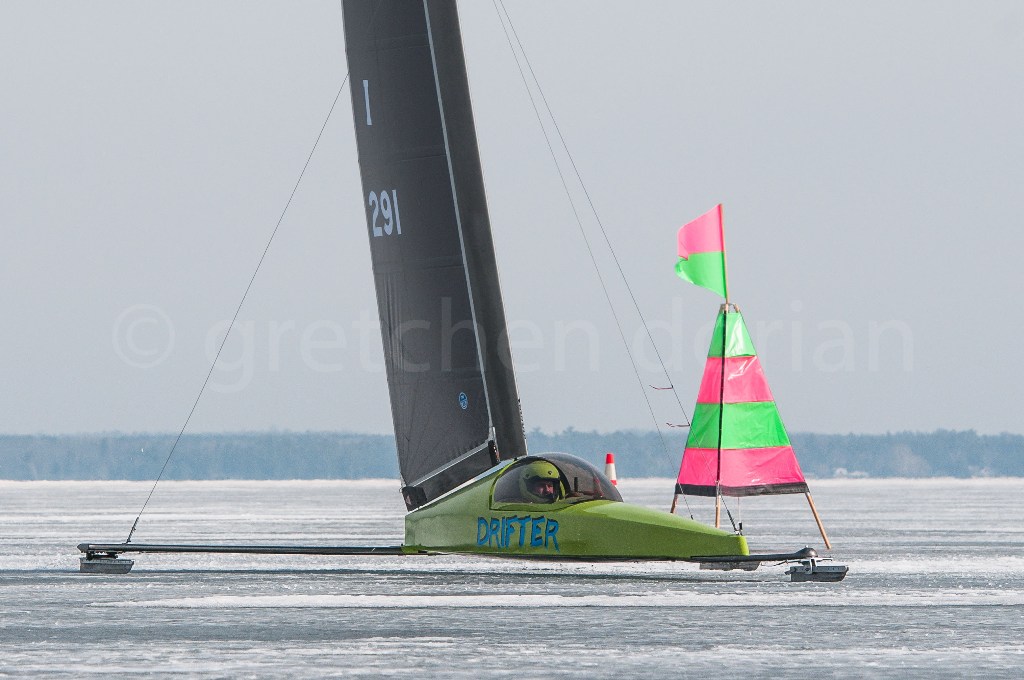 Photo courtesy of gretchendorian.com
By Pat Heppert "Drifter" I-291t
What a great racing weekend in the Upper Peninsula! Congratulations to all who raced as well as all who judged, helped and scouted. It takes a lot of dedication from all of us to pull this off in the middle of March, and I feel blessed to be among friends.
In the C skeeter class, we only had two boats racing, myself in "Drifter", and Gus Stauber in the race proven, always fast as heck, "Rush". On Friday, the new boat was definitely no match for Gus's skills and boat, and he easily won all races, did a great job, and I really showed my lack of sailing skills.
Saturday was a somewhat different story with steady winds of 20-22 mph. I figured I had the advantage, but again made some absolutely horrible mistakes, including ending up short of the mark on one of the laps, didn't want to port tack the oncoming B skeeters, and ending up doing a complete 360 degree loop to avoid traffic and make the mark, which is never good for position! I was just slightly behind and gaining very, very fast on the last lap when "Rush" broke it's mast right in front of me at the windward mark. What a shame because it was going to be a great race.
Made some adjustments for race 4, and the boat is now working much better, and it survived the bone rattling wind and rough ice to win the class C championship.
Very scared that next year, Gus and Skip Stauber will develop a mast that is even faster!! Many people are convinced I have not yet achieved the full potential of "Drifter", so it should be great future.
Anyways, I absolutely couldn't believe the outpouring of support and enthusiasm for the development of the boat and the C skeeter fleet. Everyone was very excited that it is a real possibility that this is the answer to a low cost, easy to build, fast skeeter and have requested details, so here it is.
This is supposed to be a low cost operation compared to the average in the A skeeter fleet. The total investment in the boat, with 2 sets of A-2 tool steel runners, carbon fiber sail, full covers and enclosed trailer is right around $9k. But keep in mind, that's including being a scrounger for materials as much as possible.
When people ask where the basswood came from, I tell them "the woods of course".
Step 1: locate trees, Step 2: find portable sawmill guy with enough track and take it to the woods, Step 3: Locate Amish sawmill to dry and plane (not kidding!).
A big part of the goal was also to get into a lighter boat, that fits better with my severe back problems, and it came out at 408 lbs. ready to sail. The entire boat was laid out in CAD, and I have full size frame templates available for anyone that is seriously interested, and all construction details. My intention is to fully detail the plans in my free time once the boat achieves it's potential.
The hull is basswood and carbon fiber, with a 20' length plus the 3'-6" springboard extension which will be longer next year. The 20' x 9" wide mast is basswood and carbon fiber, which works well but slightly stiff. The 16' plank is basswood and fiberglass and is absolutely perfect without carbon.
The potential for the future of the class is very bright. There are now 4 or 5 front cockpit C skeeters out there that should be competitive. Get in now on the ground floor of this ride!!!
Pat Heppert "Drifter" I-291
Pat Heppert Photo Gallery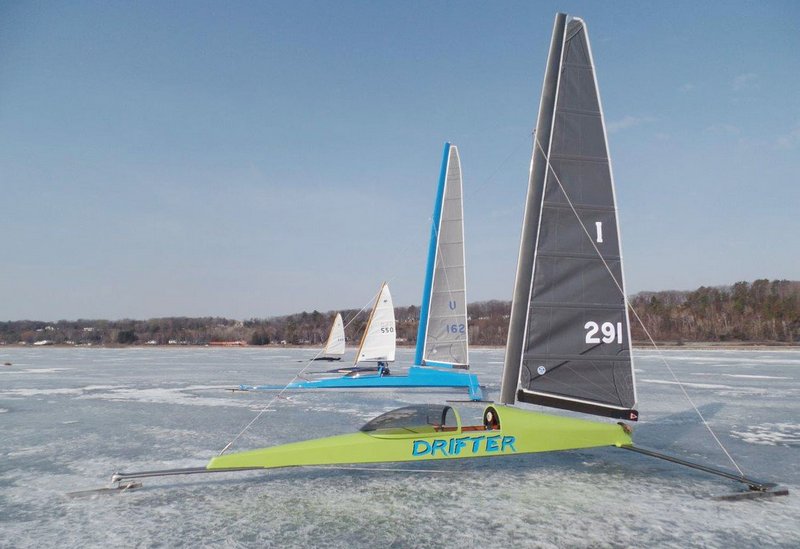 Check out these photos from Drifter skipper Pat Heppert.
ISA Video Day

Several stern steerer skippers, including Joe Terry, joined us on the ice in Gladstone (aka "Happy Rock"). Here's Joe's video.


The ISA Videos Keep Coming!

This one is the A Skeeter finish from Friday's "bonus race". Thanks Minnesota B Skeeter sailor, Jim McDonagh, who we normally see in a DN and placed third in the B fleet.


ISA Picture of the Day

Photo courtesy gretchendorian.com
Photographer Gretchen Dorian is busy today back home in Michigan looking through the hundreds of pictures she shot this weekend for more great shots like this one from the ISA regatta. Here's Ken Kreider throwing the checkers for Nite skipper Grant Frautschi on Friday.


In The UP News
March 21, 2015
Day 2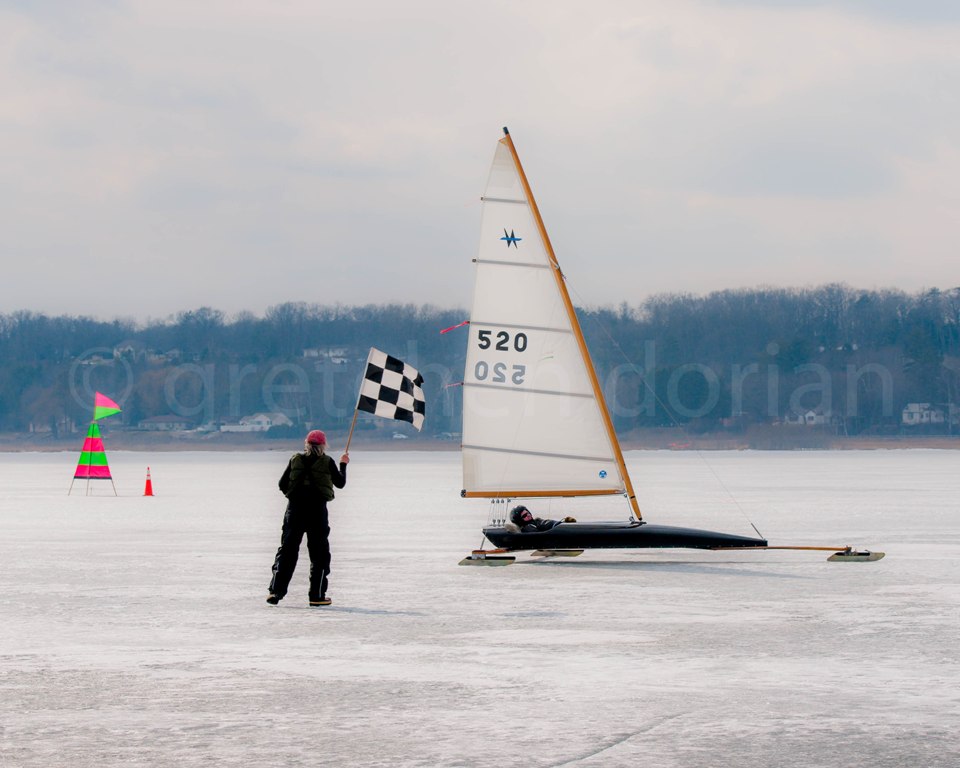 Photo: gretchendorian.com
Flagman Ken Kreider on the job with Nite skipper Grant Frautschi
Wow, another great day on the ice. We banged off 9 races in a little over 3 hours. The winds were higher today which led to a few more breakdowns on the bumpy ice.
Photographer Gretchen Dorian arrived yesterday and the photos she captured just from Friday are amazing.Can't wait to see the ones she took up at the weather mark today. I'll have more of them posted and a link to all of them soon.
Party tonight at 5:30 at the Log Cabin just across the street from the hotel. See you there!
Meanwhile, here are the provisional results from today.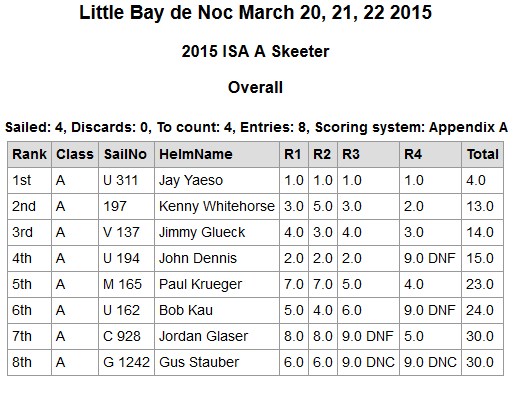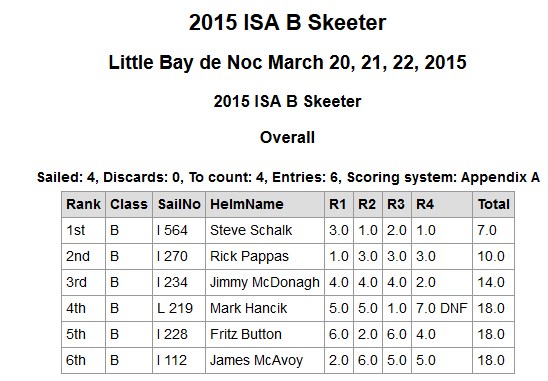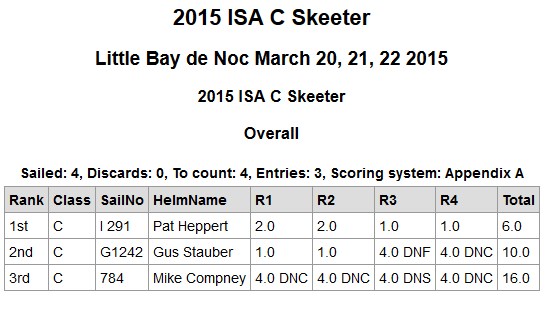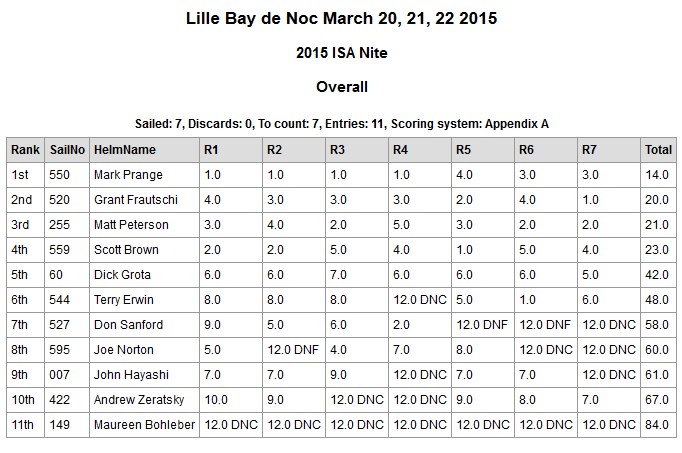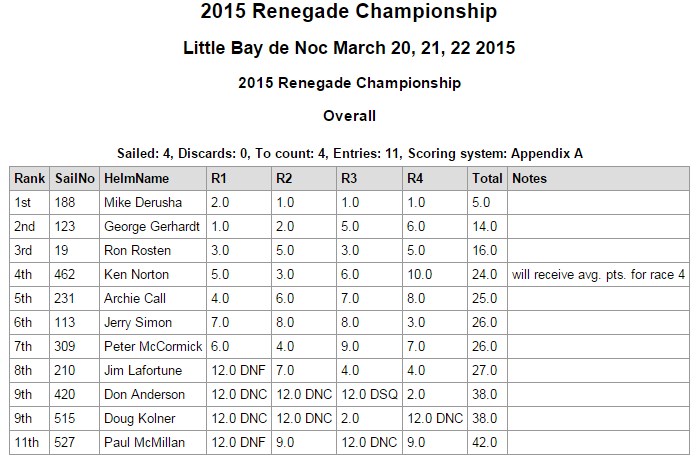 March 20, 2015
Day 1

Lots posted today on the auxiliary website over on iceboat.weebly.com.
Helps to be able to sit in a car and score. To the shower and then to a meeting and then maybe dinner...long day today. 13 races scored in 4.5 hours.
Day One Preliminary Results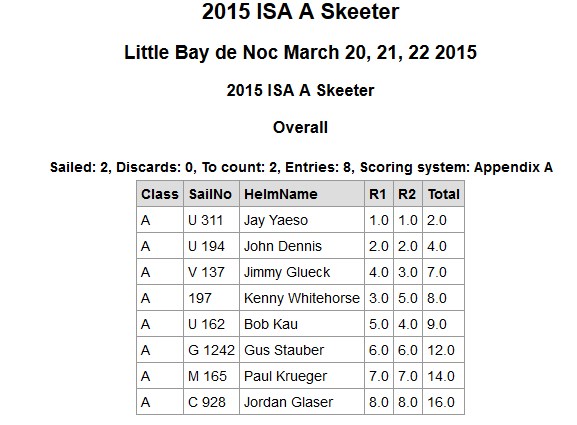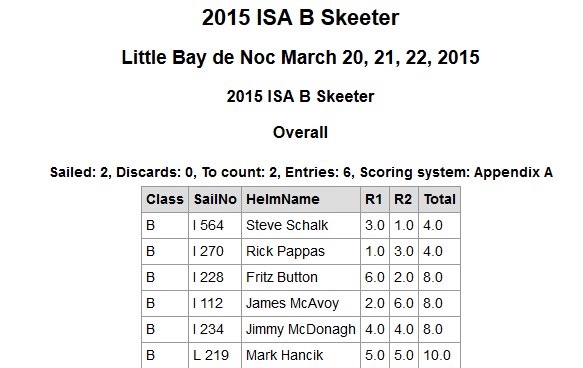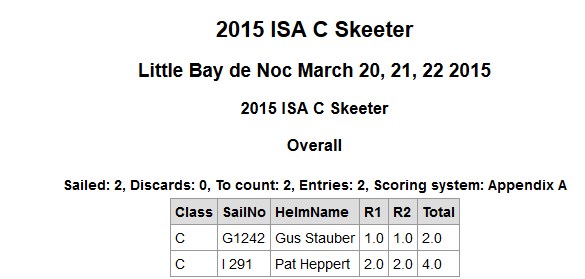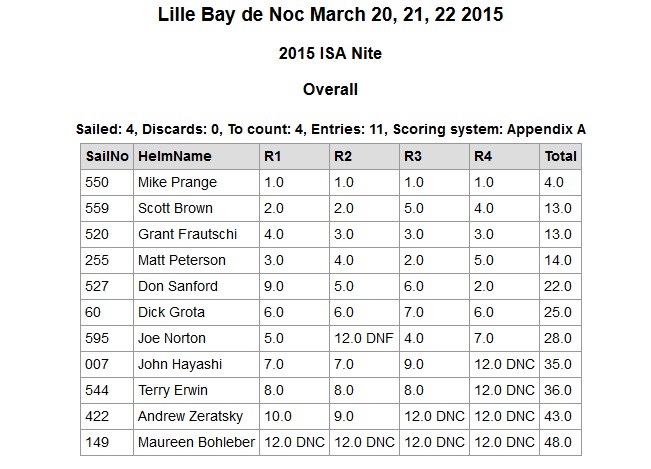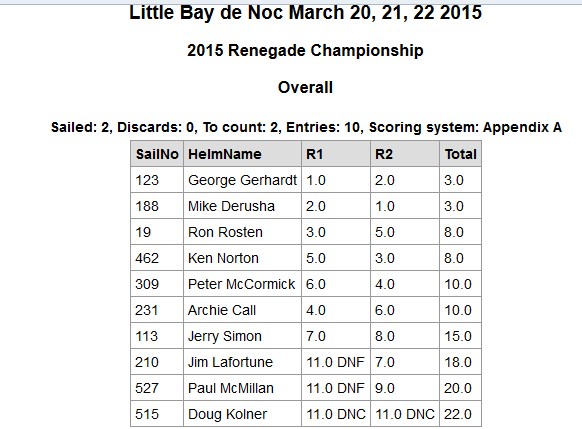 March 19, 2015
A Note from MJ
Hi Everyone,
Just wanted to say I hope you all have a great regatta. I'll be working with Deb to get the scoring done. If anyone catches any mistakes with the scoring you can always call me or tell Deb and she will let me know.

With working at the last minute to get the regatta set and with being far away from any club we weren't able to get a banquet put together this time. It sounds like there is a nice restaurant in the hotel that you are staying at. That is where your meeting will be on Friday. Their banquet rooms were not available this weekend but the manager said the restaurant will be open. Maybe you all could head in there and kind of have a makeshift banquet.

I'll be looking forward to hearing all the good stories and getting some pictures from Deb.

Have a great time and I hope for nice steady winds all weekend long.
MJ
March 18, 2015
ISA & Renegade Championship Regatta Is ON for the UP
The ISA and Renegade Championship is called on for Little Bay de Noc, Gladstone, Michigan in the Upper Peninsula of Michigan for March 20, 21, 22, 2015. Launch at the Gladstone Yacht Club.
Ice conditions: 25" of rock hard ice. Mike Derusha and Ken Kreider have sailed it with their DNs.
You can drive with your trailer on the ice. Stand by for hotel information.

Regatta Hotel:
Terrace Bay Inn & Suites
Special ISA Rate: $72.00 plus tax (please mention that you are with the ISA),
The pool is not working at this time
7146 P Road.
Gladstone, MI 49837
906-786-7554
MAP

Alternate Hotels:
Best Western
2635 Ludington St,
Escanaba, MI 49829
(906) 786-0602

Comfort Suites
3600 Ludington St,
Escanaba, MI 49829
(906) 786-9630


Launch:



Schedule of Events
FRIDAY, MARCH 20
8:30-9:30 AM Register and pay at the landing.
10:00 AM First Race
Sunset Time: 8:01:01 pm

ROTATIONS: Rotations for each day are as follows:
1. Renegade
2. Nite
3. A Skeeter
4. B & C Skeeter

ANNUAL CLASS MEETINGS
ISA: 6:00 PM Meeting at the Terrace Bay Motel
RENEGADE: 7:00 or immediately following ISA meeting at the Terrace Bay Motel
Read the agenda items that have been submitted for the ISA 2015 annual meeting here.
SATURDAY, MARCH 21
9:30 AM First Race
Evening: There is no banquet destination at this time. However, there is a restaurant in the hotel.
Sunset Time: 8:02:21 pm


SUNDAY, MARCH 22
9:30 AM First Race