December 2008
End of an Era:
Williamson Street Boat Shop Winds Down
Below: Don Sanford Remembers
Isthmus: Madison Boating Great Bill Mattison Retires By David Medaris
Flashback: Isthmus: The Icing On The Lake by David Medaris, January 8, 1988
Continuing updates below.
Decommissiong Party of December 21, 2008 below.
NEW January 19, 2009 Jerry Simon: Mattison's Magic

A Personal Reflection by Debra Rosten Whitehorse

BILL MATTISON is without an ice boat for the first time in probably seventy years. He doesn't own a stern-steerer, Renegade, DN, Nite or any of the sleek Honeybucket Skeeter Class ice boats in which he won six Ice Yacht Challenge Pennants, eleven Class A International Skeeter Association championships,five Northwestern Ice Yachting Association Skeeter championships, twelve Triple Crown Championships, three Garwood Championships, and countless Four Lakes Ice Yacht Club championships. In 2009, Bill Mattison will also be without an ice boat shop.
Bill has officially retired from the sport of ice boating and is in the process of cleaning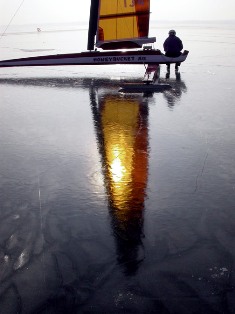 out almost 40 years of dust and memories from his ice boat shop. He wants to haveeverything out of the building by January 2009. A daunting task considering he's been building ice boats in that shop since the early 1970s.
Before he set up shop on Williamson Street, Bill, Mauretta, Lynn, and Billy lived the next block over from the house my brother, Ron, and I grew up in Monona, WI. I remember walking over there to find my father, Dave, and Bill working on boats in Bill's basement. Bill Mattison building ice boats has been a constant in our lives.
4LIYC Nite skipper Don Sanford called me today while a snow storm was keeping everyone off the roads and said that I should "..come down to the boat shop because it's the end of an era, everything is going, and it looks like a tornado down here."
I told Don that until we were plowed out, I was stuck in my driveway. A few minutes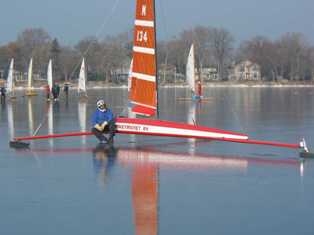 later, 4LIYC Skeeter skipper Bob Kau knocked on our door with some trophies and he drove us through the storm to Willy St. in his big Chevy 4WD truck.
We all knew this day was coming but it wasn't easy to watch the shop being disassembled. Don Sanford was a bit frantic as he showed me a box of old parts because he knows there's a thousand good stories that go with everything in the place and he's worried (rightfully so) that the stories will be lost.
Don discovered a box filled with old B-29 airplane bomber parts. Back in the "old days", Bill would pry them open to access the bearings he could use for blocks. Don said he was going to bring his tape recorder tomorrow.
Even without his ice boat shop, Bill will keep as busy as ever with his other passion, creating model circuses and circus trains, a hobby he has pursued since childhood. Much as he is in ice boating, Bill is nationally known for his models and is in great demand across the country. Instead of the ISA this year, Bill & Mauretta will be packing up the trunk and heading to Florida where he will exhibit his circus.
Here are some old newspaper articles from the 1940s about Bill Mattison and his circus models. They are in pdf and you'll have to enlarge to read the articles.
June 27, 1941
June 7, 1942 Part 1
June 7, 1942, Part 2
It was always my hope that if there were ever a physical Ice Boat Hall of Fame & Museum that Bill's shop would be reconstructed there. For now, I'm happy to keep Bill Mattison's Williamson Street Boat Shop alive here in cyberspace. Enjoy your retirement from ice boating, Bill.
Don Sanford Remembers
Just when I was beginning to feel like I knew my way around Bill's shop, everything changes. During the past 32 years that I've lived in Madison, Bill's Willy St. Boat shop has been a constant in my life as an iceboater and summer sailor. Sailors are a social bunch and call on each other from time to time when many hands are needed for a short burst of work. Projects like inverting 38' A Scow require 15 or 20 sets of hands for 20 minutes. But it's the social time before and after the rolling, lifting or gluing, when we all have a chance to visit, meet new sailors and connect with old friends, that helps build our solid sailing community here in Madison.
Over the years, I've attended several of Bill's gluing parties, baffled at how he could possibly turn this wreck of a sailboat or iceboat into a lightning-fast work of art. I've wondered how he knew how much carbon fiber, coring and resin were needed to glue up a mast so it would be light and bendy, yet not self destruct out on the lake. His willingness to share his time, ideas, skills, equipment and materials has truly made Madison into the iceboating capital of the universe and helped create a community of sailors that spans not only our local lakes, but the entire ILYA and far beyond as well.
Hmmm… what are some of my most memorable times in the shop? When we rolled Matinee', Bill's first A Boat, over and Bill began the restoration project by ramming a claw hammer into the (mostly rotten) keel. Or, when we glued up the 38 ft. runner plank for the Deuce? Maybe that hot summer day with my sons, Jordan and Emery at a fast gluing party of perhaps 20 other sailors for an elegant Skeeter spar.
During the past few days, artifacts from America's Cup campaigns, drawings of iceboat components, sailboat or iceboat hardware created or modified in Bill's shop have all surfaced. Any one would be a significant achievement. But in Bill's shop I've seen what can only be described as the evolution of sailboat and iceboat design and technology. If iceboating were a business, all of this would have gone to a museum just as Edison's lab did. But for Bill, this was just a hobby so the museum will have to live on for us out in our mind's eye.
One day I discovered that my phone number had joined the frequently dialed numbers written on the shop wall right there with Buddy's. Wow, that was truly an honor!
Donald Sanford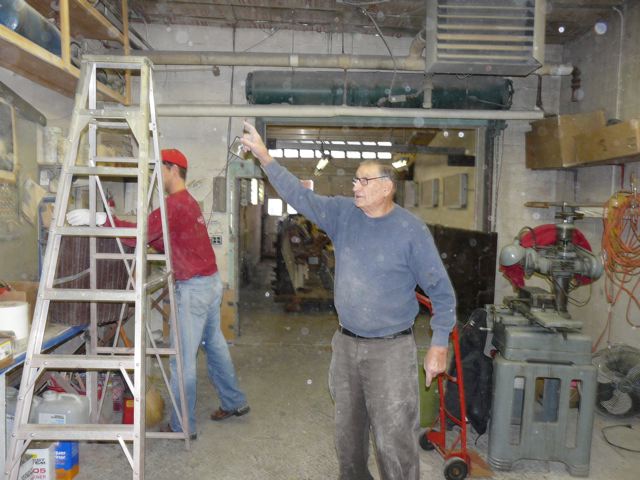 Bill points out a box on the top shelf that belongs in the dumpster.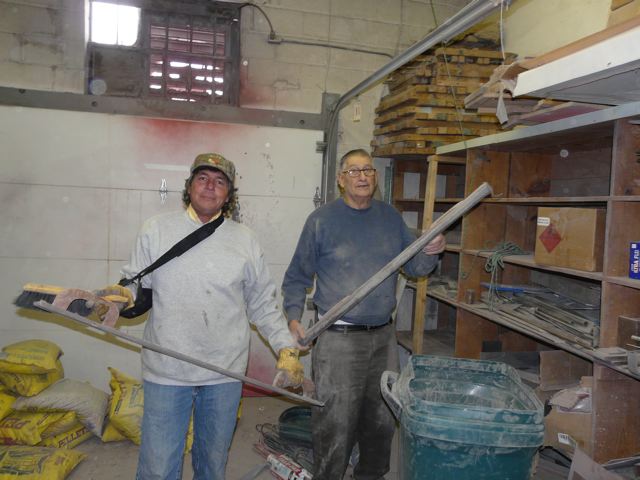 Ken Whitehorse (L) and Bill Mattison (R) show how things were done in days of old with the long board, a.k.a."Idiot Board" during today's housecleaning at the William St. Boatshop. "Nobody knows how to use those things anymore," said Bill.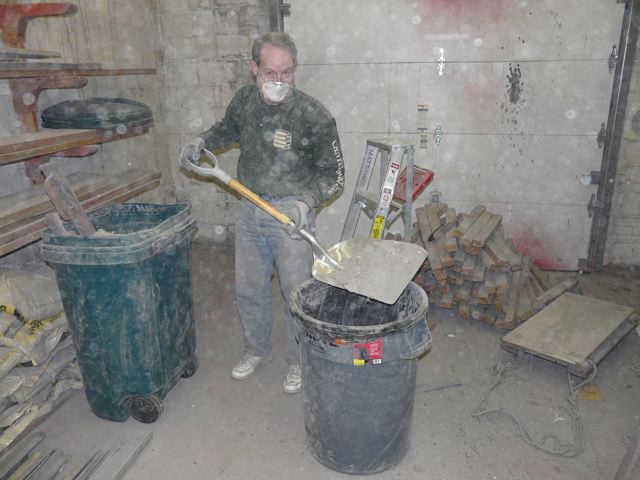 Don Sanford shovels up a bit of dust from the back corner of Bill's shop. It's an exotic concoction of paint overspray, ground up carbon and peanut shells.
December 12, 2008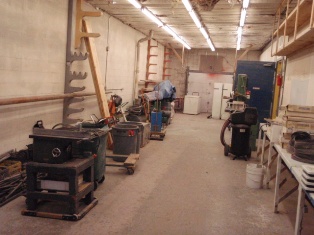 Don writes: " The tools and tool board went into the dumpster this AM. Bill's runner grinder is on it's way to Pewaukee. Tom Hyslop stopped by to pick it up this morning. Jay Y. is due to appear early Sat to load up the band saw and planer. But there are still a few treasures like the big table saw, surface grinder, mill, lathe and radial arm saw waiting for homes. Here's how things looked today at 11:30"
A Little Bit of Willy Street on Siggelkow Road
Paul Krueger has a new home for his Skeeters.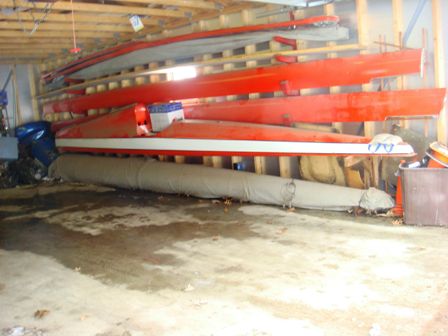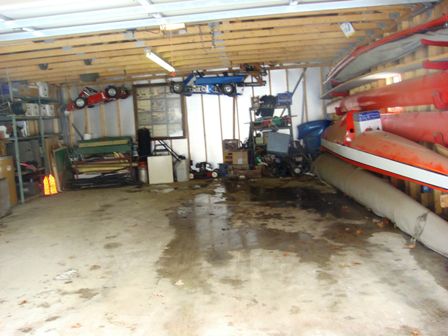 December 21, 2008
Decommissioning Party
Members of the Four Lakes Ice Yacht Club and Mendota Yacht Club gathered for one last time to celebrate Bill Mattison's seventy year legacy in the world of ice boating and summer scow sailing. It was the first official day of winter and the weather was fittingly cold and icy. Thanks for the memories, Bill & Mauretta!
Note of Thanks
From Bill & Mauretta Mattison:
Please extend our most sincere appreciation for the "Decommissioning Party" the 4LIYC and MYC hosted.  By our count 82 people braved the weather to wish Bill well.   Thanks to all for their caring! 
Bill and Mauretta"
Bill explaining how his hand-built miniature steam calliope works.
Photo Credits: Geoff Sobering
January 19, 2009
Mattison's Magic
By Jerry Simon, Renegade #113
It was the 1977 Northwest regatta. I cruised into Lake Geneva sporting my new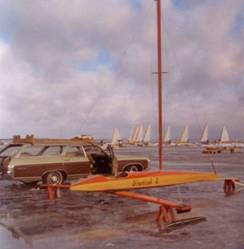 natural-sided Renegade on top of my new car-top rack. I was trying hard to follow Elmer's regatta agenda. He always had a new sporty-looking Thunderbird that he and Cora Lee traveled in with the boat on top. Never mind that my car was a Country Estate Chevrolet Station Wagon built for a family. Elmer would pull up to the pit area in his sporty car, Cora Lee in her black and white spotted coat and perfectly coiffed hair, Elmer in his red flannel shirt with a white turtleneck and a leather sheep-skinned aviator helmet. He was the coolest and fastest guy on the ice, and I was determined to be just like him.
The racing that week-end was good. Ken Strasberg, a friend and fellow Renegade sailor from North Sail Pewaukee Loft (later to become Inland Sail), was racing with us. Ken and I had lots in common. We were similar in age, were novice Renegaders, and had high expectations that we could compete—Elmer style—with the big boys.
During the "fateful" race, most of the fleet was in front of us as usual. Racing was very fast with moderate winds and hard ice. I was being lapped and going downwind. Ken was sailing upwind near the upwind mark—dead in front of me on a collision course! I altered my course, and so did Ken—in the same direction. Nothing to worry about as there was still time to correct. And we both did—once again in the same direction. We were approaching each other at 50+ mph and we ran out of time for a third correction.
Crash! Our runner planks collided two feet inside the runner chocks. Jim Payton, the official judge who was a mile downwind, said the sharp crack sounded like a cannon blast from his old military days.
Meanwhile, back at the crash, both of our boats had shattered apart. Masts down, hulls on their side, runner planks skidding alongside hulls—all being held together with a spaghetti mixture of stainless cables. At 50+ mph, boats don't quickly come to a stop on hard ice. All I remember is my head (in the crash helmet) bouncing on the ice forever. I didn't realize until the adrenalin subsided that the entire rear of my hull had remained attached to the plank. This was the tangled mess that had been skidding alongside my bouncing head. How lucky that I didn't lean back as I skidded.
After I finally stopped, I crawled out to see if everything physically worked. I ran over to Ken who was already out of his boat. We hugged each other and fell to the ice in a state of euphoria each knowing the other wasn't seriously hurt.
We turned our attention to the boats. Ken's plank bolt brackets broke loose, leaving his hull with minimal damage. My boat didn't fare as well, as my plank brackets had held and the entire aft portion of my hull remained bolted through the long skid. Dejected, I put the boat on the car top and the separated rear part in the cargo space of the station wagon. Remembering that it took me two and a half years to build this boat, I resigned myself to knowing that my season had ended.
Then the magic began. Bill Mattison took a look at the carnage and said just bring it over and we will see what can be done to get you back on the ice soon. Monday night after work I delivered the two pieces to Bill's basement on Sherman Ave. If you know his basement, you know that things were cramped to say the least. He surveyed the damage and said let's fit the splintered pieces back together and scarf on some overlapping wood and test this new Gougeon stuff. The boat was a Weldwood boat.
The next night Bill and Jack went to work fitting things together and did some initial gluing. Jim and I helped by staying out of the way, sweeping the floor and making tools and beer runs. The operation required multiple gluings and Bill would unclamp in the morning before work and be ready to glue again in the evening.
Anyone who has worked around Bill knows he is a man of few words and lots of action. Many times Jim and I were just in the way and relegated to sitting on the stairs watching the stika sawdust fly.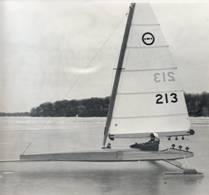 Four more nights and my boat was whole again! You can imagine everyone's surprise when Simonized appeared back on the ice the following week-end. The natural finished sides were a thing of the past but the boat seemed even faster than when it was new.
I am sure my story of what Bill has meant to ice boating can be told over and over by many sailors.
Thanks Bill and your passion for the sport is contagious.