HISTORY OF THE CABBAGE PATCH BOAT SHOP
How a Three Hundred Dollar Investment Shaped the Future of the Stern Steerer Fleet
By Keith Haas

The year was 1972. Gerry Knop had just bought a stern steer iceboat from a fellow sailor named Ray Nerad at the bar at the Racine Yacht Club. For $300 he got a confusing pile of lumber that was supposed to be assembled into a 1930 B class stern steerer.
It had been in a heap for a while and several items were in a state of disrepair. Some of the cracks would eventually be filled with glue, the baskets restrung with yellow nylon line. A coat of black paint made her look like new and she was ready to sail.
Todd Knop was 15, Keith Haas 15 and Rick Hennig 14 years of age. The early years were spent on Como, Delavan and Brown's Lake. With the wind in her sails and a gallon of wine by her side, the stage was set.
Rick recalls the early years of these less than competitive iceboat years as they would sail by the well-knowns and Bob Pegel would yell out "Party Boat".
It is fun to recollect the early years when we didn't know much about the sport and it was difficult being the new kids on the block. Breaking into the established fleet of ice boaters would take almost 2 decades to get recognized.
Meanwhile, many a sailor from Racine learned the ropes and found an excuse to keep active during the winter. Bars on Brandy Bay at Brown's and the In Between at Delavan were safe havens from the cold during those early years. After years of thrills and spills and chills we were finally getting the hang of it.
Over the course of the years we met guys like Fred Stritt "current owner of the Fritz" who had a nice haven on Delavan Lake. Fred was the first guy we met that had a collection of more broken parts to iceboats than we had ever seen. He always managed to piece together something to put on the ice. Fred seemed to fit in with the group because he was a little crazy like us.
Herb Schrat from Illinois sails the Skeeter "Icehound" and wherever we seemed to set up, Herb seemed to be there too. So the stage was set. The bonds were made. A group of fun loving sailors that needed each other found the bonds of iceboating and the call of the wind.
The first years were spent with cotton sails, wooden mast and a wooden boom and we soon found out that sails with a blown out shape could be dangerous. We gravitated to an aluminum mast, then an aluminum boom, then a new set of sails. The boat was painted blue during one of its first renovations to solidify its future. We were cruising now.
The boat went through many changes during the past 30 years. Todd branched off and sailed an A skeeter Locomotion for a while and Rick branched off and rebuilt the Ice Scream (a C Class Stern Steerer) with Mark Monroe from Racine.
We still helped Gerry set up Katzenjammer and the more the merrier became a common theme.
As we got more proficient with the stern steering fleet and we realized that we could rebuild just about anything after working on the Deuce for a few seasons, Todd decided to fine tune the Katzenjammer for the new millennium.
Gerry was a little upset because his $300 investment was being transformed into a sleek C stern steerer that was hardly recognizable. We kept telling Gerry that we could probably build the old boat back the way it was with all the spare parts we had.
In 1999-2000 we laminated our first major plank at the Cabbage Patch Boat Works, a 28 footer. We borrowed stations from Herb Schrat in Illinois for the lay-up work and figured out things like curvature and laminating with West System epoxy. The new plank looked great.
Rick had built a new mast for the Ice Scream a decade before but now we wanted to play with carbon fiber. In 2000 we finished a rather radical fabrication of a winged mast. Light weight, flexible and strong. We got some stainless slat rigging through a swap with our friends at Palmer Johnson and a promise for a few free rides in the future.
Mike Peters in Fond du Lac got wind of some bronze runners out east that were off of the Deuce and Rick managed to talk Dave Lallier into bringing them back along with other great finds out east.
If you have ever been in Dave's garage in Fond du Lac you would realize that the last thing he needed was another set of runners for a stern steerer.
A new boom modeled after an A-Class Skeeter boom and a new set of sails and battens and the Katzenjammer was ready for the new millennium.
I almost forgot to mention the new baskets. One item that plagued the Katzenjammer for years was breaking the baskets. We routinely gave rides and carried 4 people at a time in cramped conditions. After all, if you are going to sail the boat you might as well be comfortable.
So we fabricated some stainless steel baskets like Rick had made for the Ice Scream and we were in business. A debut in February 2001 in Fontana, WI was a sight to see. The boat was gorgeous.
Unfortunately during its first weekend of sailing on glare ice we put it into a spin and the starboard aluminum casting that holds the runners blew apart and we split the oak body of the runner and our sailing was over for the season. Not too many of us carry spare chocks for a stern steerer in our bag of tricks. We had found the weakest link and it was the one item we hadn't worked on.
So the boat is back in the shop and the Cabbage Patch artisans are busy getting it ready for another season of excitement. Look out boys here we come again.
Gerry Knop is still active in iceboating at the age of 75 and an inspiration to all of us in Racine. If he had lacked the vision (or $300) back in 1972 when he was 45 years young, none of us would have ever been turned on to Ice boating and the years of enjoyment would have passed us all by. So Gerry, we all owe you a great indebtedness. Your wisdom 30 years ago has resulted in years of fun and enjoyment for all of us.
So the next time someone offers you an opportunity at a bar to buy an iceboat, don't pass it up. That small investment can touch the lives of many and may just save a fleet from extinction some day.
Thanks for the Memories:
Keith Haas
Todd Knop
Rick Hennig
Cliff Haas
Mark Monroe
Bob Graves
Mark Butkus
Brian Haley
John Pinkerton
Jim Rooney
Jamie Martin
PS In the summer, Gerry Knop can be found sailing his 41 footer out of Racine.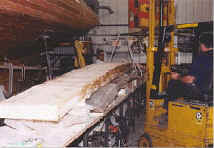 30' long plank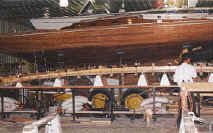 30' plank-side view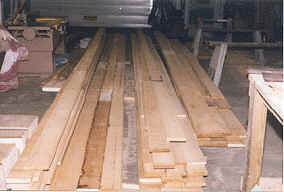 Ice Boater's Gold: Sitka for three planks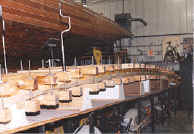 Eclipse plank, side view<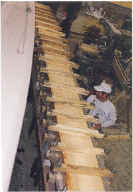 Eclipse plank, bird's eye view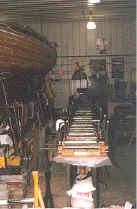 Edge gluing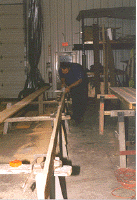 Edge planing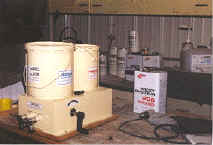 Gougeon: The life blood of ice boating.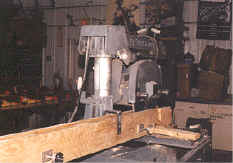 Scarfing jig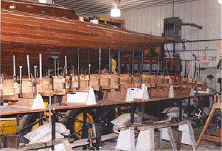 Schloemer's 24 foot plank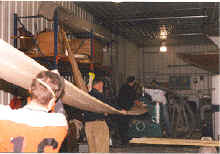 Surface planing a 30' plank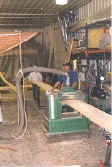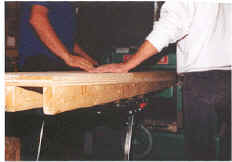 Taper planing