ICE OPTIMIST ARCHIVES 2007-2012
FOR THE LATEST INFORMATION, PLEASE GO TO NEW ICE OPTIMIST HOME PAGE
December 8, 2012
2012 North American Ice Optimist Regatta Complete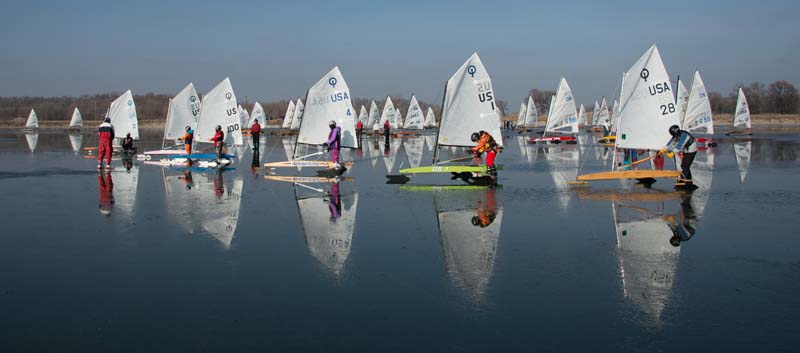 Photo by Chris Clark
The 2012 North American Ice Optimist Championships were sailed on Pelican Lake near Ashby, MN December 1-2, 2012. Congratulations to Griffin Sherry US2 for his victory.
Results 2012 Ice Opti North American Championship
Pelican Lake Alexandria, Minessota
December 1-2, 2012
---------------------------------------------------------------------------------
Pos Sail# Name Race> 1 2 3 4 5 6 7 Points
---------------------------------------------------------------------------------
1 US 2 Sherry, Griffin 1 1 ( 1) 1 1 1 1 6.00
2 US 28 Orlebeke, Cole 2 3 2 ( 3) 3 2 2 14.00
3 US 1 Hearn, Frankie (JR) 3 2 ( 3) 2 2 3 3 15.00
4 US 13 Kickhafer, Matthew 6 4 ( 6) 5 4 4 4 27.00
5 US 18 Youins, Holden 5 5 4 ( 6) 5 5 6 30.00
6 US 100 Metzloff, Tyler 7 7 5 7 (DNS) DNS 5 40.00
7 US 33 Wadey, Geoffrey DNF 6 7 4 (DNS) DNS DNS 44.00
8 US 4 Dawson, Martha 4 DNS 8 (DNS) DNS DNS DNS 48.00
Chris Clark Photo Gallery
January 11, 2011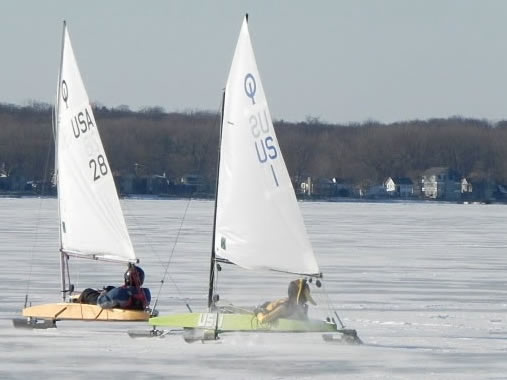 Photo Credit: Allen Penticoff
Check out some more photos from the 2011 Ice Opti Championships here.
January 10, 2011
A Sherry Win, But This Time "TJ"
RESULTS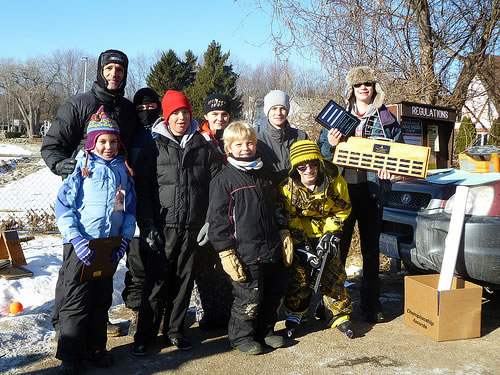 Photo Credit: Jori Lenon. See more photos from awards ceremony here.
Submitted by Daniel Hearn
Five boys and two girls made it to this year's North American Ice Opti Championship. What the field lacked in size this year (five pre-registrants were unable to attend at the last minute) was offset by very competitive racing. The top three boats: TJ Sherry, Griffin Sherry and Frankie Hearn fought through multiple lead changes in every race to keep things exciting.
Cole Orlebeke, in his first Ice Opti regatta, progressed with every race and was challenging for a top three finish in the last race. Cooper Frost from Michigan had his "Johnny Rocket" boat moving well at times throughout the day. The snow drifts that formed on the south end of Lake Mendota turned challenging for all the racers as winds dropped. The key to success was steering around drifts as much as possible and keeping the boats wound up at all times.
Brand new Ice Opti skipper, Alec Bischoff, who sails an Optimist Dingy in the summer, came over from the Milwaukee area for his first iceboat regatta. He had a great first experience and learned a lot about ice sailing.
Nine year old, Tyler Metzloff, continued his progress, gaining much more confidence in the breezy conditions. Audrey Frost, also from Michigan and Cooper's sister, got her very first racing experience. Audrey finished as the Top Female Competitor, earning her the Jane Pegel Award, presented by the namesake of the trophy who was on hand competing in the DN Western Region Championships.
Griffin Sherry took bullets in the first two races, earning him the new perpetual trophies donated to the NAIORA by Jane and Bob Pegel. TJ Sherry also won two races, with Frankie Hearn taking one second, which turned out to be the difference maker, with TJ edging out his brother and defending NA IO Champion, Griffin Sherry, by one point. This will be TJ's last year in the IO, so congratulations to him. We'll look forward to seeing him next year as a DN Junior.
The NAIORA would like to recognize Joe Norton of Green Lake, for volunteering himself and his shop mates to build one or more Ice Optis that will be donated to the association. And also Hal Bowman, who now resides in North Carolina, for offering to donate the cost of materials to the effort. The North American members of the IDNIYRA continue to support youth ice sailing with great vigor. The group has embraced the kids and celebrates their participation in regattas. This has been invaluable in the development of North American youth ice sailing.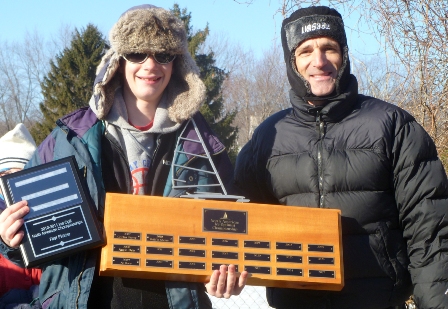 Photo Credit: Jori Lenon
TJ Sherry, 2011 North American Ice Optimist Champion and Daniel Hearn.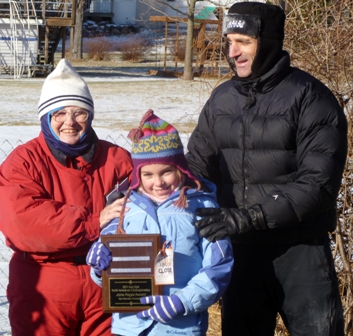 Jane Pegel, Audrey Frost-winner of the Jane Pegel Award, and Daniel Hearn
Sarns Ice Opti Essay Contest Winners Announced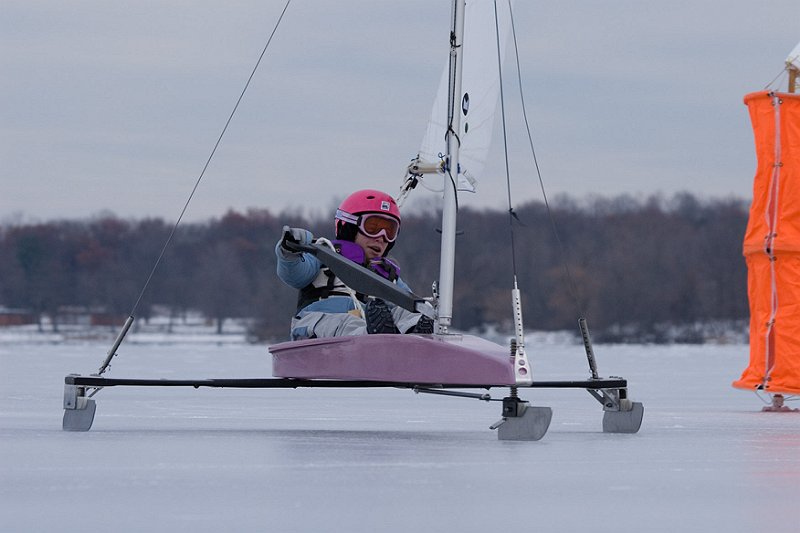 Sheridan Hearn in 2007
Congratulations to Sheridan Hearn and Frankie Hearn!
"Sarns Hardware proudly announces the Ice Optimist Essay contest winners! We are very pleased that, while there were only two submissions to our contest, both essays were wonderful expressions of how sailing an Ice Optimist has truly made a positive impact on the lives of our young sailors. We hope you enjoy reading their essays, found below, and find inspiration in their words. Their joy is evident and hopefully, very contagious!"
Continue reading and see the winner's essays.
December 2, 2010
Madison Ice Optimist Sailors Get Ready for Racing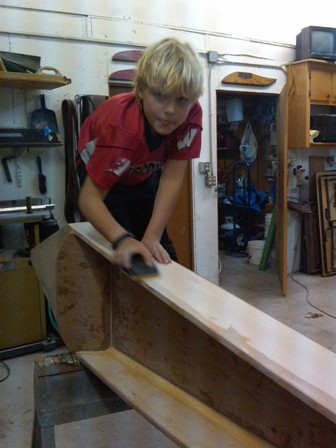 Photo Credit: Geoff Sobering
Kyle Metzloff sands his Ice Optimist getting it ready to paint. Kyle and other Ice Optimist sailors are going to have some fun in Minnesota this upcoming weekend at the Great Western Challenge regatta.
January 26, 2010
Experience Rules the Day at Opti NA's
By Daniel Hearn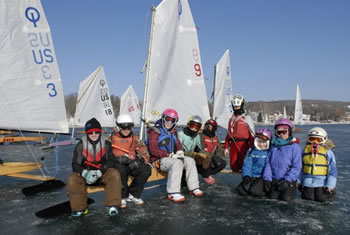 Photo Credit: John Russell See more photos here.
Thirteen Junior ice sailors assembled for the 2009-2010 Ice Opti North American Championships January 16-17 on Lake Charlevoix near Boyne City, Michigan.  This was the third year for the event, with 6 sailors returning from previous years, joined by 7 first-timers.  Encouragingly, more than a third of the participants were girls, elevating the competition for the "Jane Pegel Trophy," awarded to the highest finishing female competitor, to its greatest level yet.
 The "veterans" did a great job welcoming the new sailors and sharing their experience on everything from the infamous ""Bear Claw" race, to practice life-saving skills, to the "Smarties Chalk Talk Session," to learn all about safety, course set up, right-of-way rules, and more. 
Good breeze on Saturday allowed for one practice race, to get all the Juniors comfortable with the set up, then three very competitive races with different sailors capturing the top spot in each race.  The Optis sailed in rotation with the DN Gold and DN Silver fleets, utilizing a common leeward mark, but a weather mark set at approximately half the distance.  This made it easy for the adults to watch the Junior races and help out, while maximizing racing opportunities for all attendees.
In between races the Juniors kept themselves very busy generally just goofing off and consuming any food that happened to make its way out on the ice.  (Note to self:  bring more food out on the ice…the kids think it's a huge lunch room!)
Nearly the entire Junior fleet and their families made it to Pizza Hut Saturday night for the "Any Pizza $10 Deal." The kids all jammed around one table, and the adults around another.  Nobody left hungry, and we escaped with just one spill.  Well, at least only one that we know about!
On Sunday, we had a nice breeze to get us out to the course, but then it teased us the rest of the day.  The DN Gold fleet got black flagged on their first attempt, as did the Juniors when they were next to give it go as our "no start after" time limit approached.
In the final tally all the hardware ended up in the hands of the most experienced Junior ice sailors.  First went to Griffin Sherry from the Central Region.  Griffin was also the NA Champion in 2007.  Second went to Augie Dale of the Western Region, who was the defending champion.  Third went to Frankie Hearn of the Western Region.  In fifth place, and recipient of the Jane Pegel Award for the second time, was Sheridan Hearn, also of the Western Region.  Sheridan will be aging out of the Opti class after this season and plans to be back next in a DN. 
Thanks go out to Rich Potcova and the Central Region for hosting the Juniors, Eric Lind for serving as PRO, and to all who contributed to pulling the event together. 
August,2009
Opti Project Update
By Bob Gray, US 4654
The hull is generally the most expensive and hardest to build part of an iceboat. The goal of this project was to design and build a inexpensive, easy to build yet kid-cool boat. The result was a hull that can be built with three eight foot 1X8 boards, a sheet of 1/8th inch luan and some waterproof glue.
Plans and kits for this boat will be available soon. For someone who has building experience, the plans are the way to go. If the builder is somewhat handy and has a bunch of clamps, the basic kit, which includes all the main components patterned to size, would be fine.
For the inexperience builder a full kit will be available. All that is needed to build this kit is a work table, a screw driver, a small hammer, a sanding block and a puddy knife. Gluing pressure for this kit is provided by using screws with wooden washers and wooden nail pads. The prototype for the kit , which is pictured here, was built in an afternoon.
June, 2009, 2009
Keeping It Simple
Submitted by Daniel Hearn
The Traverse City Team, led by Bob Gray, is hard at work this off season on a very exciting development project that is sure to help grow Junior ice sailing in North America. We're very fortunate to have this talented group donating their time and expertise toward the future of our sport.
The basic concept of the endeavor is to create an Ice Opti "kit boat" that pretty much anyone could build at very modest cost. The design, though still very "cool" in appearance, eliminates the more complicated tasks such as bending side boards, and requires only very basic tools, skills and budget.
Here's what you don't need: a well-equipped workshop filled with clamps and other fancy tools, expensive materials such as Sitka spruce or epoxy resin glue, the woodworking skills of a cabinet-maker, design ingenuity (it's already been done for you), lots of time to bring it all together. What you do need is one of these simple kits that could get another kid in the game (at least the hull part of it so far) for less than a couple hundred bucks. A few mindless video games would cost you that! (Oops, was that an editorial comment).
Bob and his team have already come up with some low cost runners, too. More solutions on rig, sail and the rest of the hardware are being explored so stay tuned.
April 4, 2009, 2009
Check out this great slide show from this season's North American Ice Opti events.
March 17, 2009
Ice Opti Centrals
The Central Opti Championships were held on Saturday, March 14, 2009 on Elk Lake, MIchigan. Griffin Sherry won the Opti Centrals. A total of nine Optis raced, along with eighteen Gold Fleet and nineteen Silver Fleet DNs.
Results

Photo Credits: Daniel Hearn
| | |
| --- | --- |
| | Frankie gets a ride on a hover craft. |
| | |
| Line'm up. | Ice pick training "race." |
| | |
| 2009 Bronze Fleet North American Champion, Doug Harvey, 84 years old; Frankie Hearn, aspiring champion, 11 years old. | New Western Region Ice Opti skipper Davey Winquist, Pewaukee, and pals Frankie and TJ |
Photo Credits: John Russell
March 7, 2009
A Little Good Ice Sailing News!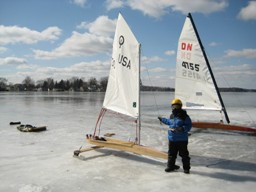 Three generations of Lembergs now active ice sailors. Trevor Harter, grandson of Rick Lemberg, Sr. (Silver Fleet DN'r) and nephew of Rick Lemberg, Jr. (Gold Fleet DN'r) added his new Ice Opti to the Lake Wawasee Iceboat Squadron last weekend. Welcome aboard, Trevor! Tell gramps and uncle they'd better watch their sterns, as you'll be comin' fast!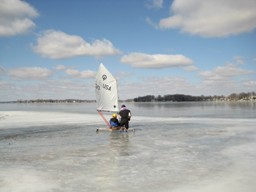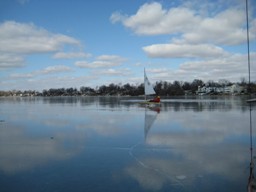 February 15, 2009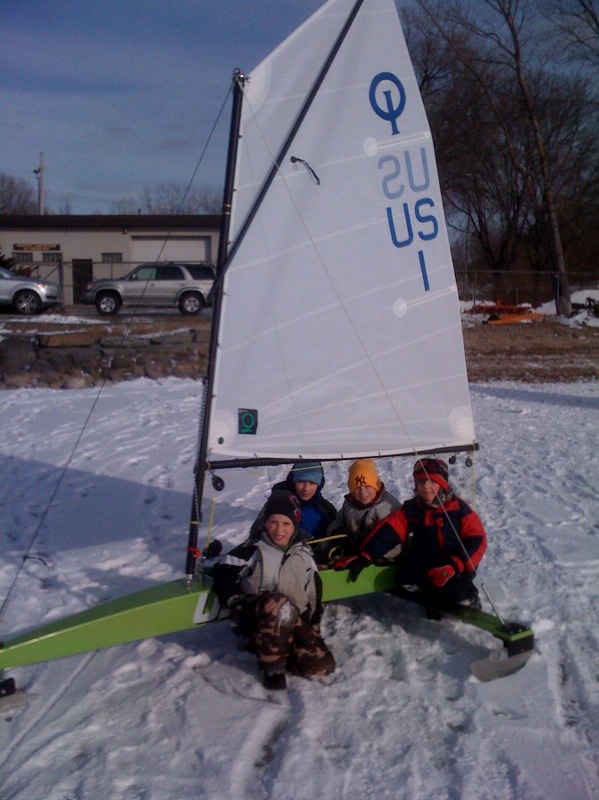 Here's Thor Rosten and some of his friends who tried out Frankie Hearn's Ice Opt, Cora, Roy, and Ryan on Lake Mendota Sunday. Each sailed the boat and had a lot of fun.
February 1, 2009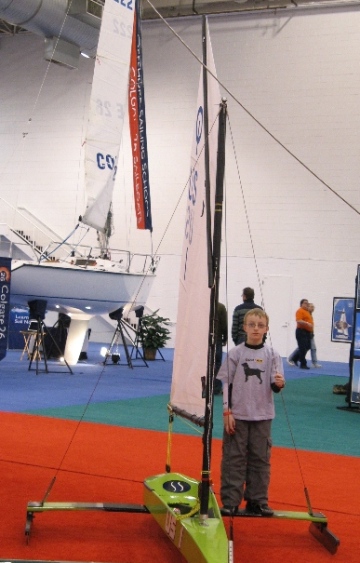 Frankie Hearn and his Ice Optimist at the Strictly Sail show in Chicago. Photos and report here.

December 19, 2008
Fauerbach Brewery Supports Junior Ice Sailing Development
Peter Fauerbach announced today that 50 copies of the first Limited Edition "Champions of Iceboating" Poster featuring Ron Sherry, will be available personally signed by the legend himself.
The additional cost will be $20 with all proceeds going to support the North American Ice Opti Racing Association. The NAIORA is the Junior ice sailing development class for North America. To order, contact Peter at fauerbach@ameritech.net.
December 8, 2008
Ice Opti North Americans Results
Sailed December 5-6, 2008 in Osakis, MN
Ice-Opti NA Results:
1 Augie Dale (US-51)
2 Jake Glaser (US-4)
3 TJ Sherry (US-9)
4 Sheridan Hearn (US-18)
5 Griffen Sherry (US-2)
6 Louis Austin (US-29)
7 Frankie Hearn (US-25)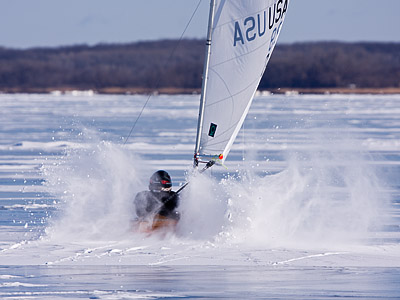 Louis Austin
December 1, 2008
Check out Ron Sherry's latest website featuring Composite Concepts Ice Optis.
August 25, 2008
Don Williams Announces Start of Ice Opti Production Hulls
Don writes: "I wanted to let you know that I have started production of the ice-opti hull. It will be available for $1100 plus tax. I have included a few pics of production.
Included:
Hull with coat of primer.
DN style plank attachment
Mast step
Front tang
Other equipment coming soon. I also continue to produce DN fiberglass spars. This year, the spar will cost $1000. Included: Spar Halyard Halyard catch Mast base Hound
Thanks.......Don Don Williams, Williams Infusion, LLC"
March 19, 2008
Juniors Lead the Way at GTIYC Fun Regatta
Report by Daniel Hearn
How do you not love a regatta where the trophies are bird houses? Not ordinary bird houses, mind you, but beautifully crafted and painted creations, each one unique—one , a Victorian style, another like a rustic fishing lodge and still another looking like some type of Dr. Suess structure. A fitting end to an affair called the annual "Fun Regatta." And fun it was. This crew knows how to do it up right!
John Russell, the Commodore of the Grand Traverse Ice Yacht Club, told me, "they are a club of doers." He said he hardly has to ask people to do anything ; it just gets done. Take for example the shelter. Somebody just decided to bring a bunch of Tyvek to wrap around the thing to create a makeshift banquet facility. It was complete with a sign that read, "The Bobstay Café." Courtesy of Dick Wollam and others, the café was serving up some mean chili, burgers, brats, and hot dogs with all the fixings, beverages and desserts. The Café even had a wood burning stove with the flue cleverly routed through the Tyvek wall.
The outpouring of support for the Juniors was inspiring. The club seemed genuinely delighted to have the Ice Opti sailors joining their event. As it turned out, on Saturday the event was all Juniors. The overnight temperature on Friday never quite dropped enough to turn the standing water into completely solid ice. In the morning we had shell ice about a ½" thick covering a thin layer of water above the base ice. Even the DN's were breaking through the top layer very easily. It was sailable, but with the promise of falling temperatures throughout the day, most chose to just enjoy the great party.
By about noon, the temperature had dropped a few degrees, so the Ice Optis decided to give it a go. At first the kids were a bit apprehensive, as the breeze was rather brisk (15 – 20 mph), so Sheridan ventured out and demonstrated to her pals that they had nothing to worry about. In no time 9 more of the 13 registered Ice Optis joined in and were ripping it up, much to the pleasure of all the adults watching from shore.
With everyone assembled then, two practice races were run, followed by four races that counted toward the Centrals Championship. We saw great racing all afternoon with many lead changes, lots of improvement in skills and increasing enthusiasm from all the kids with every race completed. Sheridan decided to really make things exciting for all the spectators when she had an "out of boat" experience—she she spun out while completing a jibe when she had one heck of a head of steam. So what did she do? She picked herself up, dusted herself off, and got back in the boat to complete the race. OK, I admit I'm biased because I am her Dad, but that chick rocks! The GTIYC thought so too, as they presented her with a complimentary event t-shirt for her display of commitment and courage. Special thanks to Julie Richards who was behind this little acknowledgement. By the end of the day, the kids were disappointed that we had to pack it in, but the promise of the pool party seemed to provide some consolation.
Following the pool party Saturday evening we did another chalk talk. Oh, if only our adult minds were such sponges! I was amazed at how much information was retained by the kids who attended our last talk in December.
On Sunday the ice had firmed up beautifully, so the Ice Optis took their spot in the standard rotation with the DN Gold, DN Silver and Open Fleets. The ace committee of Eric Lind and Loretta Rehe pulled off 18 races with clockwork efficiency, including 3 more for the Ice Opti Fleet to complete a 7-race regatta.
A huge thank you from the Spaight Street Syndicate (a.k.a., Sheridan, Frankie and Daniel Hearn) for a fantastic weekend. We'll look forward to coming back next year. Thanks also to Ice Opti Centrals sponsors Doyle Boston Sails and Harken. And much appreciation to Sara and Al DeClercq and Ron Sherry who organized the Junior event.
To all...sail fast, sail safe.
March 18, 2008
Ice Opti Centrals Regatta Photos, Elk Lake in Michigan
Photo Credits: John Russell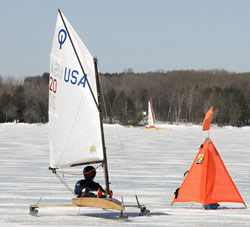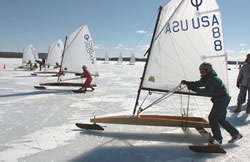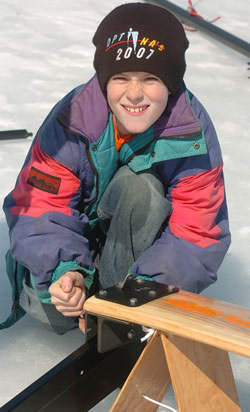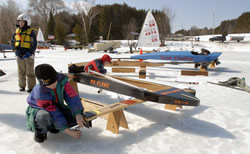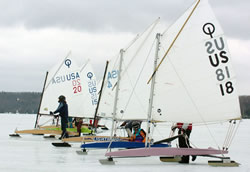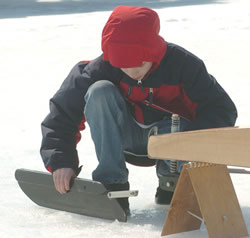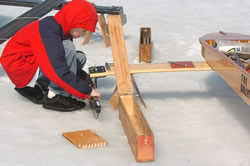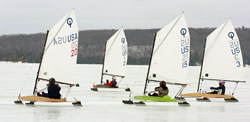 March 12, 2008
More Ice Optis Complete!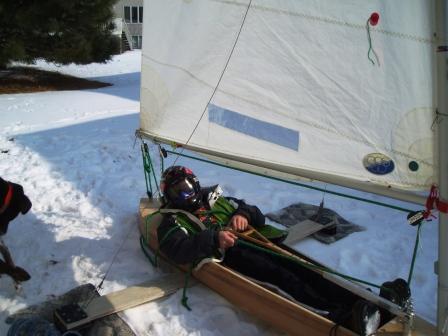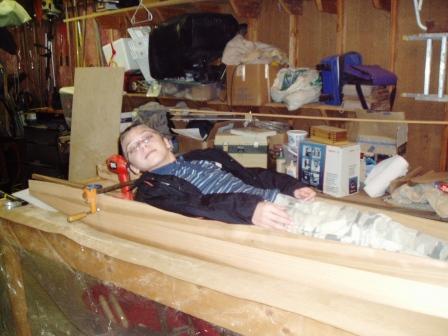 DN'r Tom Austin of Minnesota has completed an Ice Opti for his son Lou. The two had planned on attending the Junior NA's when they were slated for ice in Minnesota, just to check things out. When the event moved to Michigan last December, Team Austin was unable to attend, so they decided to just charge ahead and complete their boat. It's ready for action now, just waiting for a bit more thaw in the Land of 10,000 Lakes.
Another DN'r, David Frost of Michigan has completed an Ice Opti for his son Cooper. Cooper got a taste of the Ice Opti at the Junior NA's, borrowing Frankie Hearn's boat for a race or two. He was hooked immediately. His Dad reports that Cooper sailed for four hours last weekend. Team Frost will certainly be in attendance this weekend at the Ice Opti Centrals that have been called on for the Traverse City area in tandem with the Fun Regatta.
Close to 15 Ice Optis could be racing in the Centrals this weekend!
February 18, 2008
Fiberglass Opti Hull Prototype
Don Williams, of Ohio, has been hard at work for the last year supporting the development of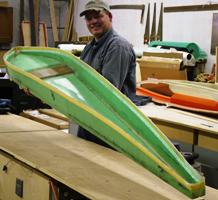 the Ice Opti class by creating a mold to start making hulls out of fiberglass here in North America.
Using a similar "infusion" technology that he uses to build his DN masts, Don is shown here with the first prototype that has come out of the mold. Next step is to add structure for nose block, stern block, steering and mast step, then the deck will be affixed.
Finished hull without hardware is expected to come in at 28 - 30 lbs., slightly over the with-hardware minimum.
Don hopes to have the hulls for sale in time for the 08/09 season. If you'd like to get in on an advance order, you can contact Don at don.williams@williamsinfusion.com
December 1, 2007
From OPTINEWS
By Stacie Kress Brooker
"An Ice Opti can reach speeds of 35-40 mph," says Daniel Hearn, an Ice Opti dad from Madison, Wisconsin. His two youngest children, Sheridan (13) and Frankie (10) sail them. Hearn wants to build awareness of the sport in this country and is working to start up junior Ice Opti programs in his region. He says it will help keep junior sailors sailing, especially in the colder climates where their soft water sailing season is short and winters are long." Continue reading article (pdf file).
November 27, 2007
The Sherry brothers getting their Optis ready for the inaugural North American Ice Opti Championship scheduled for December 8-9, 2007 probably on Lake Christina near Fergus Falls, MN.
November 9, 2007
Ice Optimist Drawings and Class Rules
(.pdf files):
Links to the IDNIYA European Junior Sailing Site
Part 1: Sail Plan & Rules
Part 2: Top View
Part 3: Fuselage & Plank
Part 4: Runners
Part 5: Cut Plan
All Parts In One
February 5, 2007
Four Lakes Ice Yacht Club Ice Opti sailor Sheridan Hearn is in Lithuania competing in the 2007 Ice Opti World Championships! Here's a special page for to Sheridan & Daniel Hearn's photos and reports from the regatta.
Watch an Ice Opti in Action!