2009-2010 Season
NORTHWEST ICE YACHTING ASSOCIATION REGATTA
PHOTOS, RESULTS, & NEWS
DN NORTH AMERICAN CHAMPIONSHIP REGATTA UPDATES
April 11, 2010
Large Crowd Gathers for Tribute to Jack Ripp at 4LIYC Awards Banquet
Over 100 people gathered Saturday night in Madison to attend the 4LIYC trophy banquet and to honor Jack Ripp who has retired from actively racing ice boats after an impressive 60+ year run.
Those who shared some words about Jack included Jerry Simon, Chuck Dykman, Mark Langenfeld, Mike McCormick, Ken Whitehorse, Bill Mattison, Peter Harken, and Mike Butler. A large contingent of Jack's family surprised him with their presence including his sister who traveled from Minnesota.
The surprise finale at the night's end was when Bill Mattison and Harry Whitehorse unveiled an portrait painted by Harry of Jack, his Skeeter, Miss Fortune, and his Renegade, Jack's Frost.
I'll have more stories and photos posted later when I get them. (My camera picked a great night to stop working.)
Ice boaters from all over Wisconsin were well represented with sailors from Oshkosh, Green Bay, and a large contingent from Pewaukee.
Photo Set One: Deb Whitehorse & Jori Lenon
Photo Set Two: Geoff Sobering
New Jack Ripp Painting Unveiled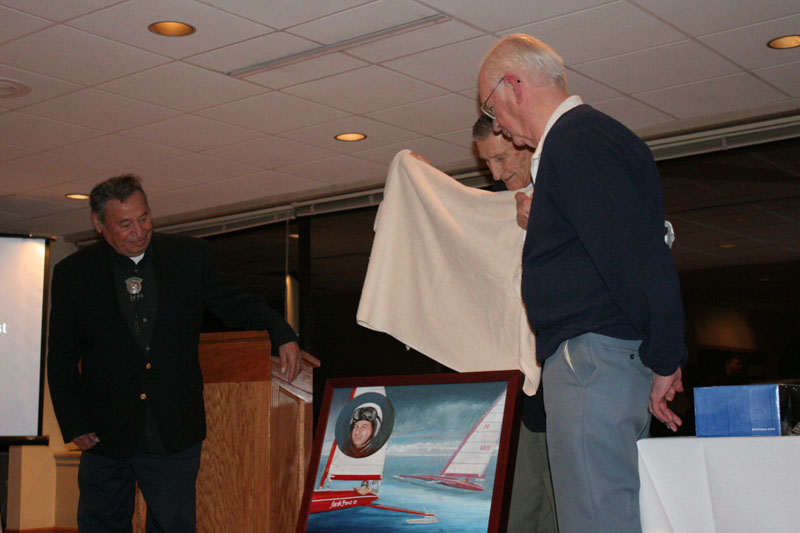 Photo Credit: Geoff Sobering
The painting created by Harry Whitehorse features the two ice boats that Jack sailed to many victories, his Skeeter class "Miss Fortune" and his Renegade class "Jack's Frost" along with an inset of Jack's portrait (ready to sail, of course.)
The Torch Is Passed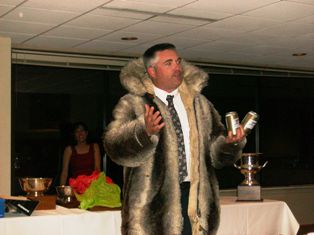 Gary Sternberg presented Greg Simon with the fabled and many-pocketed fur coat of our late chief judge, Jim Payton, in appreciation of the fact that Greg chose to park his boat at the 2010 Northwest regatta in order to concentrate on running the races. Gary made sure that the pockets were filled with Jim's favorite beverages.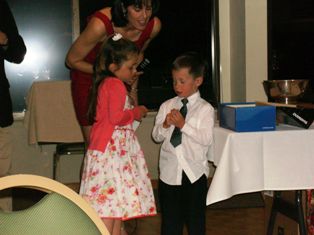 Meta & Fritz Simon assist with the raffle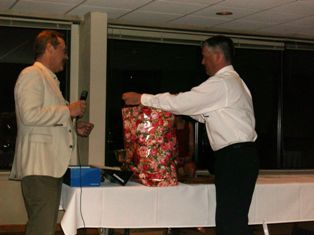 Gary Sternberg presents Greg Simon with Jim Payton's "Official Chief Judge Jacket".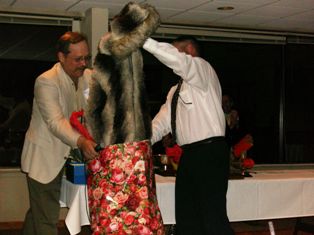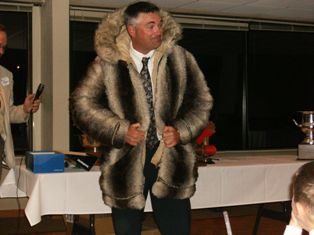 February 8, 2010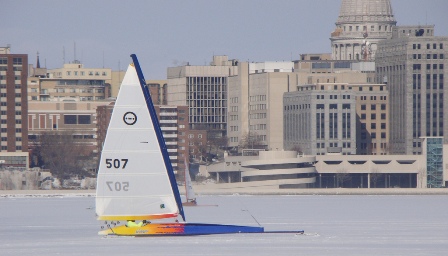 Daniel Hearn in his Renegade Photo Credit: Mary Jane Carpenter
Here's a link to over 100 great photos shot during Saturday's racing on Lake Monona. Contact me if you'd like any prints.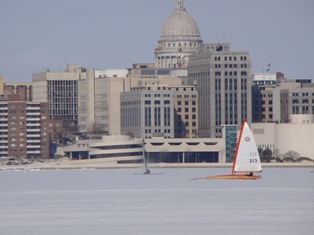 4LIYC Club Sailing: Lake Monona
STAY AT HOME SERIES, OLIN-TURVILLE PARK, LAKE MONONA
By Jori Lenon
A fraction of the fleet showed up Saturday afternoon, Jan. 30, and either prayed for wind, or just came to set up their boats. A fleeting breeze came up around 2 pm and a few DNs caught enough rides to sucker out a few more DNs and a small stern steerer. Afterwards, Doug Kolner, and Greg and Julie Whitehorse hosted a most jovial chili and hotdogs party at the Belle Isle Boatwerks.
Then came Sunday, yee-hah! A six-pack each in the Renegade and DN fleets completed four races, and enjoyed a relaxing lunch break at the Coliseum bar. Winning the Renegade races were Jack Ripp, Greg Whitehorse, and Doug Kolner twice. Tim Shriver was the first DN across the line. Byron Tetzlaff took the next three races.
Maximum winds were 13 mph, which brought out racers, cruisers, first-time iceboaters, and a TV reporter from WKOW/Ch 27 news. Thanks to Tim Shriver and Byron Tetzlaff for helping check boat landings on the two big lakes Friday. Thanks to everyone who dragged Tim's christmas trees around the ice (hey, for old times' sake!) And a huge thanks to Wayne, Bob and Bill Shmiedlin for sneaking over to Jori's DN after it blew its steering post, and doing a perfect repair job while Jori was off trying to be a TV star.
RENEGADES
Race 1
1. Jack Ripp
2. Mike Ripp
3. Paul McMillan
4. Doug Kolner
5. Greg Whitehorse
6. Peter Fauerbach
Race 2
1. Greg Whitehorse
2. Doug Kolner
3. Jack Ripp
4. Mike Ripp
5. Paul McMillan
6. Peter Fauerbach
Race 3
1. Doug Kolner
2. Mike Ripp
3. Jack Ripp
4. Paul McMillan
5. Greg Whitehorse
6. Peter Fauerbach
Race 4
1. Doug Kolner
2. Greg Whitehorse
3. Jack Ripp
4. Mike Ripp
5. Paul McMillan
6. Peter Fauerbach

DNs
Race 1
1. Tim Shriver
2. Byron Tetzlaff
3. Jori Lenon
4. Jim Kalupa
DNS= Dan Rogge, Alan Penticoff
Race 2
1. Byron Tetzlaff
2. Tim Shriver
3. Jim Kalupa
DNS = Jori Lenon, Dan Rogge, Alan Penticoff
Race 3
1. Byron Tetzlaff
2. Alan Penticoff
3. Tim Shriver
4. Dan Rogge
5. Jim Kalupa
DNS = Jori Lenon

Race 4
1. Byron Tetzlaff
2. Jim Kalupa
3. Tim Shriver
4. Alan Penticoff
5. Dan Rogge
6. Jori Lenon

(And the "fifth quarter" race, which doesn't really count, darn!)
1. Byron Tetzlaff
2. Jori Lenon
3. Alan Penticoff
4. Tim Shriver
5. Jim Kalupa
6. Dan Rogge
Photo Credits: Jori Lenon and Mike Ripp

Jack Ripp

Kevin Earley and son Dexter

Mike Ripp

Mike Burns

Doug Kolner and son

Paul McMillan

Conor Lenon

Doug Kolner

Aran Lenon

Greg Whitehorse

Allen Penticoff

Peter Fauerbach

DNs waiting

Kevin takes off.

Byron Tetzlaff

Mike Mullarky

Express yourself!

Tim Shriver

Snowy Tim

Jori Lenon

Jim Kalupa
January 8, 2010
Buddy's Toy Shed & Melges News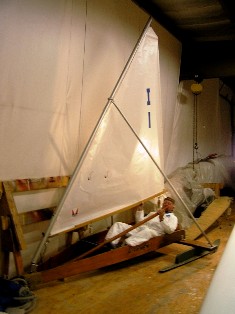 Via Andy Burdick: "The famous Buddy Melges Toy Shed with Buddy in action spending time on his prized
H' ya'Newt. Buddy built a new rig and sail for this trainer ice boat this season. Same boat that taught Harry, Hans and Laura Melges how to do it back in the day. Buddy's gearing up to get his grandkids out there this season.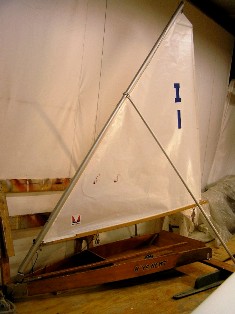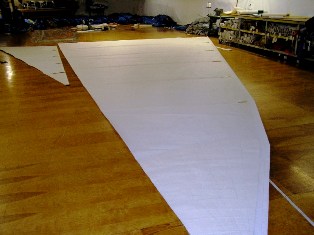 Stern Steerer sails for Michigan ice boater Eric Sawyer. Jim Gluek and Harry Melges of North Sails Zenda have been working on production and design. Set for delivery next week."
January 4, 2010
Flying Ice Boat Reported In Area U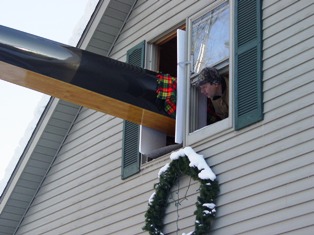 Via Area U Operative, Jay Yaeso:
"We pulled Eric Sawyer's stern steerer out of the attic a few weeks ago. Finishing mounting the hardware and preparing to go sailing.
Oh yeah... Hissy and Jody, you owe me.. Never bet a guy that knows how to read a tape measure.
Signed,
'I told you it would fit out the window' Jay"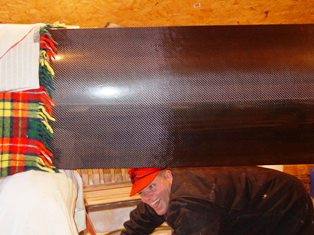 This photo is in search of a caption.
UPDATE: Keith Haas suggests, "Looks like Jay's rocking chair just won't be the same without his plaid wool blanket to cover his legs."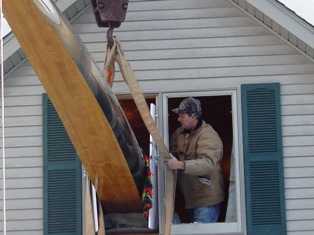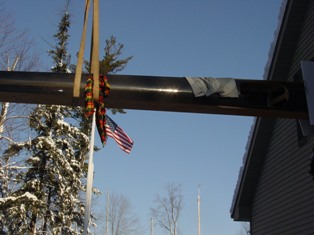 December 20, 2009
PK's Ramblin'
Taken on Saturday, December 19 on Lake Kegonsa by Peter Fauerbach.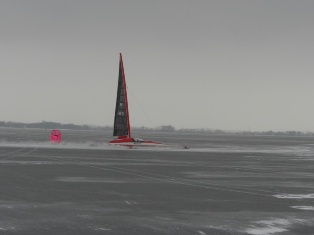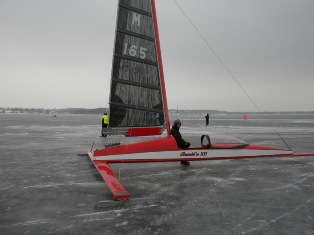 December 19, 2009
First 4LIYC Sailing of the Year: Tune Up
Series on Lake Kegonsa
Photo Credits: Allen Penticoff
December 9, 2009
Red
December 8, 2009
Attitude Adjustment Begins
Ken begins to ready his Skeeter for new paint. Here's another short video from today, "Prime Time".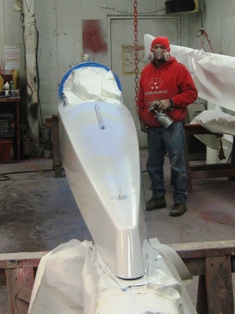 Post Prime Time.
August 2009
Kyle Metzloff in New Zealand: The Quest for Ice
August 12, 2009

Previous:
August 2: New Zealand Ice Boating First
August 7: New Zealand Ice Boater Responds
August 10: Kyle's First Report
Yesterday I was in Christchurch and met with the Christchurch Blokart Club. One of the members, Graeme Gordon, set up a special meeting of the Canterbury Bolkart Club from 3-5 pm for me to go Blokarting on an airport at the New Zealand Airforce Museum at Wigram Field.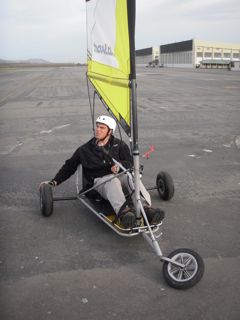 The wind was kind of light so we drifted around for a few laps and then talked about Blokarting and ice boating for a while. I showed them some footage of ice boating on Lake Mendota and up at the Southern Hemisphere Proving Grounds.
The club members were extremely friendly and invited me down for a regatta they have in February (their summer) and told me to practice my Blokarting because they weren't going to let "some Yank" beat them at land sailing... Practice begins next week!
After seeing the email from Clive Murphy on the first ice boat in NZ, I happened to be in Christchurch where he lives and had a beer with the chap. We discussed how he made his boat and the dilemma with the ice boating situation in NZ.
It seems when they have a southern front (cold weather in the southern hemisphere) there is no wind and they get nice smooth ice on several lakes. The problem is that the wind is non-existent with this weather pattern.
When the north west weather front comes in, the wind blows, but the ice melts or is just blown off the lake in a matter of hours. I couldn't believe my ears, but he said the wind is so strong it just fractures the edge of the ice, it heaves up onto the ice, and then big chunks blow down to the other end of the lake on top of the ice!! So there may only be a window of a few hours between these events where ice boating possibly could occur.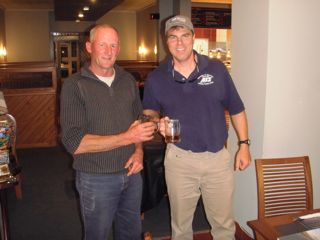 Clive Murphy and I at the Raceway Bar and Inn in Christchurch, NZ
Clive said that he iceboated in 2002 but there was only a few puffs that he could go in and has not been able to get it out again since. He organizes trips to the lakes for ice skating and they are also very passionate (in NZ they say "keen") about getting out on the ice.
They send people on a cross country loop for hundreds of miles to check the ice conditions to do this! We had a great time talking and he thinks people must have knocked together something to go on the ice before he did, but he has not seen any hard evidence as yet. Kiwis are constantly doing amazing thinks but rarely brag or publicize their achievements.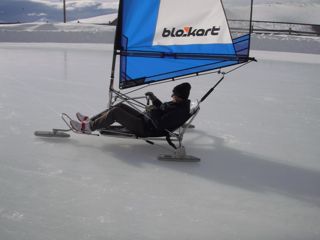 From this talk I have gathered that I still have the speed record for NZ and most of the other records I mentioned in my last report. One thing I did not have time in writing my last email, was to properly recognize the people who helped at the Southern Hemisphere Proving Grounds: My partner in crime, Tony Knight, from Katipo Casting (Katipo is a poison spider in NZ). Tony is an engineer and they make high-end Chevy 350 racing engine blocks for the aftermarket. Tony traveled around on the "In Search of Perfect Ice" tour, which I have filmed and will show the club at a meeting some time.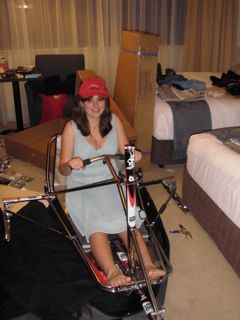 We had a great time and he now holds the NZ record for the most wipeouts on an ice boat in NZ and I also have footage of this as well. The girl in the picture is his daughter who is attending Otago Univeristy in Dunedin.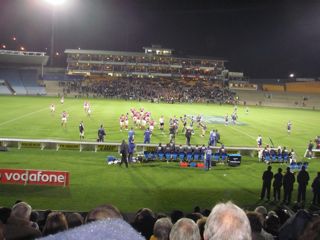 We attended a Rugby Game while in Dunedin and I gave some talks at a conference. Notice the hat she is wearing in both pictures. The picture of me was in front of the cases of Speights Beer that they sell at the game. Yep you can buy a four-pack for really cheap!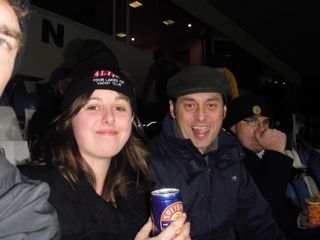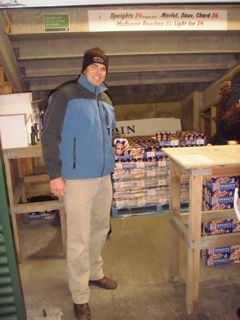 Kerry Poots is the operations manager of the SHPG and he got us permission to go onto the grounds and use the ice, and Hans van Leeuwen, who originally came from Holland, is the ice master who created the ice we used.
He has created curling rinks and hockey rinks all over NZ and modified the Zamboni Machines for the SHPG so that they travel very fast overland to get to all the ice on the fifteen miles of testing tracks they have.
Both Kerry and Hans tried the ice boat and laughed like schoolboys the entire time. My guess is that it won't be long before they are scooting around the ice up there on the SHPG.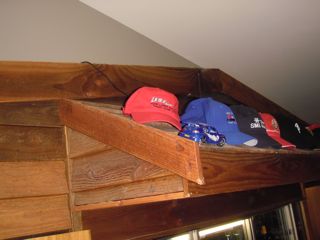 After sailing all day they invited us to their bar for a beer and some great Kiwi food! We unloaded much of our 4LIYC loot and one of our hats made it on the above the Bar Hat Hall of Fame.
Another famous event that happens on the road to the SHPG is the "Race to the Sky" which is a rally race to the top of the mountain on the crazy seven km gravel road.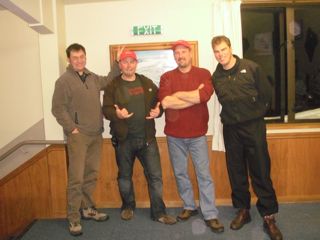 From left to right: Tony Knight, Kerry Poots, Hans van Leeuwen, and my ugly mug.
I am up in Auckland now and will likely hook up with Matt Beckett at Blokart and possibly the Auckland Blokart Club for some racing if it is on for the weekend.
Great thanks to all the people at Blokart that helped me get this together and make it happen.
By the way they did not charge me for the use of that Blokart!! In other words, they sent some crazy American that they never met a US$3500.00 Blokart and equipment. That says a lot about the people here in NZ.
I can't explain it, but the people here are the friendliest and most helpful people I have met anywhere in the world and I have had an amazing experience in my quest for ice.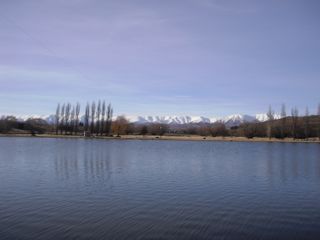 The Idaburn Dam where there where the people were curling only two weeks ago.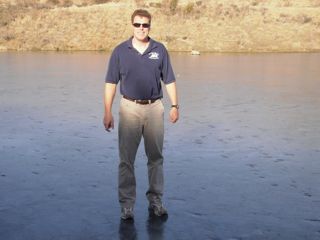 Here I am standing on some remaining thin ice.
(We almost tried on this ice, but decided to play it safe).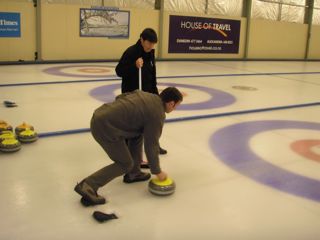 Curling at the Manitoto Curling Club in Naseby, NZ.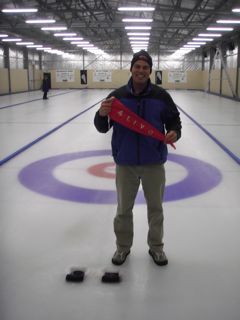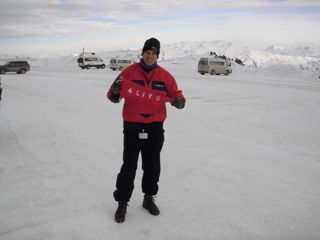 Our banner up on the Pisa Range, home of the
Southern Hemisphere Proving Ground.

Hans,the SHPG Ice Master, sailing the iceboat and giggling.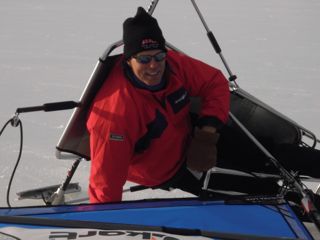 Here I am wiping out in the Blokart.
August 10, 2009
NZ Ice Boating Update from Kyle Metzloff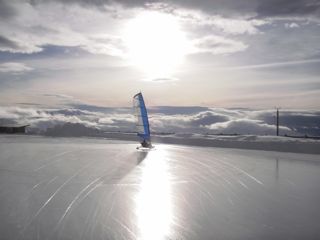 Holy Cow, those aren't mountains in the background,
those are the tops of clouds!
Previous:
August 2: New Zealand Ice Boating First
August 7: New Zealand Ice Boater Responds
Kyle Metzloff updates his visit to New Zealand and his attempts to be the first American to ice boat in the summer there.
"Today we did the 4LIYC proud and set a number of records in NZ.
Saw the report on the site. Bummer on not being the first to ice boat in NZ.
Kyle's iceboat speed record in New Zealand-a whopping 23.14 mph.
Kyle's highest altitude for iceboat sailing 1450 meters (about 4700 feet).

Here is how it all happened: Blokart donated the use of the iceboat and had it sent to me at the hotel in Dunedin NZ. Thanks Matt!!
We scouted some other natural lakes, but the ice was too thin or non-existent at the Idaburn Dam near Naseby, NZ.
We found the "ice master" who checks the ice for the curling club and we did some curling at the indoor rink.
We did our testing at the Southern Hemisphere Proving Grounds near Queenstown, NZ. (Here's a SMPG Youtube promotional video.)
The ice is Zamboni groomed ice and it is somewhat small, but we could scoot around and get some speed.
The course is on the top of a mountain right next to Snow Farm Ski Resort. We were ice boating while looking down at the clouds. Weird!
The wind was up and down and somewhat unstable, but at times was very strong. We had several sails and could change up and down for the conditions. We did some testing and then groomed the ice again.
I drove the supercharged Zamboni machine and did some doughnuts. We did timed runs and the highest average speed was 23.14 mph. I will give more details when I get it all together and have free internet.
Cheers, Kyle."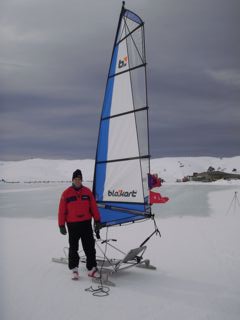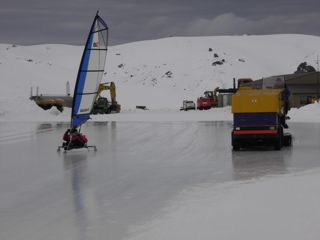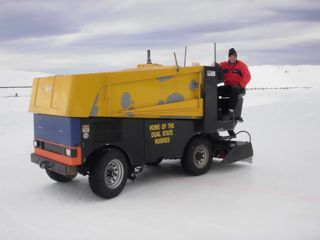 August 7, 2009
NZ Sailor Responds
Received an email from Clive Murphie, president of the Aardwolfs Ice Hockey Club and author of the ice Reports mentioned below.
Clive writes, "I have enclosed a picture of my home built land/ice yacht used at Lake Lyndon in July of 2001…….So sorry Kyle wont be the first Ice Boater in NZ , he may be the first to use a converted Blokart on ice though.
There was significant ice skating and ice based activities in the 1930s to 1970s in New Zealand and we are a sailing mad nation. I suspect that some sort of ice yacht has been used lots of time previously, though I have yet to see evidence of it.
... we are at the tail end of our ice season now with most of our local Lakes (I am based in Christchurch) reverted to water due to a higher sun and the prevalence or a warm north westerly wind which blows here.
Once again many thanks for the publicity for our website, for your information an article in Scuttlebutt 2903 put me on to your website as I am a keen sailor myself and receive Scuttlebutt daily to keep up with what's happening in the yachting world."
August 2, 2009
Kyle Metzloff attempts to be first [American] ice boater in NZ
4LIYC DN skipper Kyle Metzloff leaves for New Zealand today to attend an engineering conference. While he's there, Kyle will be provided with a Blokart land sailing boat fitted with runners and plans to scout ice with the goal of introducing the sport of ice sailing to New Zealand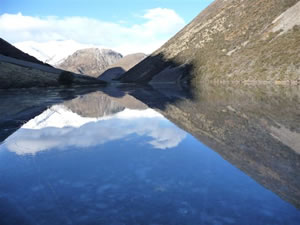 along with becoming the first person to sail an ice boat there, a claim verified by the people at Blokart. (Kyle won't be the first to sail an ice boat-see update above.)
Two locations are under consideration at this time, Idaburn Dam and the Southern Hemisphere Proving Grounds (SHPG). Here's a Youtube video of Idaburn Dam,a popular curling destination.
The SHPG is an elaborate winter testing facility designed for the automotive industry. Here's a Youtube promotional video.
Here's a link to current New Zealand ice reports that will look familiar to ice boaters posted by ice skating enthusiasts.
Kyle promises to keep us updated on his efforts to become the first person to ice boat in New Zealand.