Lodging Information
Hilton Garden Inn Oshkosh
1355 West 20th Avenue, Oshkosh, Wisconsin, USA 54902
Map
Tel: 1-920-966-1300
Tell them you are with the Northwest Regatta.
Click here for more lodging options.
2010 Northwest Ice Yachting Association Regatta
Dates: January 29, 30, 31, 2010
Location: Oshkosh, Lake Winnebago

Do you have photos? Email them to me.
NIYA News
February 11, 2010
NIYA Wrap Up
Keep checking back for more photos which are piling up in my email box.
February 11, 2010
In The News: Wall Street Journal Ice Boating Article
"The Need for Speed Usually Leaves Ice Boaters Frozen in Their Tracks Racers Chase Fickle Combination of Wind, Temperature, but Mostly They Wait"
By BARRY NEWMAN OSHKOSH, Wis.—Luge will be the fastest sport at the Winter Olympics in Vancouver this week, that's for sure. Lugers will be sliding in their sleds down a 30-story chute of artificial ice at 90-plus miles an hour. Ice boats can go that fast, too, but in Vancouver there won't be an ice boater in sight.
Click here to continue reading.
NIYA Stern Steerer Race

Here's some video shot by Joe Terry last weekend as he raced his D class stern steerer, the LaCinda Mae, in the NIYA regatta.
Boe-Skeeter Regatta Live
The Boe-Skeeters are racing their first championship regatta just off of Chuck's starting today. Watch them live on Gordy's Boat Sales webcam.
Thank You From 4LIYC Commodore Greg McCormick
A special thanks to the Northwest race committee for persevering through countless wind shifts, working ice heaves and countless voices (mine included) that usually lend their unsolicited advice to any event.
Two individuals deserve special recognition for their efforts in making this regatta happen. Greg Simon and Mike Peters. Both gave up part or all of their sailing to insure the rest of us completed our regatta.
Thanks for the sacrifice gentleman. A fine display of sportsmanship that reminds us what good sailing is all about.
Greg McCormick 4LIYC
NIYA Regatta Photo DVD from Gretchen Dorian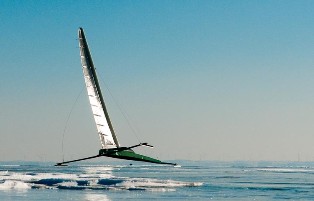 Jay Yaeso flying in his Skeeter. Photo Credit: Gretchen Dorian
Order a photo DVD from photographer Gretchen Dorian for $30.
NWIYA - Regatta DVD - January 29-30-31, 2010
$30
gdorian@aol.com
2024 Pine Trail, Brutus, MI 49716
Jan 29 | Friday - Set-up/Rig, On the ice - all those sailing - DN Race
Jan 30 | Saturday - Set-up/Rig, Renegade & Skeeter Course
Jan 31 | Sunday - Set-up/Rig, Stern Steerers & DN Course 2 Skeeters Racing
Insane Bending-See Dan Clapp's mast working
This Just In-Paul Krueger crosses the finish line
Walking To The Line-Tom Hyslop pushes to the starting line, great shadow effect here
Coasting In-Renegader Jim Nordhaus finishes
Getting Started-Start of the Skeeter race
Group Hug-Skeeter guys standing around behind Dan Clapp's boat
Message From Greg Simon
I would like to start by saying thank you to the Oshkosh Ice Yacht Club members for making our Northwest regatta one to remember.
Special thanks to Mike Peters for checking ice, chopping shoves, organizing the spectacular banquet, finding a launch site, lifting boats over cracks and having a wonderful wife that helped at registration.
Longtime 4LIYC member Gary Sternberg also deserves special thanks for being Chief Judge on the DN/Stern Steerer course. With Gary's help, the race committee was able to run two courses which were necessary with the uncooperative wind conditions. Gary, you truly saved the regatta.
Julie Jankowski did a fabulous job as the official scorekeeper on the DN course. Her years of experience helping at larger DN events made score-keeping look easy.
True sportsmanship was on display many times during the regatta. To all the people that helped lift boats at the crack, you're the best. Thanks for being unselfish and taking the time to help your fellow sailors. I apologize for not listing each person by name. There were too many to list, but we know who you are!
Mary Jane Schalk needs to be recognized for her behind-the-scenes help with scoring. While stationed miles away in Lake Geneva, she still managed to make the race committee roar with laughter.
To Deb… no words can describe your dedication. Likewise, no words can describe our appreciation. Commodore Chip. Thanks for your leadership and keeping the grill hot. You made a mean sausage and venison lunch on the lake while waiting for wind.
Hats off to the South Shore Ice Yacht Club for providing us with lunches and those great $1 beers.
Saturday evening's banquet was a huge success with over 100 people attending. The Oshkosh Yacht Club at The Waters deserves a big "thank you" for allowing us to enjoy their truly magnificent building.
Lastly a note to 4-year-old Justin Yaeso. Thanks for holding the flag while your Dad crossed the finish line in first place. You stated very matter-of-factly that "my Daddy is a really good ice boater." Justin, we all agree.
Sail safe and have a great rest of the season. Greg Simon
NIYA Photo Page
Kite Cam Photographer Craig Wilson
Craig Wilson send a link to his Flickr page where you can see his shots taken during Sunday's racing on Lake Winnebago. He'll be uploading more photos in the coming days.
Here are the individual photos:
Insanity Hiking
Skeeters Lining Up
Top of Insanity

Awards Ceremony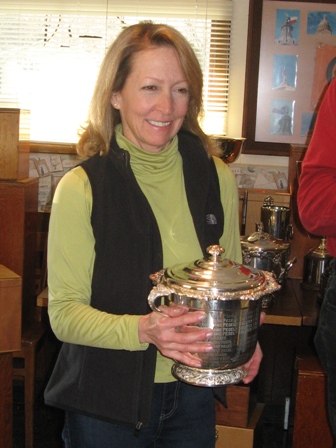 DN trophy for highest placing woman goes to Michigan skipper Julie Richards who placed 10th overall.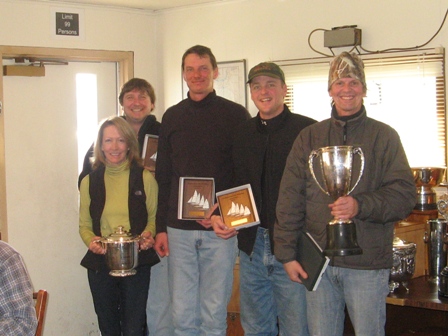 DN Class Champions: From left back row, Jim McDonagh 4th, Steve Orlebeke 3rd,
Mark Christensen 2nd, John Dennis first place.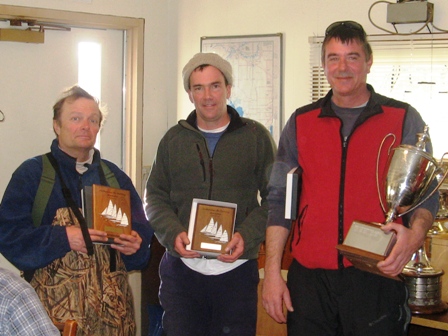 Renegade Class: From left, George Gerhardt 4th, Greg McCormick 3rd, and Ken Norton, 2nd. Not pictured, Mike Derusha, first place.

Skeeter Class: Left, Tom Hyslop, 3rd, Jay Yaeso 1st with son, Jason.
Not pictured, Dan Clapp, 1st.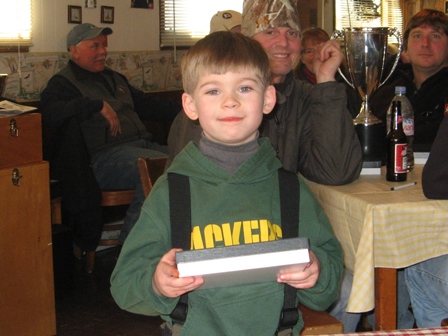 Jason Yaeso and his dad, Jay Yaeso's, second place Free For All trophy. Not pictured, Dan Clapp, Free For All first place.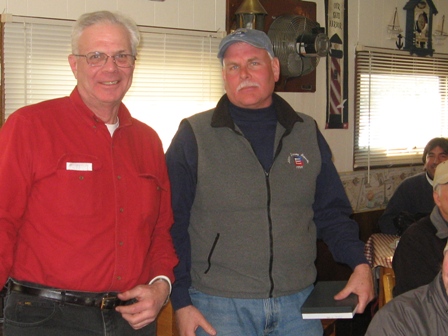 B-Skeeter Class: Steve Schalk, right, first place with NIYA Secretary Paul Krueger.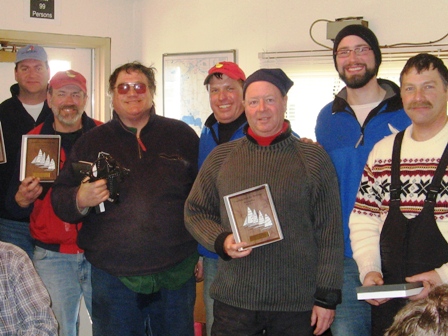 Stern Steerer Class: From left, Joe Terry-winner Class D, Jeff Seeboth-Overall winner and winner Class C, Bill Hanson, winner Class B, Erich Schloemer-winner Class A, Pat McCormick-second place Class C, Andy Gratton-second place Class D.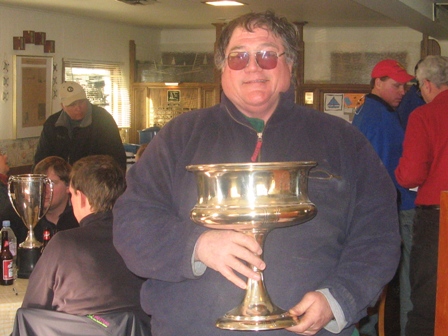 First place B Stern Steerer Bill Hanson.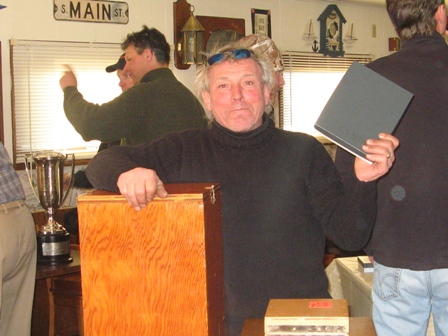 Ken Kreider delivers all the trophies for the Menekaunee sailors including Mike Derusha, first place Renegade, and Sam Myer, DN Junior trophy who finished 19th overall.
January 31, 2010
NIYA Day 3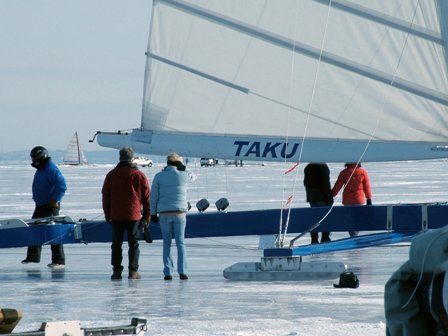 Photo Credit: RJ Bangs
After waiting one and a half days for wind, the regatta was called complete this morning about noon thanks to the decision to set up two race courses. The Stern Steerers and DNs sailed on one course with help from RC members Gary Sternberg, NIYA Commodore Chip Sawyer, and scorer (who was pressed in to service Saturday) Julie Jankowski.
I was on the other Skeeter/Renegade course with Greg Simon who lined 'em up and dropped the flag. The DNs were able to sail a complete five race regatta while all other classes sailed two races today.
Menekaunee Renegader Mike Derusha had straight bullets today for a perfect regatta score of 4. DNer Minnesota Ice Sailing Association skipper John Dennis copped three firsts and a third to take the DN honors. Jay Seeboth won the stern-steerer overall.
An unusual situation developed in the Skeeters today when Jay Yaeso took two firsts with Dan Clapp second which was the reverse of Saturday. This resulted in a tie with both skippers taking first place. Tom Hyslop was third. The ten-lap Free For All race was sailed at noon between Jay Yaeso and Dan Clapp. Clapp won that long race.
Be sure to check back throughout the week for more NIYA photos. I'll post the awards ceremony photos tomorrow...it's been a long weekend.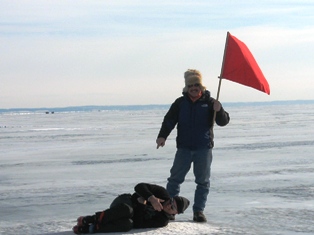 RC member Greg Simon lies in the fetal position after discovering another 180 degree wind shift while trying to set a course on Saturday. DN-Stern Steerer chief judge on course number two, Gary Sternberg, looks on.

Today's wind forecast is the best of the weekend. There will again be two courses set up with the intention of racing two more races for each class. Flag drops at 9:30. Trophy presentation will be held at the South Side Ice Yacht Club.
The SSIYC put on a wonderful ice boaters' lunch on Saturday. We really appreciate the effort the SSIYC has put in to making our weekend a good one.
January 30, 2010
NIYA Day 2
WIND!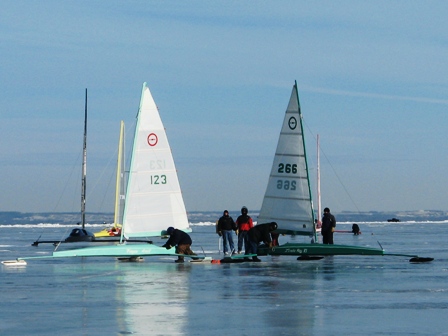 The regatta was finally able to be sailed in earnest today when an afternoon breeze came up in Oshkosh. With two courses on the lake, all classes were able to sail two races. I've posted results from stay-at-home scorer Mary Jane Schalk. Please understand these are preliminary and there may be some adjustments needed.
There will be over one hundred people at tonight's banquet. Time to get ready....
More Photo Sets from Gretchen Dorian
Here's a great photo of husband and wife Richard Wollam and Julie Richards who drew the one and two starting positions in the first DN race on Friday.
January 29, 2010
NIYA Day 1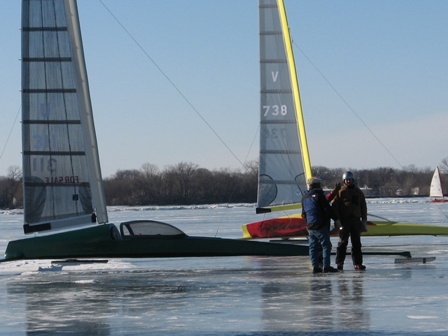 The regatta got off to a rather slow start due to lack of wind. The DNs were able to start one race at around 3:15 PM. Results here. The remaining races had to be abandoned because the heave between the staging area and the race course started to rise on one side and the race committee thought it was best to let the skippers deal with that before sunset. It looks like all boats made it in to shore.
Renegades will begin tomorrow's rotation with a slightly improving wind forecast.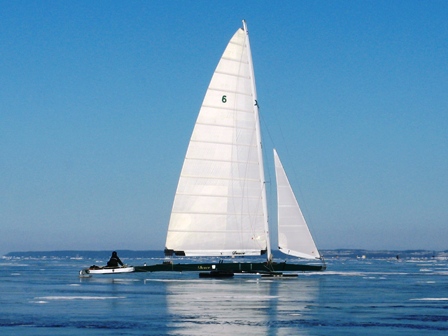 The Duece takes a ride in light air.
Gretchan Dorian Photographer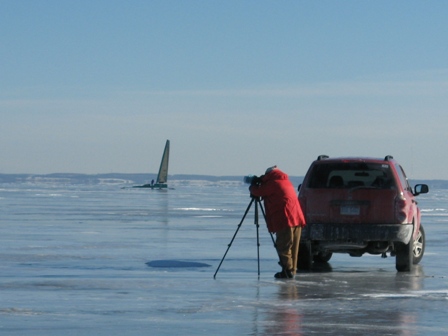 Gretchen Dorian made the drive over the UP through a white-out yesterday from Michigan to attend and photograph this regatta. Even though there was just one race, I'm sure she took a lot of great photos because the conditions were so perfect. Gretchen is busy right now uploading some of those pictures on her Flickr page here.
January 28, 2010
Twilight On Winnebago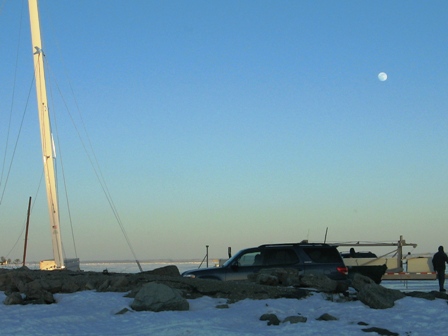 Lots of activity at near the South Side Ice Yacht Club on Lake Winnebago in Oshkosh. Registration is at the SSIYC at 8:30 AM tomorrow.
SSIYC Opens for Ice Boaters' Lunch
Mike Peters reports that the South Side Ice Yacht Club will be open for lunch during the regatta.
IMPORTANT UPDATE:
DRIVING ON FOR SPECTATORS
Don't go on at Fugleburg Landing because of crack on the way to the race course
Ice boaters will drive on at at Fugleberg landing, set up in front of the SSIYC and then traverse a crack to get out to the race course.
Spectators are urged to drive 3 miles south of Oshkosh to the intersection of Fisk Road and Hwy 45 next to the car wash to drive on in order to access the race course.
Map to drive on area.
Driving directions from South Side Ice Yacht Club to Fisk Road.
Registration Update
The South Side Ice Yacht Club will be open for registration Friday morning.
Please, no creepers inside!
The First NIYA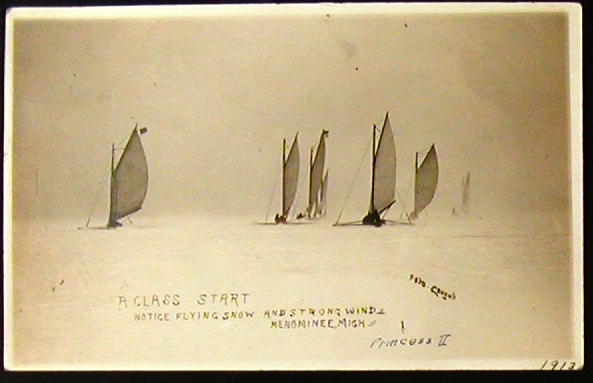 2013 will mark the 100th anniversary of the NIYA.
Oshkosh Yacht Club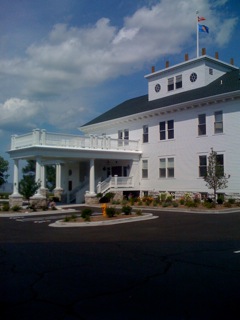 Mark Isabell sends this photo of the NIYA banquet venue, the Oshkosh Yacht Club. Read more about the history of the OYC and the building here.
January 27, 2010
Set Up at South Side Ice Yacht Club
Due to a developing heave, the drive on and set up area has been changed from the Oshkosh Yacht Club to the historic South Side Ice Yacht Club in Oshkosh. Drive on at Fugleberg landing and set up in front of the SSIYC.
A Message From Mary Jane
Hello Everyone,
MJ Schalk reporting in about registration for the NIYA. I won't be able to be there but I will be doing the scoring from home and sending it back to Deb.

I will miss seeing all of you but I hope you have a great regatta. Deb will keep me posted on all the fun stuff. It really helps us out if you can pre-register on line. It will make for a faster process on Friday.

For pre-registrations you will need to see Deb to pay the $15.00 regatta fee, sign your name for the SIs and a waiver.

If you don't pre-register we will need to fill out a short form with name, sail number, and club, then pay and sign. Please let Deb know at the time of registration if you will be attending the banquet again that really helps the restaurant to plan accordingly.

I hope you all have a great time, be careful out there, but have fun, and sail fast. And remember whatever happens at the NIYA regatta – stays at the NIYA regatta (unless there are pictures)
MJ
From the Archives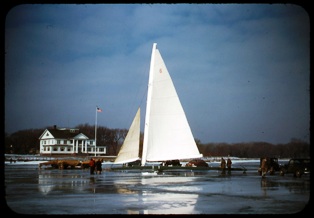 This scene will be recreated at Oshkosh this weekend. Here's a slide photo from the Carl Bernard collection with the Deuce in front of the Oshkosh Yacht Club sometime in the 1950s.
SCHEDULE OF EVENTS

Friday, January 29, 2010:
Friday registration in the South Side Ice Yacht Club from 8:30 to 9:30 AM. The first race is scheduled to begin at 10:00 AM with race two to follow.

NIYA Annual Meeting:
Time: 7PM
Location: The Jaeger Room, Hilton Garden Inn, Oshkosh, WI

Saturday, January 30, 2010:
The first race is scheduled to begin at 9:30 AM with every attempt to get in two races per fleet.
Saturday a great meal is planned at the recently refurbished Oshkosh Yacht Club,1393 Washington Avenue, Oshkosh, WI.
This building and club has a long history of hosting NIYA events.
Cocktails: 5:30 PM
Dinner: 6:30 PM
Banquet cost is $20
Banquet menu is a buffet of roast chicken, pot roast, vegetarian lasagna, potatoes, green beans, salad, and desert.
Sports coats and ties are suggested for the banquet.
Click here for map and driving directions from hotel.


HOTEL:

Hilton Garden Inn Oshkosh
1355 West 20th Avenue, Oshkosh, Wisconsin, USA 54902
Map
1-920-966-1300
Tell them you are with the Northwest Regatta.
Americinn Lodge and Suites of Oshkosh
1495 West South Park Avenue Oshkosh, WI 54902
(920) 232-0300
Super 8 Oshkosh/ Airport
1581 West South Park Avenue Oshkosh, WI 54902-6188
(920) 426-2885
Northwest Ice Yacht Association
N.I.Y.A. – 2010 REGATTA NOTICE
Northwest Called ON for Lake Winnebago, Oshkosh, WI
Via Paul Krueger: The Northwest Ice Yacht Regatta has been called on for January 29, 30, 31, 2010.

NORTHWESTERN ICE YACHTING ASSOCIATION N.I.Y.A.
– 2010 REGATTA NOTICE

All races will be sailed under rules of the National Ice Boat Authority and those of the Northwest Ice Yachting Association.

Regatta is scheduled to be held Friday, Saturday and Sunday, January 29,20,31, 2010.

The Regatta site order will Be: Toledo, Ohio, Gull Lake, Michigan, Sturgeon Bay-Green Bay, Green Lake, Oshkosh, Madison, Fond Du Lac, Menominee, Lake Geneva, Pewaukee, Detroit, & Burlington Bay, Hamilton.

NIYA races will be held for Class A, B, C, D, E, Renegade And DN (NOTE: Class A races will be held separately at Wisconsin or Upper Michigan, if not held in that area).

The first race will be held at 10:00 AM on Friday, January 22, 2010. The entry fee US $15.00 per yacht. Registration will be held at Regatta Headquarters on January 29, 2010 from 8:30 AM to 9:30 AM.

Starting positions for the first race will be by committee draw. Trophies will be awarded according to Article XI of the N.I.Y.A. Rule Book.

Five races are scheduled for each class with three being necessary in each class for the completion of the Regatta.

The Regatta Information phone answering service number is:
608-204-9876 after 1:00 PM on Sunday, January 247, 2010.

Final confirmation will be made at 12:00 noon on Wednesday, January 27, 2010.