2010-2011 Season
February 17 2011
The Sounds of Sailing
Posted here. A Wisconsin Public Radio "Wisconsin Life" story on ice boating will be broadcast this morning (Thurs 2/17) during Morning Edition at 6:30 a.m. and again 8:30 a.m. on the News and Classical Music stations of Wisconsin Public Radio. Here in Madison it's 88.7. Jerry Simon and Don Sanford were interviewed for this piece that was recorded on January 7th during the Renegade regatta held on Lake Mendota.
January 1, 2011
4LIYC Club Racing Called ON for Jan 2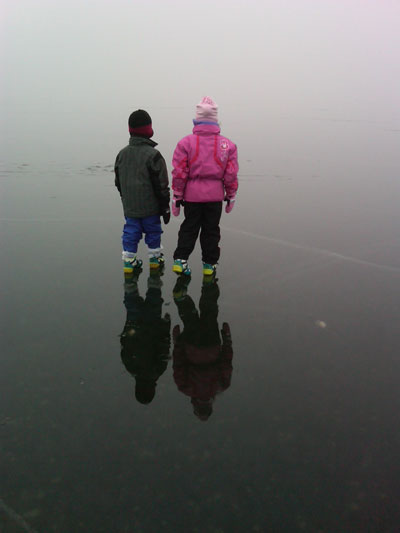 Four Ice Monkeys
Via Greg Simon: "I'm pleased to announce that it's Game On! Ice conditions are really good. Six inches of hard black ice with an 1/8th of lubricant (water) on top. The race committee opted to cancel races on Saturday. The wind forcast of 20-25mph with gust to 38mph made for an easy decision.
Official season championship races are scheduled to begin at 10am Sunday morning. The committee also voted to run races efficiently on Sunday to allow time to view the Packer game. Please do NOT drive on the ice. The ATV will be there to help with trailers if needed. See you on the Ice! Greg Simon 213"
UPDATE: We are sailing out of Mendota County Park. Be advised that you will need a Lake Access Permit for parking and they can be purchased on site.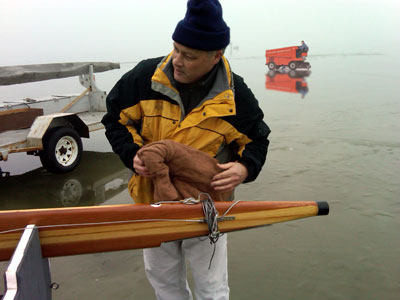 Doug Kolner's new mast.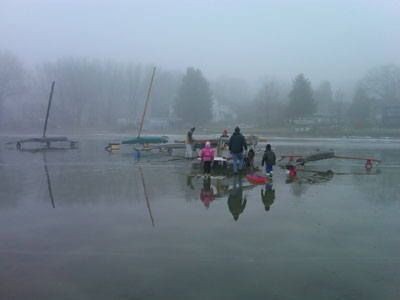 January 2, 2011
Expansion Crack Cuts
Short Day of Racing
We had a nice turn out for the first day of club racing with four Skeeters, ten Renegades, and seventeen DNs on Lake Mendota. The Renegade fleet was able to finish one race which saw a close battle between Tim McCormick and Greg Simon with Simon taking the checkers.
The DNs were on their last rounding when a large expansion crack dramatically appeared across the middle of the race course and caused damage to two boats but thankfully,didn't harm the skippers.
Club racing was canceled because of safety concerns and everyone made it back safely to shore.
Wild GPS Track: Deceleration Edition
The 4LIYC's own Geoff Sobering was one of the DNers who had the misfortune of having the expansion crack suddenly appear before him while racing on Sunday. The boats's runner plank was torn off the boat when he hit the crack. Geoff sent this link to his GPS track, "Zooming in, it looks like I slid about 500 feet after hitting the crack."
4LIYC Skeeter Skipper Paul Krueger Tests New Hardening Technique.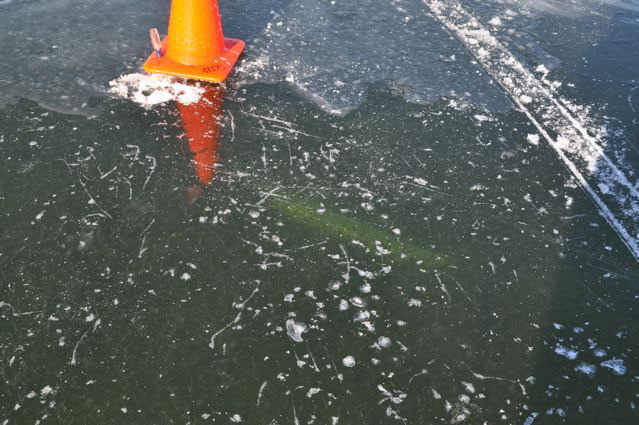 Not a Walleye....
Dateline: January 2, 2011, Madison, WI: "Skeeter sailors world-wide know that Krueger is always working on new go-fasts. Today, he field tested a new method for "quenching" hot runners thought to increase the hardness of the rare metals used in Skeeter runners.

Krueger dubbed this process the "Bishops Bay Method" or BBM for short. Paul theorized that three laps around the race course on hard black ice would bring the runner's internal temperature "into the zone" for molecular realignment. This was followed by sudden immersion in 6 feet of super-cooled Lake Mendota water.

Here you can see the runner resting on the bottom at the test site. Regrettably, it was difficult for our photographer to get a clear shot of the runner. Curious Renegaders scuffed up the surface while trying to get a closer look. Some quietly mumbled if this was a technique the great Elmer Millenbach would have endorsed. When the recovery crew returned with equipment a couple of hours later they noted that this test unit had completely cooled and would be sent to the top secret lab of the International Skeeter Association for a thorough examination under the electron microscope."
Submitted by ace reporter, Don Sanford
MENDOTA MONSTER PULLED FROM LAKE
Ken Whitehorse Snags Record Breaker in Mendota
4LIYC Skeeter skipper Ken Whitehorse made a once in a lifetime catch through the ice on Lake Mendota Sunday as the sun was setting.
The presence of DNR agents writing tickets near the pits caused Whitehorse to worry that he was going to be fined for catching something under the legal limit but his quarry, a shiny and slippery beast, measuring 51" was well over the Mendota's legal limit of 40". His prey was so large that he required the assistance of 4LIYC Renegader Greg Simon who crouched quietly and patiently near the ice hole knowing that it would be up to him to quickly snatch the clever beast from Whitehorse's grapple hook before it tried to dive back to the depths of Mendota. Even though his target was 5/8" opening in ten feet of water, Ken rose to the occasion with an assist by Greg Simon.
When asked how he was able to outsmart his victim, Whitehorse explained that his experience as a game warden in the 1970s [true fact!] prepared him for this day. One of his duties as a game warden was to use a grapple to snag for illegal fishing nets (not his own, of course). Whitehorse also credited the Eastern Skeeter sailors who showed him how to catch eels through the ice on the Navesink River in New Jersey. Whitehorse wasn't forthcoming about the current location of this Mendota monster but mentioned something about a secret ISA lab.
Photo Credits Below: Allen Penticoff
December 19, 2010
First 4LIYC Sailing of the Season:
Hollywood Ice Edition
Photo Credits: Peter Fauerbach & Deb Whitehorse
December 18, 2010
Mendota Ice Check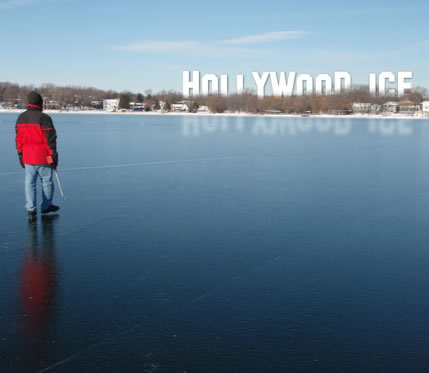 The sign of great ice was there....
Via Don Sanford, Friday, December 16: "Mendota has the best ice. We ventured out from County Park and the shoreline is firm. It's shallow there so we think that at the landing the ice goes right to the bottom. We walked to the middle and found between 3 and 4 inches of hard, black ice. Many cracks but they were all tight. No open spots that we could see though Greg thought he saw geese out in the middle off Frautschi Point. Other than that, we so no evidence of any human traffic out there. Kind of like being the first on the moon. Unfortunately I think we came to the conclusion that we don't have quite enough to safely consider calling things on for Saturday. This ice formed on Tuesday night and in the past three nights it's grown to almost 4" we expect that it'll make another inch tonight and another inch on Saturday nite. Earlier today I thought the forecast for Saturday was breezy and cold. I just checked and it'll be light air (7 or 9) and around 12 - 15 degrees. More of the same on Sunday. Given that forecast, I think it will be sailable on Sunday."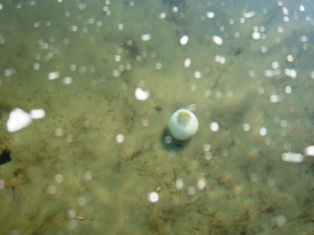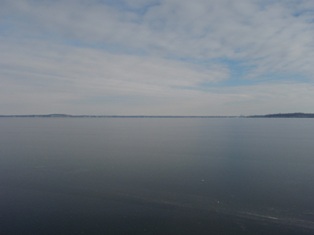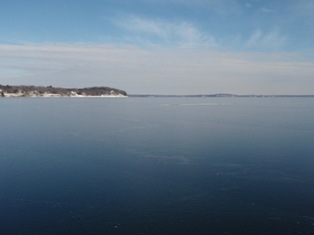 November 21, 2010
First Sailing in the World and NA
Looks like the ice sailors in Finland take the honor of being the first in the world to sail this 2010-2011 season. According to the Finnish DN Association webpage, on Friday, November 19, they began their Vikajärvi Memorial regatta on Painuanlahti bay, Säräisniemi.
Meanwhile in North America, Thunder Bay, Ontario DNer Mike Madge sailed Whitefish Lake near Thunder Bay on Saturday, November 20. You can see photos and report on the DN Forum.