Lodging Information
Best Western
East Town Suites
4801 Anamark Dr.
Madison, WI 53704
map
website
1-800-950-1919
IMPORTANT: SPECIAL $79 RATE APPLIES ONLY IF YOU CALL RESERVE WEDNESDAY, TODAY ON 3-2

Tell them you are with the Northwest or Nite Regatta.
Greg Simon wants to let everyone know that there's a friendly restaurant next door to the hotel.
2011 Attempt at the Northwest Ice Yachting Association Regatta
Dates: March 4,5,6, 2011
Location: Lake Mendota, Madison, WI

Launch Site
Warner Beach Park
1101 Woodward Drive, Madison, WI
Map
NIYA News
After a valiant effort to get the regatta in, it was canceled Sunday morning due to lack of wind. The only day we could have sailed was on Saturday but the presence of dangerous shell ice and slush caused racing to be canceled. Friday's racing was also canceled because of lack of wind. We had over 70 boats ready to race. So the three-day weekend turned out to be a long series of social events with a little wet fun sailing thrown in on Sunday.
March 8, 2011
Non-Regatta Wrap Ups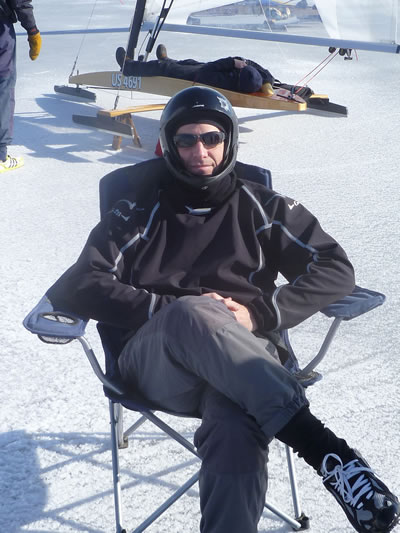 Sunday morning lawn chair regatta.
Jori Lenon took some really great photos that capture the good feelings of the weekend and has put them into a slide show. Watch it here.
To see individual photos, click here.
"Thursday and Friday: Warner Beach pits and grilling on the ice.
Saturday: Wet n' wild Lake Mendota sailing; shell ice made official regatta a no-go. Sailing to Bill and Mauretta Mattison's house. DN scrub races on small patch of firm ice near Mattison's. Saturday night: Banquet at Cherokee Country Club.
Sunday: Sunny skies, sailed out to course, wind died. Commodore-approved closing picnic with Menekaunee and 4LIYC stragglers. (Thank you to the Race and Banquet Committees for a fun weekend!)"
Legends of Sailing and Ice Boating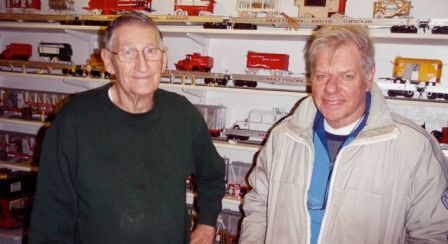 Via Don Sanford, "Bill Mattison and Olaf Harken in the winter quarters of the Mattison Brothers Circus."
Eastern Skeeter Guys On the Road Home
Ever wonder what it's like for the Eastern Skeeter guys to drive nearly 20 hours to get here? Rick Disbrow's video gives a preview with special bonus footage...
Eastern Skeeters Try To Get Home & Michigander and Taku
Trailer Tounge Malfunction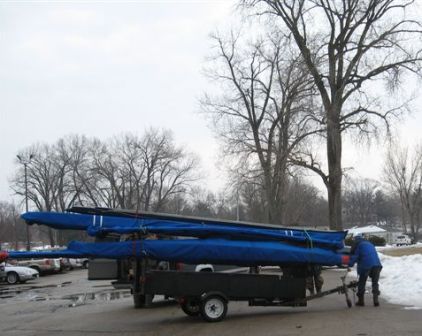 Via Jane Pegel, "I took [this] photo at the launch ramp on Friday morning of the Northwest regatta. This trailer tongue malfunction occurred just as they pulled into the parking lot. I don't know who these guys are."
March 7, 2011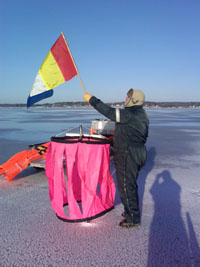 Via Geoff Sobering, "Checking the wind early Sunday am....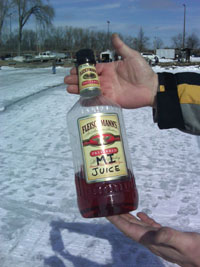 ... and the end of the event ... Cheers, Geoff S".
Photo Credits Below: Peter Fauerbach
March 6, 2011
The Non-Northwest Concludes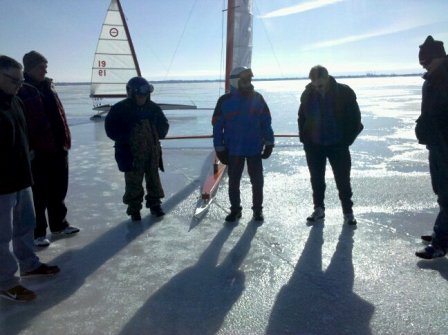 Well, we did everything in the past three days except for the sailing part. The wind was fresh early in the morning which got some sailors out to the middle of the lake. The wind then shut down and most sailors ended up taking their boats for a walk back to the launching area.
March 5, 2011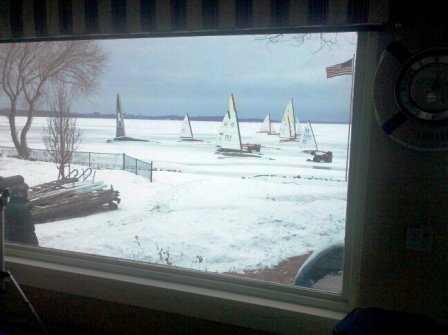 View from the Mattison house
PM Update: Unfortunately, it was never cold enough to firmly freeze the ice last night and racing was again postponed for the day. There were large areas of shell ice over 6" of water which caused boats to periodically lose steering or worse. Conditions were not safe enough for racing. A large group descended upon Bill & Mauretta Mattison's house for an impromptu party this morning. The banquet tonight was attended by 100 people. Considering we haven't had any racing we are still having a lot of fun socializing with each other. Tonight's forecasted temperature of 16 should heal up the ice and the plan is to try to get three rotations in for each class in beginning at 8:30 AM on two courses.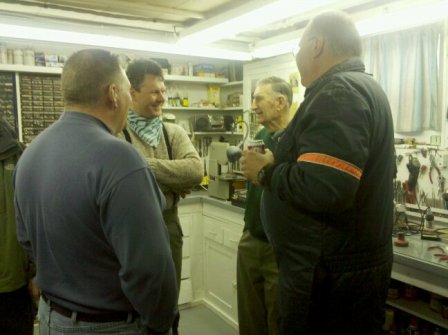 Erik Sawyer, Jay Yaeso, Bill Mattison, & Rick Hennig in Bill's basement workshop.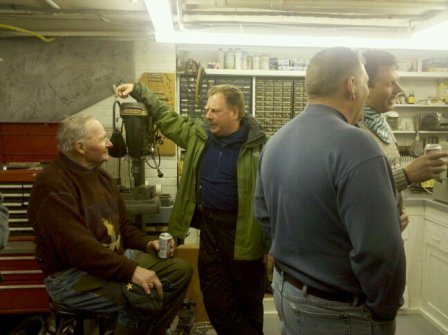 Buddy Melges and Jeff Russell.
If you are bring your boat to the lake today, PLEASE do not drive on. Push your trailer on instead of driving on the lake. There's a crack that has developed near the landing and we are trying to save the landing for Sunday when trailers have to come off the lake.
We received some snow, looks less than in inch from my window. And yes, we have wind.
March 4, 2011
NIYA Day 1: Good Day For A Party; Not So Good For Sailing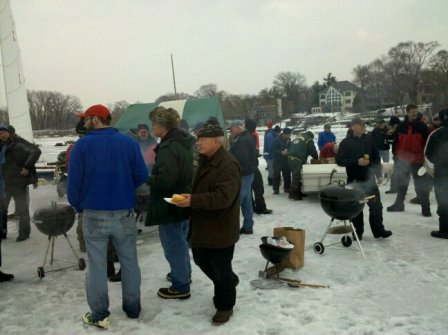 As predicted, the wind never came up today but it gave us an opportunity to enjoy a cook out on the ice. Kudos to the Renegaders of the 4LIYC who went shopping, set up grills, and cooked 60 burgers and 60 brats. The wind looks good for Saturday and the plan is to set up two separate race courses for a long day of racing. Racing begins at 9 AM Saturday
.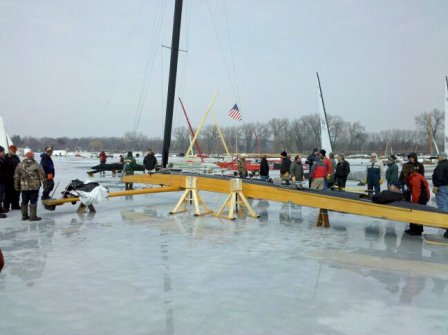 March 3, 2011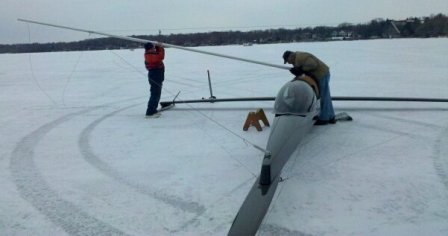 Tom Hyslop and Buddy Melges help to set Bill Dale's Skeeter Mast.



Quite a few sailors have arrived today and set up for the regatta. Saw West Michigan Ice Yacht Club skipper Erik Sawyer's beautiful new A class stern-steerer getting ready for its maiden voyage. Erich Schloemer was getting some nice rides in Class A stern steerer Taku. The New Jersey Skeeter trailer was on the ice. Jane Pegel was setting up her DN and the Menekaunee trio of Mike Derusha, Ken Kreider, and Sam Myer were getting their Renegades and DN ready.
Pre-registration is now closed. I'll see you at NIYA registration on Friday morning at 8:30.
March 2, 2011
A Message From Mary Jane
Hello Everyone,
MJ Schalk reporting in about registration for the NIYA. I won't be able to be there but I will be doing the scoring from home and sending it back to Deb.

I will miss seeing all of you but I hope you have a great regatta. Deb will keep me posted on all the fun stuff. It really helps us out if you can pre-register on line. It will make for a faster process on Friday.

For Sailors that have pre-registered you will need to see you will need to see Deb to pay the $15.00 regatta fee, sign your name for the SIs and a waiver.

If you don't pre-register we will need to fill out a short form with name, sail number, and club, then pay and sign. Please let Deb know at the time of registration if you will be attending the banquet again that really helps the restaurant to plan accordingly.

I hope you all have a great time, be careful out there, but have fun, and sail fast. And remember whatever happens at the NIYA regatta – stays at the NIYA regatta (unless there are pictures)
MJ
The First NIYA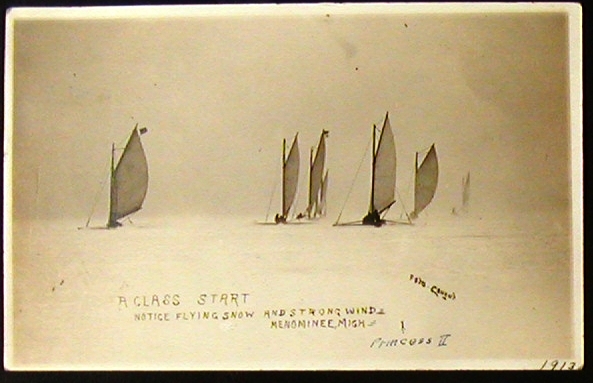 2013 will mark the 100th anniversary of the NIYA.
SCHEDULE OF EVENTS

Friday, March 4, 2011
Friday registration in the parking lot of the launch site from 8:30 to 9:30 AM. The first race is scheduled to begin at 10:00 AM with race two to follow.

NIYA Annual Meeting:
Time: TBA
Location: Best Western East Town Suites
4801 Anamark Dr. Madison, WI 53704
map

Saturday, March 5, 2011:
The first race is scheduled to begin at 9:30 AM with every attempt to get in two races per fleet.
Saturday a great meal of pasta and fish is planned at Cherokee Country Club in Madison. Banquet tickets are $22 will be sold at registration.
Cherokee Country Club
5000 North Sherman Avenue
Madison, WI 53704
Map
Time:
Cocktails 5:30
Dinner 6:30


HOTEL:
Lodging Information
Best Western
East Town Suites
4801 Anamark Dr.
Madison, WI 53704
map
website
1-800-950-1919
IMPORTANT: SPECIAL $79 RATE APPLIES ONLY IF YOU CALL RESERVE WEDNESDAY, TODAY ON 3-2

Tell them you are with the Northwest or Nite Regatta.

MORE LODGING OPTIONS
There are three high school tournaments in Madison this weekend and it could be a bit more difficult to find rooms. Here is a link to a map of the hotels near the Best Western.
Crown Plaza
4402 East Washington Avenue, Madison, WI (877) 454-5025
Baymont Inn & Suites
4202 East Towne Boulevard, Madison, WI (608) 241-3861
Motel 6
1754 Thierer Road, Madison, WI (608) 241-8101
Hampton Inn
4820 Hayes Road, Madison, WI (608) 244-9400
Red Roof Inn
4830 Hayes Road, Madison, WI (608) 241-1787
Econo Lodge
4726 E. Washington Ave., Madison, WI (608) 241-4171
Madison Rodeway Inn
4845 Hayes Road, Madison, WI (608) 249-1815
Northwest Ice Yacht Association
N.I.Y.A. – 2011 REGATTA NOTICE
Northwest Called ON for Lake Mendota, Madison, WI
Via Paul Krueger: The Northwest Ice Yacht Regatta has been called on for March 4,5,6, 2011.

NORTHWESTERN ICE YACHTING ASSOCIATION N.I.Y.A.
– 2011 REGATTA NOTICE

All races will be sailed under rules of the National Ice Boat Authority and those of the Northwest Ice Yachting Association.

Regatta is scheduled to be held Friday, Saturday and Sunday, March 4,5,6, 2011

The Regatta site order will Be: Toledo, Ohio, Gull Lake, Michigan, Sturgeon Bay-Green Bay, Green Lake, Oshkosh, Madison, Fond Du Lac, Menominee, Lake Geneva, Pewaukee, Detroit, & Burlington Bay, Hamilton.

NIYA races will be held for Class A, B, C, D, E, Renegade And DN (NOTE: Class A races will be held separately at Wisconsin or Upper Michigan, if not held in that area).

The first race will be held at 10:00 AM on Friday, March 4, 2011. The entry fee US $15.00 per yacht. Registration will be held at Regatta Headquarters on March 4, 2011 from 8:30 AM to 9:30 AM.

Starting positions for the first race will be by committee draw. Trophies will be awarded according to Article XI of the N.I.Y.A. Rule Book.

Five races are scheduled for each class with three being necessary in each class for the completion of the Regatta.

The Regatta Information phone answering service number is:
608-204-9876 after 1:00 PM on Sunday, February 27, 2011.

Final confirmation will be made at 12:00 noon on Wednesday, March 2, 2011.