1936: GENEVA LAKE, WILLIAMS BAY, WI
SKEETERS FIRST RECOGNIZED AS A SEPERATE CLASS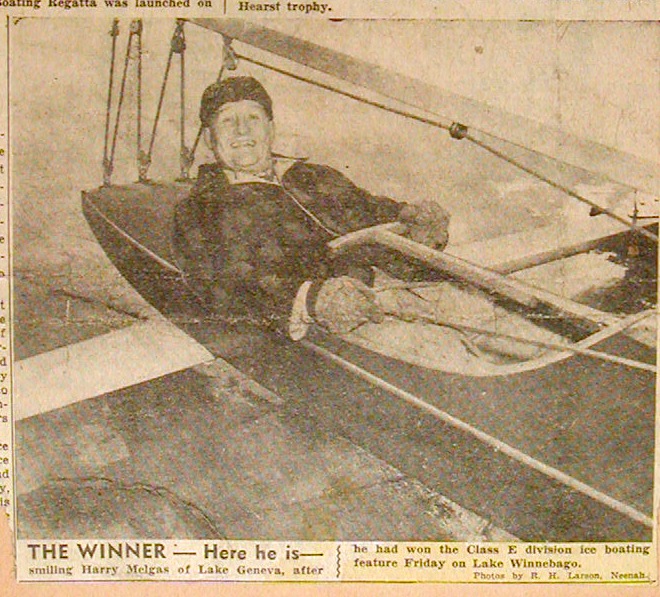 Harry Melges, winner of the first Skeeter Class E NIYA title

1936 marks the year that the first bow-steering ice yachts, the Skeeters, were recognized as a class in the Northwest Ice Yachting Association regatta and it seems fitting that the inagural NIYA Skeeter title was won by Geneva Lake sailor Harry Melges in Mickey Finn.
If that name seems familiar, yes, he's the father of Olympic medalist and America's Cup champion, Buddy Melges, who also went on to win a few Northwest titles of his own.

The newspaper reports from that time didn't give much ink to the new Skeeter class prefering to write about the big stern steerers as they had always done.The Four Lakes Ice Yacht Club's Fritz Jungbluth won the Class A title with Carl Bernard in the Fritz.The Fritz was eventually purchased by the Wrigley family who had an estate on Geneva Lake and the famous red stern steerer is now owned by Geneva Lake skipper Fred Stritt. Here's a link to a page with historic pictures and a list of the original materials used to build the Fritz.
Jane Pegel, Skeeter Ice Boat Club, Williams Bay, WI shares some history of the SIBC and the personalities from that time:
"Would like to point out that the Harry Melges, Harry Nye, Chester Granath, and Don Campbell were all members of the Skeeter Ice Boat Club.
We all know that Harry Melges was an important player in the development of both iceboats and soft water scow classes and an outstanding tutor, witness his son and grandsons.
Harry Nye was an outstanding soft water sailor. His family spent summers on Delavan Lake where he successfully raced scows. When the family business struggled during the Depression, Harry started a sail loft under the label Murphy & Nye.
See more.
The Inland Lake YA believed that because Harry owned a sail loft, he had an unfair advantage on the race course and declared he could no longer use sails from his own loft. These sails were identified by the color of the thread used to assemble the panels. Thereafter, Harry had his loft manager, Mel Jones, cut out the panels and take them to a competitor, All American Sails, to be assembled.

At that time Ken Nelson worked at All American . After he returned home from WWII, Ken opened his own loft, Kenneth A. Nelson and Co.. While Bob Pegel was attending school, he worked for Ken part time and eventually became a partner in the business and over time, sole owner. Mel Jones moved to Milwaukee and made sails for Joy Brothers, later Laacke and Joys.

Harry Nye left scow sailing to race on Lake Michigan. He named his boats "Gale" and won Mackinac races and International Star Class Worlds Championships. In the 1950's and 60's, Harry's daughter, Judy, crewed for the Chicago YC team helmed by Jane Pegel that won the Adams Cup, awarded to the North American Womens' Champion.

During the summer, Chet Granath raced an E Scow on Geneva with his wife, Vera. Vera Lackey Granath grew up in Williams Bay. A polio victim, she had the use of only one arm, held the mainsheet in her teeth and trimmed with one arm (prior to the invention of ratchet blocks). She was an outstanding sailor and won the ISA Women's title, demonstrating to high school student Jane Wiswell, that "time in the boat" is hard to beat.

At the close of the 1947 Northwest regatta on Geneva, Jane Wiswell's father purchased "Holy Smoke" from Don Campbell. In this 20 ft. Mead Skeeter, Jane had the privilege of racing in the Skeeter IBC in a fleet of outstanding sailors, including Jack Vilas, Bud and Harry Melges, Bill Parks, Mel and Tom Jones, and Stan Johnson.

In the mid 50's, Jane married Bob Pegel, switched to the DN class, and is looking forward to sailing in the 100th year Northwest regatta."
March 2, 1936 Oshkosh Daily Northwestern
ICE BOAT REGATTA WILL BE STAGED AT LAKE GENEVA
Oshkosh Boats to Enter Meet Include Buckstaff's Bluebill II Built on Experimental Lines
After a winter of practically no activity on the ice, there will be action for those interested in the sport of iceboating beginning Wednesday when the Northwestern Ice Yacht regatta will be held at Lake Geneva. Several Oshkosh skippers are expected to take their craft to the southern city for the meet there Wednesday, Thursday, and Friday.
See more.
There has been practically no iceboating on Lake Winnebago this winter because of the heavy snow. Only at the beginning of the winter were there one or two days when boats were able to maneuver about on the ice.
ENTERS NEW BOAT
A new boat, built along experimental lines by John D. Buckstaff, former world's champion, has never been put on the ice. It is to be taken to Lake Geneva as the local club's entry in Class A. The Fritz, owned by Fred Jungbluth, Madison, is the present champion in Class A. Mr. Buckstaff's boat is known as the Bluebill II. Others who may lake their boats from Oshkosh are E. R. Friedrich, who has Miss Jane III. champion in Class C; and Joseph Dichtl, whose Donnie D is Class B champion. The boat was cracked up last year, but has been, put in shape for the races.
Frank "Strep" Kuehl may take a boat to enter in the new E class, which boats are known as "skeeters."
CONDITIONS FAVORABLE
It was doubted if a regatta could be held this year, but a committee of members of the various clubs investigated conditions on different lakes and found that the meet could be held on Lake Geneva. Ben Lampert of Oshkosh was a member of that committee. Mr. Lampert will enter his Crazy Craft in Class C. -Entries are expected from Madison, Pewaukee, Detroit, Lake Geneva, Oshkosh and Delavan.
March 7, 1936 Oshkosh Daily Northwestern
MADISON ICEBOAT RETAINS CLASS A TITLE AT REGATTA
"Fritz" Takes Three Consecutive Victories at Lake Geneva
—Boat Handled Masterfully Lake Geneva, Wis
Fritz Jungbluth's "Fritz," entry of the Four Lakes Ice Yacht club of Madison retained the Class A championship today after three consecutive victories at the annual northwestern ice yacht regatta on Lake Geneva.
See more.
In winning the third race for 350 square feet sail area boats yesterday, Carl Bernard handled the "Fritz" masterfully through a wind ranging from 12 miles an hour to almost a dead calm. Bernard took 59 minutes and 12 seconds to cover the 12 mile windward and return run. Lyman Dwight, Lake Geneva, sailed Angie Siever's "Miss Lake Geneva" into second place.
By the narrow margin of 100 yards, Bernard also won the free for all, open to all size craft, from Ben Lam pert's "Crazy Craft" of the Oshkosh Yacht club. The "Crazy Craft," a front steering 175 square feet sail area Class C boat, was piloted by Ray Schroeder, who gave the "Fritz" stem opposition.
SCHROEDER TAKES LEAD.
Schroeder took the lead at the start, was a quarter mile in front for two laps, stretched the lead to more than a mile, but was overhauled by Bernard on the last leg. The winner's time for the 12 mile windward and return course was 56 minutes and 25 seconds.
Don Campbell, Lake Geneva, took third in his Class E "Holy Smoke." The Class B title went to Schroeder who piloted the '"Crazy Craft," a Class C entry, to its third straight victory in three days.
Harry Melges, Lake Geneva, advanced to second place in the highly competitive Class E division standings by a victory for his Mickey Finn" in the six mile windward and return race. Chester Granath, Chicago, who came in second in the race with his "Cee Gee," led the rankings. Harry Nye, Lake Geneva, was third. Melges' time was 26 minutes and 10 seconds.