The Northwest Ice Yachting Association
Celebrating 100 Years..Looking to the Next 100
March 22, 2013
Northwest Picture of the Day

Photo Credit: Gretchen Dorian
Skeeter Ice Boat Club skipper Burly Brellinthin sailed his first Northwest in 1948 on Geneva Lake in the stern steerer Clancy. Burly remembers that the famous "10 Degree Rule" (only applicable to the Northwest and ISA regattas) was soon voted into the By Laws because of the brutally cold conditions on Geneva in 1948.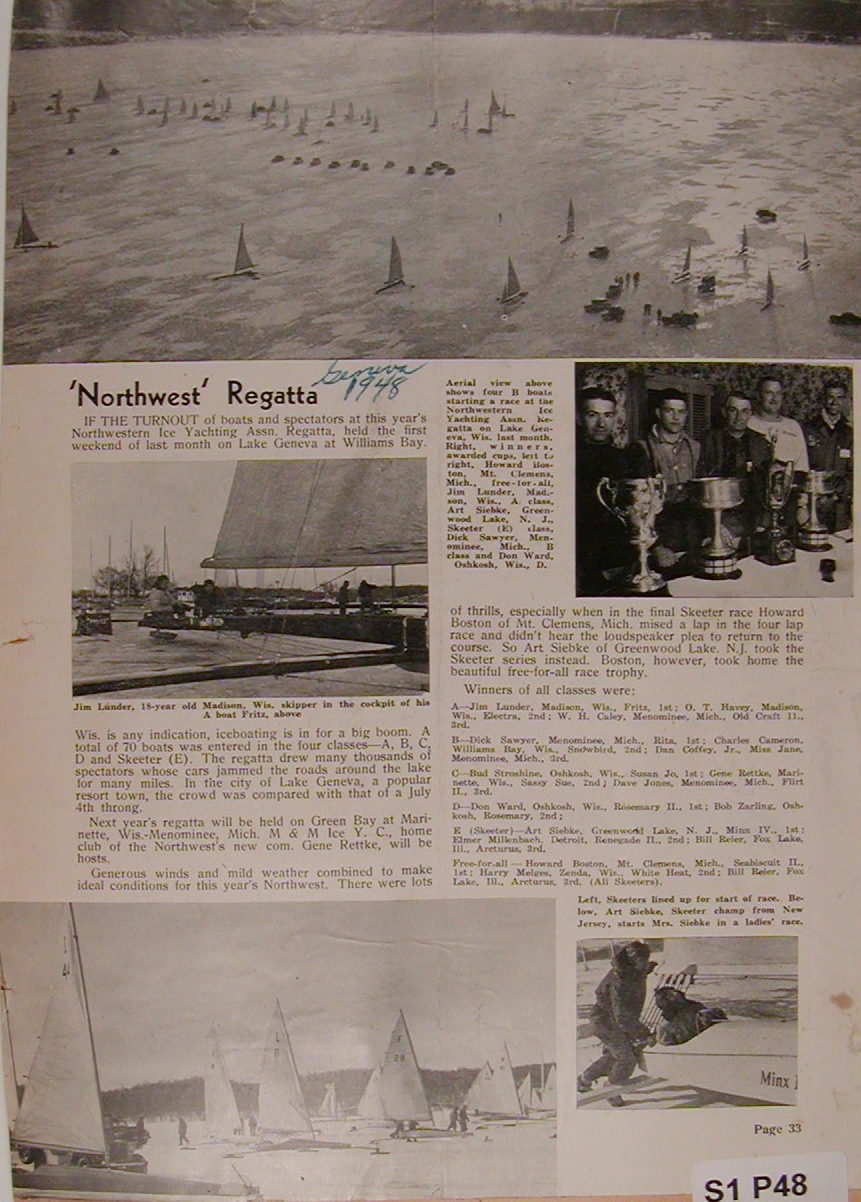 March 21, 2013
Northwest Picture of the Day

Every Picture Tells A Story
Photo Credit: Gretchen Dorian
The first Renegade race of the regatta on Friday was abandoned because the wind died and the boats did not make the time limit. Later, 4LIYC Commodore Don Anderson R420, told us that he was very happy to be "an old fat guy" who won the track race up to the weather mark with a lot of pushing which Gretchen Dorian documented with this photo. Don and his "Florida" Renegade, which he picked up there last summer and refurbished, came in second overall in the Renegade fleet.
Some Things Remain the Same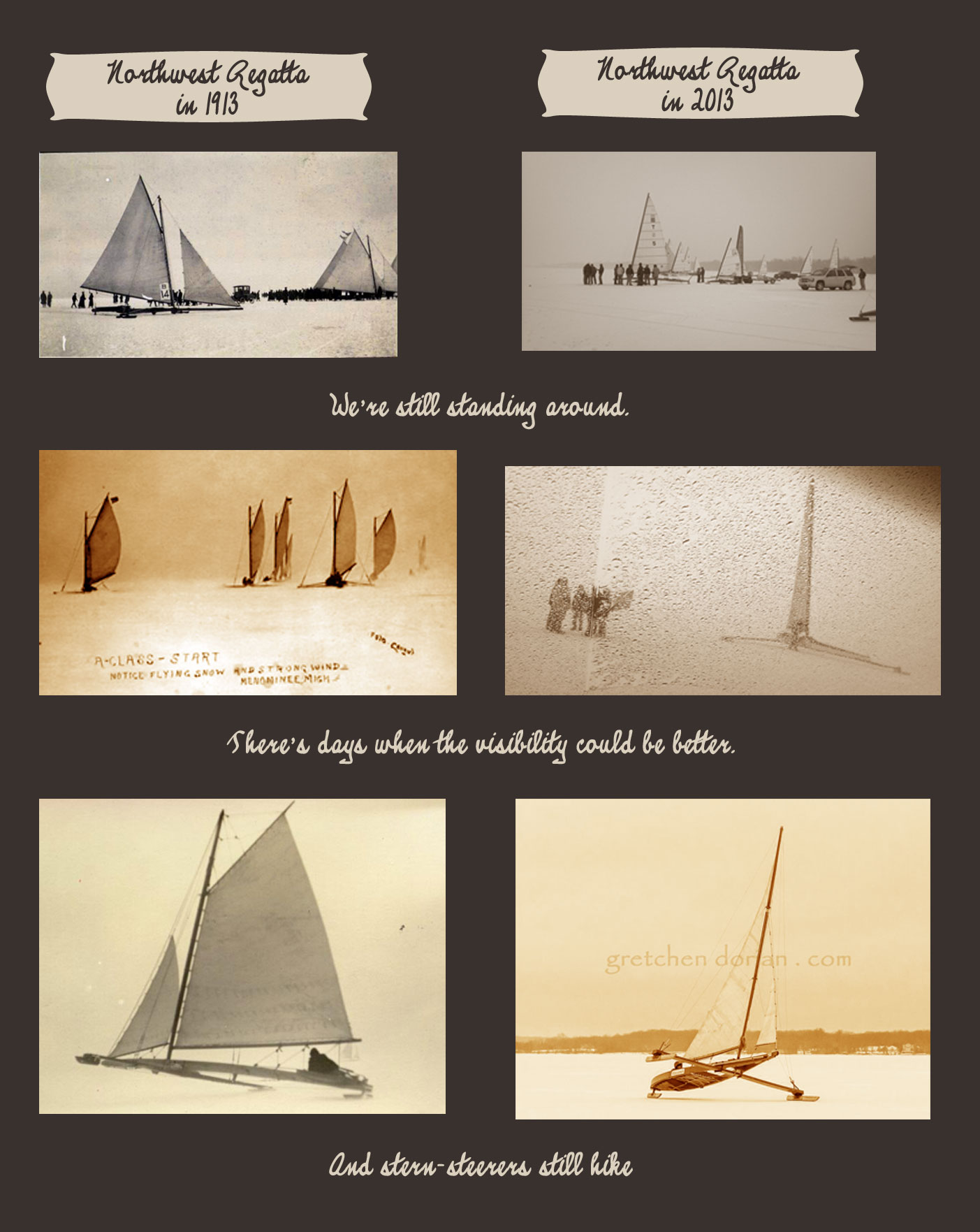 Click on the picture to see what remains the same from 100 years ago.
March 20, 2013
Northwest Video by Jim McDonagh!

Minnesota DNer Jim McDonagh got his money's worth out of his Drift Innovation HD Ghost camera this weekend at the Northwest. He attached the camera to the following boats: John Dennis E Skeeter, Jim McDonagh DN, Mike Derusha Renegade, and Mike Peters Stern Steerer. " Four different races sailed on Sunday, the last day of the regatta on the same course. There was more wind in the morning then afternoon, and the order was, Renegade, DN, Skeeter, Stern Steerers." Unfortunately the battery died during the B Skeeter race when it was attached to Troy Soberg's boat. Jim also recommends watching this in HD for the best effect.
Northwest Picture of the Day

Photo Credit: Gretchen Dorian
Jane Pegel sailed her DN US805 at the 100th anniversary of the Northwest and came away as the top female sailor.
She sailed her first Northwest in 1952 on Lake Monona in Madison while she was a college student. She went on to win the Northwest DN title a record 11 times in 1960, 1962, 1963, 1966, 1967, 1969, 1970, 1971, 1976, 1984, and 1990. As far as the DN Women's Trophy is concerned, it's easier to figure out the years she hasn't won it. Since 1958, there's been 5 regattas not sailed, 1 with no women competing, and 8 other names on the trophy besides Jane's. And yes, her name will go on that trophy in 2013 for the 40th time!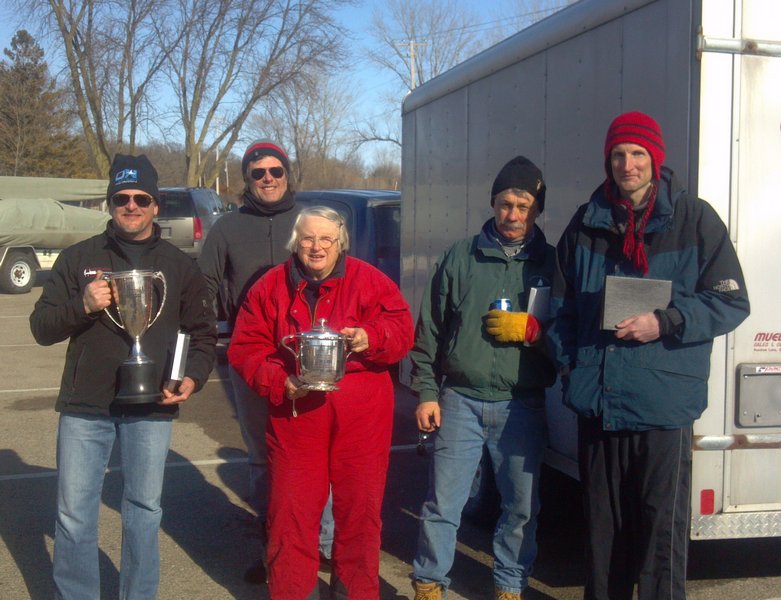 Awarding the Prizes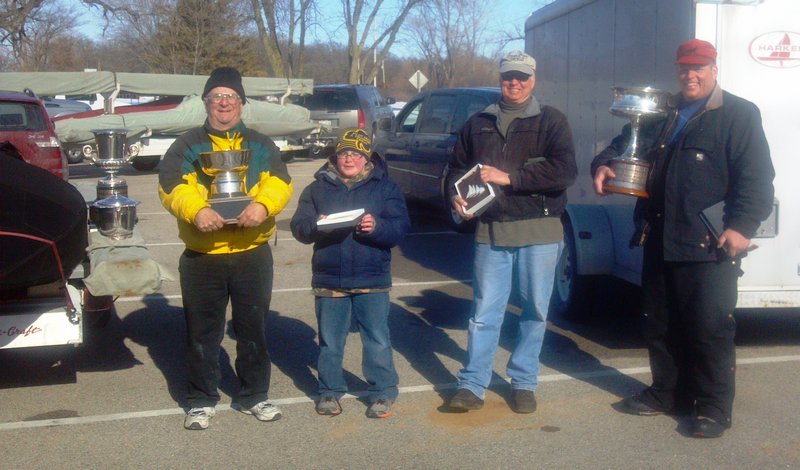 Picture gallery with photos from the awards and some other random shots from my phone camera.
March 19, 2013
A Bridge To The Future

Greg Simon ready to set the course
Photo Credit: Gretchen Dorian
"The Northwest Ice Yachting Association annual championship regatta is now one hundred years old (1913-2013). What a fitting tribute that the Green Lake Ice Yacht Club built a "bridge" to span our first one hundred years to our next one hundred. The regatta was held March 15-17, 2013 on Green Lake in central Wisconsin. March 15 was the latest recorded date of sailing our annual championship. With the help of daylight savings time we were able to complete the event though it made for some long days on the ice.
The challenging weather included warm temperatures, rain, sleet, sticky snow, no wind and even darkness, but it never deterred the steadfast competitors. The group of hardy ice yachtsmen and women from around the country enjoyed the fellowship that only iceboating can create.
Our annual meeting was well attended and a spirited discussion quickly ensued on how to ensure our Northwest regatta continues to prosper until year 2113. The Saturday evening banquet honored some of our legions of the sport. One honoree, Lake Geneva's Burly Brellenthin, began sailing in the Northwest in 1948. Another, Northwest Secretary Paul Krueger from Madison, WI had volunteered his time and energy to the organization for over fifty years. A special moment was the donation of a Service and Dedication Award to honor Deb Rosten Whitehorse some of our future volunteers.
The racing was intense in all the classes with many different winners and lots of lead changes. The Free for All race provided a thrilling conclusion to our regatta. Picture two Skeeters racing side by side for 20 miles. This is what our founding father had envisioned.
Thank you again to all the competitors and volunteers for helping make our 100th Northwest Ice Yachting Association a special event. Please join us for the 101st event next season."
Think Ice!
Greg Simon, Commodore of the 2013 Northwest
Peter Fauerbach's Photos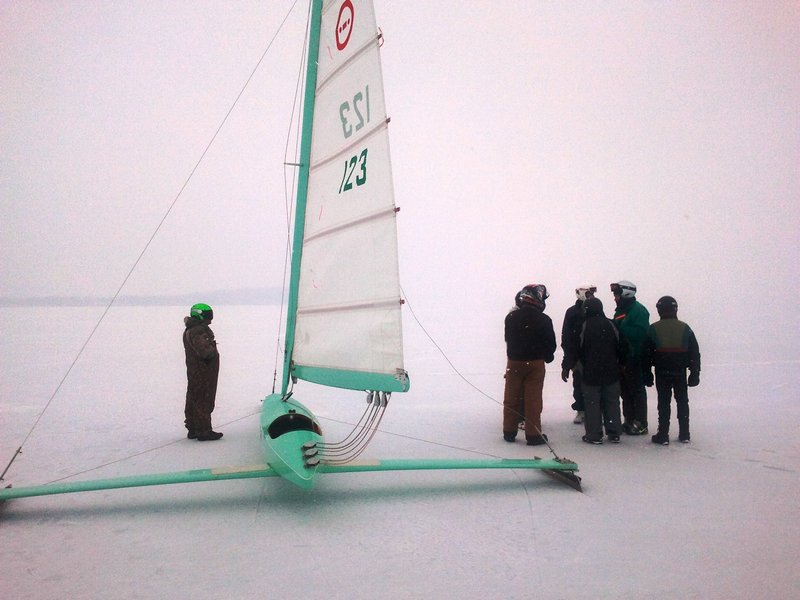 See Peter's photos here.
Pat Heppert's Photos
March 18, 2013
The Red Truck At The Weather Mark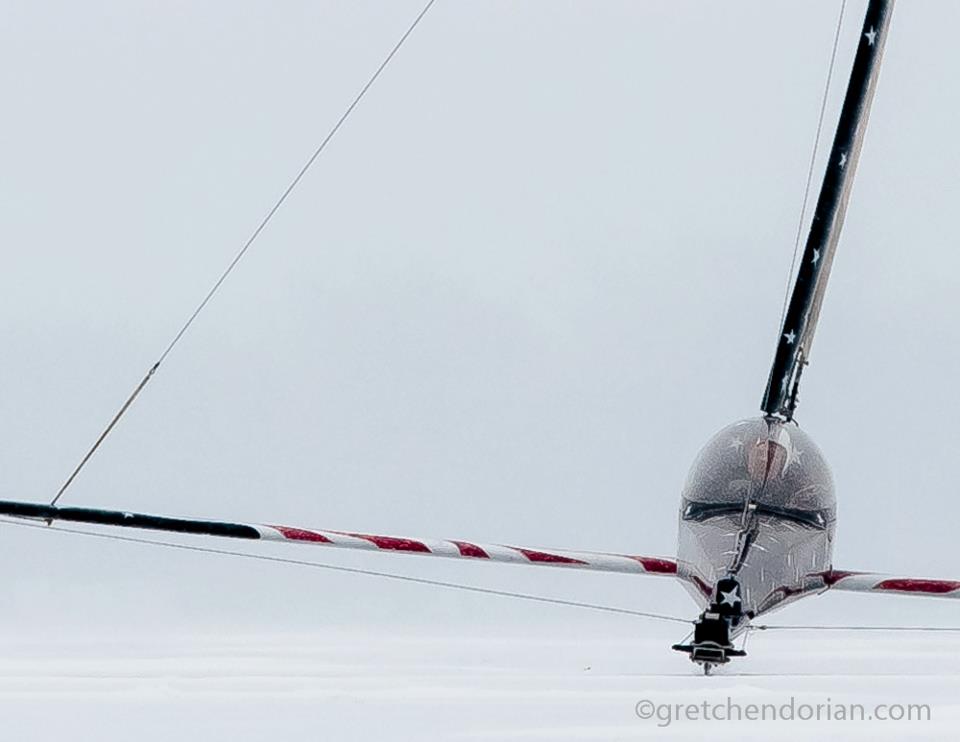 Photo Credit: Gretchen Dorian
Quite a few people assumed that the red truck parked at the weather mark for every race during the Northwest was a Race Committee member. Not so-it was professional photographer Gretchen Dorian who made the trip from northern Michigan across the UP to photograph the event. She posted this one of John Dennis on her Facebook page. See Gretchen's web site here.
Northwest Wrap Up #1
Wow, I can't believe it's over! The competitors, the race committee, and the Green Lake Ice Yacht Club pulled it off-a great regatta despite the challenging conditions and long, long days.
Keep checking back to this page because there will be more photos and wrap ups posted through out the week.
Northwest TV: Race Starts

Here's a compilation of fleet starts on the first day of the regatta.

Northwest News: Free For All Start

The "Free For All" race is as old as the Northwest, having been sailed at the first regatta in Menominee in 1913. This ten lap race has evolved into a Skeeter race and this year's winner is John Dennis.
Northwest News: Free For All Finish
March 16, 2013
Saturday's Northwest News
PM: Overnight snow made for sticky drifts and challenging conditions today. We were able to sail one stern steerer race in the morning before the wind went on hiatus. Breeze came back up about 3 and each fleet was able to race today. Results here. We'll try again tomorrow. Great banquet tonight at the Goose Blind with many stories of past Northwest regattas. Peter Fauerbach brought the pennant that his great uncle, Emil, flew from the Princess, a stern steerer that competed in the very first Northwest in 1913. Some great stories from Burly Brellinthin and Paul Krueger. Green Lake Ice Yacht Club Commodore Mike Jankowski talked about the challenges in dealing with the landings and thanked his club members for their efforts to keep things running smoothly. The GLIYC has put in many hours making sure that sailors are able to drive on and off the lake.
AM: NOAA's weather report looks good enough for today with winds to 10 mph. Spring weather forecasts are tricky and constantly changing. The Stern Steerers start first today followed by the B Skeeters and then back to the rotation.
March 15, 2013
Friday's Northwest News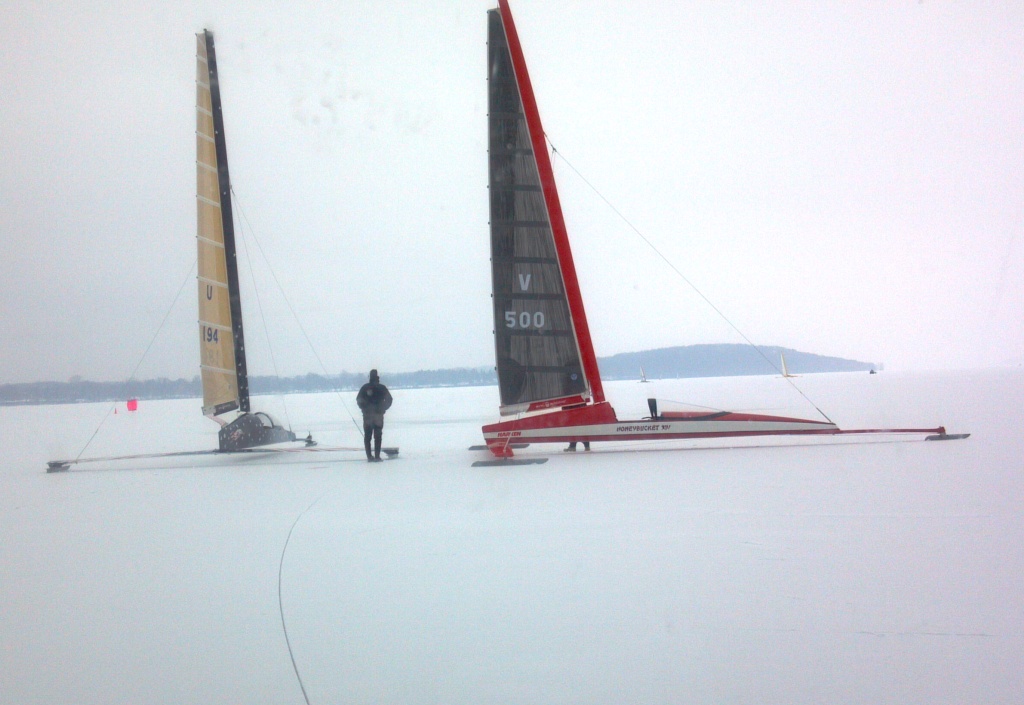 PM: THE LONGEST DAY EVER IN THE HISTORY OF ICE BOATING REPORT
We really squeezed every minute out of this first day of the regatta. Conditions were tough with all manner of weather, light air, zero air, rain, sleet, snow, and then finally enough wind later in the afternoon to complete 2 DN, 2 Skeeter, 1 Renegade, 1 Stern Steerer, and 1 B Skeeter race. The late date coupled with daylight savings time kept the race committee out on the course until the last possible minute-past 6:30 PM. The Skeeters waited on the line for the Renegade race to finish and Greg Simon dropped the flag on them for the last race of the day. Results here. The annual NIYA meeting is probably starting just about now- 8PM!

AM: Had a very enjoyable dinner with Skeeter Ice Boat Club's Burly Brellenthin and Michigan photographer Gretchen Dorian last night at the Heidel House. The two Peters, Johns and Lundt, were at the table next to us. 4LIYC Commodore Don Anderson and Ken Whitehorse stopped by to say hello.
Burly, who has sailed a Boehmke Skeeter for many years, might be in the running here for the sailor who has attended the most Northwest regattas. He sailed his first Northwest in the stern steerer Clancy in 1948 on Lake Geneva. Jane Pegel is probably a close second and I will ask her when I see her this morning at registration.
Skies are grey this morning and the internet weather says it's sleeting here but I don't see any evidence of that looking out my window. A few were able to sail yesterday. Kenny Whitehorse sailed his Skeeter Warrior yesterday until the wind shut down. He noted that later in the day the ice softened up quite a bit. The Green Lake Ice Yacht Club spent the whole day engineering ramps to make lake access easier. Thanks guys-everyone owes you a beer or two! Off to the lake...

March 14, 2013
Thursday's Northwest News
Landings: The Green Lake Ice Yacht Club went to work Wednesday night to make sure the landings were in good shape for the regatta. Via the Green Lake IYC Facebook page, "After the Northwest was called on we spent the entire evening reworking landings so that they would refreeze(heal). Thanks to all the Morgans, Peter, Drew, Randy, Mike, Peter J (for tow chain and Hummer) Joe N. There was a lot of chopping and also chainsaw work. There is a morning of bridge making today. A big thank to the GLIYC members for making this happen."

Banquet News: The Northwest Banquet is scheduled for Saturday night at the Goose Blind. The cost is $20 and they will collect the money at the door. Please let Deb or Mary Jane know if you are attending.
Pre-Registration: CLOSED. See Deb either Friday night or at the landing Friday morning.
March 13, 2013
Northwest Called ON for Green Lake

The Northwest regatta has been called ON for Green Lake in Green Lake, WI for March 15-17, 2013. Stand by for more information. Put on at the west end at the county boat landing on Hwy K. The county park is just east of Reilly's Pub (where they have great food by the way).
Map.
Ice conditions: Minimum of 16" (that's when Greg's drill stopped.) Surface rated between a 6 and 7, sailable but not perfect. You can drive on. The boat landing is a bit slushy. Come and enjoy the event!
SCHEDULE OF EVENTS
Thursday, March 14: You can register early with Deb Thursday evening. I'll most likely be at the Heidel House. Give me a call if you don't see me.

Friday, March 15:
8:30 - 9:30 AM: Register at the landing with Deb
10:00: First race is DN fleet
Fleet Rotation:
DN
Renegade
E Skeeter
Stern Steerers
B & C Skeeters
7:00 NIYA Annual Meeting upstairs at the Goose Blind.
Gooseblind
512 Gold St
Green Lake, WI 54941
(920) 294-6363

Saturday, March 16
First race 9:30 AM First race is DN fleet
Fleet Rotation:
DN
Renegade
E Skeeter
Stern Steerers
B & C Skeeters
Banquet at the Gooseblind
512 Gold St
Green Lake, WI 54941
(920) 294-6363
Cocktails at 7:30
Dinner to follow
$20 Pay at the Door
Sunday, March 17
First race 9:30 AM
If all classes have at least three races complete at the end of the day on Saturday, the Stern Steerers will start first on Sunday.
Prizes


March 10, 2013

The Northwest regatta has been called on for March 15-17, 2013 for Wisconsin. Stand by for a video update from Greg Simon who is scouting ice on Winnebago and Green Lake.
March 6, 2013
NIYA Postponed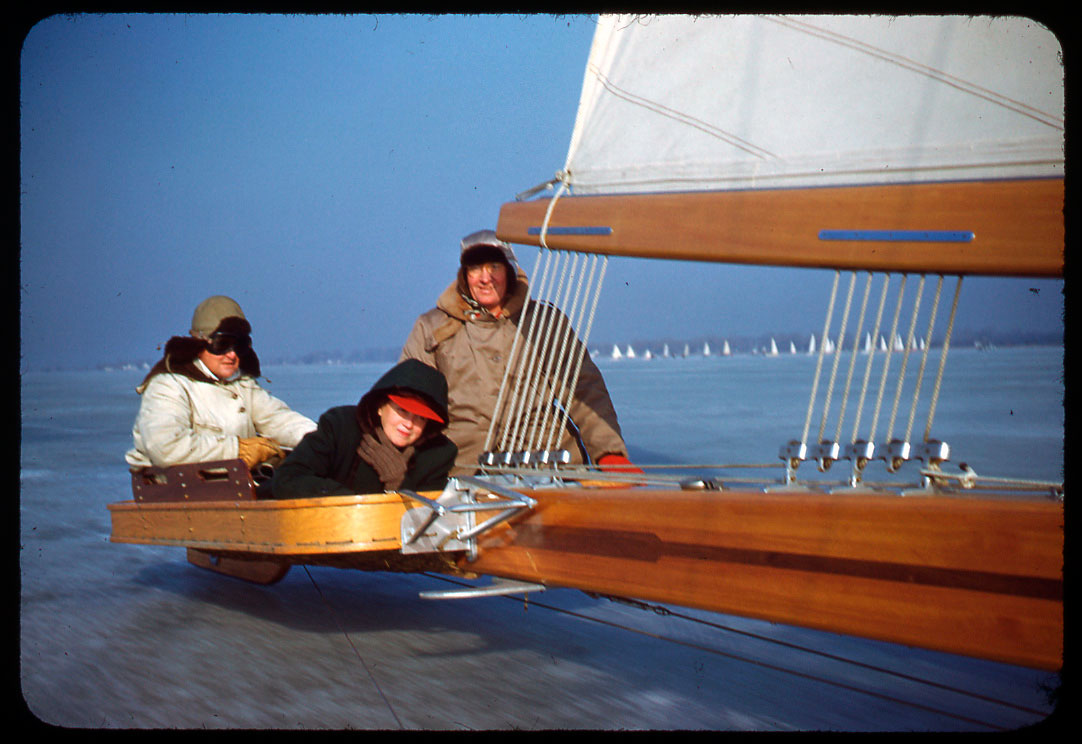 1951 NIYA:Carl Bernard at the tiller of the A Class stern steerer Mary B, O. T. Havey, owner, and Mary B. Havey, the namesake of the boat.
Here's some history about the 1951 Northwest which was sailed on Gull Lake in Michigan.

"Hardy Sportsmen Brave Cold, Ignore Danger"
The Ice Boat Season Part 1
The Ice Boat Season Part 2
Scoring sheet from 1951 Northwest
"Nation's Best Ice Boats Competing at Gull Lake"
March 3, 2013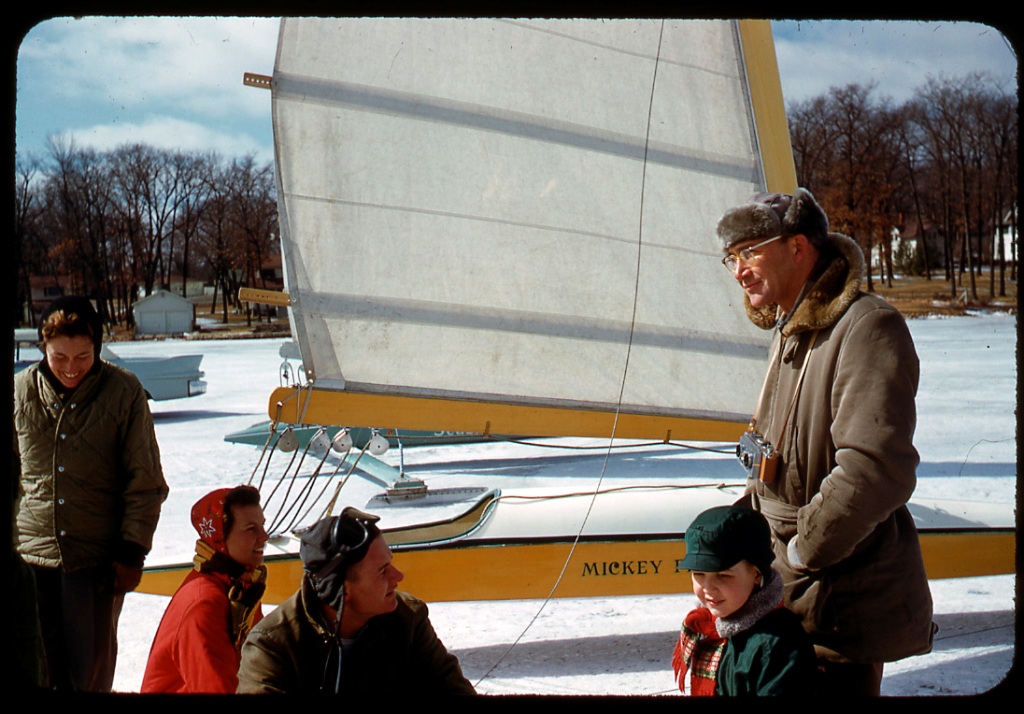 Buddy Melges and Bill Perrigo
More on the photo from Jane Pegel, Skeeter Ice boat Club, "I thought the green boat might be a Renegade, based upon the runners and chocks. But the back of the boom and pulleys is not Renegade style. I don't remember who had a Skeeter that color green. The woman sitting on the plank in the red cap and jacket is Gloria Melges. The woman standing is Jean Zwicky from Pewaukee. Jean won Skeeter women's trophies. Her husband was Bob Zwicky. He also raced a Skeeter. I don't know who the child is wearing the green cap and jacket. I think the child is likely a Perrigo, perhaps Will. From the looks of the car in the photo, I think this photo might have been taken in the 1950's."
February 27, 2013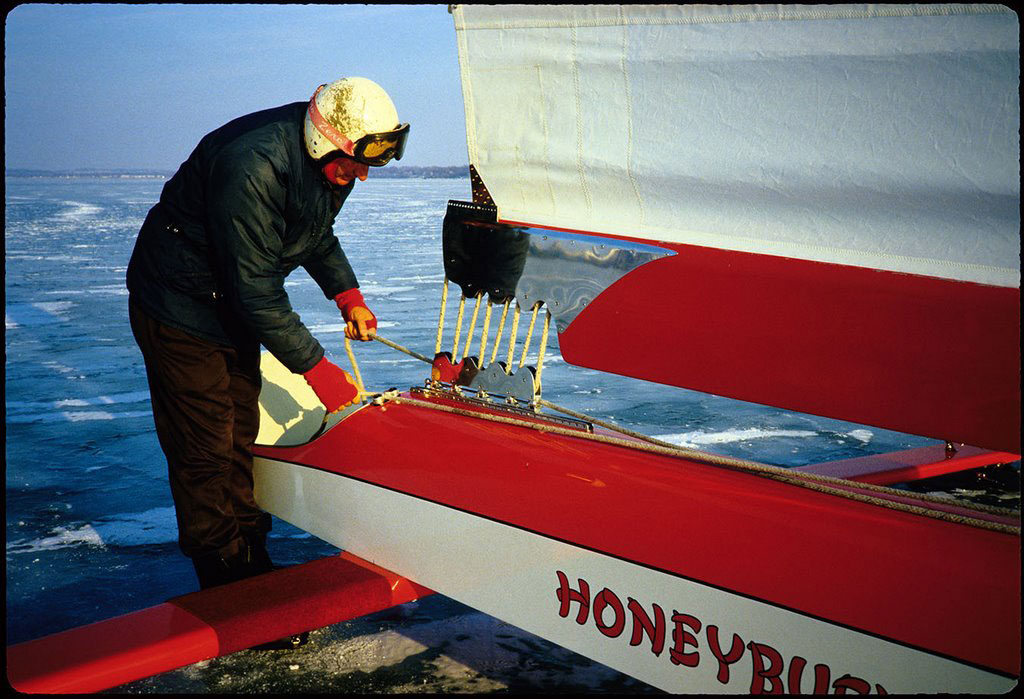 Bill Mattison in 1987
The Northwest regatta has been postponed until March 8-10, 2013. Central Wisconsin has received more snow and we continue to wait for a thaw/refreeze. Check back on Sunday, March 10 for the next update.
From the Archives: Was looking through some old ISA News and Views and found some results and minutes from the 1983 Northwest which was sailed on Green Bay near Menominee/Marinetee. (I don't have any photos from that regatta but chose one that's from five years later.)
February 24, 2013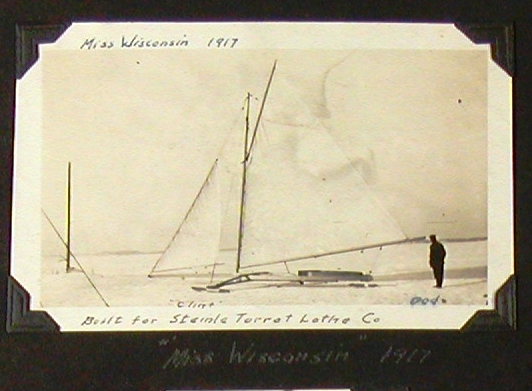 Miss Wisconsin, winner of the 1928 NIYA Class A
The Northwest has been sailed in March, like in 1923 when 4LIYC skipper Andy Flom won the A Class stern steerer title in Miss Wisconsin on Geneva Lake.Read about it here.
February 17, 2013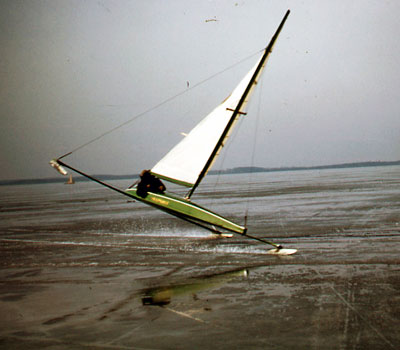 Renegader Elmer Millenbach won the NIYA Renegade Class 21 times and won the Class E Skeeter in 1949.
February 10, 2013
Northwest Postponed
The Northwest Regatta has been postponed until February 23,24,25,2013 because there are no ice conditions. Check back on Sunday, February 16 for the next update.
February 6, 2013
Northwest Postponed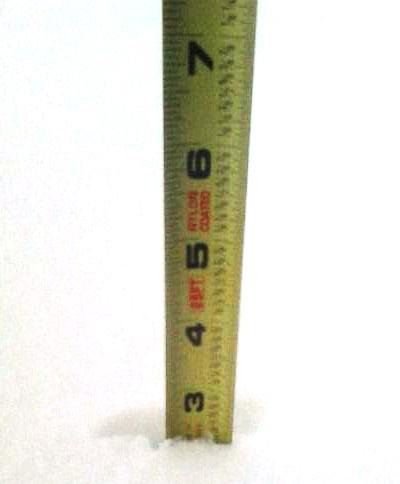 Just inches away
Lake Pepin at Lake City, MN has 2.75" of light fluffy snow over hard black ice but a forecast of mixed precipitation for tonight and Thursday left too much uncertainty as to how the ice would be affected. Check back on Sunday, February 10 for another update.
February 5, 2013
Northwest Update
"The Northwest race committee will be doing a ice check tomorrow at 9:00am. We will meet at the Roschen Park boat landing in Lake City MN. All sailors are welcome to attend. Lake Pepin has been reported to have less than three inches of light and fluffy snow. Look for the final decision to be announced by noon on Wednesday Feb. 6th.
Greg Simon"
February 3, 2013
Northwest Tentatively Called ON
The Northwest is called on for Feb 8, 9, and 10 on Lake Pepin in Lake City, MN. The DN sailors at the Worlds and North Americans this past week report good ice conditions, great boat landings, and facilities for lodging and social activities. While Pepin would not normally be our first choice, none of our primary venues have conditions and are not likely to be ready in the near future or perhaps not at all this year for the Northwest. The only real variable for this week is a brief snow event that could bring 2-4 inches of snow early in the week. With all of the other factors being so favorable, we are calling the regatta on and will know by Wednesday, February 6 when we drive up to check the ice if the snow will force us to postpone again. Please check back on Wednesday for final confirmation of the Northwest for Feb 8, 9 and 10.
January 27, 2013
Northwest Postponed
Via NIYA Commodore Greg Simon, "The Northwest has postponed for the weekend of Feb 1, 2, 3. Please check back on Sunday, February 3, 2013 for more information."
January 23, 2013
Northwest Postponed
The Northwest has been postponed until February 1,2,3, 2013. Please check back on Sunday, January 26, 2013 for more information. NIYA race committee members including Jay Yaeso, George Gerhardt, Mike Jankowski, Dave Lallier, and Greg Simon spent over two hours on 4 ATVs thoroughly checking a large area Lake Winnebago this morning. They found some holes and a bumpy surface and voted to postponed. There are three historic stern-steerers from the Hudson River in New York, the Jack Frost, the Aerial, and the Ice Queen, set up at Dave Lallier's place near Fond du Lac and they are reported to be having a pretty good time even though they are limited in how far they can sail.
Northwest News Updates
January 20, 2013
GO NIYA

The Northwest Ice Yacht Association regatta has been called ON for January 25,26,27, 2013 for Lake Winnebago out of Fond du Lac, WI. Final confirmation will be Wednesday, January 23, 2013.
January 13, 2013
Northwest Postponed

The Northwest Ice Yacht Association regatta has been postponed poned until January 25-27, 2013. NIYA Commodore Greg Simon and WSSA Treasurer/Secretary Andy Gratton spent hours scouting Lake Winnebago today. They found 8" of ice there but too many working seams to safely call on the regatta. Stand by for another episode of Northwest News from Greg which is being uploaded to Youtube shortly. Check back on Sunday, January 20, 2013 for the next Northwest update.

Northwest News for Friday, January 11, 2013
Message from NIYA Commodore
Greg Simon
October 2012

Greetings Ice Yachting Enthusiasts:
The Northwest Ice Yachting Association will be hosting a special 100th year anniversary regatta January 18-20th, 2013. We ask for your presence at this historical event.
The Northwest regatta has been held for a century and throughout the years has attracted some of the most beautiful ice yachts ever produced. The majestic stern steerers, the sleek Skeeters and the classic one designs of the Renegade and DN classes will all be present to help usher in the next hundred years of iceboating.
This year's regatta will be held either in Lake Geneva WI or in Oshkosh WI. These beautiful locations will provide for both top notch racing conditions and venues for social events. Bring your iceboat big or small, old or new and enjoy the special camaraderie our sport provides. For the first time we will be offering an open class for sailors to come and enjoy the event without having to race.
I would like to extend an invitation to join us in 2013. I am sure you would enjoy the regatta and its special atmosphere. Look for more information and timely updates on this website. If you have any questions or if I can be of assistance please contact me.
Thank you for your consideration and best regards.
Greg Simon Commodore
Northwest Ice Yachting Association
608-849-4605
gregsimon213@gmail.com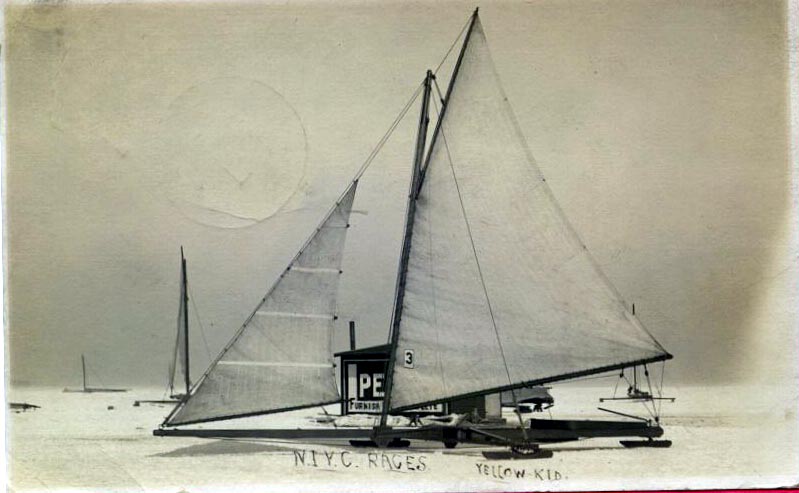 Photo from the first Northwest Ice Yachting Association regatta.
The Yellow Kid, sailed by William Bernard, 4LIYC, Madison, WI