Four Lakes Ice Yacht Club Honor Roll

Honoring the 4LIYC members who have contributed to our sport.
Outstanding contributions to ice boating in the Four Lakes Ice Yacht Club are the guidelines used to determine those inducted to our club's Honor Roll. While over the years many names have been added to the list of the original inductees, they all have one thing in common-their love of ice boating and ice boat competition.
In 1967 eight men were singled out for their contributions to our club. They are Bill Fauerbach, Carl Bernard, Andy Flom, Glen Grosbeck, Frank Tetzlaff, Spence Oswald, OT Havey, and Fritz Jungbluth.
We will continue to share more information about the accomplishments of each Honor Roll member. If you have information about any of the Honor Roll members, please let us know by dropping an email to the webmaster.
Click on the name to learn more.

Bill Fauerbach-Served as club officer.

Carl Bernard
1905-1983
Championships
NIYA Class A 
1934 1936 1937 1947 1949 1950  1951 1952 1954
Hearst Trophy
1935 1938 1939 1950 1952 1953
Stuart Trophy
1934 1935 1951 1954

Andy Flom
1891-1971
Championships
Hearst Trophy
1926 1927 1937
From the January 8, 1924 Captial Times:
It isn't very often that Madison or any other city in the state can boast of a world's champion, but in "Andy" Flom, prominent ice boat skipper, Madison has without question the peer of ice boat pilots. Besides holding several smaller cups won in regattas in this part of the country "Andy" can boast of two world championship challenge cups.One of them, the Hearst International Challenge Trophy, which he took from the Kalamazoo. Mich club in 1913 is the most coveted of any ice trophy in the world. "Andy" piloted the Princess II owned by Emil Fauerbach to victory for this trophy, and in three of the most thrilling races ever held for the trophy. In the last of three races held for the trophy, the ice was mushy and a gale was blowing. Part of Princess II was smashed, the sail was not under control, and although the Princess spun around like a top, Flom stuck with her and won the world's championship. Since winning the trophy Flom has been challenged on several occasions but at no time have weather conditions been favorable and the race was not held. The other world's championship trophy held by Flom is the world's Championship Ice Yacht Challenge Trophy offered by the Square People, Menominee, Mich. It was with Clinton Steinle's Miss Wisconsin that Flom won this trophy in 1922 and in 1923. The Miss Wisconsin is a 450 footer as was the Princess II. It is interesting to note that Flom piloted Miss Wisconsin ahead of the Princess in a race here last year. Flom has a reputation as a skipper of uncanny ability. Its second nature to him to skip boats to victory. Since a youngster able to walk on the ice he has always been around ice boats whenever the opportunity afforded, and it has been a safe bet that with Flom piloting a boat, a victory could be chalked up right off the reel.

Glen Grosbeck-Served as club officer.

Frank Tetzlaff
1889-1967
Legendary builder of the Fritz, Mary B, and many other boats.

Spence Oswald-Served as club officer.

OT Havey
1894-1978 
The man who commissioned one of Madison's most famous stern-steerers,the Mary B, which went on to win many championships with Carl Bernard at the helm. The boat was named after Mrs. Havey.

Fritz Jungbluth
The original owner and namesake of the stern steerer, Fritz.

John Bluel-Served as club officer.

Dave Rosten
1938-1973
Championships
Ice Yacht Challenge Pennant
1965 1967 1968 1969
ISA
1965 1967
1970 (tied with Buddy Melges) Northwest Ice Yacht Regatta
E Skeeter
1965 1973

Walter Haspell 1893-1960-Served as club officer.

Jules Brockel 1905-1981-Served as club officer.

Charles Johnson-Served as club officer.

Art Jark
1914-1982
Championships
Ice Yacht Challenge Pennant 1970 1972

David Butler
1927-2010 Inducted April 21, 2012.
A highly regarded club member who helped to revive the Four Lakes Ice Yacht Club after World War II, Dave promoted the sport by bringing new members to the club. Of particular note, Jack Ripp credits Dave for getting him into ice boating. Dave served many years as a club officer and was a long time participant at club meetings, club racing, and regatta racing. Sailing the C class stern-steerer, Ace of Spades, Dave won numerous club championships and the 1961 Northwest Ice Yacht Racing Association C class title.

Greg Simon
Inducted May 3, 2014.
Greg Simon has been a club member and active ice boater in DNs, Nites and Renegades for over 30 years. He held the position of Chief Judge and Ice checker for 15 years. He has been active in club racing winning 6 Renegade season championships and 1 DN season championship.
REGATTA TITLES::
NIYA
1984 DN Junior Championship
2008 Renegade Championship
2014 Renegade Championship
INTERNATIONAL RENEGADE ICE YACHT CHAMPIONSHIP
1998
2006
2008
NITE NATIONAL CHAMPION
1999

Harry Whitehorse

James Lunder
1929-1998
Championships
Northwestern Regatta
Class A 1948-Fritz
Hearst International Trophy in the Fritz 1948 1949

James Payton
1928-1996
Championships
Hearst Trophy 1957 Mary B
Stuart Trophy 1964 Mary B

William Mattison
Championships
ICE YACHT CHALLENGE PENNANT
1964 1965  1966 
1968 1969 1986

ISA
Class A Skeeter 
1962 1963 1966
1968 1969 1971 
1973 1977 1981
1984 1986

NORTHWESTERN ICE YACHT ASSOCIATION REGATTA
CLASS E
1969 1980 1988 
1989 1992

THE TRIPLE CROWN
1964 1966 1968
1969 1971 1973
1975 1977 1980
1981 1984 1988
Originally a combination of the Garwood, the ISA, and the NIYA Championship Class - A skeeter. The Garwood was a Lake St. Clair event sponsored by the Detroit Ice Yacht Club, that stopped after Lake St. Clair was kept open during winter as part of the seaway. The Garwood trophy is still active and is based on ISA and NIYA totals.

Paul Krueger
Championships ISA
Class A
1976 1979
Northwestern Regatta
Class E Skeeter
1979

Mike McCormick

Bill McCormick
Championships
Winner of the first Wisconsin Stern Steering Association Regatta in 1969
WSSA
1969 1970 1971
1972 1973
NIYA Championships
1966 1973 1974
1975 1976 197

Jack Ripp
Championships
International Renegade Ice Yacht Association Regatta Championship
1988 1987 1996
ISA
1961
Northwest Ice Yacht Assocation
1988 1989 1992 1998

Dave Nelson

Peter Barrett

Jerry Simon
Championships
International Renegade Ice Yacht Association Championship
1976 2007
Northwest Ice Yacht Association Regatta
1984

Debra Rosten Whitehorse
Served as club Secretary and webmaster.
Lynn Langenfeld-Served as club officer.
John Bock

Jim Nordhaus
Jim Nordhaus has contributed to the Four Lakes Club in essentially all areas suggested in the by-laws, for example: By opening his shop to many ice-boaters (both in his garage at his home, and more recently in the "Boatwerks" on Sebold Road) Jim has made it possible for many members to build boats where they might not have been able to otherwise. Many alumni of Boatwerks projects have contributed to the club as officers and regulars in club races (including at least two recent Club Commodores). Jim has also regularly hosted out-of-town ice-boaters at his house when they were in the four-lakes area racing with the Club or at local regattas. Jim has served as Commodore and organized the most recent (and very successful) "Grand Slam Regatta". He has also been instrumental in facilitating sailing by building bridges onto the ice for late-season racing, including making possible the only club races in the 2006-2007 season. Jim has ice-boated since his youth, and been an active member of the Four Lakes Club for over 20 years. In addition to assisting others with their boat-building projects, Jim has built a number of boats himself. Currently, there are at least four of Jim's Renegades sailing in the club (Jerry Ebert, Daniel Hearn, Jeff Russell, and Jim's current boat). A number of boats have been built, restored, or modified in Jim's shop with his assistance and support (Renegades: Tim Stanton, Doug Kolner, Kevin Pok; DNs: Geoff Sobering, Byron Tetzlaff, Wayne Schmeidlin, Mike Mullarkey, and Jori Lenon)

Tim McCormick
Elected February 24, 2010
10 time 4LIYC Renegade Series champion IRIYA Championships
1999
2009 (w/Don Anderson) NIYA Renegade Championships
1990 1993 1994
1996 1997 2004
2005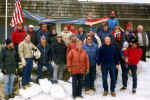 AJ Whitehorse
Inducted February 19, 2015
AJ Whitehorse was an active club member from the late 1970s through the early 2000s. He was a competitor in both the DN and Class E Skeeter fleets during that time period and was a Four Lakes Ice Yacht Club champion in the DN fleet. AJ also won several series championships in the Skeeter fleet and recorded over 30 race wins in club racing. AJ also represented the Four Lakes Ice Yacht Club well in national regatta championship regatta competitions, winning several Skeeter races against the tough competition and larger fleets of that era. In 1986 AJ was selected by the Four Lakes Ice Yacht Club's Board of Directors to compete in the prestigious Ice Yacht Challenge Pennant of America regatta (IYCP). Teamed with Bill Mattison, they traveled to Lake Geneva in an attempt to win the IYCP from the Skeeter Ice Boat Club (SIBC).
The SIBC was a heavy favorite in that competition with Harry Melges III sailing the Skeeter, Slypoke, which had been close to unbeatable in recent seasons. In two twenty-mile races, AJ and his Skeeter, Eagle 1, sailed to decisive victories, returning the IYCP back to the Four Lakes Ice Yacht Club for the first time in 18 years.