2007 Northwest Ice Yachting Association Regatta
NORTHWESTERN ICE YACHTING ASSOCIATION 2007 REGATTA
NIYA PHOTO GALLERY
Sunday, February 18, 2007


During the last race on Sunday, two DNs blew out their insert runners at the weather mark.


Erick Sawyer's Michigander.


Erich Schloemer remarked
that the DNs were so numerous that they "looked like a picket fence" from the NIYA course.


DNs heading out for the opening races of the Worlds.

Here's another Chris John's Photo Gallery. Chris flew in from California just to see the Northwest. Thanks for the great photos, Chris!


Chris John; then and now.


Here's the first crack near the staging area that needed to be crossed.


DN heat.


Here's second place NIYA finisher Joe Norton 781 and Rick Kallman.


The World Cup fleet prepares for racing.


Jori expresses the joy of being a DN skipper and a great singer.


One way to leave a DN safe while unattended!


On the Rocks steering runner finds a crack.


Mike Derusha, the Renegade NIYA Champion rounds leeward.


Mike Derusha crosses the finish line and wins the regatta.


Here's second place Renegade winner Tim McCormick.


Doug Kolner in Cold Fusion who tied for 4th in the Renegade division.


Andy McCormick, third place in the Renegade division.


Renegades racing off the start.


Renegade starting line.


Jay Yaeso's Skeeter Child's Play.


Jay Yaeso's Haywire and Erick Sawyer's Michigander at the start of the Stern Steerer race.


Erich Schloemer's Taku, winner of the Stern Steerer A division and overall Stern Steerer winner.


Renegade class Whiplash.


Here's the Wisconsin boat-note the teddy bear on the starboard runner plank.


Trophy Ceremony

DN Class: Joe Norton, Green Lake Ice Yacht Club, 2nd
(Not pictured: Jim McDonagh 1st, and John Dennis 3rd, who were heading out to the DN Worlds course.)


DN Class: Jori Lenon, 4LIYC, Women's First Place


Renegade Class: Mike Derusha 1st (standing with his DN moments before sailing off to compete in the DN Worlds), Menekaunee Ice Yacht Club


Renegade Class: Andy McCormick 3rd, Tim McCormick 2nd, both 4LIYC


Skeeter Class: Tom Hyslop 2nd, Pewaukee Ice Yacht Club


Stern Steerer Class: Mike Peters and Erich Schloemer (Taku) 1st Overall Stern Steerers and 1st Place A Class Stern Steerer, Skeeter Ice Boat Club



C-Stern Steerer: Pete McCormick, 1st, Four Lakes Ice Yacht Club

Saturday, February 17, 2007
View from the scorer's vehicle.


Peter Harken's Skeeter


Ron Rosten rounds in his Renegade

Photos below are courtesy of Chris John of Los Angeles, CA. Chris, originally from New Jersey, grew up ice boating and has now fulfilled his goal of experiencing a Northwest Regatta first hand. Chris promises to send more of his great photos. Stand by for more.


Tom Hyslop's Amphetamine.


Gloria & Buddy Melges.


Buddy takes the checkers.


Here's Jay Yaeso hiking in
his C-Class Stern Steerer, Haywire, and B-Skeeter skipper Burly Brellenthin sailing
On The Rocks.


Here's Buddy Melges and Ken Whitehorse, Warrior, heading to weather.


Buddy.


Bill Dale & Merlin.


Paul Krueger in Ramblin and Kenny Whitehorse in Warrior close at leeward.


Ramblin and Amphetamine.


Ramblin


Mike Ripp's Renegade.


Warrior


Ramblin and Amphetamine.


Warrior and Amphetamine racing closely.
Spar Dropper?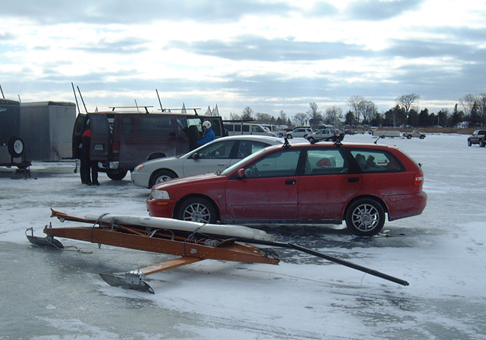 Via Jori: " Ice'spose it first snapped, cracked and then dropped, in that order. My
biggest thanks for the NIYA weekend go to the race and banquet committees
and to Deb Whitehorse, Ronnie Rosten and many others for ice-checking and
scoring. Also to the "DN Rescue Squad" Kolner, Betzoldt, Simon & Simon. And
to David Frost from Lansing, Michigan, for the loaner mast so I could finish
the regatta. Just wrote to Geoff and wished him Byron, Wes and Dan good luck
and good ice for the Worlds!"