2008-2009 Season
Selections:

Orient Jack Frost Similar to Madison Style

Strictly Sail: Three Kings of Ice Boating

First Day of Club Sailing: The Awesome George Gerhardt Photo
April 25, 2009
2009 4LIYC Awards Banquet
Tyler Metzloff, third place Ice Opti

Frankie, first place Ice Opti, & Daniel Hearn.

Peter McCormick

Tim Shriver

Daniel Hearn, winner of best placing DN regatta finish.

Greg McCormick

Don Anderson

Greg Simon & Ron Rosten

Don Anderson, recipient of "Cat Be Gone", to prevent future episodes

like this.

Greg McCormick, winner of Boat of the Year

Jim Nordhaus,

Honor Roll

recipient

Deb Whitehorse accepts an honorary million dollar check in commemoration of the millionth hit on iceboat.org.

Photo Credits below: Geoff Sobering

Greg Mcormick and Ron Rosten

Greg Simon & Ron Rosten

Don Anderson with the Renegade Championship Trophy

Ingrid & Dena Korsgard

A contrast and red....

DN First Place: John Dennis

DN Second Place: Tom Meyer
Bill Korsgard Honored At Banquet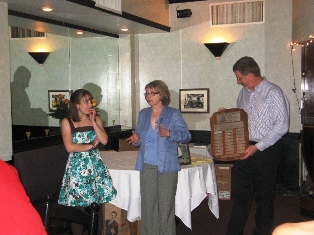 Ingrid & Dena Korsgard with Geoff Sobering
Dena and Ingrid Korsgard accept the Jim Payton Service Award on behalf of Bill Korsgard at Saturday night's award banquet. Bill, who passed away last fall, contributed his time in many different ways to help the club including serving as trophy chair for many years, amassing a large collection of vintage ice boat postcards, and designing and sailing remote control ice boats.
Webmaster Receives The Giant Check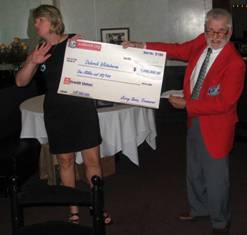 "Why yes, it's real!"
We had a great time at the Four Lakes Ice Yacht Club's annual Spring Awards Banquet last night at Kennedy Manor. I was surprised with a large check signed by Treasurer Jerry Simon in honor of this website's millionth hit.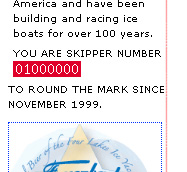 And it's very fitting that outgoing Commodore Geoff Sobering was that millionth visitor. Congratulations, Geoff. You get half of the million. [However, club members will have to approve a rather significant dues hike in order for us to cash the check.]
February 16, 2009
Downwind to New York the Frozen Apple
By Don Sanford c. 2009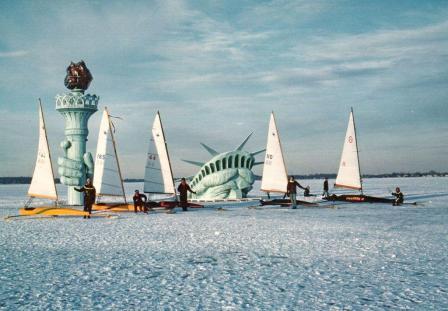 Shown here from left to right doing their best to make the ordinary extraordinary are:
Don Ermer, Don Sanford, Steve Arnold, Lady Liberty, Ty Reed and Ken Kreider.
Ty Reed and Ken Krieder.
Thirty Years ago this week, five members of the Four Lakes Ice Yacht Club (4LIYC) sailed from Madison to icebound New York City (this was in the era of global cooling) on an ice-checking mission and a once-in-a-lifetime photo opportunity.
As I recall, 1979 had not been the best for local conditions. Midwestern iceboaters were desperate for some sailable conditions. In that pre-internet and pre-cell phone era, rumors had been flying about a huge glacier that had formed just east of Madison, covering the entire landscape right to New York harbor. The air at that week's meeting of the 4LIYC was thick with the possibility that perhaps there was some good ice to be found "out East" if only someone could get there to check it out and report back. By the second (or third?) pitcher that night, a handful of us realized that the fate of that season's regatta schedule was hanging in the balance. Regatta officials Bob Pagel and Paul Krueger needed a scouting party and we were it!
The long-range forecast called for a generally northeasterly breeze, cloudless sky and a full moon for a couple of days. We realized that we had our window. We stuffed our coverall pockets with some trail mix, beef jerky, a few cans of beer, a flashlight (for nighttime sailing), and other choice provisions we could trade with the locals we expected to meet on the way out and back. Then we strapped on our creepers and just after dawn, pushed off down icebound I-94 towards the towering ice sheet that loomed just west of Milwaukee.
Of course none of us had ever sailed uphill, so climbing up on the glacier around Pewaukee was tricky going. Once we were "up top" we found ourselves in a fine northeast breeze and crossed Lake Michigan on a close reach. That ice was at least a 10, maybe 11. Years later we'd call those conditions "Holywood Ice," but that's a story for another day. Most of Indiana was maybe an 8. I recall that we got up into a hike just east of Milwaukee that lasted almost to Toledo. Just thinking about sailing downwind for 300 miles on ultra-perfect ice makes my goggles fog. It was the longest downwind leg of my life.
Crossing into Ohio and through Pennsylvania, we were wishing we could trade our Nites and the Renegade for the plush accommodations that could only be found aboard the stern steerers Mary B, Fritz or Ferdinand the Bull. Those big boats with their 30+ foot runner planks deliver the Cadillac ride, but they weren't an option for this trip. The ice covering Pennsylvania was rough, barely rating a 5 on anyone's scale. And getting around some of those hills... Talk about shifty. It was worse than the narrows at Lake Geneva.
For a time we considered making a few tacks and sailing a bit upwind over Syracuse and up towards Oswego, both buried far below the glacier's surface. Our fate was sealed though when we picked up a huge puff that carried us out of the Catskills and towards the Hudson Valley on a screaming reach. Bearing off and sailing ever deeper downwind, we began to make out the twin towers of the George Washington Bridge in the distance. No traffic jams on the bridge that day for only the top 30 or 40 feet of those grand granite towers rose above the ice. A quick jibe sent us around the top of the Empire State building. Then, with just an hour or so of daylight left, Lady Liberty herself came into view. We were spellbound. Luckily I remembered a camera and snapped this image.
OK, if you believe that one, perhaps you'd be interested in one of the remaining choice lots an uncharted island on the other side of Lake Mendota with a Capital view…
Here's the rest of the story.
In February 1979 an astonishing sight appeared on Lake Mendota when the top of the Statue of Liberty emerged through the ice. She quickly became a celebrity in the local media. But many of us knew that something else was required to make her a real sensation. 4LIYC members know that no wonder on the ice, natural or not, is ever complete without an iceboat or two nearby. That's my story and I'm sticking to it.
Don
Lake Mendota
Sorry I don't have any racing pictures from today but it was too cold to fumble around with the camera. The Renegades and DNs raced again. Greg Simon and Don Anderson (sans cats this time, thankfully) won in the Renegades.
Not sure who won in the DNs. Wes Wilcox, Daniel Hearn, and Kyle Metzloff had one DN race.
The day started out with a decent amount of wind which dropped too much to continue racing around 1:00. Some of us visited the Statue of Liberty installed at the University of Wisconsin Union.
Frankie Hearn and Tyler Metzloff sailed Ice Optis out to the line.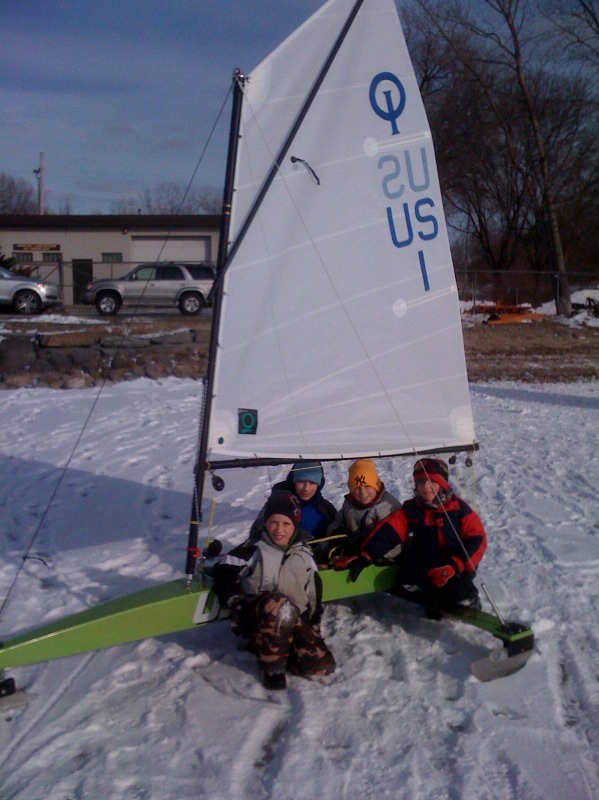 Here's Thor Rosten and some of his friends who tried out Frankie Hearn's Ice Opt, Cora, Roy, and Ryan.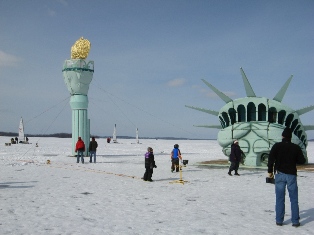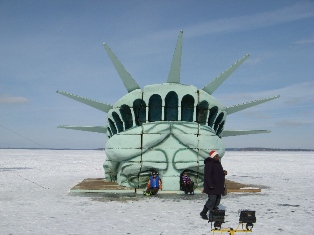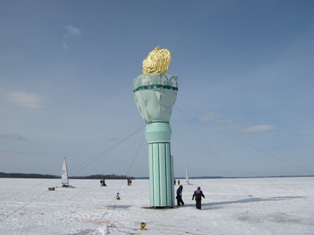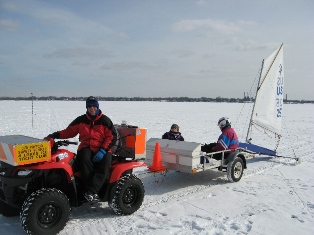 Grant heads the four-wheeler for home.
Valentines Day on Lake Mendota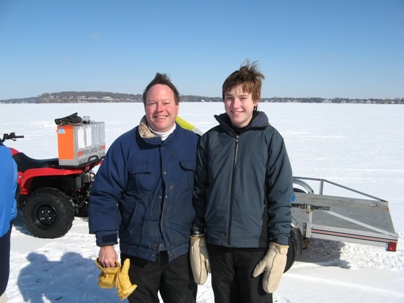 Peter McCormick & son, Nolan, after Nolan's first DN race.
The Renegades sailed four club races and one fun race today on the east end of Lake Mendota and the DNs sailed two. There were four different winners in the Renegade fleet including Greg Simon, Jim Nordhaus, Greg McCormick, and Don Anderson. Tim Shriver and Pete McCormick each won in the DNs.
The ice was bumpy but raceable. Winds were out of the north at about 10 mph. Tim Shriver took both DN races and the club welcomed Nolan McCormick as he raced his DN for the first time. Nolan is a third-generation ice boater and grandson of the late Bill McCormick who sailed Renegades and the family stern-steerer, Twin Beds.
Lightening Strikes Twice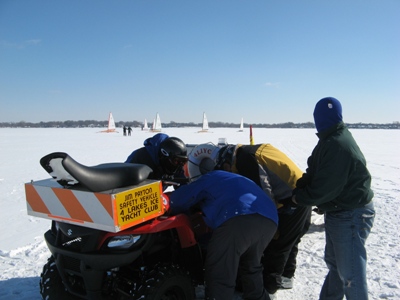 Rescue me!
Grant Frautschi and I were flagging the finishers of the first Renegade race when Don Anderson sailed up to us, stopped the boat, and screamed, "Get a camera!"
Another one of his barn cats who had spent the night in his boat at the landing co-piloted Don's Renegade during the first race and eventually crawled up his legs into his lap for a better view.
As we watched the black cat looking nervously at us, it jumped out and made a beeline for the four-wheeler. Eventually the ATV's cowling had to be removed in order to rescue it from the engine compartment, quite an operation to say the least.
After the cat was safely extracted, we placed it in our trailer's tool box where it slept until Don's son, Corey, came to take it back home to the farm. The cat was surprisingly calm considering what it had just been through.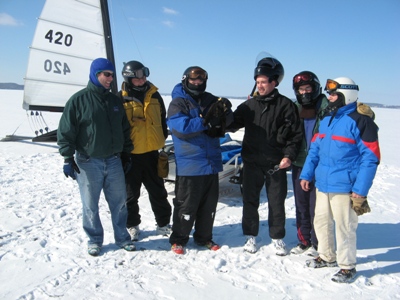 After being extracted from the ATV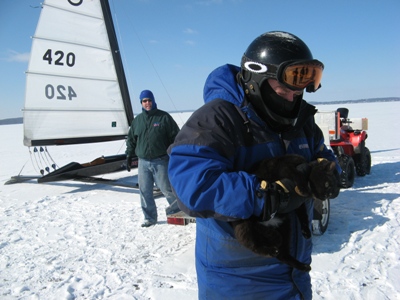 February 13, 2009
Friday the Thirteenth Chronicals: Saga of the Ice Cat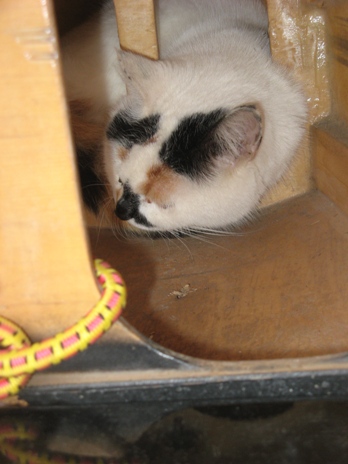 The biggest excitement on the ice today was unfortunately not the sailing (due to lack of wind). Don Anderson had just put his Renegade hull on the plank when he noticed his boat smelled "funny". He mentioned that he shouldn't park his trailer in the barn any more for just such a reason. He noticed that his seat cushion was full of hair and figured that some animal had been using his Renegade hull a condo. Ron Rosten looked behind the seat and jumped back in surprise. "Crystal" the calico had made the trip from Waunakee to Lake Mendota snugly in Don's cockpit. Don's wife, Beth, came down and rescued [Ice!] Crystal from having to race today.
That brought up a story of when Greg Whitehorse was racing his Renegade and he felt something crawling up his leg, into his shirt, and a mouse popped out of his collar!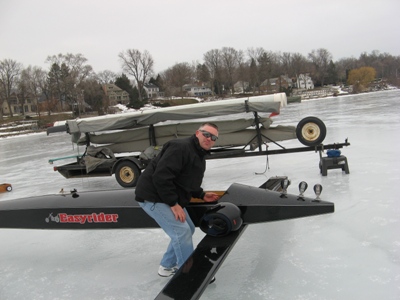 We tried to have some fun with Greg Simon and asked him to look behind the seat but figured the jig was up when he saw me taking his picture.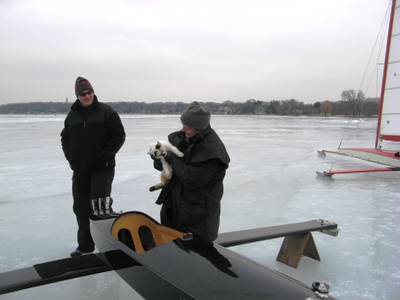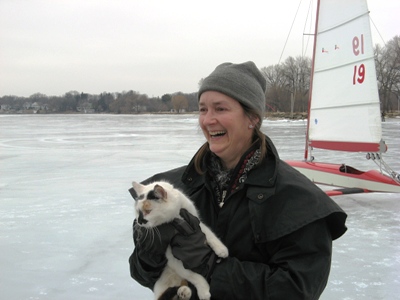 Happy ending for Crystal and Beth.
February 2, 2009
Anatomy of a Mast Failure
Here's a mast failure sequence shot by Chris Gemenski on Mecox Bay, Long Island. To see all of Chris's photos from the weekend, click here.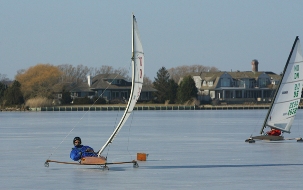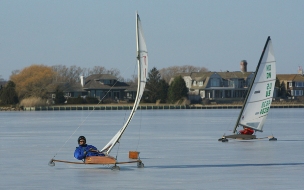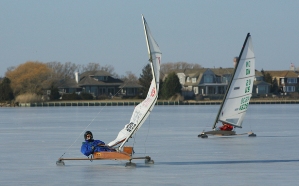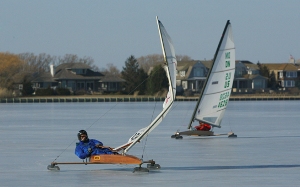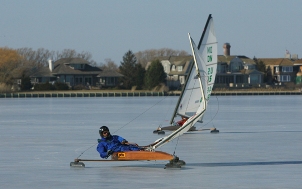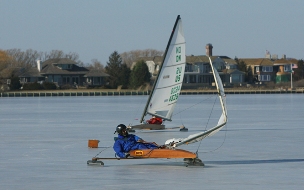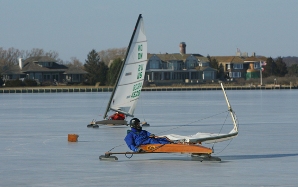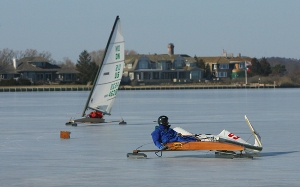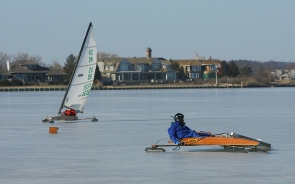 Orient Jack Frost On The Ice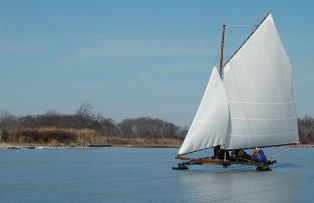 Long Island skipper Mike Acebo reports, "Orient's "Jack Frost" sailed yesterday! Fun day for all. The New York Times had a representative out with us getting info and photos, maybe an article in a couple of weeks.

January 23, 2008
Historical Coincidence?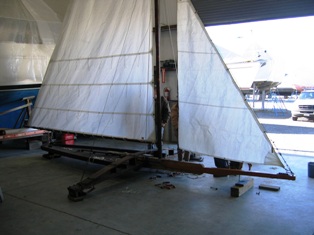 1880s Jack Frost, Orient Ice Yacht Club, Long Island, NY
Orient Ice Yacht Club & Long Island ice boater, Mike Acebo, found the proverbial old ice boat in the barn. An interesting aspect of the Orient stern-steerer is that the trussed plank construction is simliar to the William Bernard Madison-style trussed plank. Bernard developed the Madison-style stern steerer in the later 1800s.
Mike wrote, "Look what we found! A neighbor called one of our club members and said her kids wanted to store stuff in the attic of the barn and did we want to get the "old" iceboat out so they would have room. Well you know the rest. We met today to set up & see what was missing, found a complete boat. We split up the parts for repairs and will have the 1880's Orient Jack Frost sailing again soon." Orient Ice Yacht Club website.
Strictly Sail Chicago


Bill Mattison answers questions from the crowd in the Harken exhibit at Chicago's Strictly Sail show.

For ice boaters, the Strictly Sail show at Chicago's Navy Pier was the second best place to be on a sunny January Saturday. (The first best place being on the ice, sailing, of course.)
I'm probably biased, but the World's Largest Ice Boat, the Deuce, attracted the most oos and aahs from the crowd. Its massive mast and sail dominated over all other boats in the show. She was polished and the hardware shiny, truly the "queen" of the pageant.
Peter Harken's Mattison-built front-seater Skeeter, Doug Kolner's Renegade, Olaf Harken's Nite, Steve Orlebeke's DN, Frankie Hearn's Ice Opti, and some land yachts also garnered much attention.
Ice boaters from all over the Midwest made the trip to Chicago including Michigan sailors, Lake Winnebago skippers, 4LIYC sailors, and many from the Chicago area.
The crowd was attentive as Peter Harken, Bill Mattison, and Buddy Melges shared stories about ice boating and answered questions from the audience.
Buddy talked about the origins of his stern-steerer, Ferdinand the Bull, and the Deuce which were both built in Detroit by CS Jacobs using automotive technology. When asked if lessons learned while ice boating translated into soft-water success, Buddy relayed how applying the same principals of downwind ice sailing to summer sailing helped him win some big races.
Peter Harken spoke about how it was Bill Mattison who got him into the sport and praised Bill's craftsmanship as the best he's ever encountered. He also told a great story about a time he crewed on Buddy's stern-steerer, the Bull, and their exciting leeward mark rounding that caused the spectators to scatter in fear of their safety.
Bill Mattison was asked to estimate the amount of time it took to build a competitive Skeeter class boat. Bill shook his head as if to say "way too much", but came up with a number of 365 days if you worked on it every day.
4LIYC Ice Optimist skipper Frankie Hearn was introduced as the hopeful future of ice boating. Like Buddy said, if there's ice, they'll come out of the woodwork to sail!
Deb Whitehorse
Harken Video:
Three Kings of Ice Boating
From Charlotte at Harken: "You gotta love iceboaters, you simply gotta. And here's your chance to listen to three kings of the ice. Get the inside scoop on this X-treme sport from master speedsters Buddy Melges, Peter Harken, and Bill Mattison in their freewheeling Q & A held at the Chicago Strictly Sail Boat Show."
From Charlotte at Harken: "Learn why hard water sailors are addicted to speed. Check out this video of stern steerers, Skeeters, Nites, and DNs burning up the ice - and the spectacular spinout by DEUCE, the largest stern steerer in the world."
Three Legends of Ice Boating
Harken, Mattison, & Melges at Strictly Sail in Chicago
Presentation from Saturday, January 31, at 10:00
Strictly Sail Chicago was recently held at Navy Pier from January 29 through February 1, 2009. Harken's Need For Speed display featured ice boats from Ice Optis up to the Deuce. To add to the event, Buddy Melges, Peter Harken & Bill Mattison gave an ice boating presentation on Saturday, January 31st at 10:00.
Their informal talk (in the Harken display) focused on the history & construction of iceboats andthey will had lots of entertaining stories to share. Buddy Melges is a seven-time Skeeter Iceboat World Champion. Peter Harken is the co-founder of Harken Yacht Equipment, the father of the ball-bearing block, and iceboater for over 40 years, Bill Mattison is a builder and racer of innovative iceboats for decades
January 3, 2008
First Day of 4LIYC Club Racing on Lake Monona
Photo Credits: Tim Stanton
CLICK THIS PHOTO!!!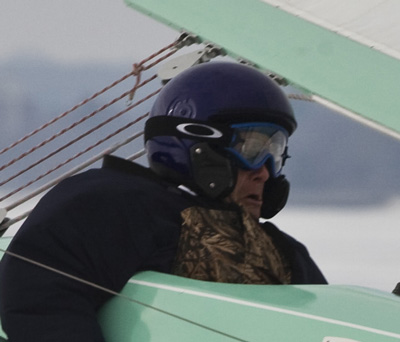 George Gerhardt- Renegade #123
Quote of the Day: "They just don't balls-out sail anymore,"
It's man and machine vs. a blowing-like-stink wind. Click the photo to see what it's like to wrestle a Renegade in strong winds.

Photo Credits below: Craig Wilson
Check out more of Craig Wilson's photos from today's sailing.
January 2, 2008
Fun Racing On Lake Monona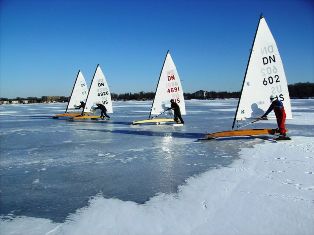 January 1, 2008
Bloody Mary Classic A Real Classic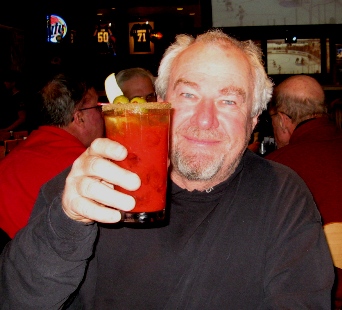 Don Anderson wins the fabled Bloody Mary Eye Opener
"Nuking" was the word used most today to describe the SSW winds on Lake Monona. Late in the morning, five DNs, two Renegades, and Bill Dale in his new land-sailor conversion boat lined up for the ten-lap "Bloody Mary Eye Opener". Thirty three minutes later, Don Anderson blasted first across the finish line, ice forming on the inside of his helmet. The DNs followed shortly after that with Wes Wilcox coming from behind to take first place from Jim Gleuk. Doug Kolner was right behind Don Anderson in his Renegade and Daniel Hearn, Geoff Sobering, and Jerry Ebert rounded out the DNs. On the first downwind leg, Bill Dale experienced a bolt failure on his front tang which caused his rig to come down and he was okay.
Several out of town DN skippers came to sail and were still racing when I left.
December 6, 2008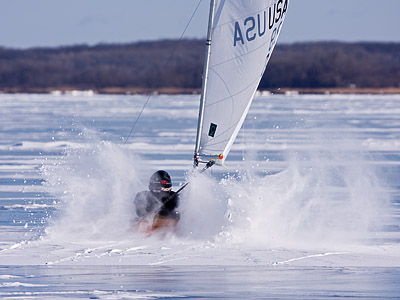 4LIYC Commodore and DN skipper, Geoff Sobering, is making the trip to the GWT along with Wes Wilcox and the 4LIYC Opti contingent of Daniel, Frank, and Sheridan Hearn. As he has in the past, Geoff will be sending photos and reports as time allows. Follow the action here.
July 24, 2009
Don Ward & Rosemary
UPDATE: The Day The Rosemary Tipped Over
UPDATE 2: Here's a sure-to-be-classic ice boat story by Andy Gratton who writes about the above video, "The Day the Rosemary Tipped". Andy was riding along with Don Ward that day at the 1992 Northwest and has a great tale to tell.
"Don flicked the sheet in and out a few times and said how he thought the cleat was a good idea since it worked so nicely. He had other comments about Nubs not having polished the Formica with Lemon Fresh Pledge."
Continue reading.
UPDATE 1: Andy Gratton writes, " Don Ward had in his mind that Rosemary IV was the boat that would not hike. I happen to be in the rear cockpit."
From the 1992 Northwest Ice Yacht Racing Association Regatta sailed on Lake Winnebago, Oshkosh, WI. Don Ward was a legendary ice boater on Winnebago and rarely tipped the Rosemary.
A Look Back At Gull Lake, MI
Here are some Gull Lake vintage shots (link originally posted on the J14 Message Board) from what looks to be a Northwest Ice Yachtng Association Regatta and what possibly could be the first IDNIYRA Gold Cup event. The pictures were uploaded by Bill Sikkma of Gull Lake and came from his grandfather,Jim LaRose, who lived on Gull from 1948-1972 and loved ice boating. Jane & Bob Pegel identified many of the boats in the photos and I have included Jane's commentary below the photos.
See the entire set of photos here.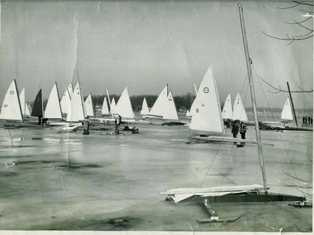 "In this photo Renegade 38 was James May and Renegade 6 was Nubb Sarns. His wife, Dorie, also raced in the women's division. I-551 was Jack Vilas. I-M is Buddy's father, Harry C. Melges, Sr. The tiny minature skeeter in the background that has no sail number was "Pink Pink" that Howard Boston built for his children to sail. Spike was the first Boston child to sail in the boat. I believe he was five or six years old at the time. I-39 was George Kiefer, Jr."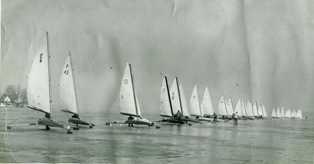 "This photo with Skeeters on the line: F-43 is a 20' Mead sailed by Abby Brown from Fox Lake, IL. Renegade 13 is Doug Provost, Renegade 42 is Kermit Swanson. To windward of E-12 might be I-5. I-5 was Tom Jones from Fontana. His brother was Mel Jones, a sailmaker. Renegade 1 is Elmer Millenbach, IOU is Bill Perrigo from Pewaukee in a 22 ft. Mead tandem, U-666 is Michael Johnston from Lake Winnebago, and I-22 was Jack Vilas. He also sailed with I-551. F-390 was Bill Reier."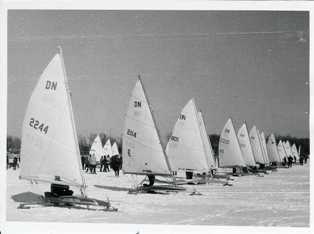 " In this photo of DNs lined up, I see in the background #2451, this was Bill Allen from Lake Minnetonka, MN. Bill sailed with Buddy when they won the Olympic gold in the Soling class. #666 is Spike Boston, Skip's younger brother. Spike has a sail loft in Sarnia, Ontario. On the line I recognize #2244, Ken Mowbray, who was a member of the Skeeter IBC. #7 was Russ Johnson from the Detroit area. He also raced a box style Skeeter. The sail number 000 I think is Harold LeBeau. His number was DN 2000. Harold lived next door to Howard and Lolly Boston, on Lake St. Clair. Now his son, Leon LeBeau uses #2000. Leon and his family now live in the old family house on Lake St. Clair. You'll notice the small rectangular sailmaker's label on many of the DN sails. That was the Kenneth A. Nelson Company. Bob Pegel and Ken Nelson were business partners, making sails in Chicago."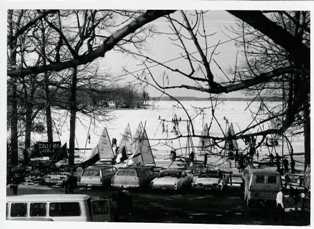 "If this photo is from the Worlds at Gull Lake, that was the first Gold Cup event in 1973. The winner was Ain Vilde from Estonia. Randy Johnson from Gull Lake placed second. Jan Gougon was third. Russ Johnson was fourth. Helmut Leppik from Estonia was fifth. Wim Van Acker from Holland was the top senior skipper and Bobby Redner from Cass Lake, MI was the top Junior."