2013-2014 Season
June 6, 2013
Mattison Brothers Circus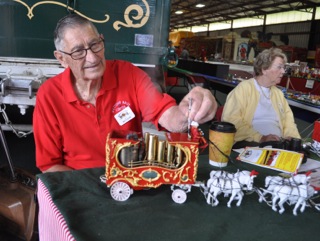 Bill Plays us a tune on his calliope.
Via Don Sanford: "Last Friday, May 31 members of the Thursday Morning Breakfast Club and a couple of our wives, drove up to Baraboo to visit Circus World Museum. Actually the focus of our visit was the International Circus Model Builders Association show including the famed Mattison Brothers Circus and its creator, designer, builder, head roustabout and CEO, Bill Mattison. Yes, the same Bill Mattison you probably know as the champion skipper of E and A-boats or the designer, builder and champion skipper of iceboats. Decades ago when he was in grade school on Madison's east side, Bill's other passions, the circus and model building, intersected. Even though there's no bronze plaque outside his family's home near Orton Park, historians who keep track of these things recognize that as the birthplace of the Mattison Brothers Circus.
[Here are some old newspaper articles from the 1940s about Bill Mattison and his circus models.]
June 27, 1941 
June 7, 1942 Part 1
June 7, 1942, Part 2
Prizes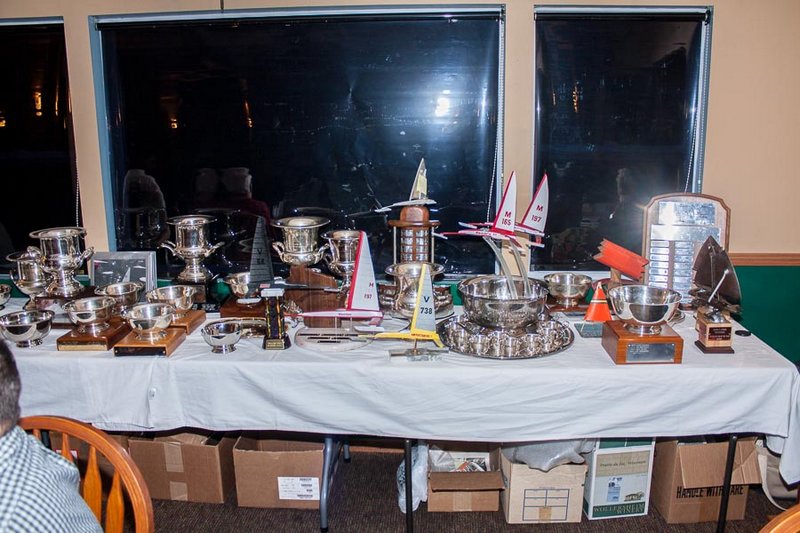 Photos album from the 4LIYC awards banquet posted here.
April 17, 2013
Catching Up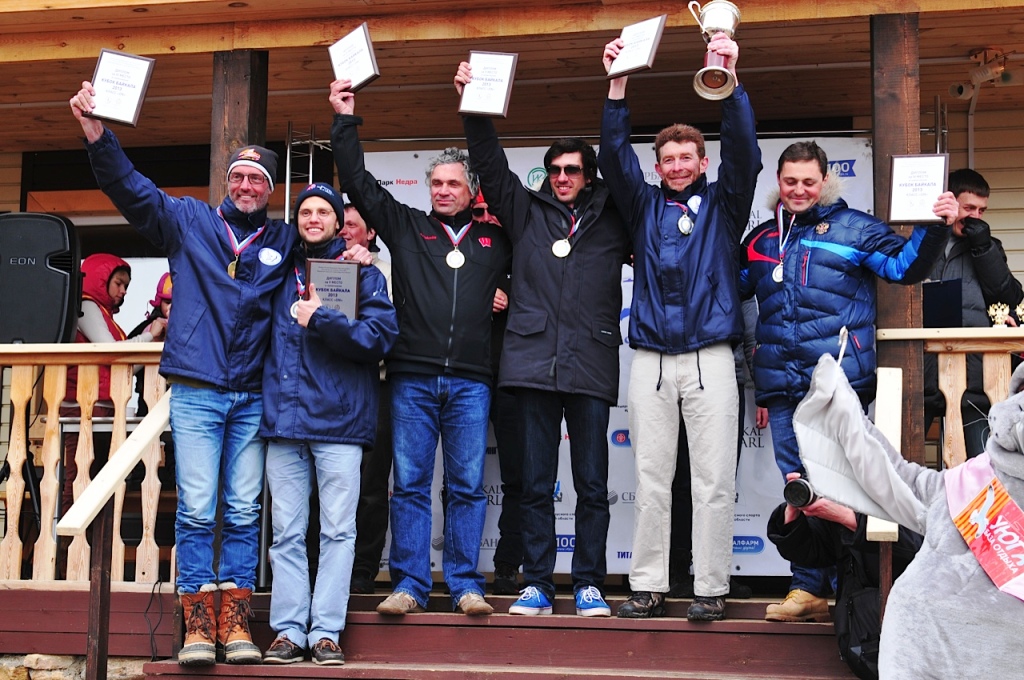 Photo Credit: Alexandra van Egmond. Baikal Cup podium finishers, the 4LIYC hat makes another international appearance on Dideric van Riemsdijk, far left.
Bad internet access has followed me back home from Russia and I'm still dealing with it but trying to post as much as I can. There's a lot of video and photos still coming out. Check this video out by Evgeny Ryazhev.
Keep checking the blog, I will continue to post there as well.
April 15, 2013
Back in the US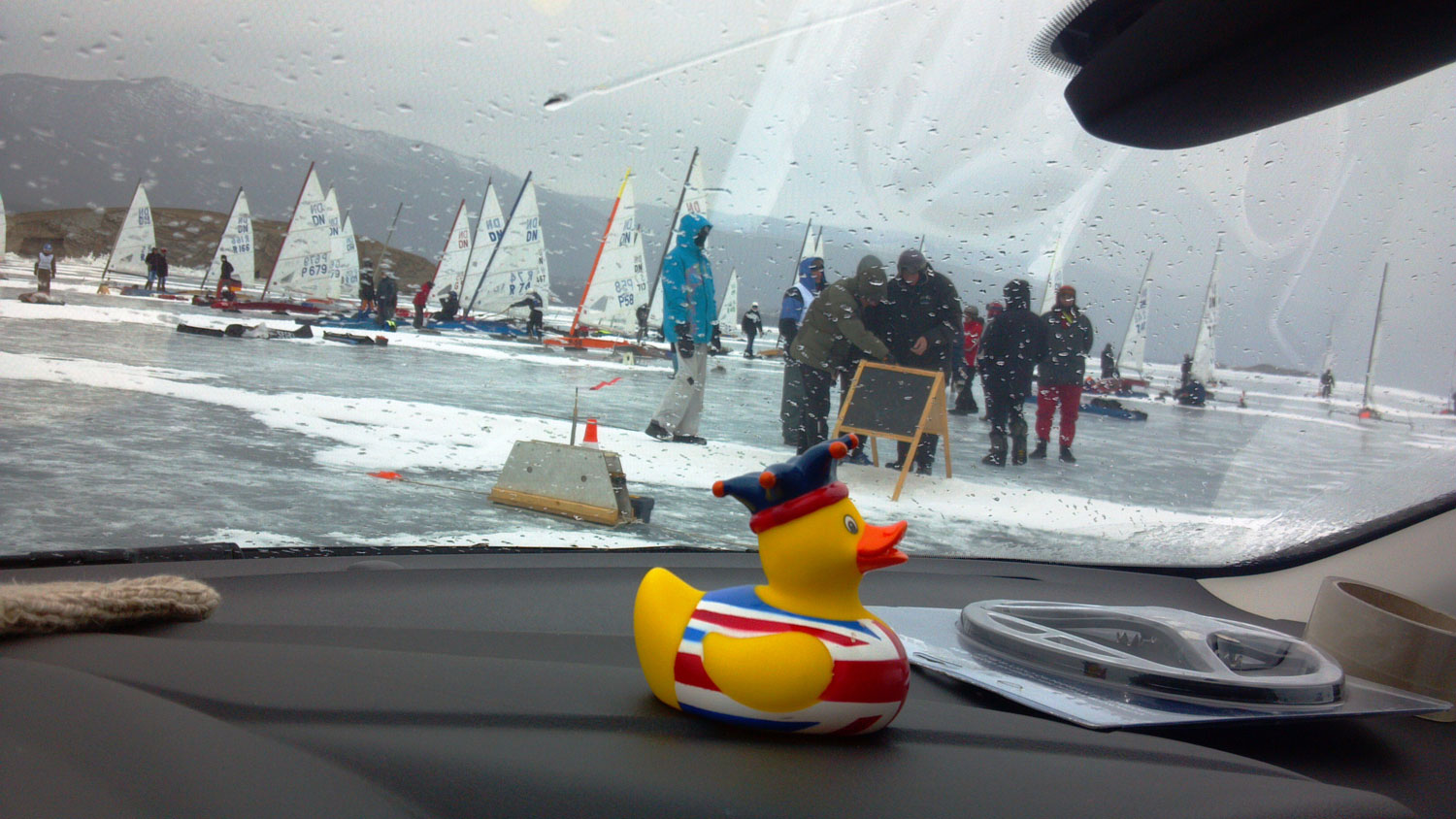 Through the scoring car windshield on Lake Baikal
After two days of travel, finally back home last night at 11 PM. Thanks to Geoff Sobering for taking over while I was away on one of the most incredible adventures of my life. Looks like the 4LIYC Awards Banquet was a great success too! It was very disheartening not to have the full internet access there that I needed but was able to post periodically to Facebook. So, that means I have a lot of catching up to do. Downloading pictures now. I have an hours worth of download time! Stay tuned...LOTS more photos and reports coming about Lake Baikal.
April 2, 2013
Out the Door...
In a few minutes, I'll be on the way to the airport and will arrive in Irkutsk, Siberia on Thursday. Geoff Sobering has kindly agreed to take over website duties while I'm gone.
Meanwhile, check out the Siberia blog for the latest from the Russian DN regatta.
February 27, 2013
Videomania!

Ride along with JD on his Skeeter
There's been quite a few high quaility ice boat videos posted on Youtube the last two days. Too many to embed on this page so here's the list:
John Dennis Skeeter first ride on Minnetonka
Now You Know: Ice Boating On Elk Lake with Jack Jacobs
Swedish DN Championship
B fleet leeward rounding.
Sailing with Tomek Zakrzewski P55
A fleet 6th race leeward rounding
February 24, 2013
Double Reverse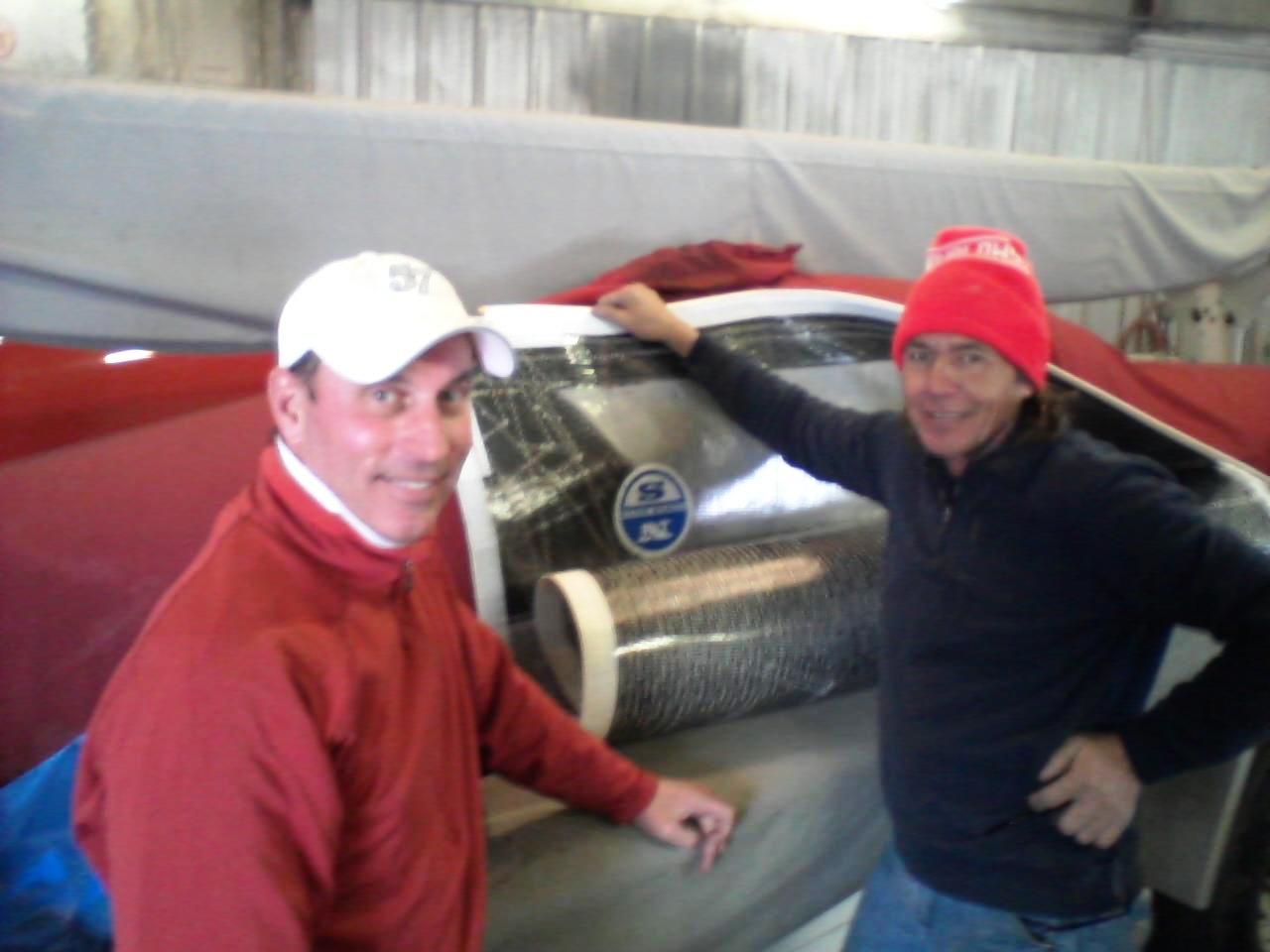 Discussing adding 2" to the luff.
"Melges North Sails rep (and DN & Nite skipper) Jim Gluek made a house call yesterday to the Whitehorse/Krueger Boat Barn to discuss sail development for Ken's Skeeter, Warrior -->-->-->-->--> [That's Warrior 5 using arrows-ed.}
This past Sunday, the Warrior found the set up and sail combination for the light air conditions (winds 4mph with gusts to 6).
Gluek assured Whitehorse that Melges North Sails can build a special double reverse blade sail that will stick to the track and handle the corners in big wind. Whitehorse immediately commissioned them to build such a sail."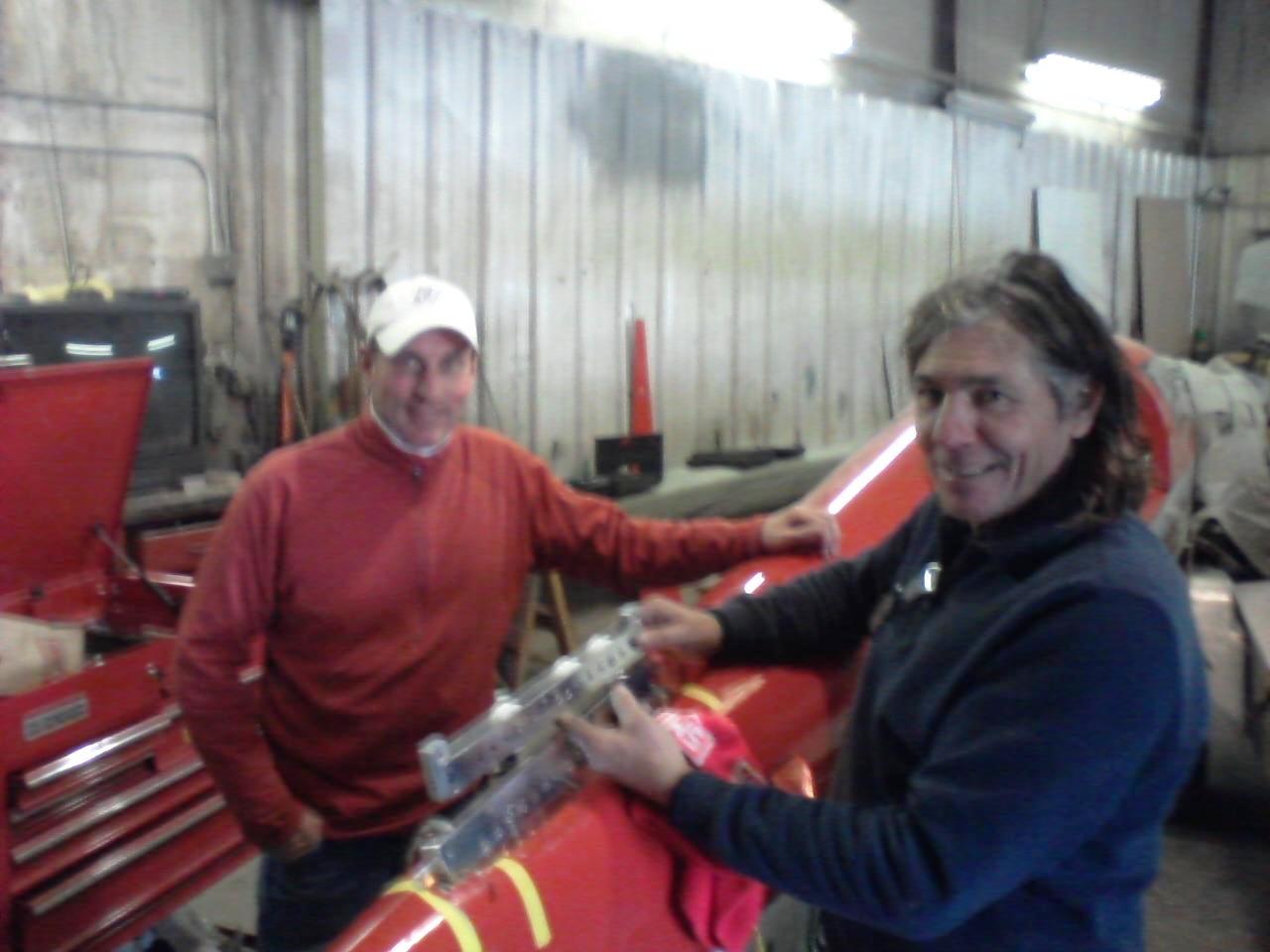 Discussing pulley placement.
Report submitted by Wahoo Whitehorse
Photos straight from Jon Thundercloud's phone.
Mendota Kite Cam Photos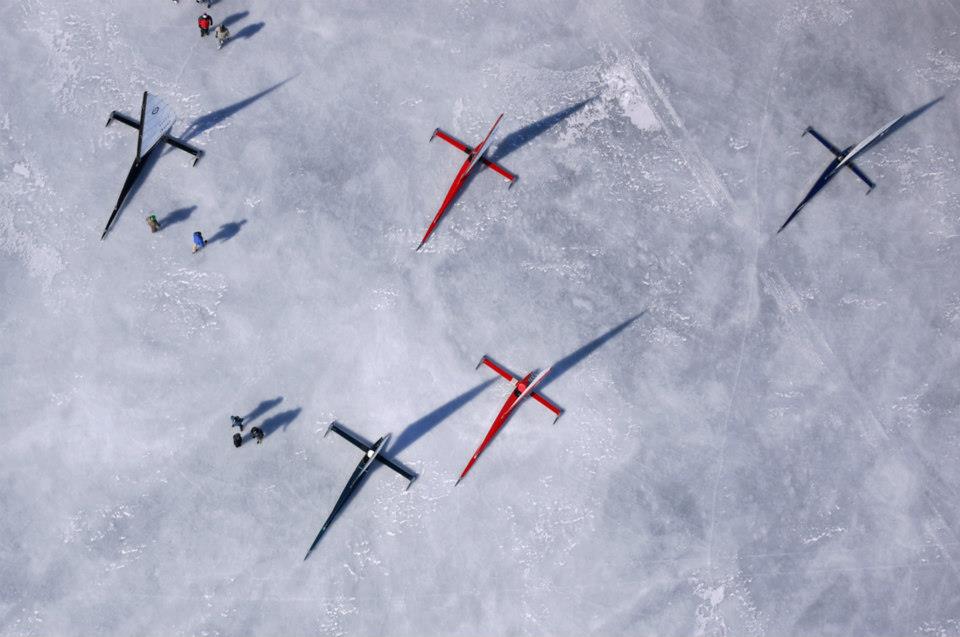 Craig Wilson flew his kite and camera on sunny Lake Mendota over the weekend. See photos from Sunday here on his Facebook page.
February 17, 2013
Sunday..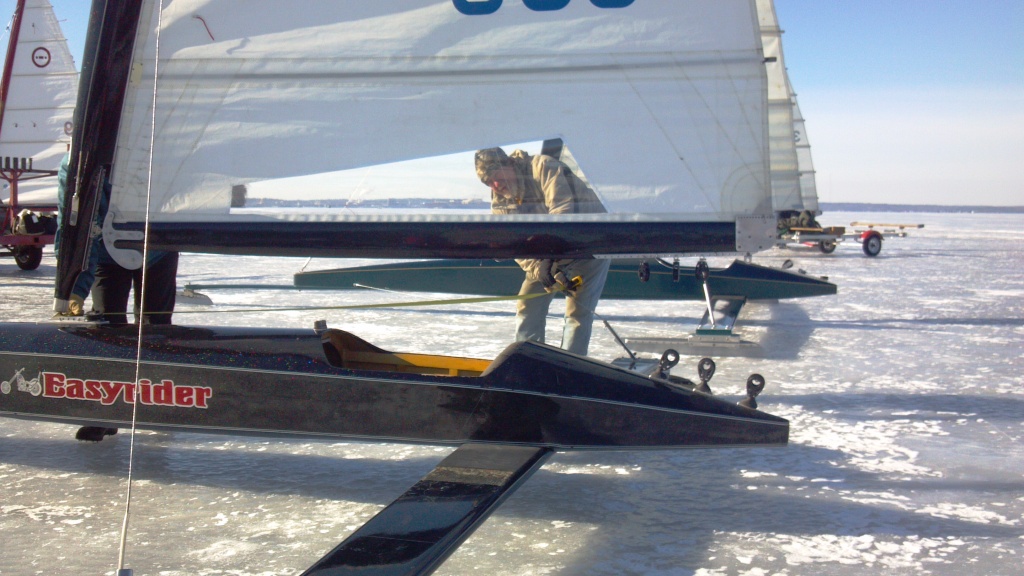 ..from a window.
Sunday sailing was just as good as Saturday with 12 races completed in 3 fleets. Scores updated here.
February 16, 2013
One of Three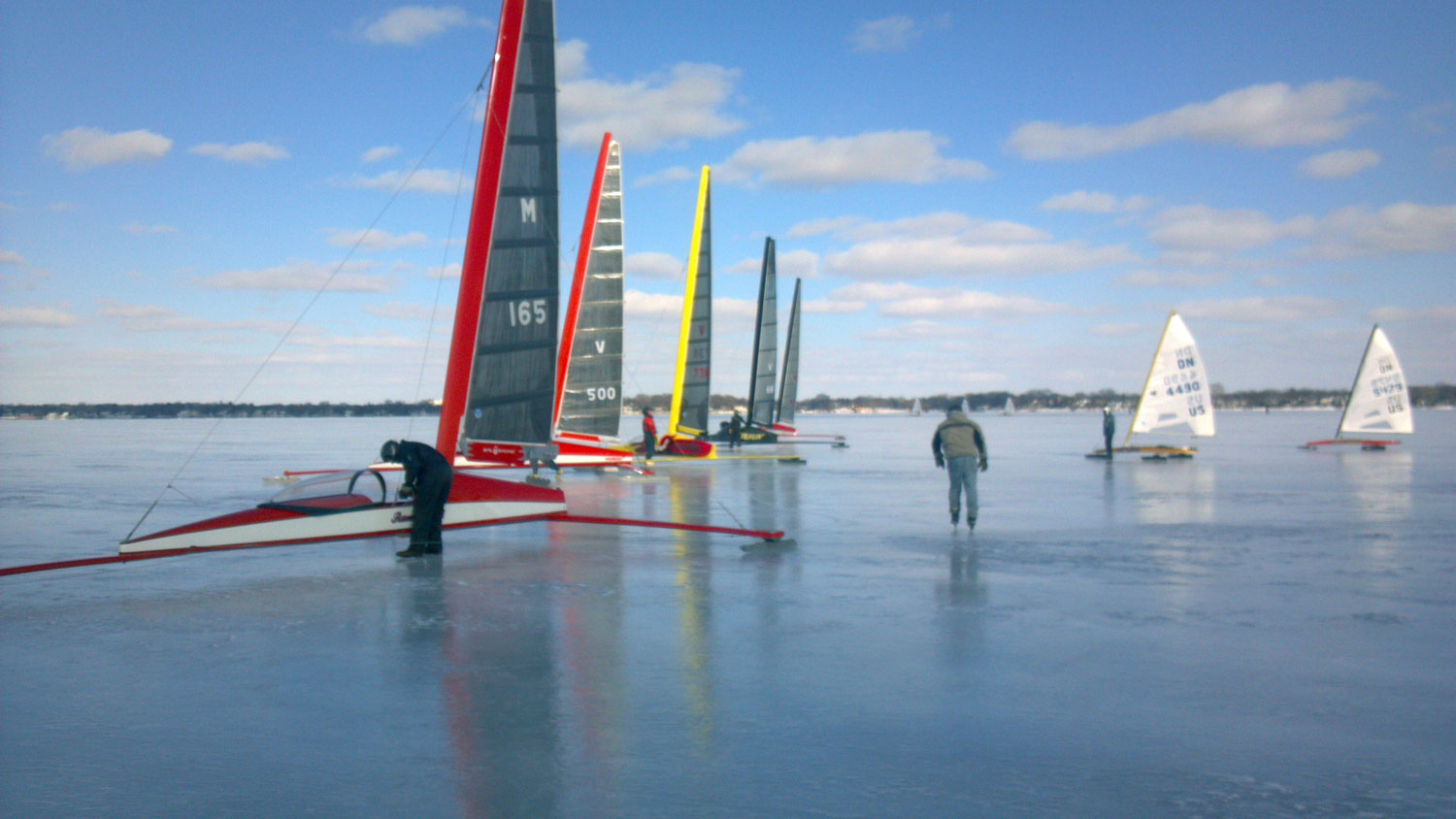 It was a stellar day in Wisconsin for ice boat racing. The Nites sailed their regatta on Green Lake, the Boecraft Skeeters sailed theirs along with SIBC club racing on Geneva Lake, and the 4LIYC completed 12 races in 3 fleets today on Lake Mendota. Daniel Hearn dominated the DN fleet today with 4 bullets. Tim McCormick won 2 in the Renegades while Greg McCormick and George Gerhardt each won the other two races. The Skeeter races were just as exciting with first place finishes by Bill Dale and two by Tom Hyslop. The last Skeeter race of the day was won by Steve Orelebeke who battled runner to runner with Tom Hyslop all day. Back at it tomorrow at 10 AM.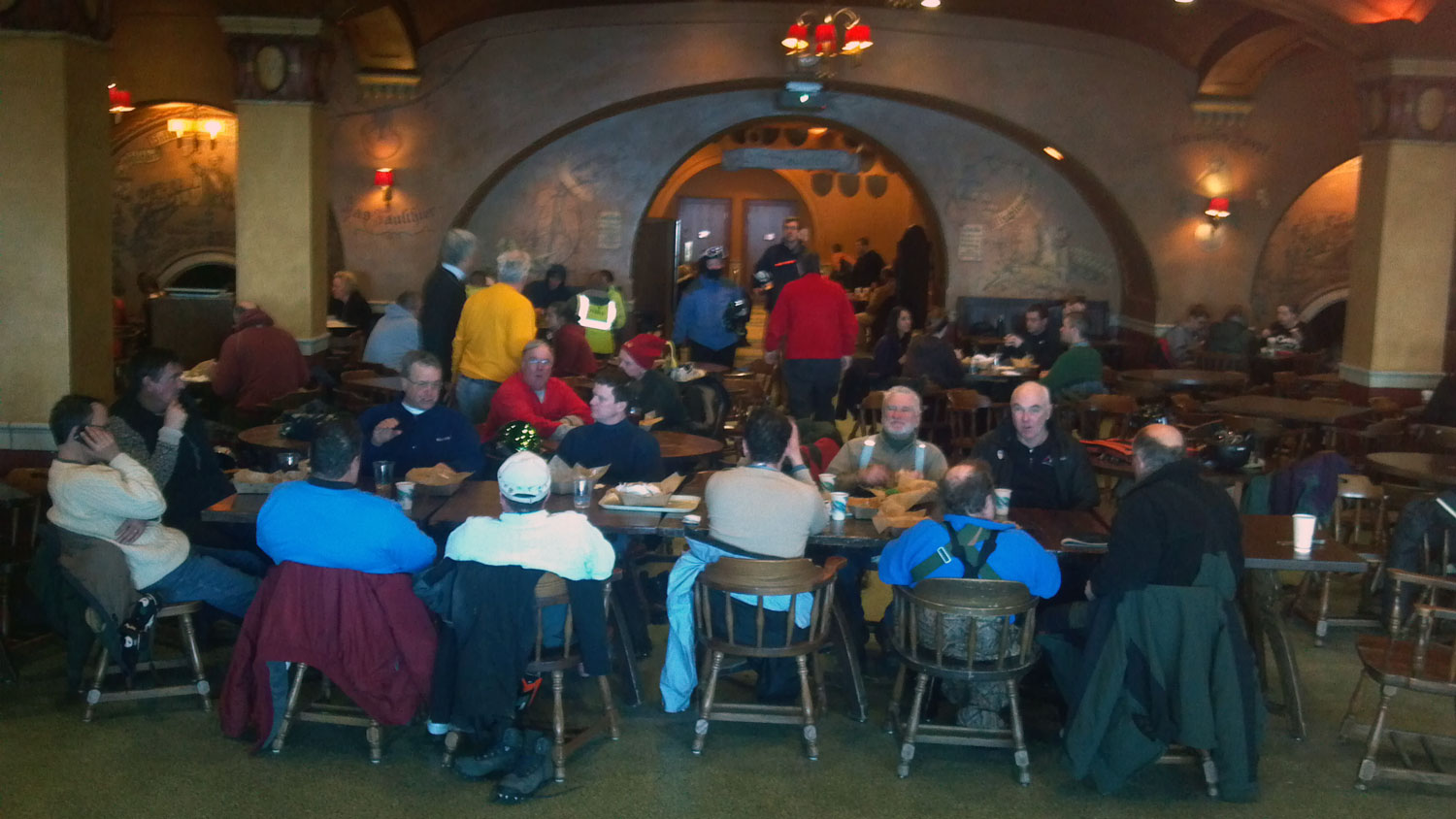 The fleet enjoys a break at the University of Wisconsin's famous Rathskeller.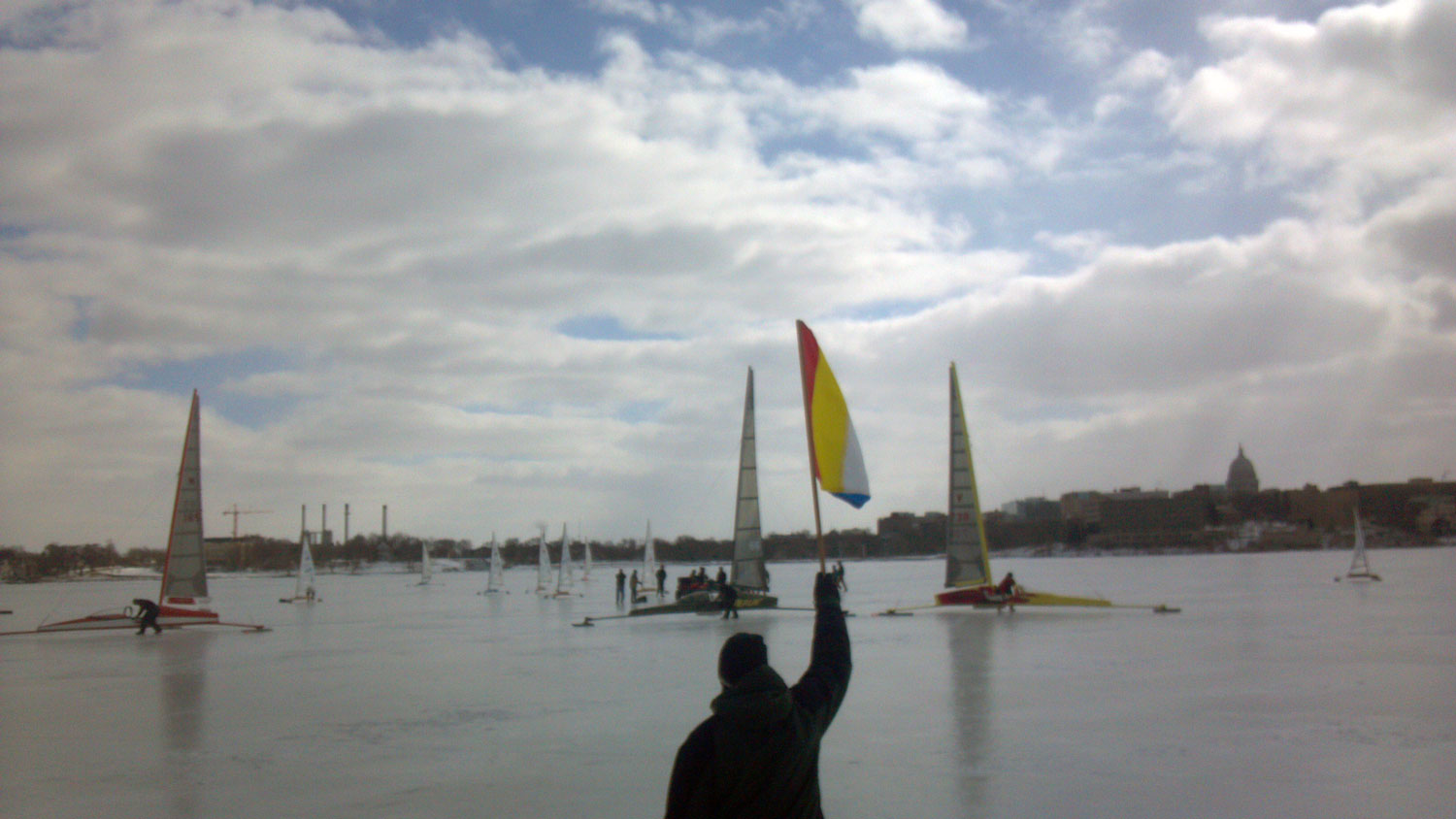 Peter Fauerbach hoists the starting flag.
February 10, 2013
Bent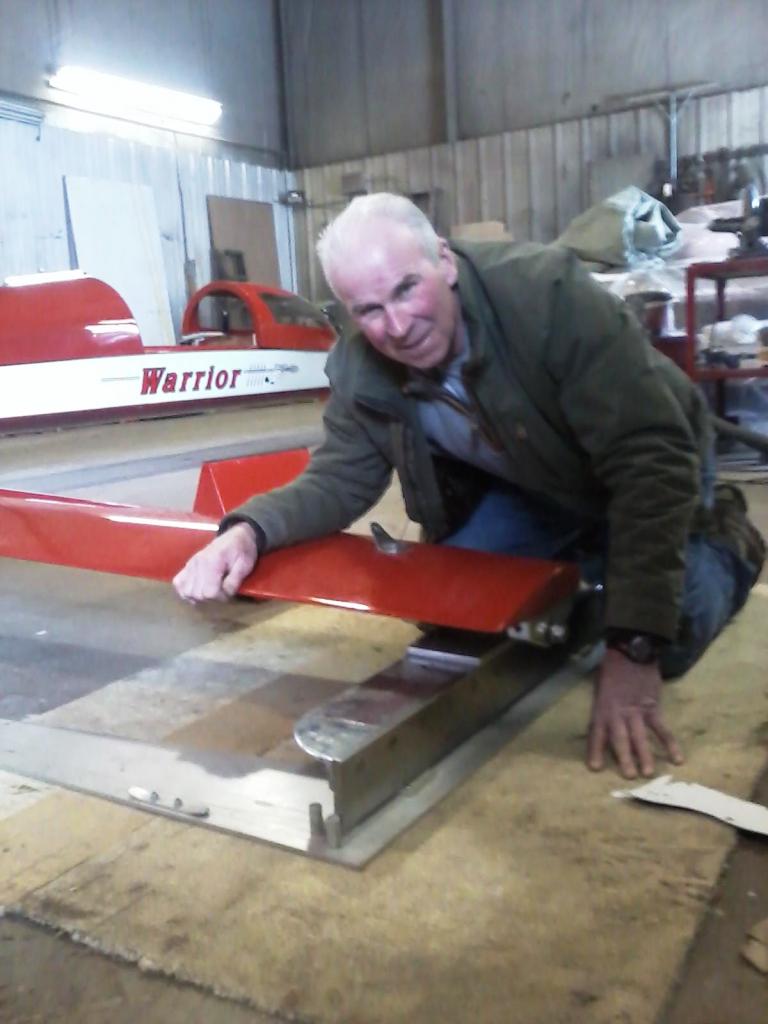 4LIYC Skeeter skippers Ken Whitehorse and Bob Kau spent some shop time this week aligning Warrior's runners and discovered one of the runners had bend in it. Ken is figuring out a way to unbend it.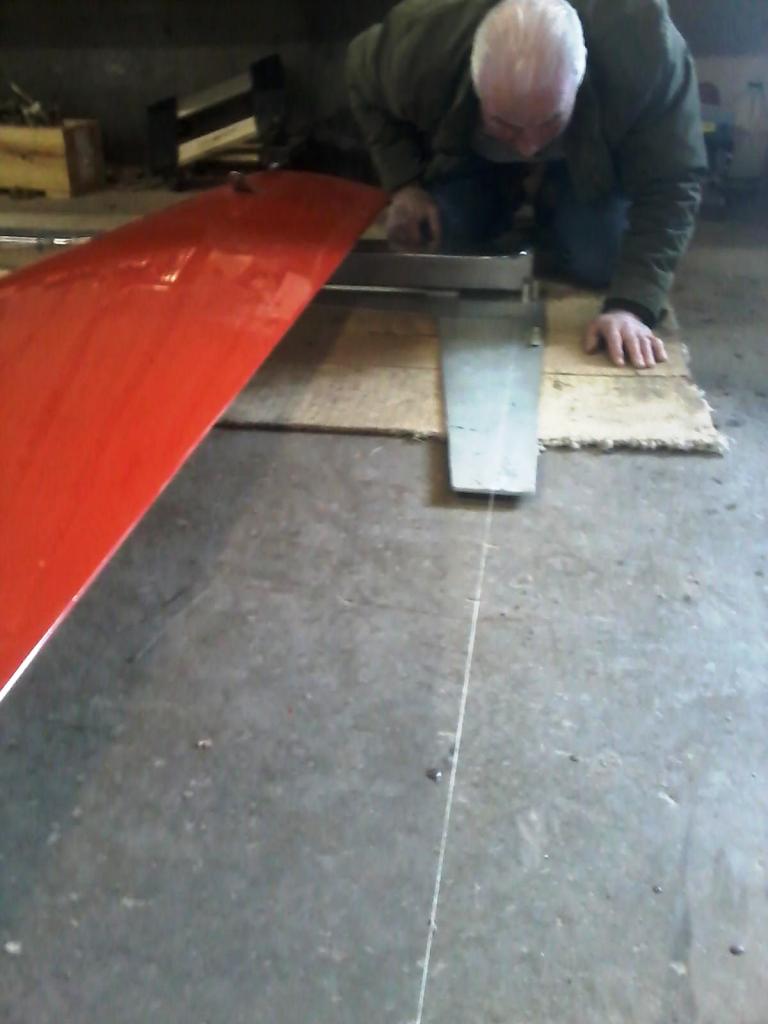 January 17, 2013
They Really DO Fly!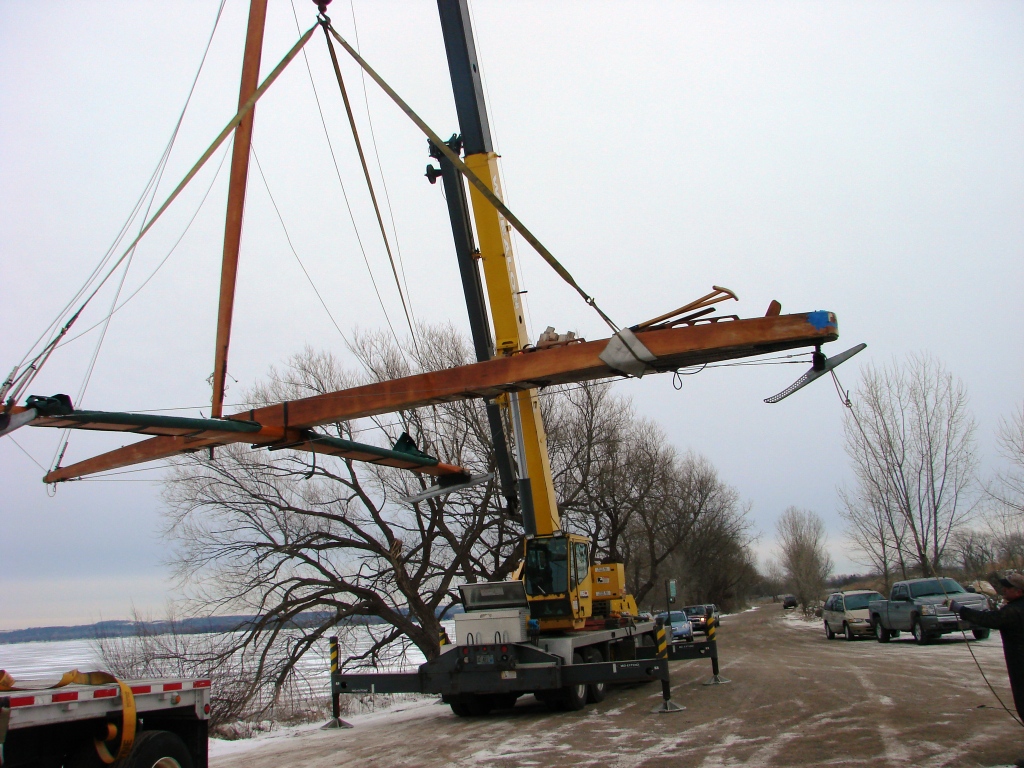 Via Fond Du Lac ice boater Dave Lallier, " My good sailing friend Dave Whealon, who has inspired us to get the Dutchmen going again, decided that since there are so many Stern steerers sailing, that we had better hurry up and get her out. So, since he has a bunch of equipment, he said "lets get it done". So, he loaded her up on one of his 18 wheelers, got the crane fired up, and assembled her in a parking lot next to the lake. I haven't ever seen it done like that before. The Hudson River Yacht Club is having a ball and getting a bunch of sailing in. I hope to get you a couple of photo's of them, all those gaff riggers out sailing together is such a beautiful sight. Our paper put them on a front page and also has video and photos here."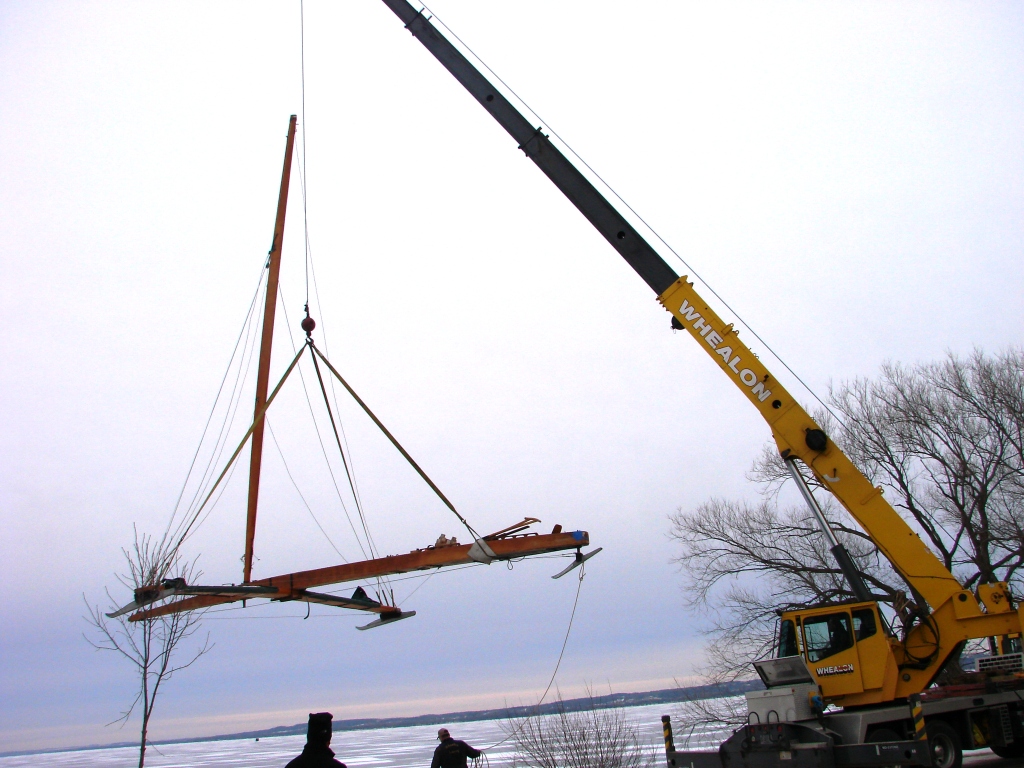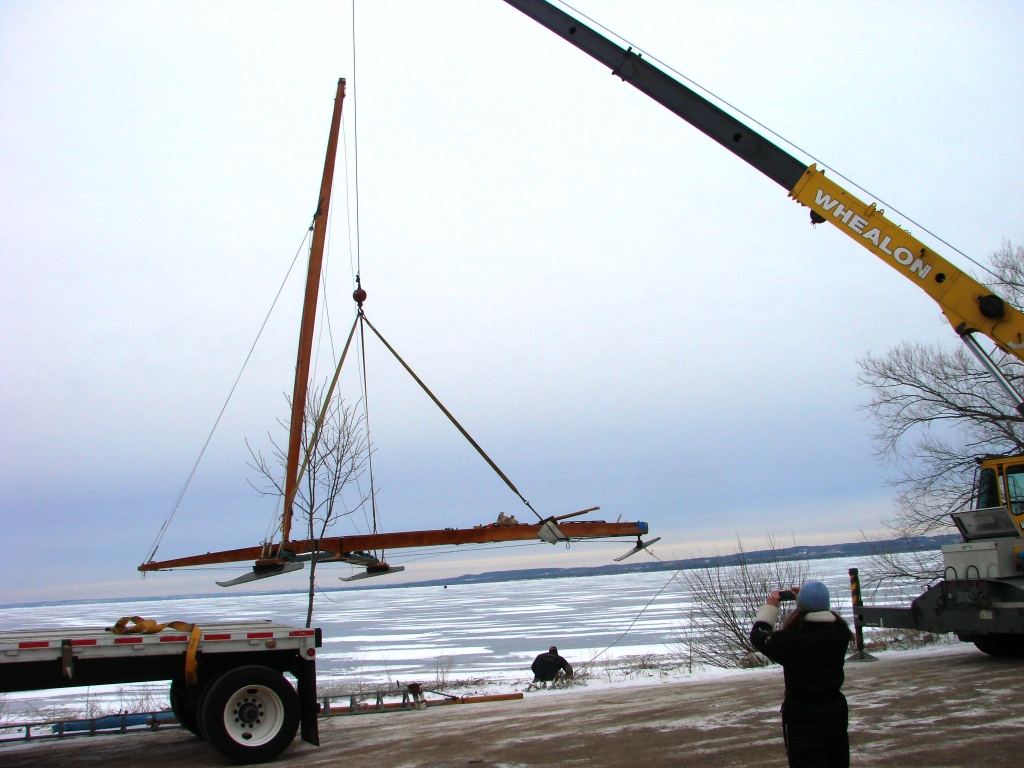 On Not Being That Guy...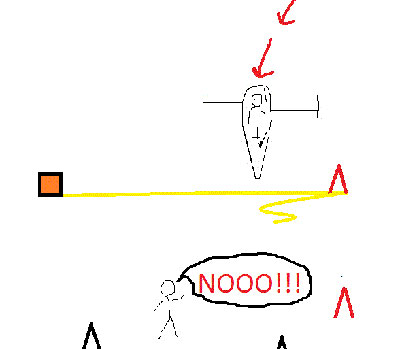 Toledo Ice Yacht Club's Kent Baker (also IDNIYRA Vice Commodore and Central Lakes Commodore) has created "a poorly drawn tutorial series for novice and beginners in ice boat racing". He may think it's poorly drawn, but the graphics and explanations give a very clear understanding of how to properly finish a race with a safety zone and how to line up your boat at the start. Go there...now.
January 10, 2013
Forever Young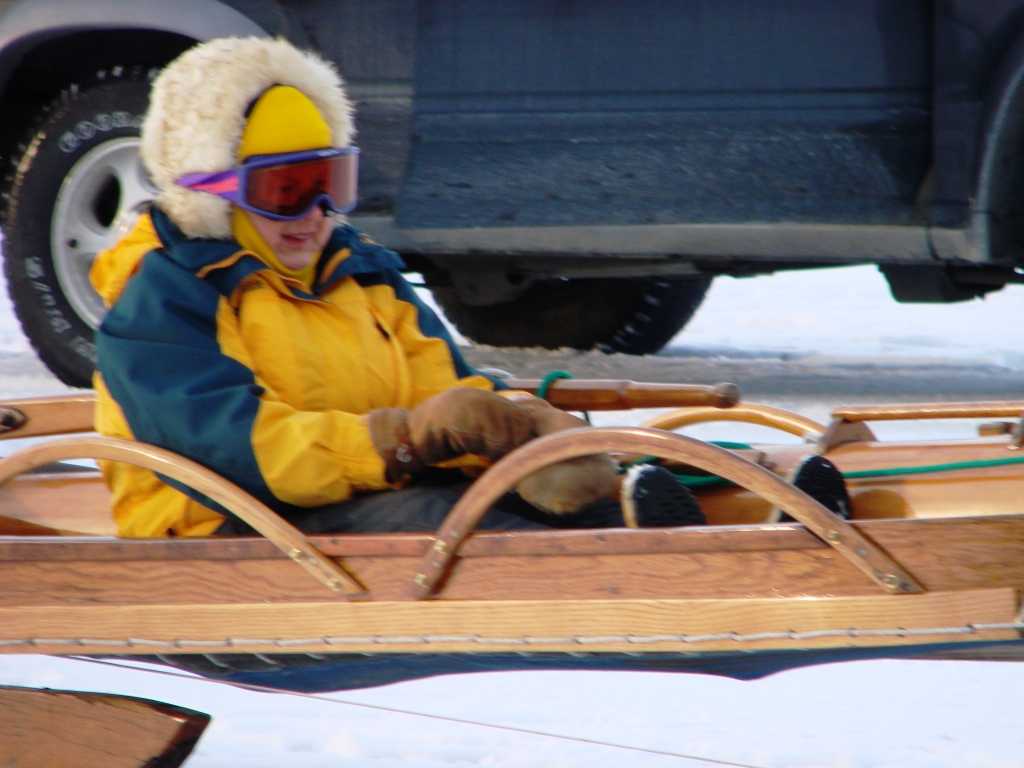 Via Lake Winnebago ice boater Dave Laller, "Just wanted to send you a couple of photo's of my brother Jeff and I taking our 84 year old mom sailing on our Johnson A boat this past Tuesday. It was a fantastic day of sailing and we did not want to stop. This iceboat thing started for me when I was a baby sitting on Mom's lap in the back seat of Mr Dass, an old Don Ward D skeeter which is still in the family. Both Jeff and I were lucky to have spent much time sailing with mom and dad when we were young. Happy sailing and hope to see you soon!" [Mrs. Lallier is definitely PAGO material...see post below.]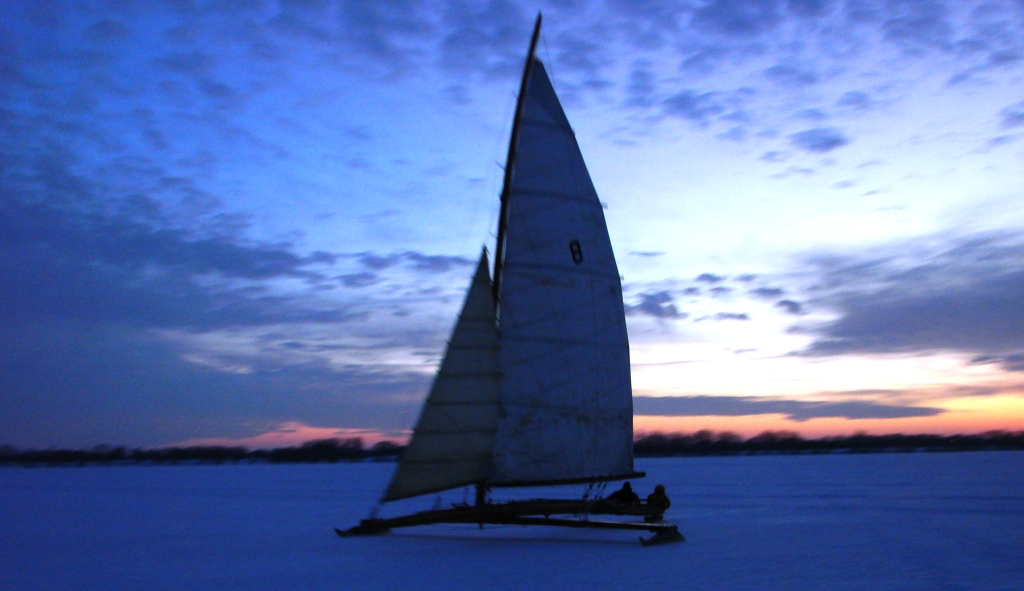 Long May You Run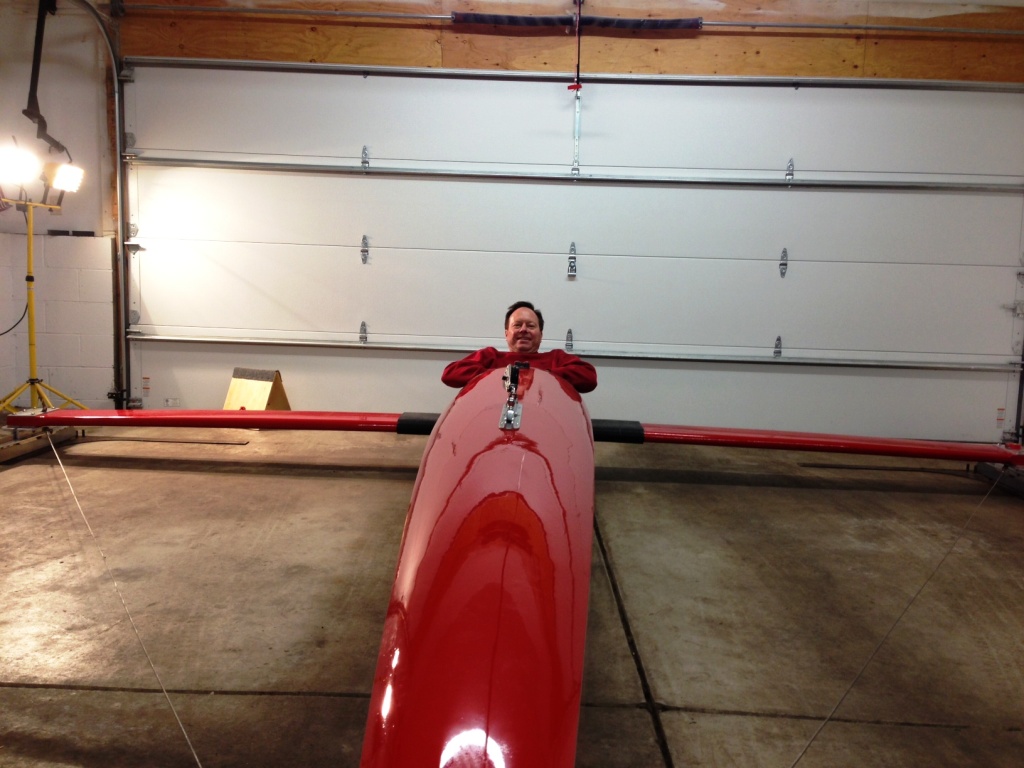 Tuesday night Tim and Pete McCormick installed all the remaining hardware and squared up the runners. Renegade #309 is ready for action! The boat has been named PAGO which is a movement started by Pete's wife, Darcy. Darcy is a physical Therpy Assistant and has started a "Movement of Movement." PAGO stands for "People Against Getting Old." Stay active and stay young.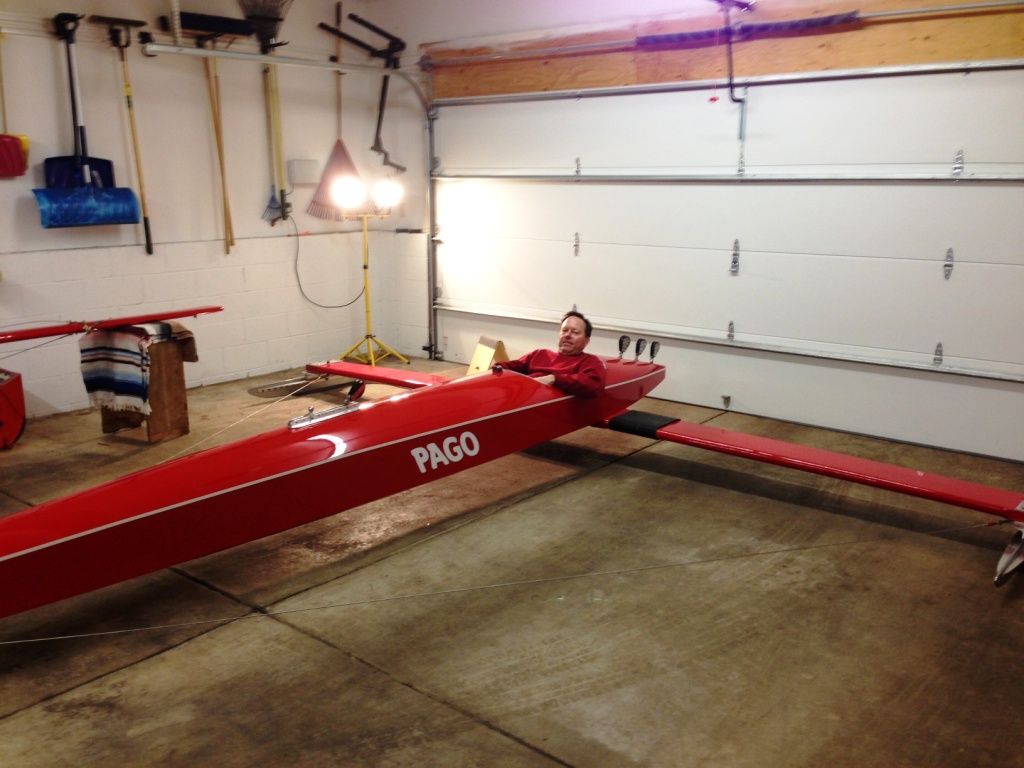 January 9, 2013
When In Doubt Wear Red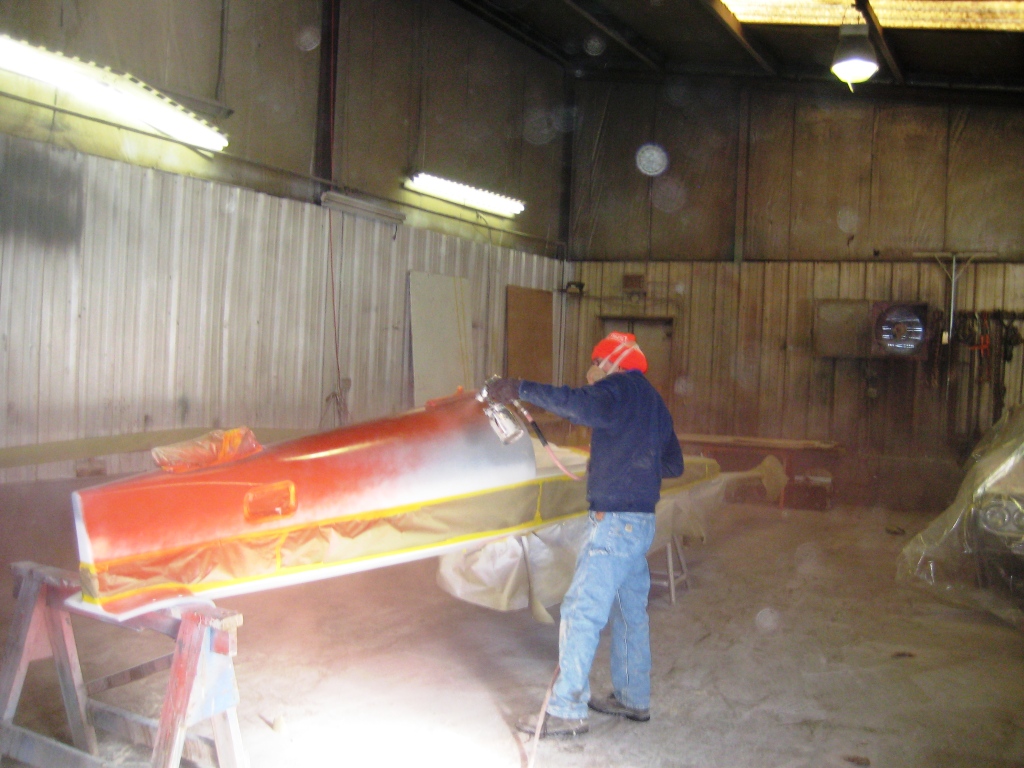 4LIYC skipper Ken Whitehorse is putting the finishing touches on his recently fast-backed Skeeter by getting it back in red. Ken said something about trying to take it to the McCormick's paint shop but they "only work on Renegades and DNs". Ken figured since his boat wasn't "very fast this last weekend that I'd at least make it pretty." Apparently he picked out a color that helps the boat "stick to the track and corner better."
UPDATE: Graphics on..Warrior is ready to go...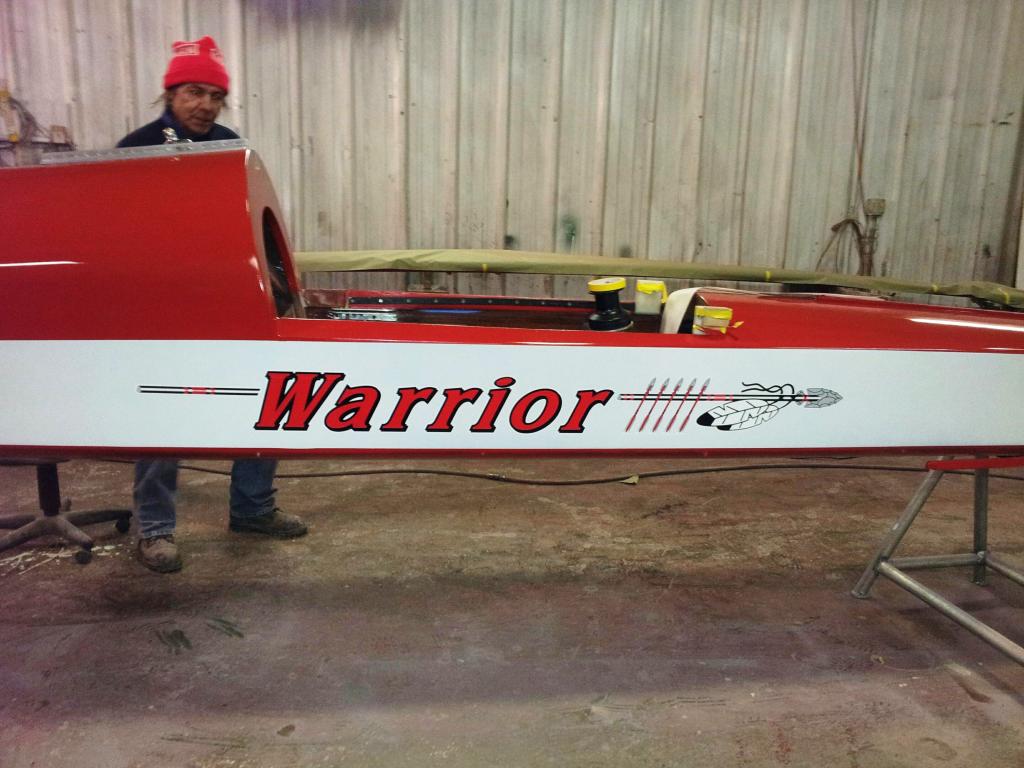 January 7, 2013
Photos by Allen Penticoff of 4LIYC Skeeter and Renegade racing on Saturday, January 6 at Lake Kegonsa.
January 2, 2013
In The Red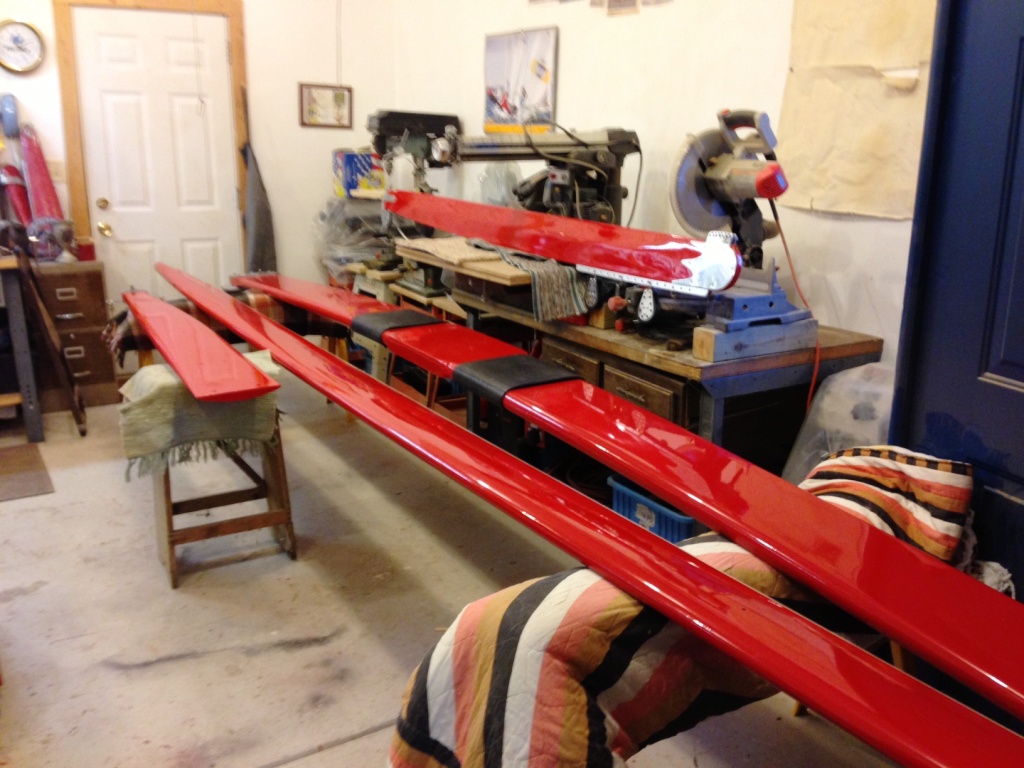 Here's another Renegade McFactory Update from Peter McCormick, "Completed the paint prep work for Renegade #309 and dropped it off at S&R Marine for painting.  John Ritter did a fantastic job painting the Mast, Runner plank, boom and springboard (Hull should be done this Friday)…. and of course it is RED.  I have begun installing the hardware and hope to be operational by the weekend."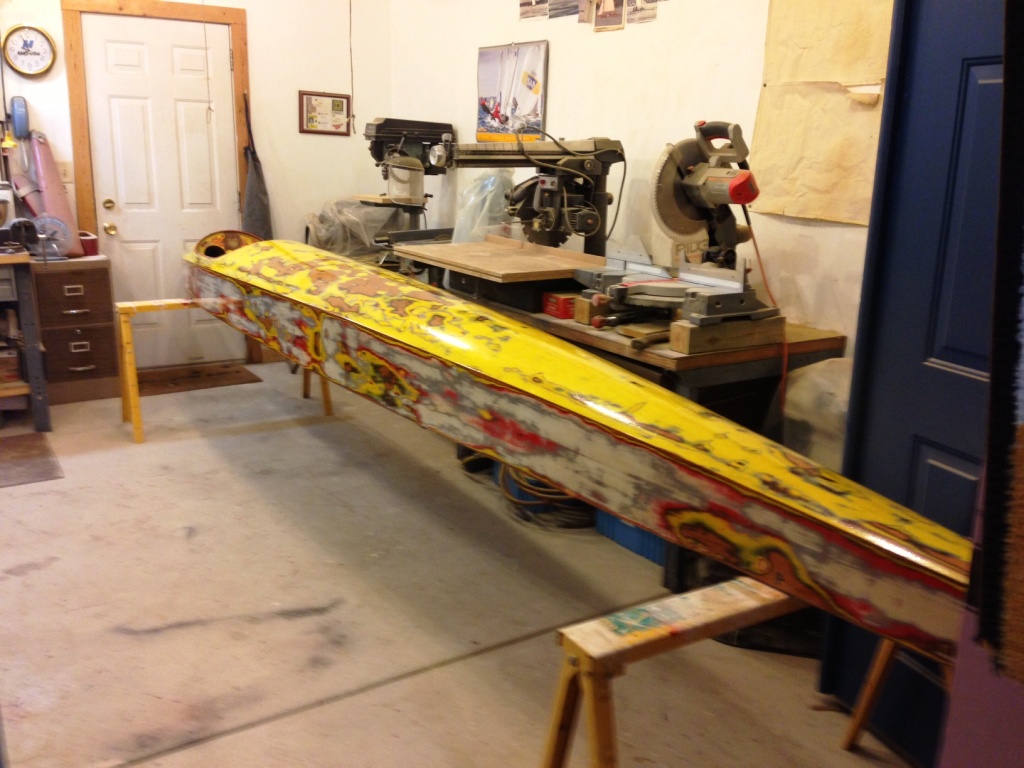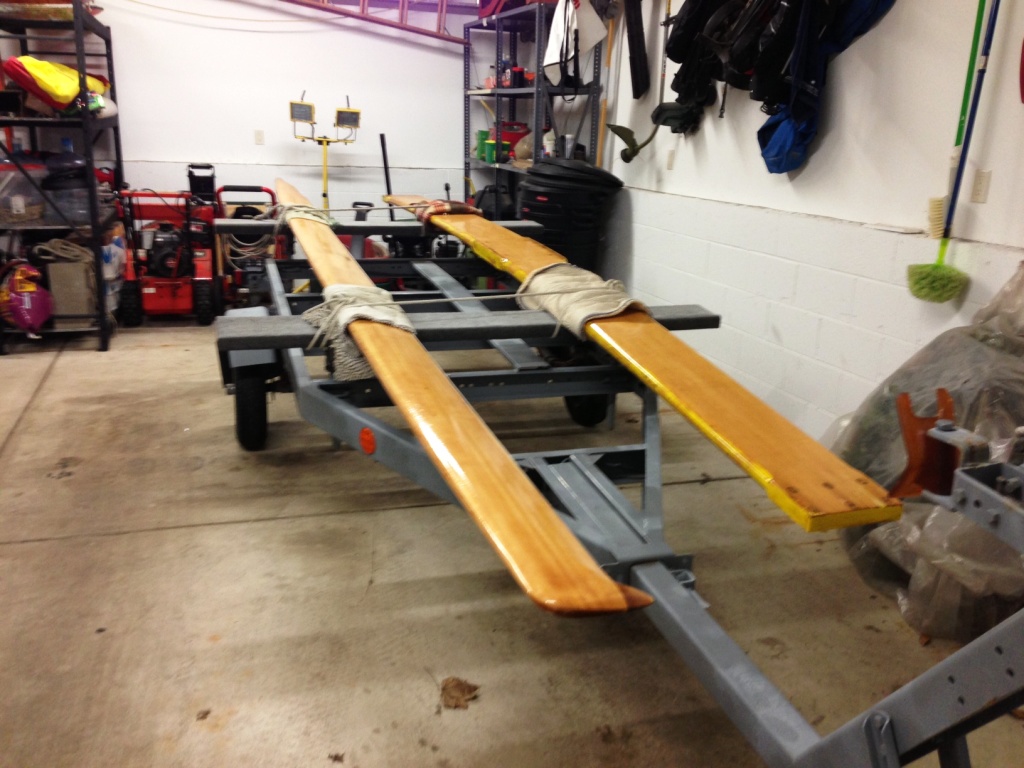 December 19, 2012
Jan Gougeon


Jan Gougeon at the 2011 DN Worlds in Peru, IL
Photo by Gretchen Dorian
UPDATE: Read Ron Sherry's tribute to Jan Gougeon here.
Via the West System website: "Jan Clover Gougeon, of Bay City, Michigan, died Tuesday, December 18, 2012 in Ann Arbor, Michigan at age 67. 1n 1969, Jan founded Gougeon Brothers, Inc. with his brothers Meade and Joel. The company began building boats and iceboats, and found great success in formulating, manufacturing and marketing WEST SYSTEM and PRO-SET epoxies for boat construction and repair." Continue reading.
Jan's influence in ice boating can not be emphasized enough. Jane Pegel shares the record and thoughts about Jan:
"Jan Gougeon, DN US 1183
IDNIYRA Commodore, 1980
DN Junior Champion 1964 - Toledo
DN World Champion,
1975 - Saginaw Bay
This regatta was completed as the ice was blowing out of Saginaw Bay.
1982 - Wittensee, Germany - sailing on hard ice
1985 - Barnegat Bay - sailing a new hull design that became the basis for the the hull design now sailed by the majority of North American sailors.
1991 - Saginaw Bay sailing on soft ice using a Boston low batten sail.
DN North American Champion
1971 - Geist Reservoir
1972 - Bantam Lake 1976 - Hamilton Bay - The first championship won with an aluminum mast
1981 - Hamilton Bay - Sticky, light air conditions
1986 - Muskegon - Great sailing on hard ice.
1988 - Trenton Water on the ice was over the runners. 1994 - Elk Lake Jan won a close battle with Ron Sherry sailed in sticky snow with strong wind.
2000 - Lake Miltona Dominated the racing sailing on soft ice using 1/4" Ts.

Jan Gougeon was a major player in the development of the DN into the boat we sail today. Jan won the 1985 Worlds with a hull design that was the prototype for the hulls now being raced by the majority of North American sailors. He easily won all the races in that championship and then made plans available for others looking for top performance. He thoughtfully considered how best to take advantage of all allowed tolerances and set a new path for the design of DN hulls. Current Class plans are based upon Jan's design.
Jan was the toughest competitor I've ever seen. In 1989 on Lake Champlain Jan broke his mast scrub racing the day before the championship. He borrowed some Gouge from another sailor, got some sitka scraps from Peter Hill and worked all night to put the mast back together, stopping only for a couple of cat naps while the glue set-up After stripping to bare ski to sand the mast, Jan was black with carbon dust but his clothes, carefully stowed away, were clean and fresh. He hopped into the shower and was ready to hit the starting line and placed second in the Worlds.
When members of the Detroit IYC were experimenting with fiberglass masts and producing masts as stiff as telephone poles, Jan and Mead helped tweak the building procedures. The result was the Whip that was successfully used on the winner of the 1996 North Americans.
Always bubbling with enthusiasm, Jan was happy to share his knowledge with others. Along with his brother Mead, Jan was responsible for the development of young Matt Struble, who went on to win three World's and three North American championships. A sportsman, a competitor, and a gentleman."
UPDATE: Nice thread on Wooden Boat Forum about Jan.
SA has one too.
November 19, 2012
McFactory Update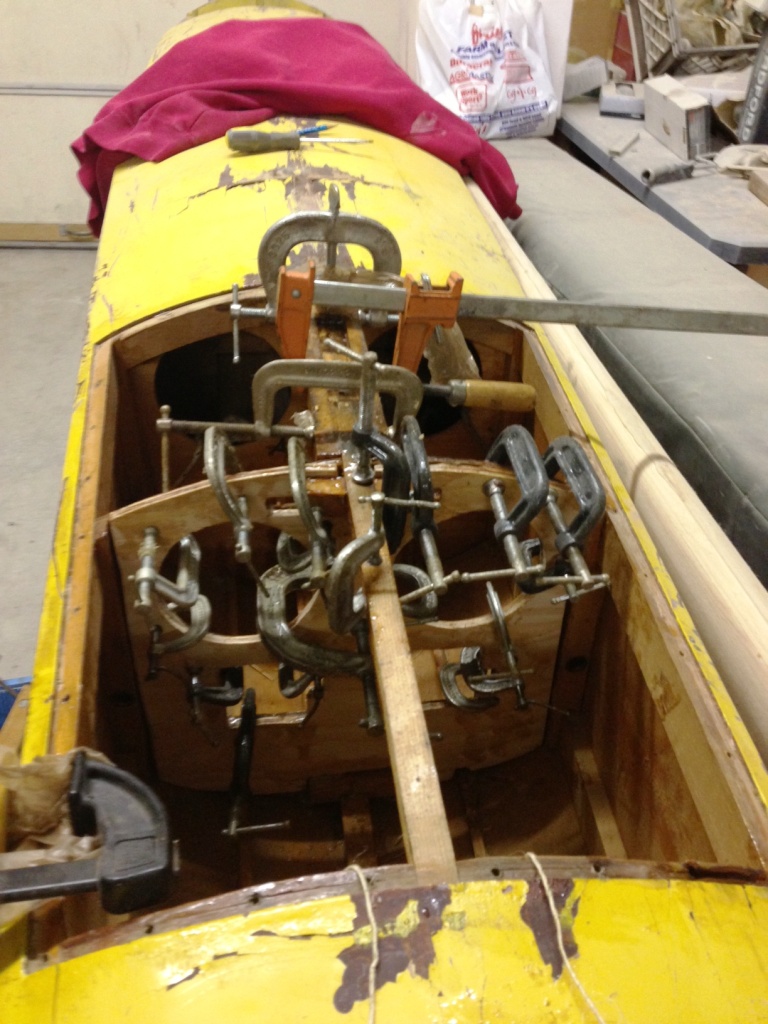 Via Pete McCormick from the McCormick Renegade McFactory,"Here is a quick update. Tim is preparing his mast and runner plank for painting. I repaired the damaged bulkhead."Previous.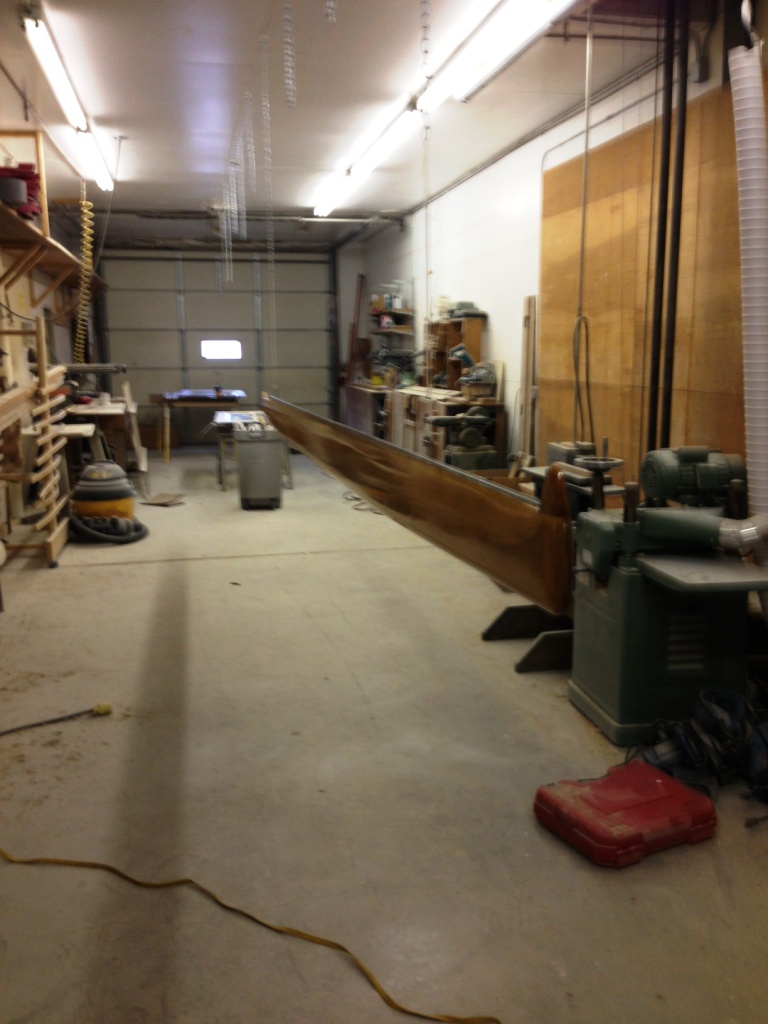 November 14, 2012
Dat's da One!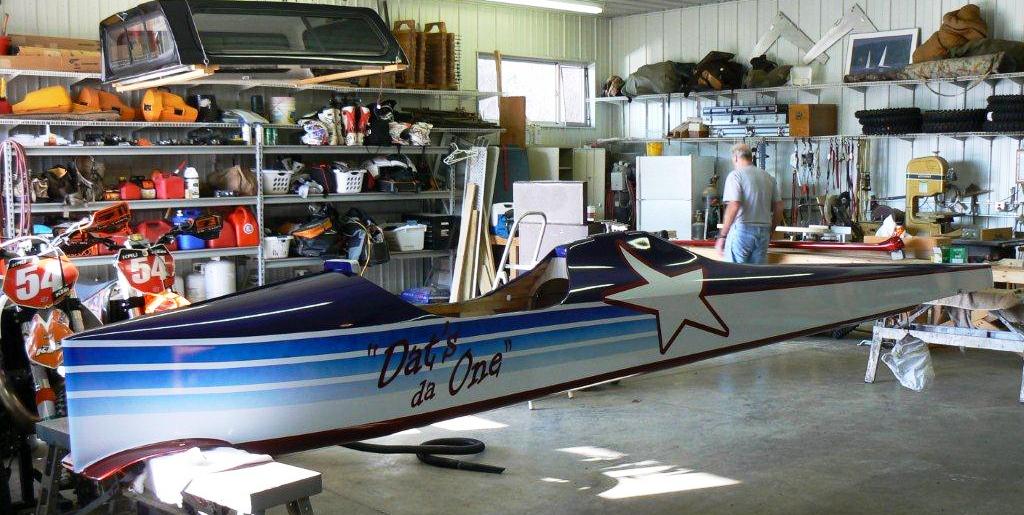 Here's Bob Kau's newly built A Class Skeeter, "Dat's da One" in fresh paint and graphics. Bob's looking forward to getting her on the ice soon.
November 8, 2012
McFactory Update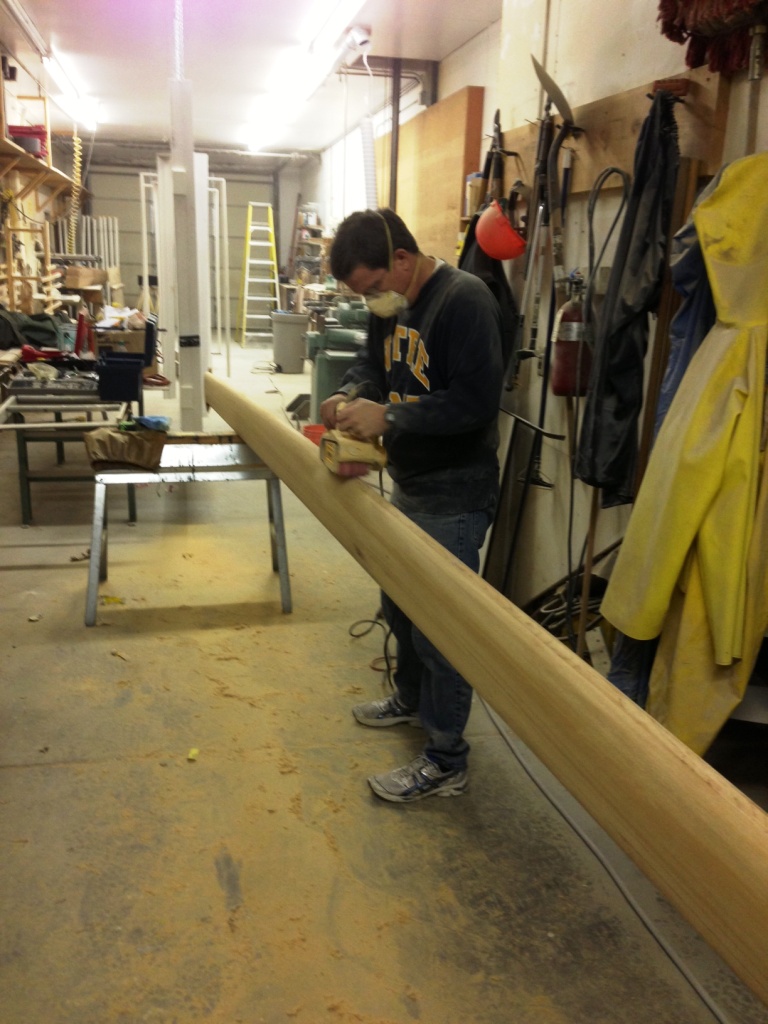 Via Pete McCormick: "Last night Tim and I worked on getting the mast deflection where we want it. Also when removing the foot pedals we discovered some bulkhead damage that will need repair." Previous.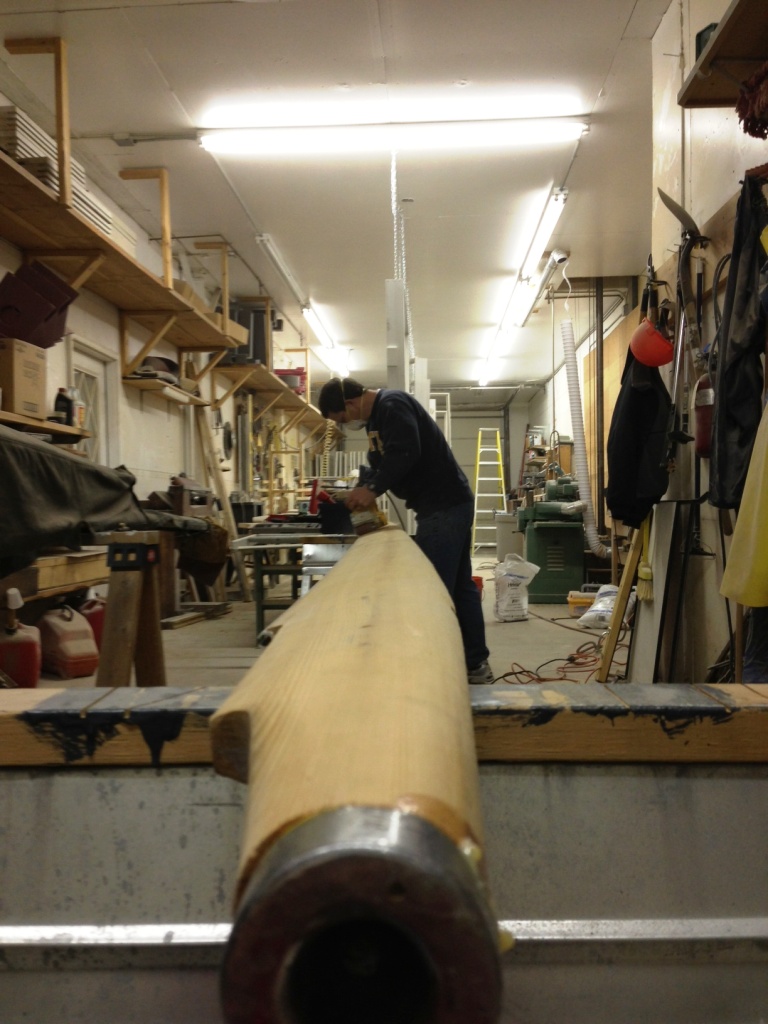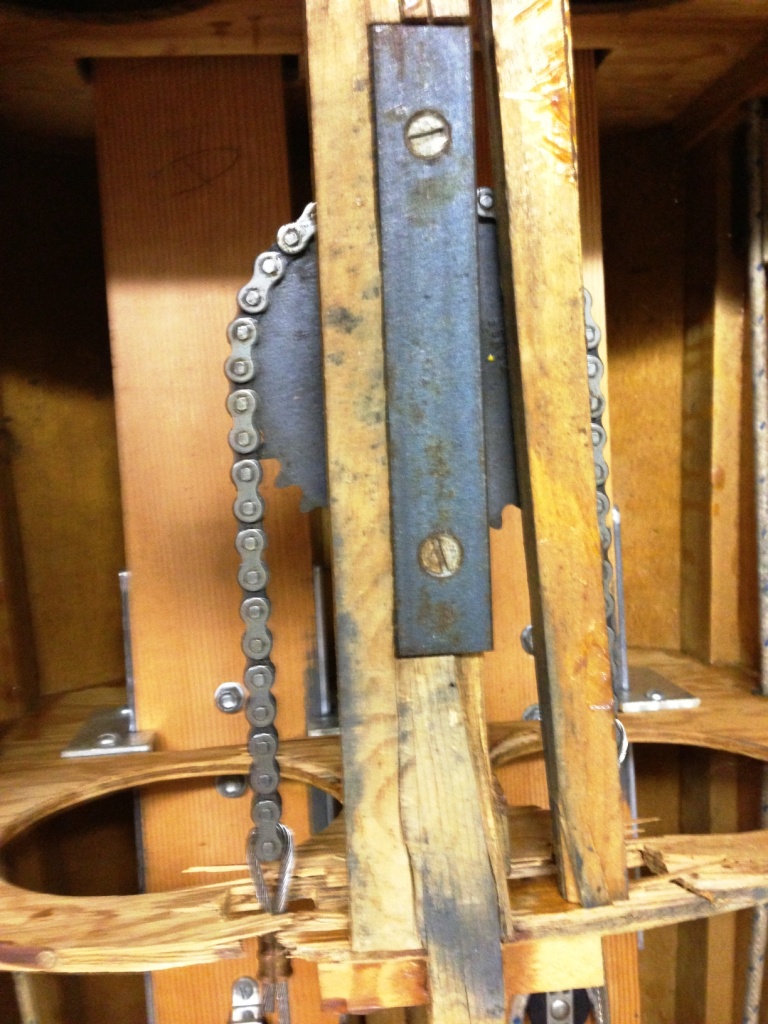 November 4, 2012
Son of McFactory!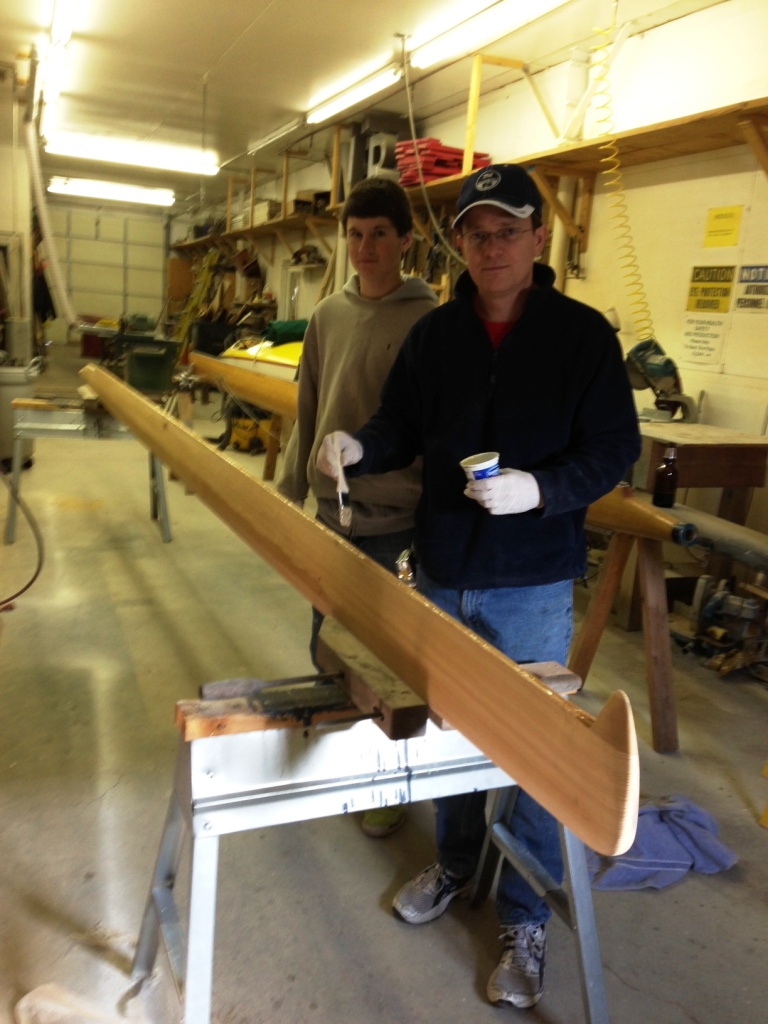 Tim and Devan McCormick
4LIYC's Pete McCormick has purchased his Uncle Mike's Renegade.
"We have quite a bit of work to get it back on the ice so we have brought the McFactory out of mothballs. Day one was getting the boat out of the rafters and gluing the sail track on the new mast. Show in the pictures is Tim McCormick, Devan McCormick (Pete's Son) and Pete McCormick.
The Renegade Factory (otherwise known as the "McFactory") operated in the old fuel office at McCormick Lumber between 1977 and 1979 under the seriously misguided notion that you could build four just as easily as one. [Photos and story from the original McFactory posted here.] There, the selfless labors of many 4LIYC members (but a faithful few in particular) helped grow the Renegade fleet by an "instant" four boats (Chuck Dykman's, Mike & Bill McCormick's and Mark Langenfeld's). Under the tutelage of shop foreman Jack Ripp and other iceboat builder experts like Bill Mattison, and Jerry Simon these boats became a reality. Upon completion, the shop was mothballed.
Now over 35 years later McFactory is being brought out of mothballs. Pete McCormick (son of Bill) has recently purchased his uncle Mike's Renegade (#309). To get this boat back on the ice they are in the process of finishing a new mast, adjusting runner plank deflection and other go fast adjustments too secret to mention. Tim McCormick (Mike's son) is also making modifications to his Renegade that only can be discovered by visiting the shop on Wednesday nights.
I am sure you are all wondering who currently owns the other three Renegades. Greg McCormick (Bill's son) is sailing his father's boat (#310), Ron Rosten purchased Chuck Dykman's boat (#307) and Gary Sternberg is now campaigning Mark Langenfeld's boat (formerly #308). Stay tune for further updates."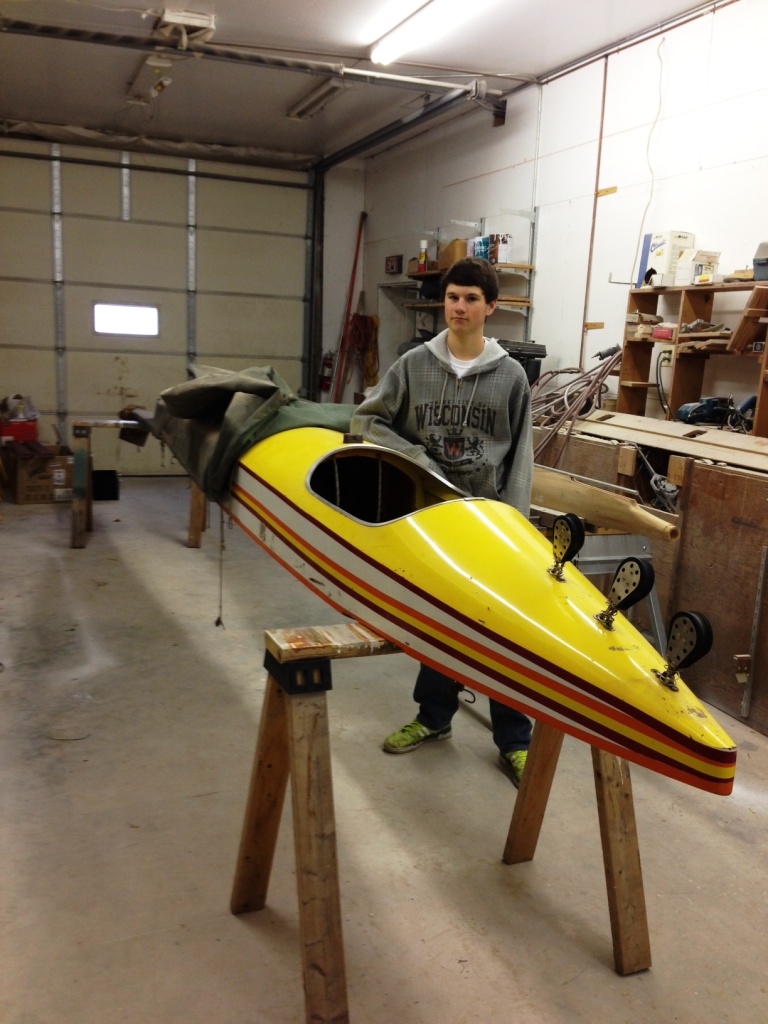 Devan McCormick

Devan, Tim, & Pete McCormick
October 24, 2012
Northwest Regatta:
Celebrating A Century of Ice Sailing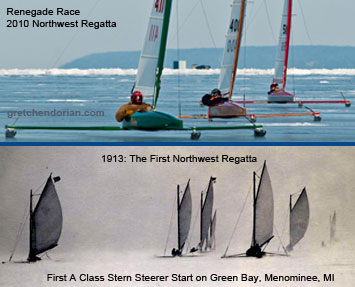 Via NIYA Commodore Greg Simon:
"Greetings Ice Yachting Enthusiasts:
The Northwest Ice Yachting Association will be hosting a special 100th year anniversary regatta January 18-20th, 2013. We ask for your presence at this historical event. The Northwest regatta has been held for a century and throughout the years has attracted some of the most beautiful ice yachts ever produced. The majestic stern steerers, the sleek Skeeters and the classic one designs of the Renegade and DN classes will all be present to help usher in the next hundred years of iceboating."
Continue reading on the new Northwest 100 website.
October 29, 2012
Joint Operations:Update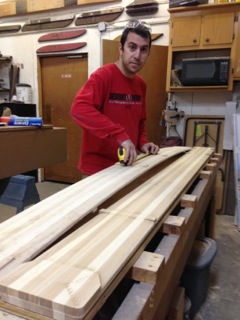 "Success!!! The planks bent out exactly where we wanted them. Two are now glued up."
October 28, 2012
Joint Operations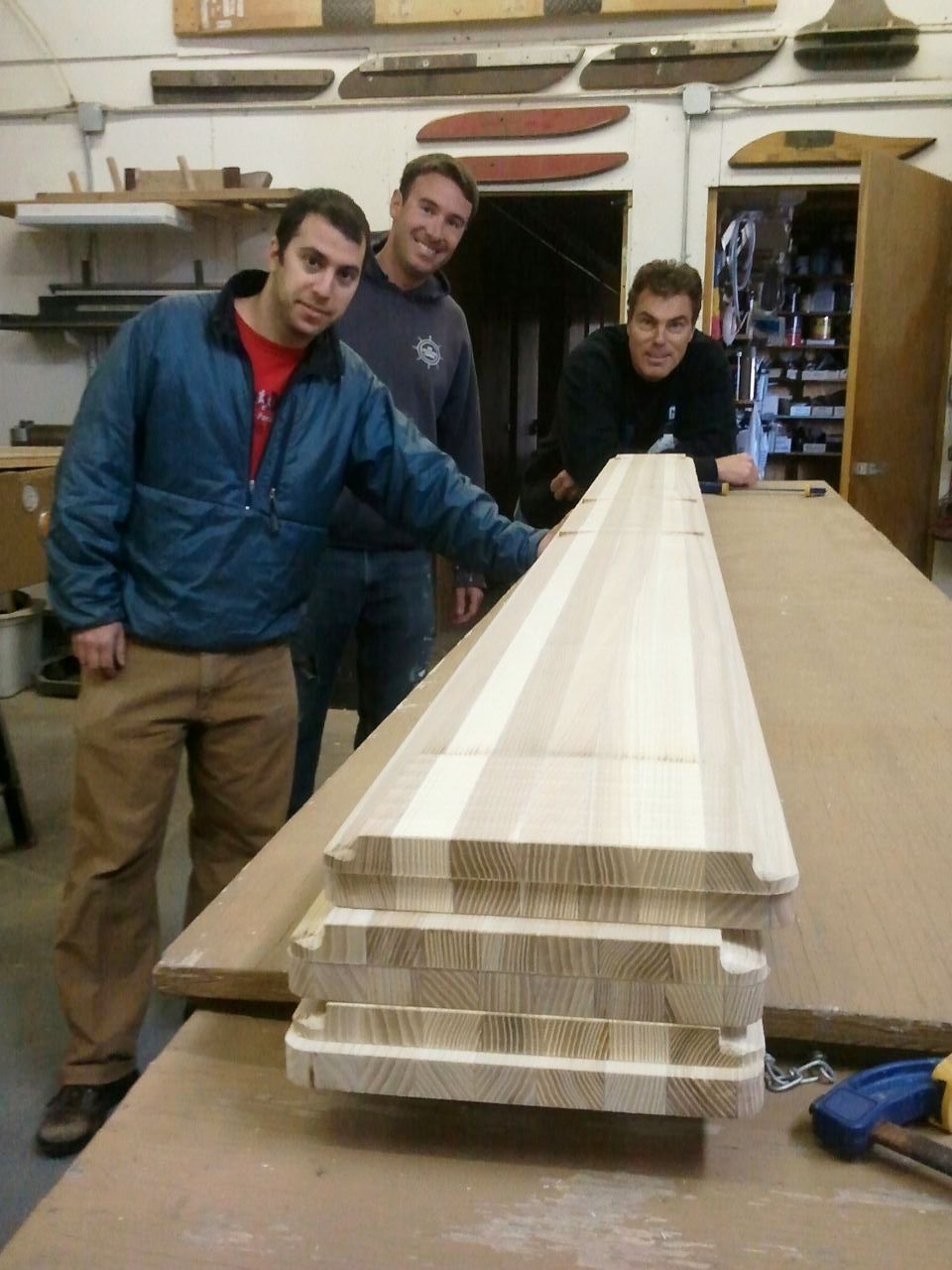 Two Madison ice boat shops, Nordhaus Boat Works and the Spaight St. Syndicate (Daniel Hearn's base of operation), are working together to create ten new DN ice boat planks using CNC machining in order to maximize efficiency by cutting down on hand work and improve accuracy.
The Pewaukee Ice Sailing Squadron (PISS) has experience making planks using CNC and the two Madison shops credit them for their guidance in the project.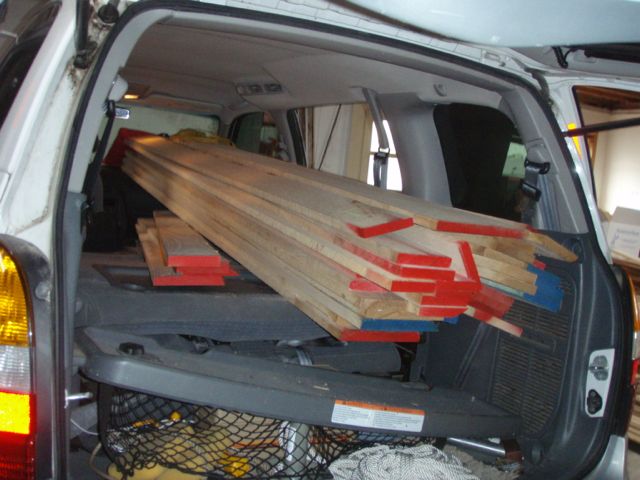 The most difficult and time consuming part of the project began with searching area lumber yards hand selecting eight foot knot-free ash boards.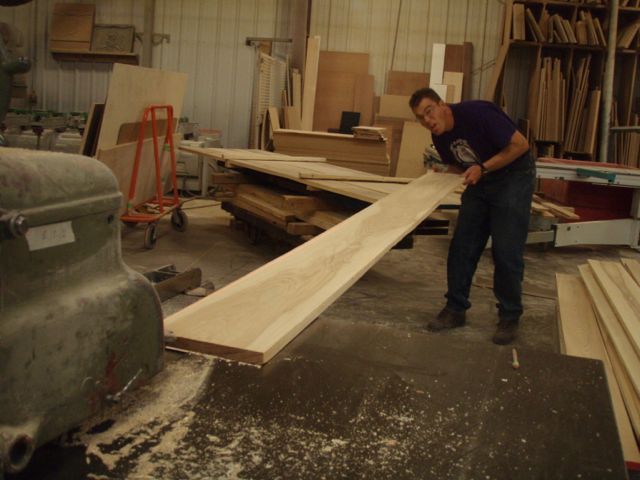 Next, with the help of lots of sailors, the ash boards were glued up into four big beams with the wood grain running vertically. It was difficult to glue and clamp up the beams and they determined that a 6" tall beam was the maximum height.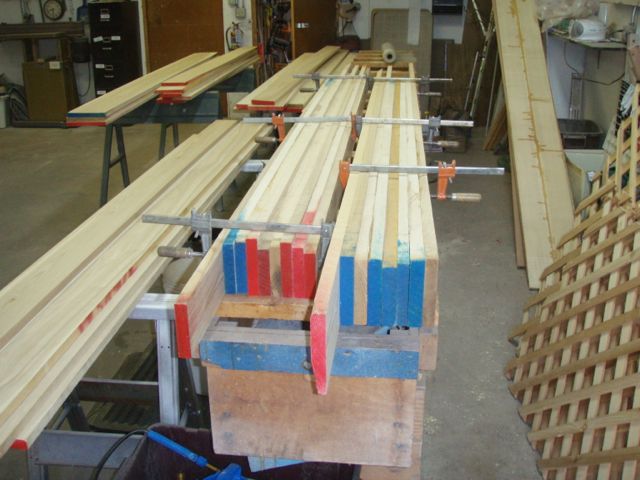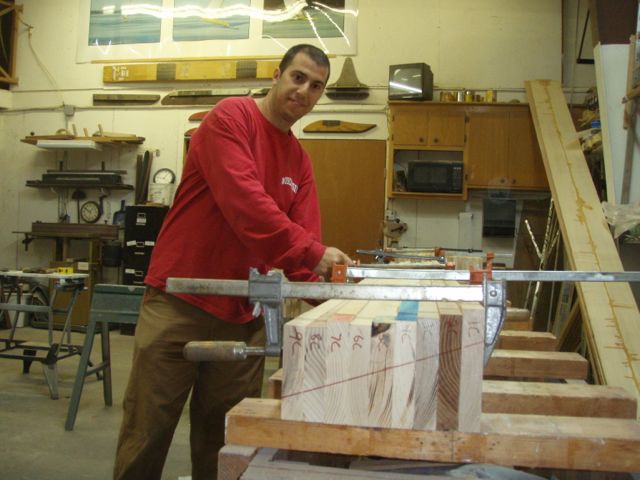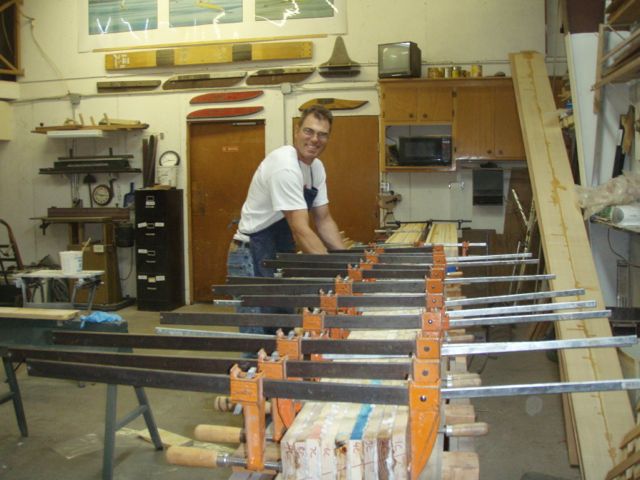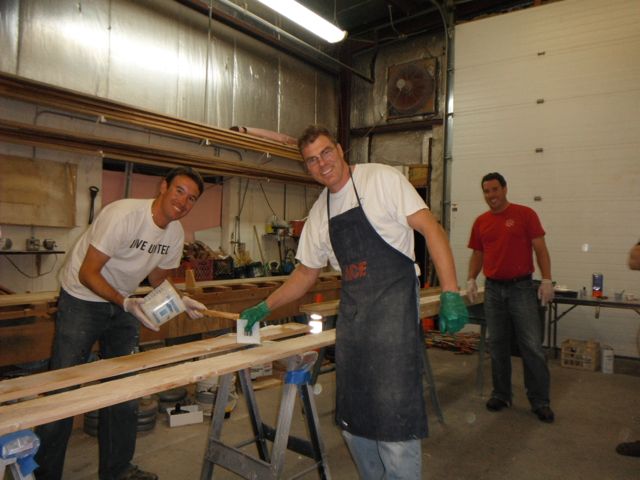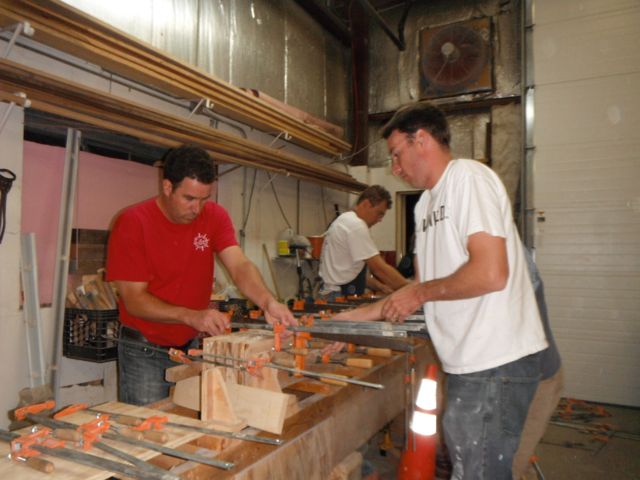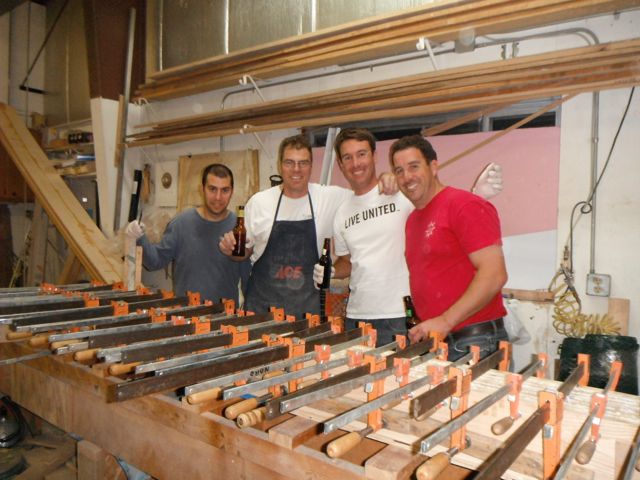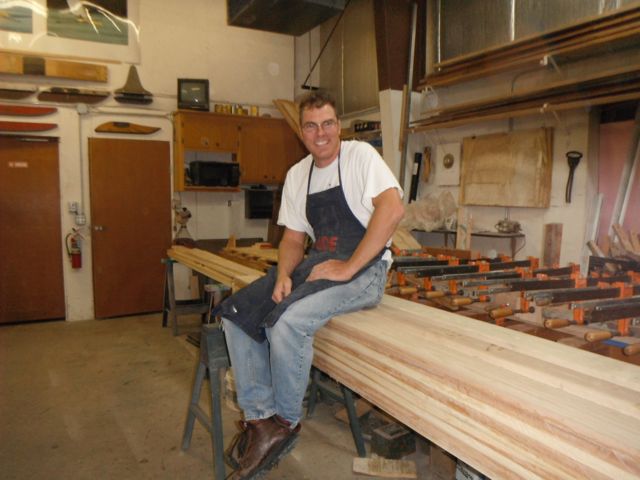 The laminated beams were then resawn apart to the correct thickness to get them ready for the fun high tech part, the CNC machine.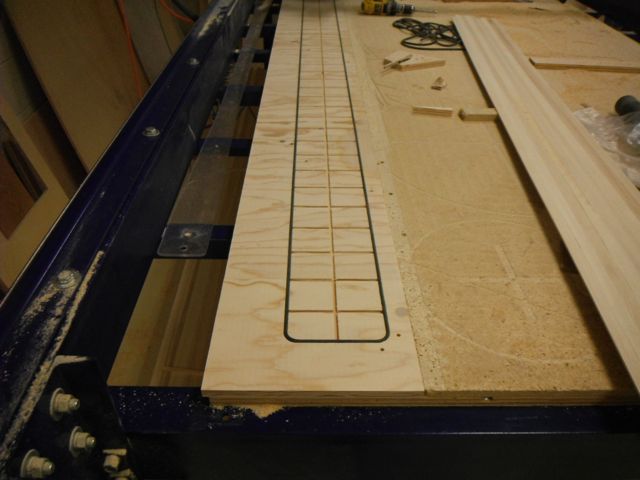 " If you are mass producing ten ice boat planks, you'd better make damn sure to get the right bend characteristics you need. We strived to be really scientific, measuring deflection of the boards before they were machined and recorded data at every step. Fifty percent of the work was spent programming the computer software getting ready to machine the planks. We held the accuracy to .005 which is not great but pretty good considering wood's expansion and contraction."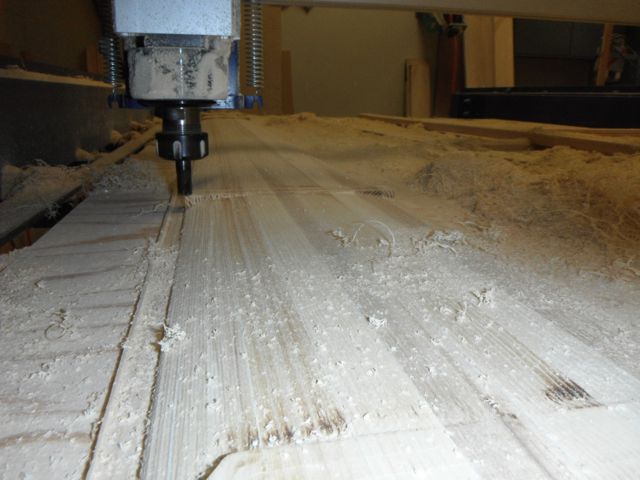 "We opted for a two layer plank instead of a three layer so that we can machine the sides way down for a foil shape.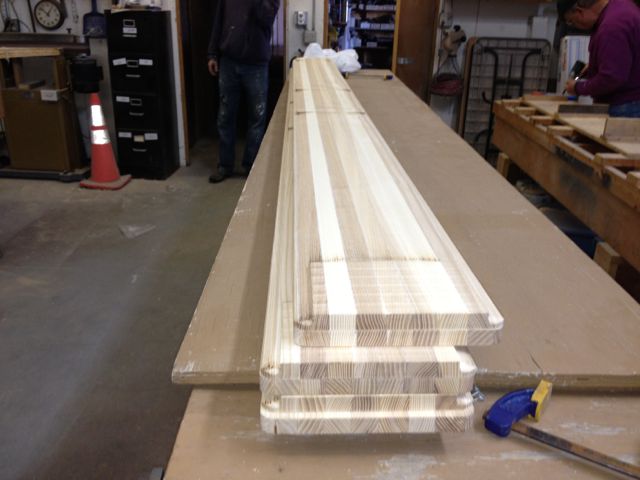 "We will be testing the deflection today and are hoping it will be flimsy so that we can build up the plank by applying fiberglass."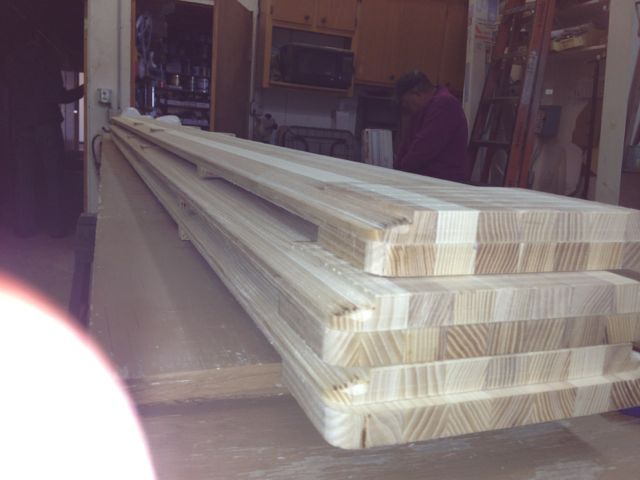 The pads are machined to exactly right dimensions to fit custom chocks.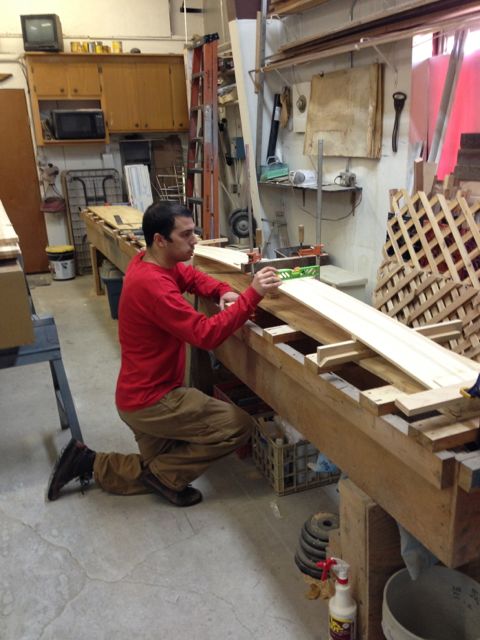 October 14, 2012
Warrior: Rainy Day Rebuild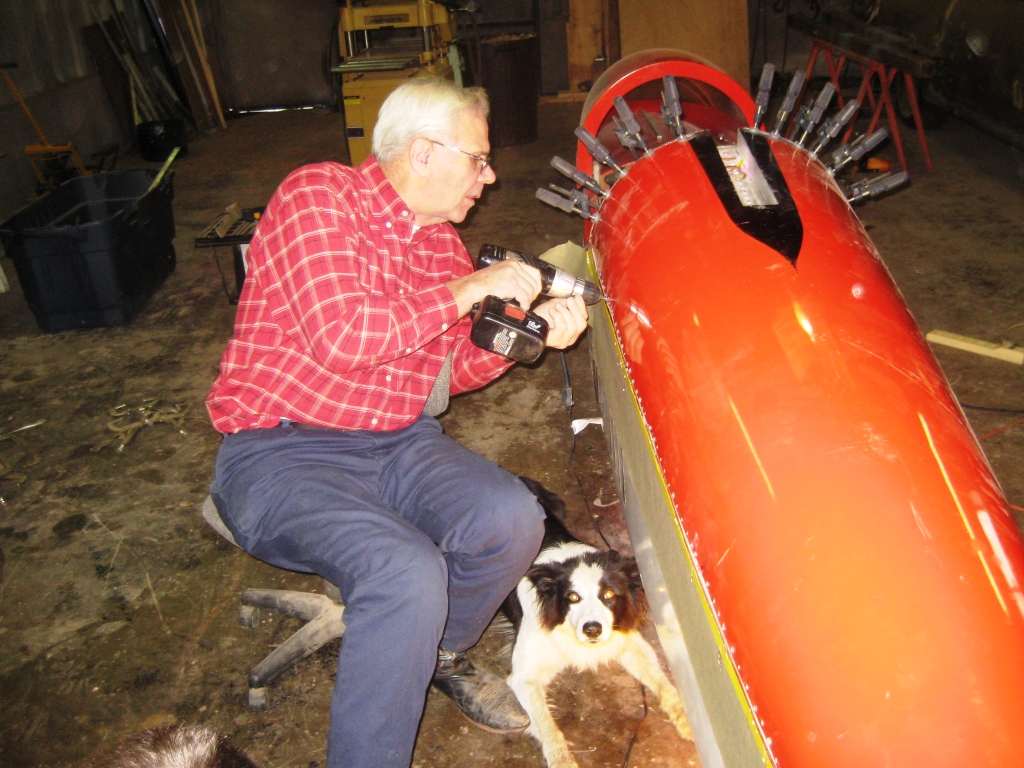 PK and Lady the Official Skeeter Class Border Collie
4LIYC Skeeter skipper Paul Krueger and his grandson, Kyle, stopped by Whitehorse Enterprises today to help Ken attach the top of the hull to his A Class Skeeter, Warrior.
October 13, 2012
Warrior Rebuild Resumes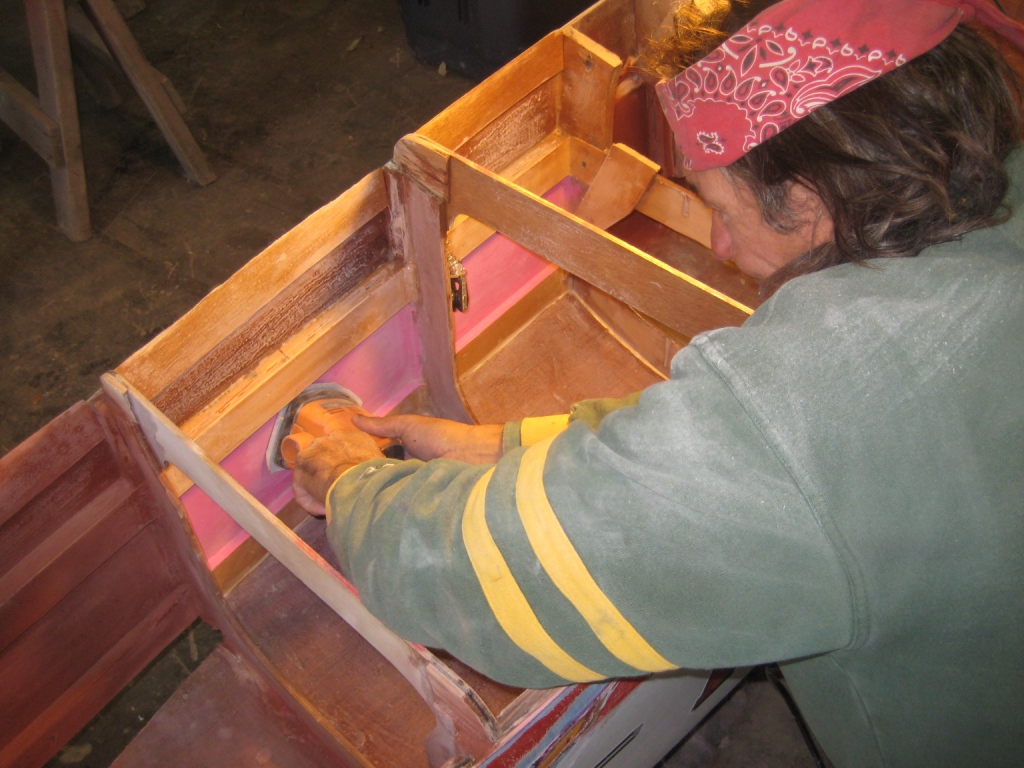 Unthinking Pink
Ken Whitehorse is hard back at it in the shop getting ready to put the lid on his Class A Skeeter Warrior. He's got 64 days from today to have the fastback conversion completed in time for the first Skeeter Western Challenge which will be sailed somewhere in MN.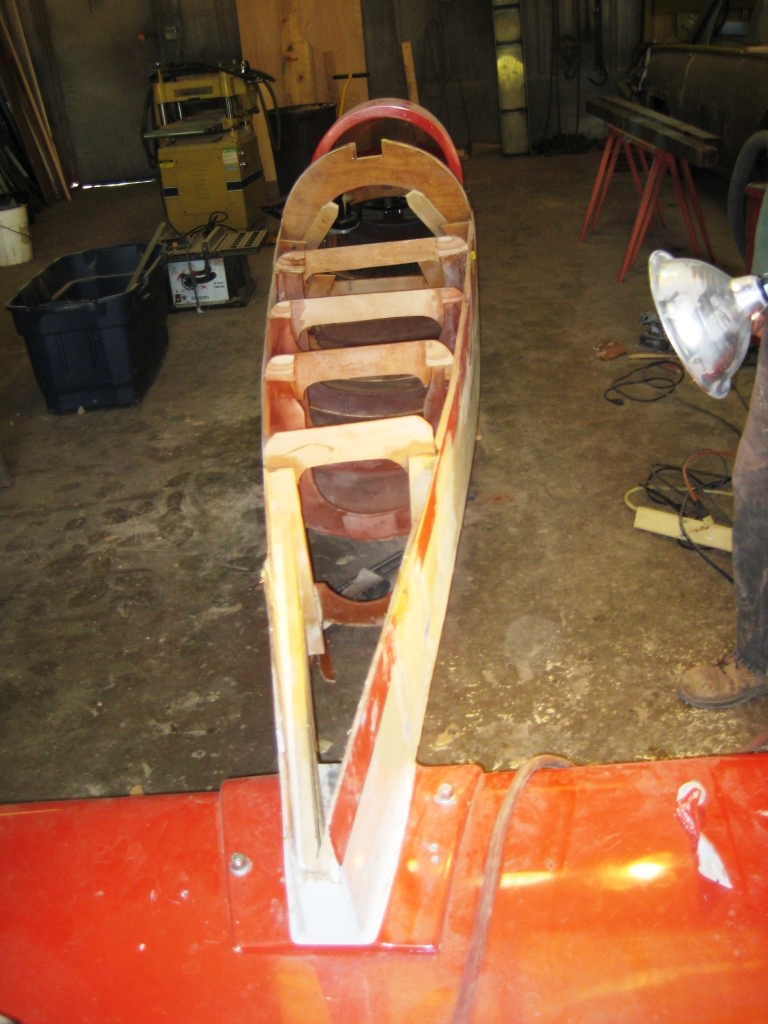 November 26, 2012
Art of Alignment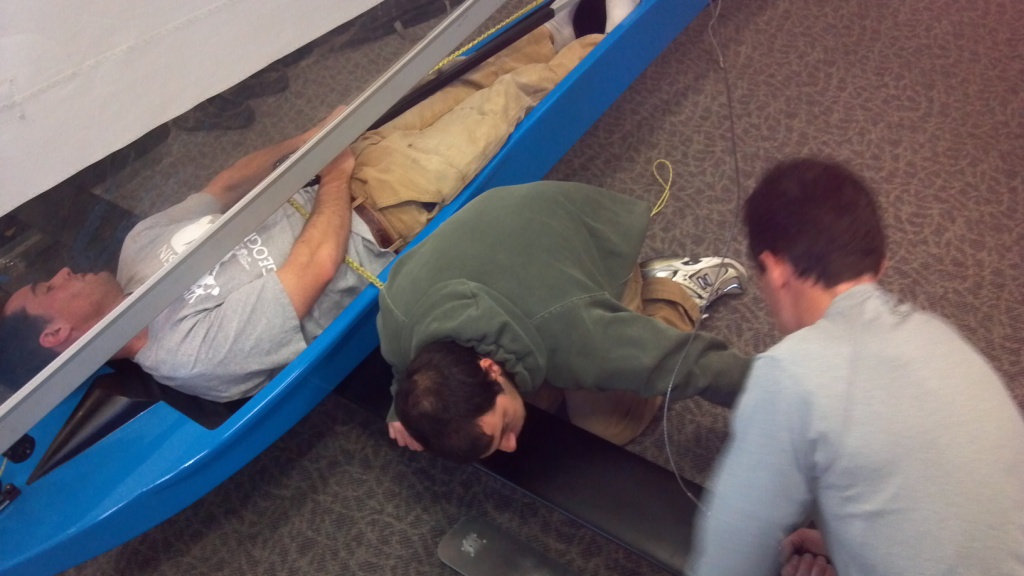 4LIYC DNer Daniel Hearn threw a runner alignment party on Sunday at his office in preparation for the first DN fun regatta of the season, the Western Challenge. Newly elected 4LIYC Commodore Don Anderson stopped by to learn how the DNs align their runners in comparison to the Renegades. Around a dozen Madison DNs and some Ice Optis are freshly aligned today ready for this week's trip to Lake Christina in Ashby, MN. The CNCd DN runner planks were in evidence all over the building along with some newly designed chocks.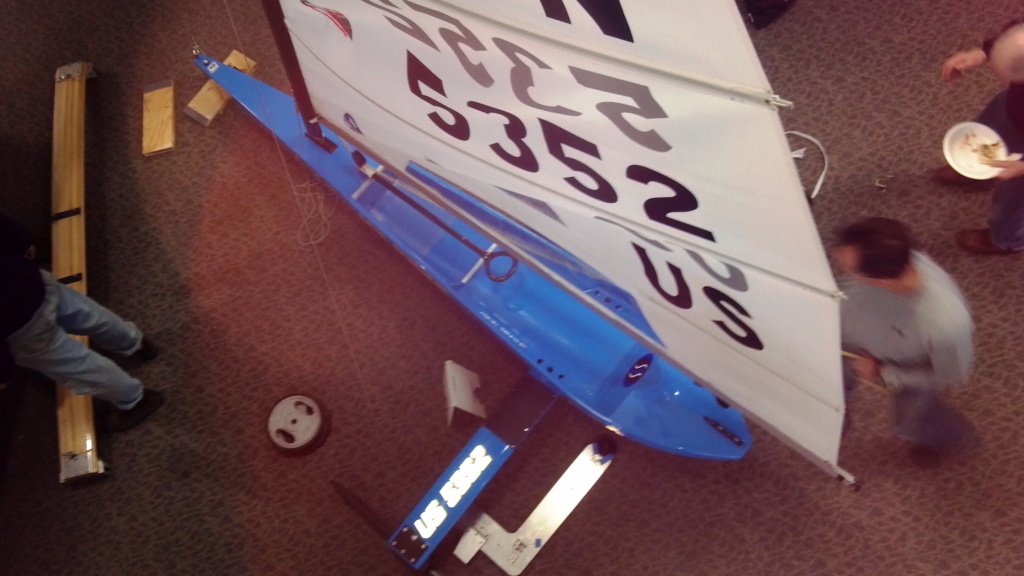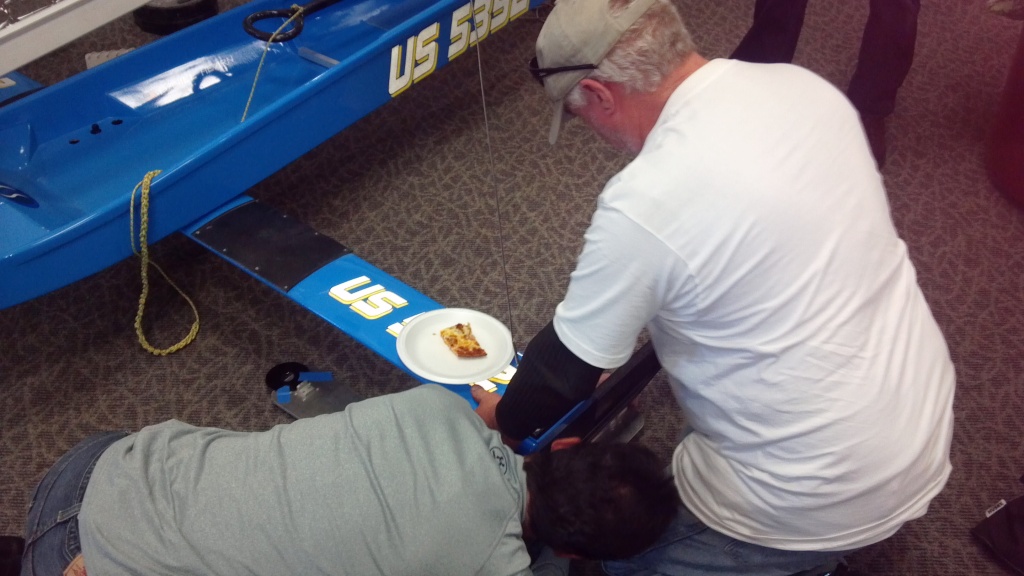 Daniel Hearn, Don Anderson, and pizza.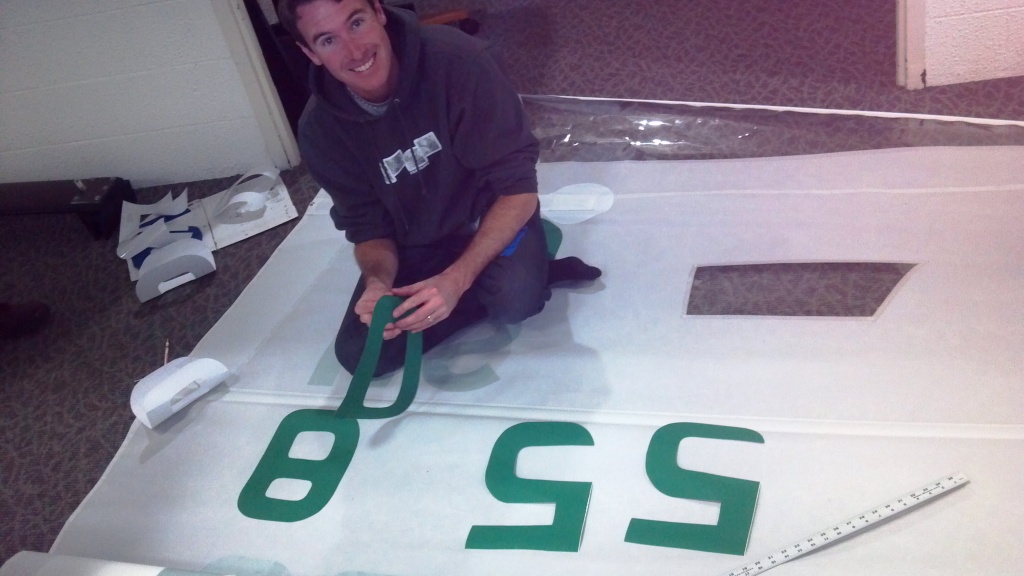 Tim Sugar under pressure to apply those sail numbers just right.
November 23, 2012
FIRST FIRST FIRST