Click for weather forecast
March 20, 2014
Awards Gallery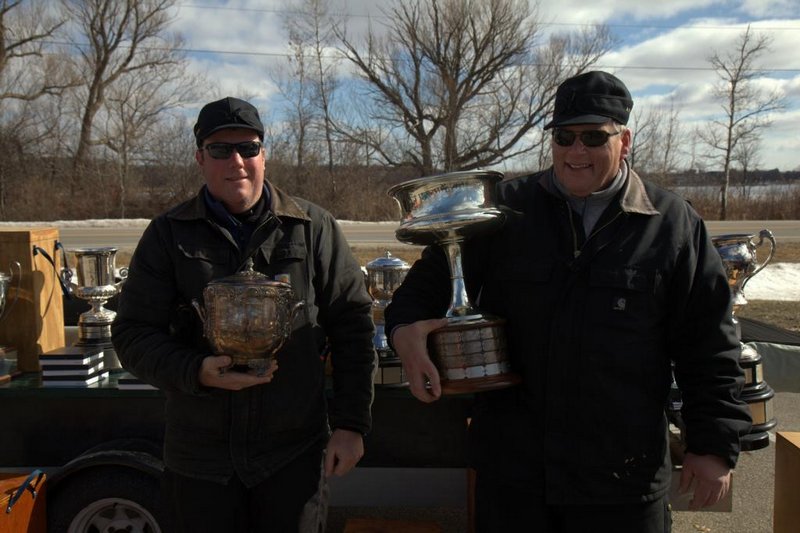 Photo gallery by Jeff Russell from the prize giving.
Have You Seen Me?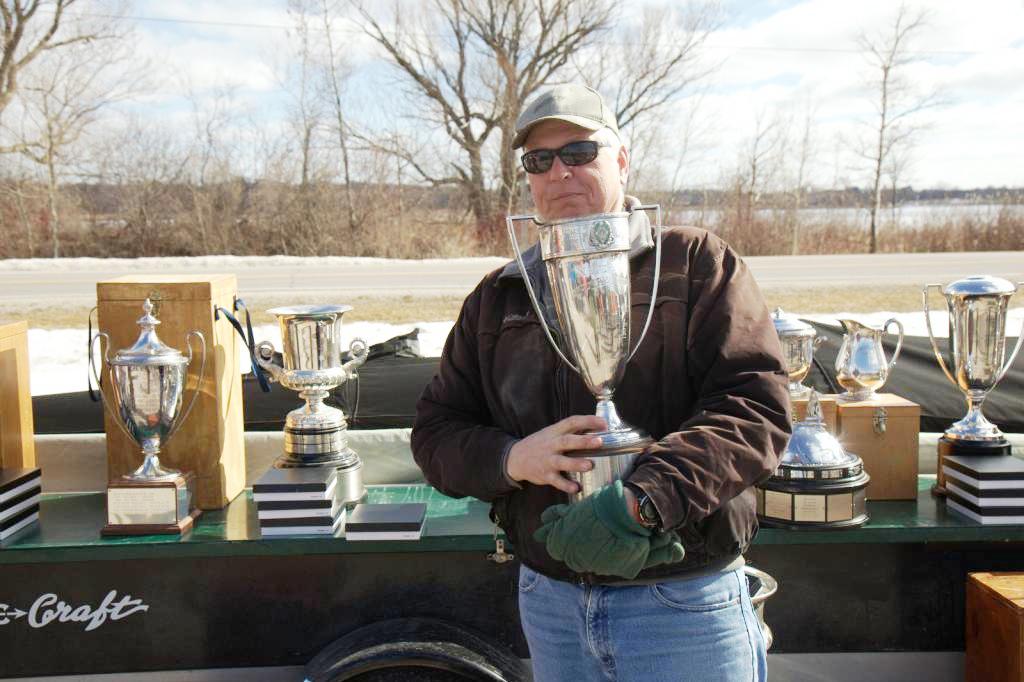 Photo: Jeff Russell
The trophy, that is. Mike Peters is looking for the Northwest C Stern Steerer keeper trophy which was mistakenly taken off the trailer at the awards presentation on Sunday. Contact me if you have it. I will post Jeff Russell's photo gallery from the awards this afternoon.
Jeff Smith's Northwest Photos

Photo by Jeff Smith
Renegade sailors Dan Bierman 520 and George Gerhardt 123 synchronizing their hikes.
North Shewsbury Ice Yacht Club sailor and photographer Jeff Smith has uploaded his photos from the weekend including some nice social pictures from the banquet. Check them out here. For download info, people can contact him at jeffsmithphoto@gmail.com
Smoke on the Water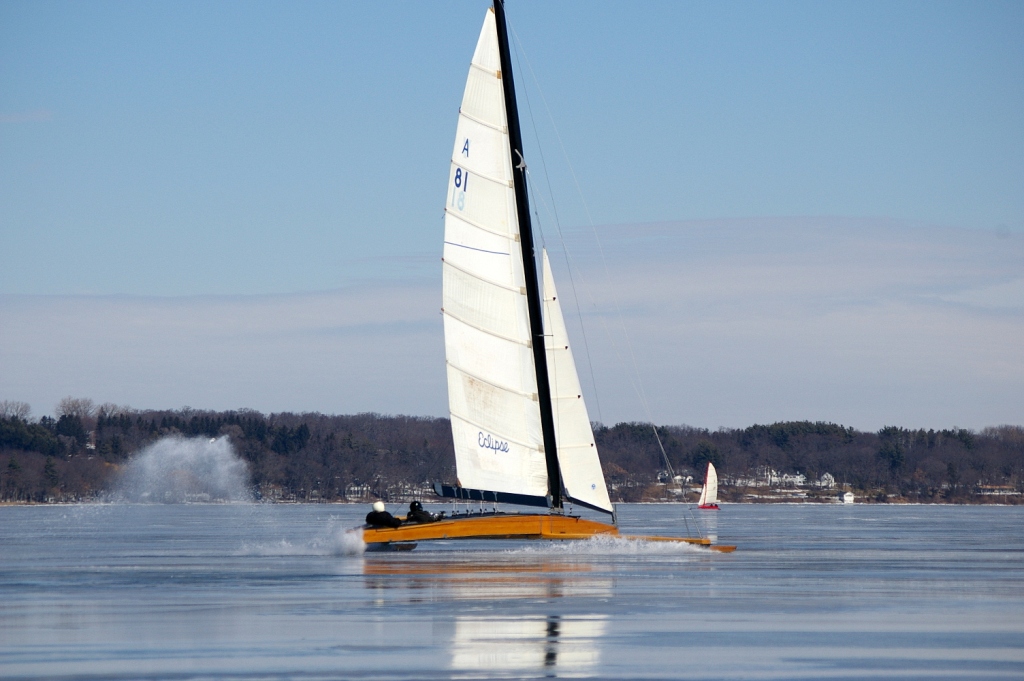 Green Lake Ice Yacht Club member Tim Bryden's Northwest photos are posted on Google+. Take a look here. These two are Erik Sawyer's beautiful A class stern steerer, Michigander, during a spin in Friday's breeze.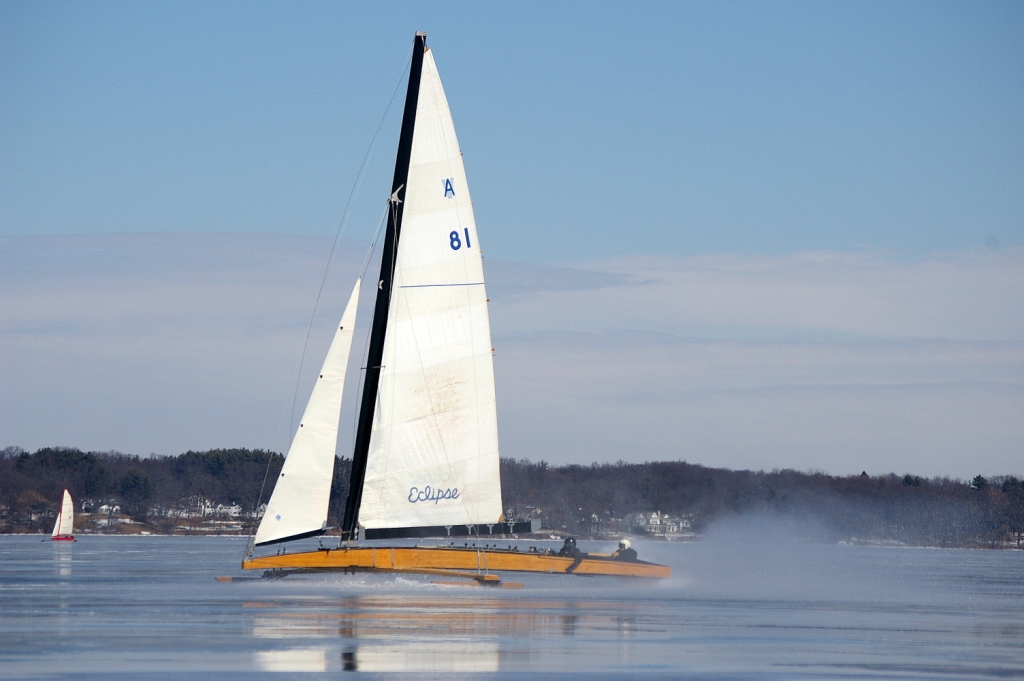 NIYA Skeeter Weather Rounding
March 16, 2014
Day 3
There was one very light air Skeeter race on Saturday before the wind completely shut down. The Green Lake Ice Yacht Club hosted a cookout lunch for us and then an outstanding banquet that evening. After the banquet, a few of us met for a night cap at the Heidel House Gray Rock bar when what should we see but two stern steerers coming up the lake with strobe lights. Andy Gratton, John Hayashi, Don Sanford, and several other members of the GLIYC took a classic moonlight stern steerer ride. Stern Steerers are set to start racing at 8:30 AM so I'd better get going to the lake.
Day 2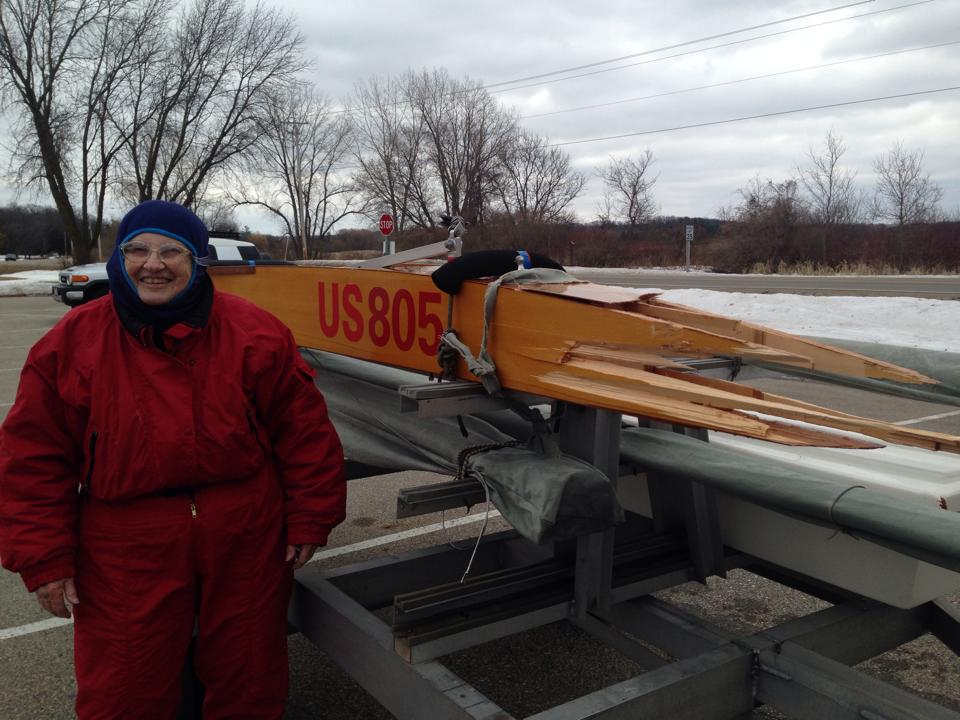 Photo via Mike Miller on Facebook
Jane's hull is broken but she and Bruce are OK.
Jane Pegel and Bruce Wegger collided during the second DN race yesterday. Thankfully, both said they are OK. Learned via Facebook that Jerry Simon broke a mast during the second Renegade race yesterday. Bob Kau had to withdraw from the first Skeeter race when a pulley failed, again proving that they go fastest just before they break. Word was that he was taking it to his shop last night to be ready for racing today.
The temperature didn't get as cold as forecasted during the night which means there is probably alot of standing water on the ice. The host club, the Green Lake Ice Yacht Club, will be hosting one of their famous cookouts in the parking lot today. Be sure to stop in and try some of their tasty food for only $5. Off to the lake.
March 14, 2014
Day 1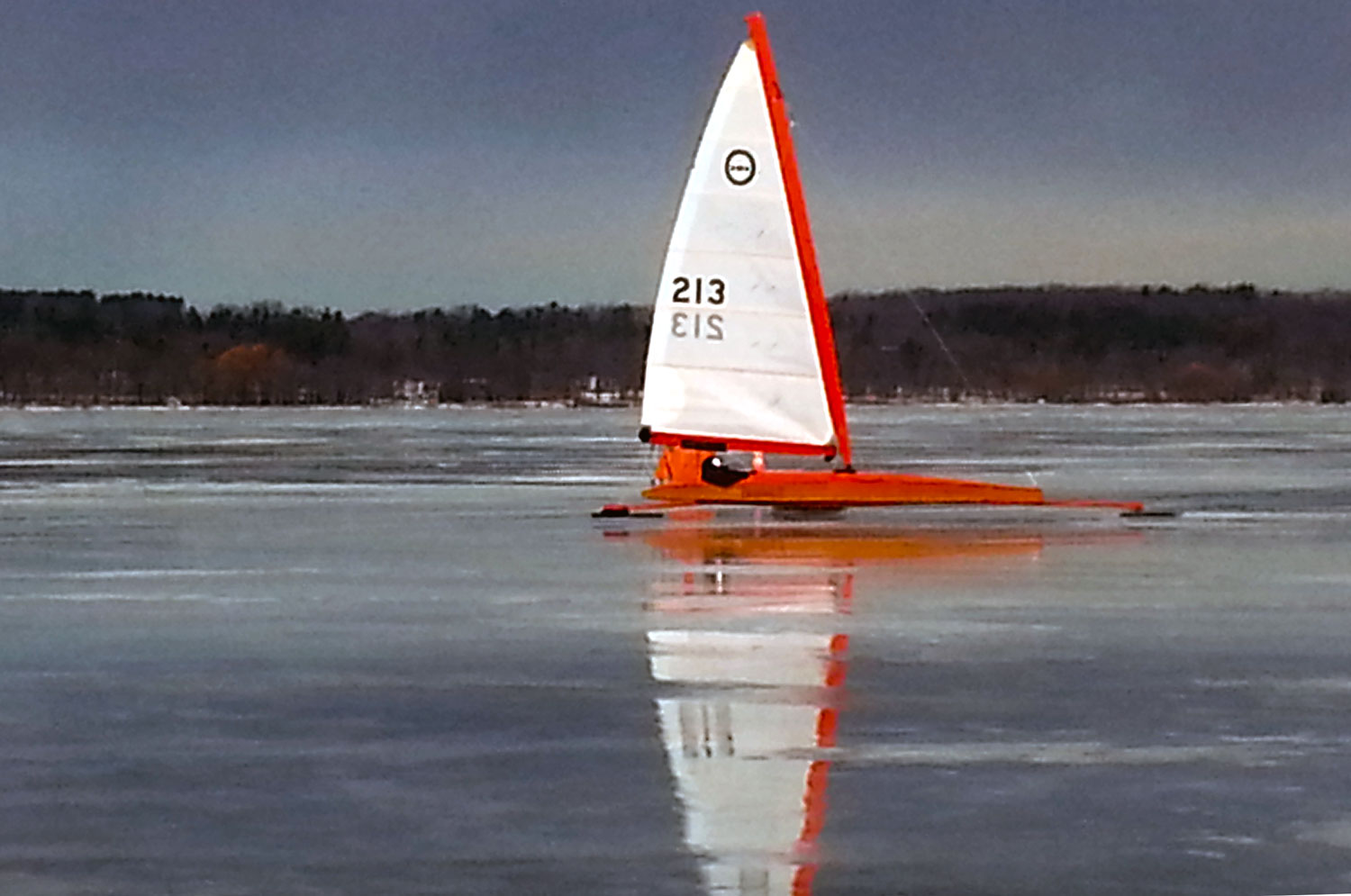 Renegade 213 Greg Simon finishing first in the first Renegade race.
PROVISIONAL RESULTS HERE
Just back from the ice which is getting wetter by the minute. We were able to get one full rotation in plus a second DN and Renegade race. During the Renegade race, the wind came up to a steady 30 mph, The Race Committee determined there was too much wind for any more racing and sent the fleet home. Some great racing in fluky conditions today. It was difficult for many to keep a boat moving at times today because of the soft ice and the scattered wind doldrums on the course. The Renegade race saw a great battle between Mike Derusha and Greg Simon who were close during the first leeward rounding only to see Mike have the bad luck to hit the leeward cone and have to drop out. The forecast is for 21F tonight which should make for a great day tomorrow. With the daylight savings change, theoretically we could start the last race at 6:30 PM tomorrow, a half hour before sunset.
March 13, 2014
Friday's Rotation
Order of fleet rotation is a question asked every year. For the NIYA, it's always the same. Here is the order of fleet starts for Friday:
DN
Renegade
E Skeeters
Stern Steerers
B Skeeters & C Skeeters (sail together)
4LIYC Facebook Page


Look for plenty of Northwest regatta updates over the weekend from the Race Commitee car on the Four Lakes Ice Yacht Club Facebook page. Also, keep an eye on the Facebook page of the Green Lake Ice Yacht Club, the host club of the event.
March 12, 2014
Northwest Regatta News

The Northwest Ice Yacht Association regatta has been called on for March 14,15,16, 2014 for Green Lake, WI.

A Special Message from Mary Jane:
"Hey everyone,
I hope you all are all set for a great weekend. Looks like it might be a bit breezy on Friday but Saturday and Sunday sound perfect. I hope you all have a great regatta, have fun, sail fast, and just enjoy seeing all the boats and sailors.
I wanted to send a big thank you to the Green Lake Iceboat Club. They have all done an excellent job in getting this regatta off and running. Lots of great help coming in.
Thank you very much, MJ"

LAUNCH
County Park on Hwy K near Reilly's Tavern- Map
W3306 Cty Rd K, Markesan, WI
Same as last year

LODGING
Heidel House
643 Illinois Ave, Green Lake, WI 54941
Map
$69.00 ask for regatta rate 920-294-3344
(Heidel House charges you one nights room when making your reservations. If you cancel on Wednesday for Fridays night you are also charged 20%, canceling any time after that you are charged the full rate of all nights).
Acorn Ridge $55.00 single, $64.00 double 920-295-6533
Royal Ridge (Comfort Suites) $99.90 ask for regatta rate 920-748-5500
Bay View $69.00 920-294-6504
PRE REGISTRATION (CLOSES AT 6:30 TODAY, MARCH 13)
Pre Registration is closed
Check in Friday morning on the ice from 8 to 9:30 AM
Regatta fee is $15
Don't worry if you didn't pre register. See Deb on the ice Friday morning to check in, pay your regatta fee, and banquet fee.
MEETING
Friday, March 14
6:30 PM
Green Lake Lodge (across from the Heidel House) at Tuscumbia Golf Course.
680 North Illinois Ave. Green Lake WI 54941 Phone: 800-294-3381
The lodge is the second building at the bottom of the hill.
Map
BANQUET
Saturday, March 15
Cocktails 6:30
Dinner 7:15
Banquet is $20
Green Lake Lodge (across from the Heidel House) at Tuscumbia Golf Course.
680 North Illinois Ave. Green Lake WI 54941 Phone: 800-294-3381
The lodge is the second building at the bottom of the hill.
Map